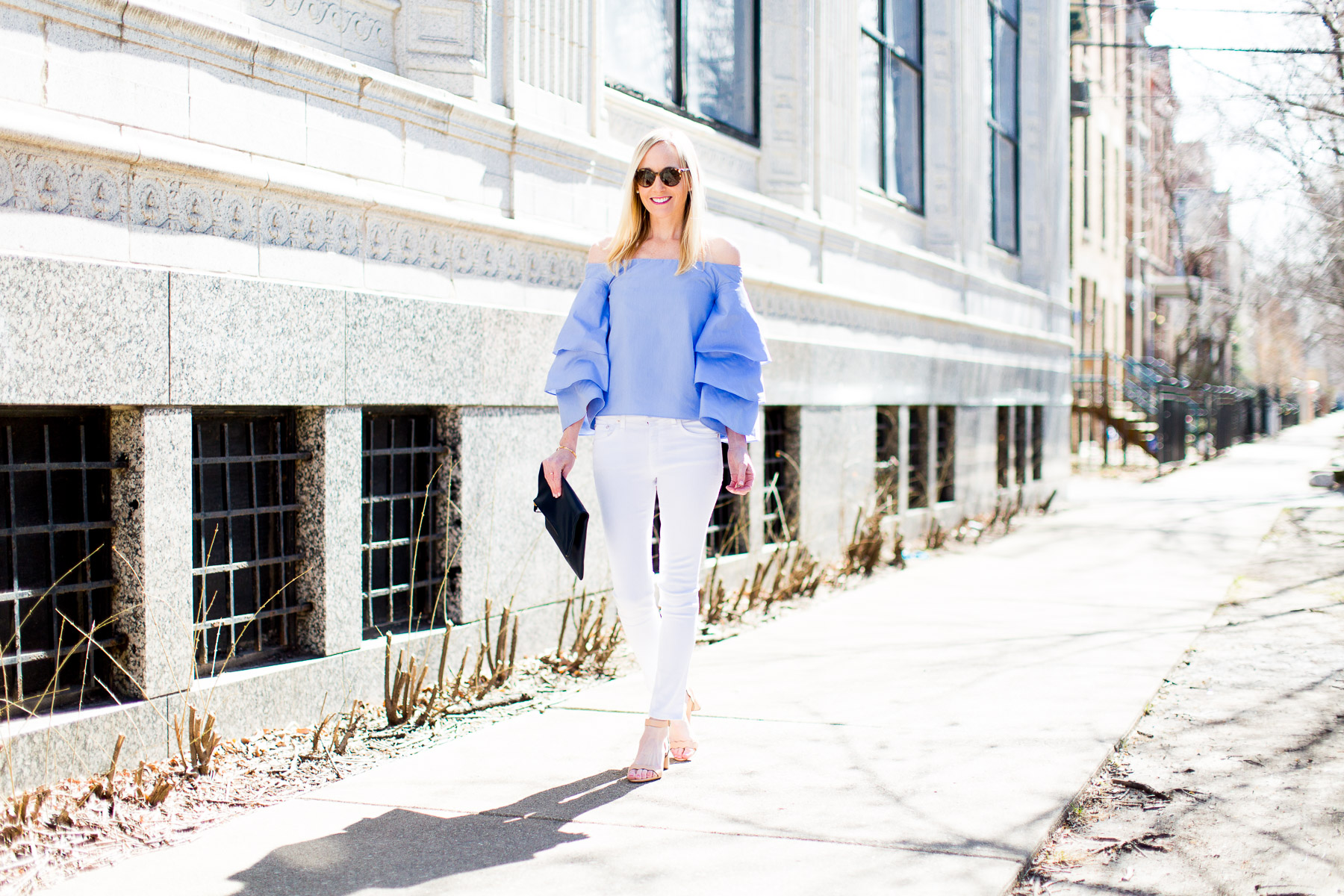 Tiered Top (See similar picks below!) / Everlane Navy Leather Clutch c/o (Also love the crossbody version!) / White Skinny Jeans (They're worth it! Super soft and don't stretch out.) / Loeffler Randall Sandals (Also available via Nordstrom here. They Run TTS. This version is on MAJOR sale! Love the wedges, too, and the gold ones are beautiful. This Sam Edelman version is so much more affordable. Have 'em in pink and love them! Also TTS.) / Monica Vinader Bracelet c/o
I have a couple of funny stories about this shoot:
We shot this outfit in the morning, but I actually wore it to dinner the night before–during that wonderful warm stretch we experienced a few weeks back. When I came upstairs in it, Mitch seriously said, "Ayyyeeee, Matey! Let's skip the Uber and take the pirate ship tonight." Grrrrr… hahaha. But, like, I had it coming, right? This top is kind of ridiculous when someone–especially my husband–looks at it objectively. (Did you read this recent post? Too funny!)
It's also not something I'd typically go for, as I tend to steer clear of true statement pieces. But I don't know: when I saw it, I immediately adored it. I think I just love it when traditional fabrics, textures and patterns (like oxford) are incorporated into trends (like off-the-shoulder tops with tiered sleeves). For example, if someone makes a pair of gingham over-the-knee boots, I'll probably wear 'em. Just kidding. That sounds hideous. But you get my point. ;)
I should also mention that the top was quite the conversation-starter when we were out, and we totally made friends at the restaurant with another couple because of it, haha. I felt like a million bucks in it, too! I love my classic, tried-and-true staples, but every once in a while it's pretty fun to be that girl in "that top." (Or "that dress." Still too cold in Chicago for dresses, though…)
Again, we snapped these pics the next morning. But I can't get over how dismal they make Chicago look. In my mind, I was all like, "Wow! It's sunny and warm! What springy photos this quick shoot will yield." In reality? Yeah, not so much. Just look at those lovely shrubs, which someone took shears to and made look like something out of the Elephant Graveyard from The Lion King. And how 'bout those bare trees and grass-less parkways? Oy. You win some, you lose some. ;)
In other news, I'm obsessed with this classic navy leather clutch. I can't tell you how much wear I've been getting out of it! The leather is super soft, the bag holds a ton, and it goes with almost everything in my closet. Kind of can't believe I survived without a navy clutch up until now. The best part? It's under $100. Welcome to Everlane. Designer stuff for a fraction of the usual cost! (I have this cashmere sweater and LOVE it, btw.)
I just realized that in nearly all my blog posts these days, I'm wearing my favorite white jeans. While things are certainly warming up here, it'll be a some time before I'm ready to break out my skirts and dresses. White jeans, though, make my outfits look a little more springy, and they make me a little happier (and warmer). So we're going to go with it for a while, okay? But next month, I'm headed to California and Dallas, where I promise to mix it up. Until then, though, please bear with my Chicago spring uniform.
Switching gears, I've had a crazy work week and don't feel completely "on" right now. I've been SO GOOD about pulling back on projects and spacing them out so I don't go insane, yet somehow a ton of things–both freelance and blog stuff–got pushed back and up, and suddenly, everything was due at the same time. I'm tired, but we're headed down to the lake this weekend, and I'm really excited about unplugging while I'm there. Coffee, sweatshirts and rain boots are in my future…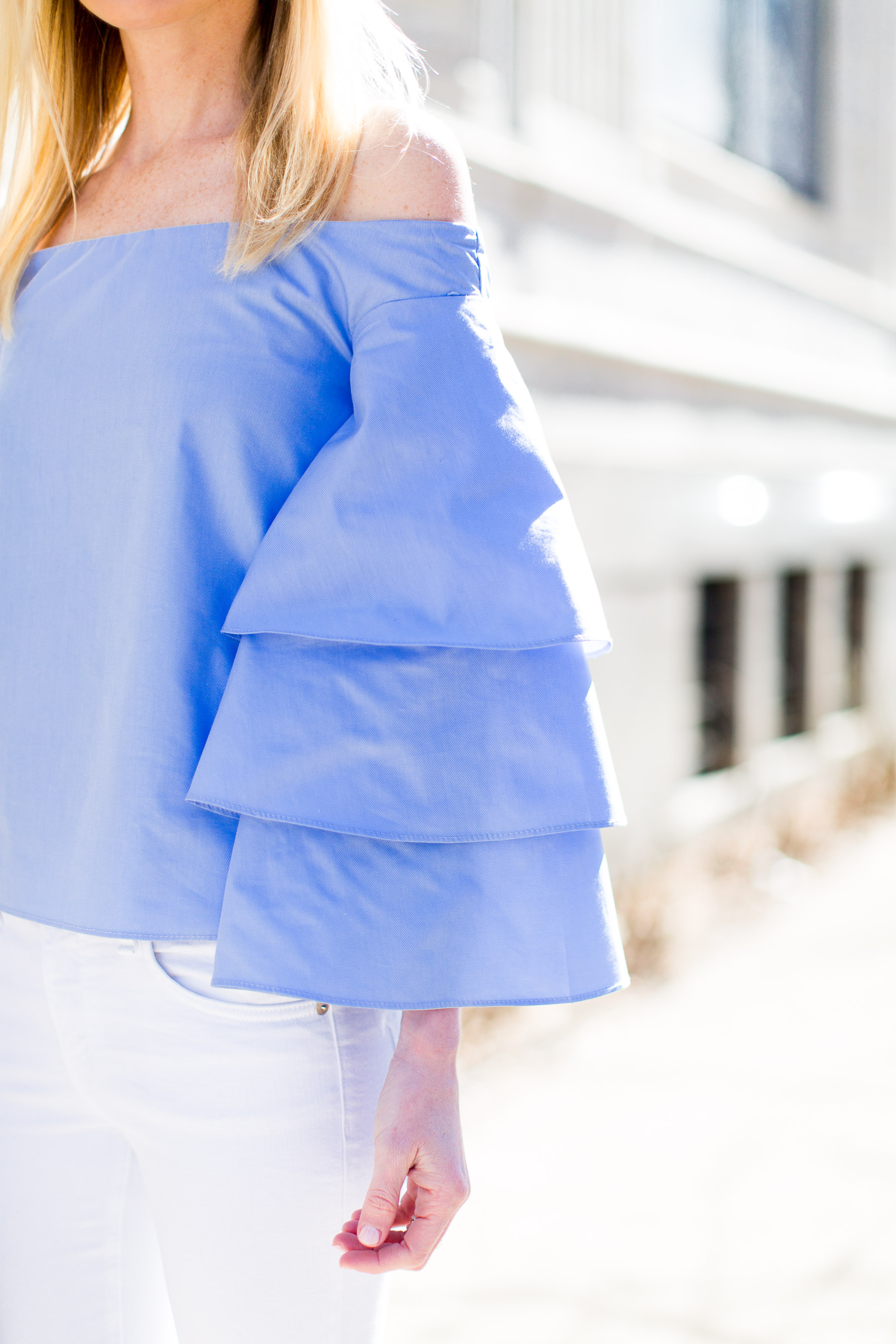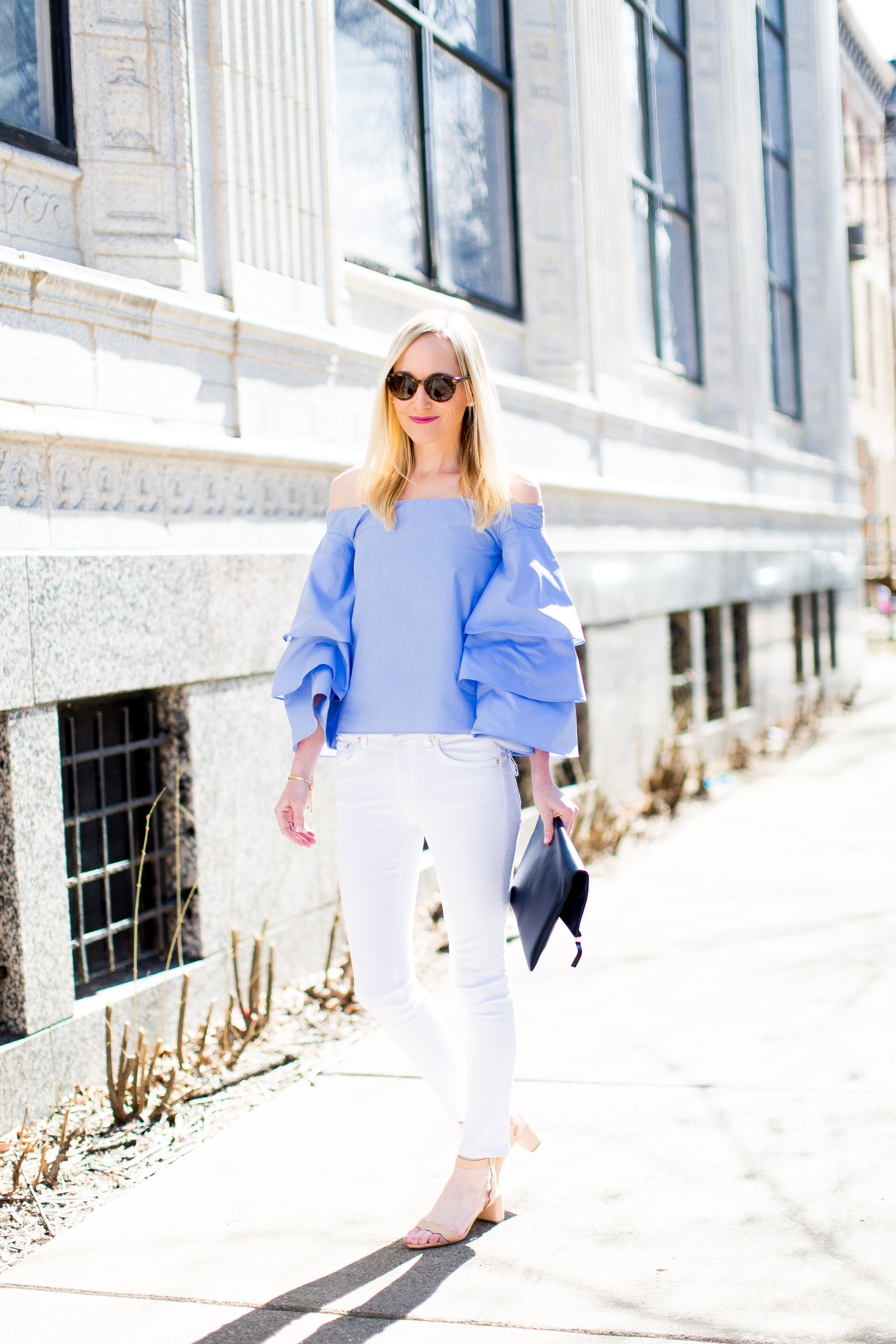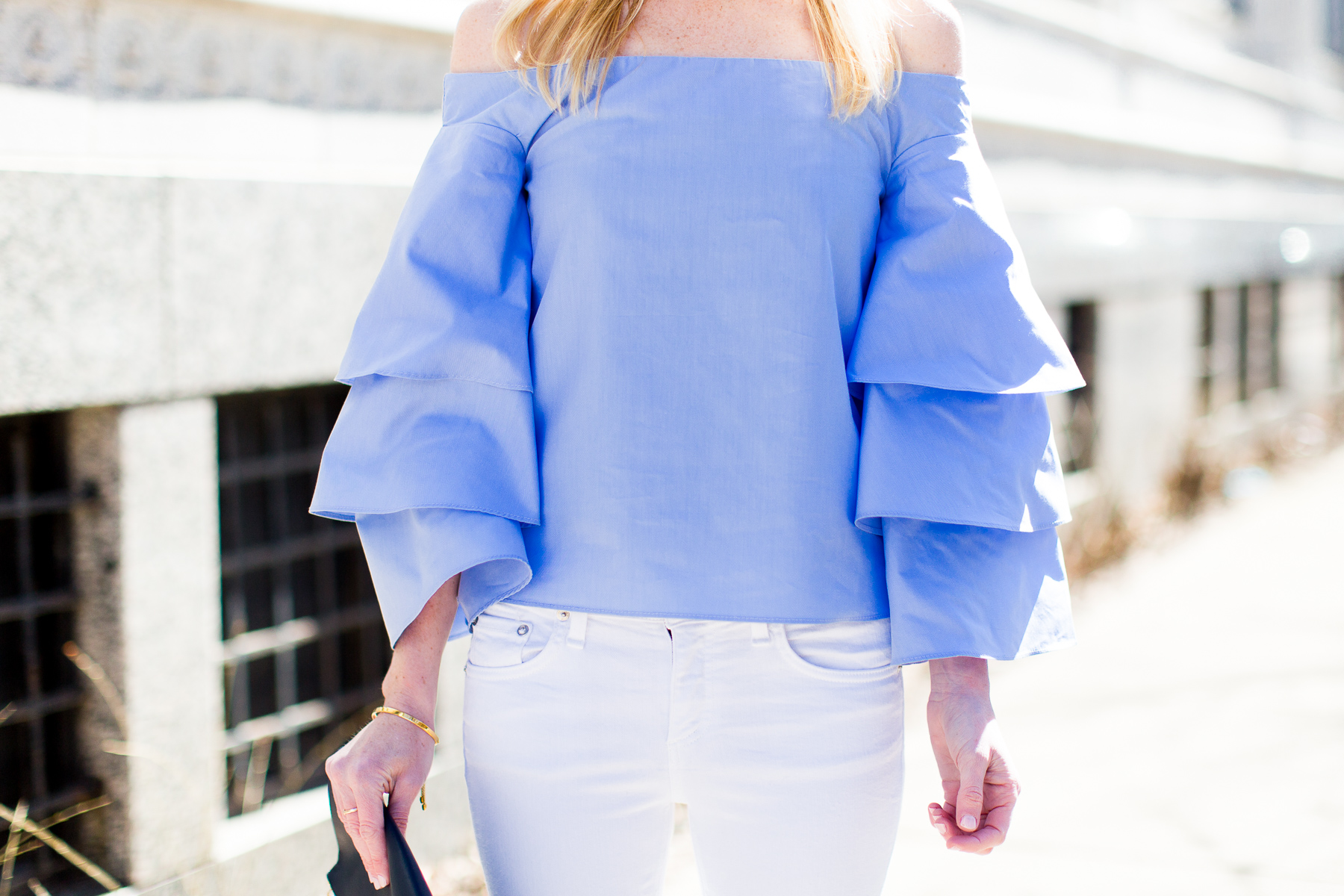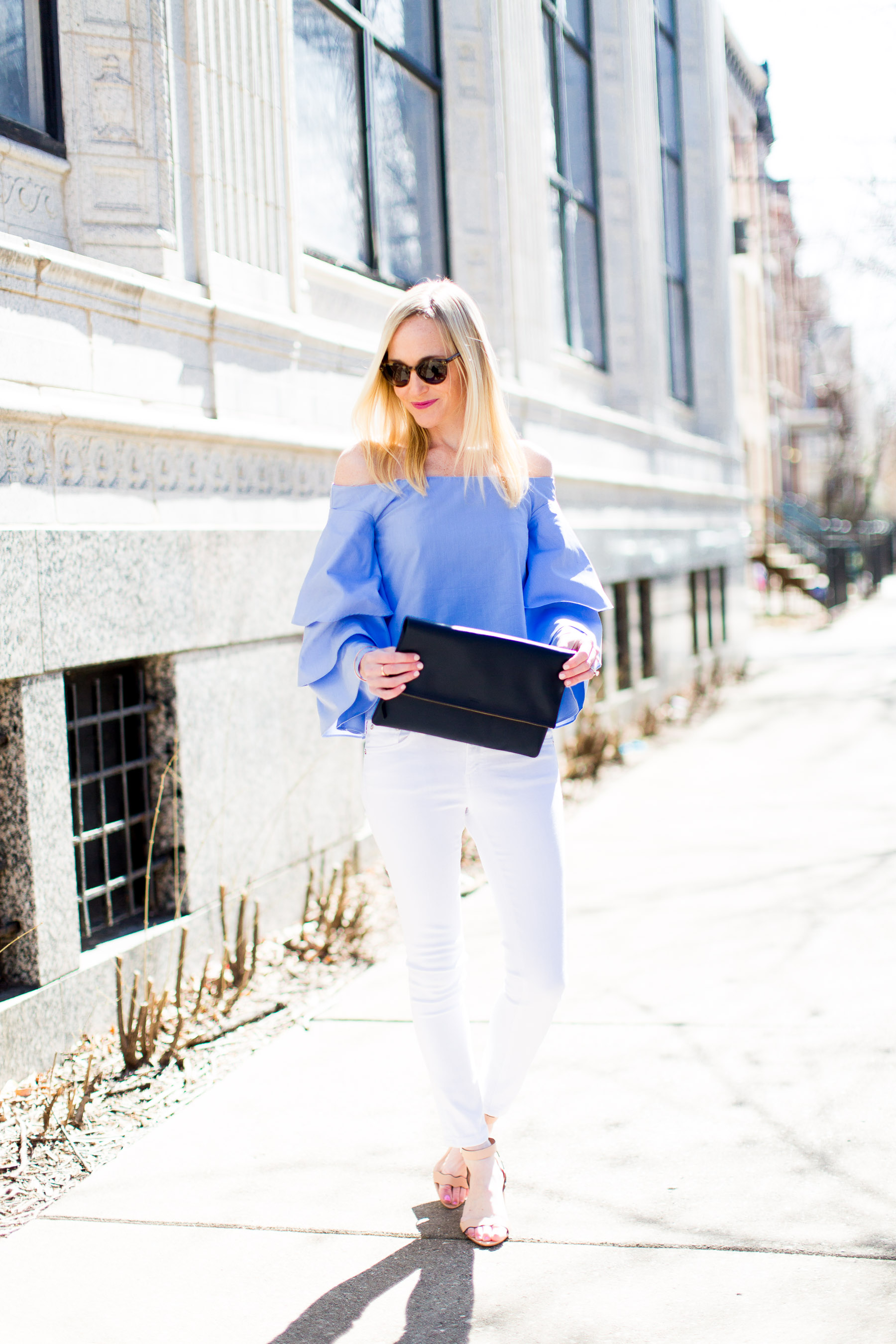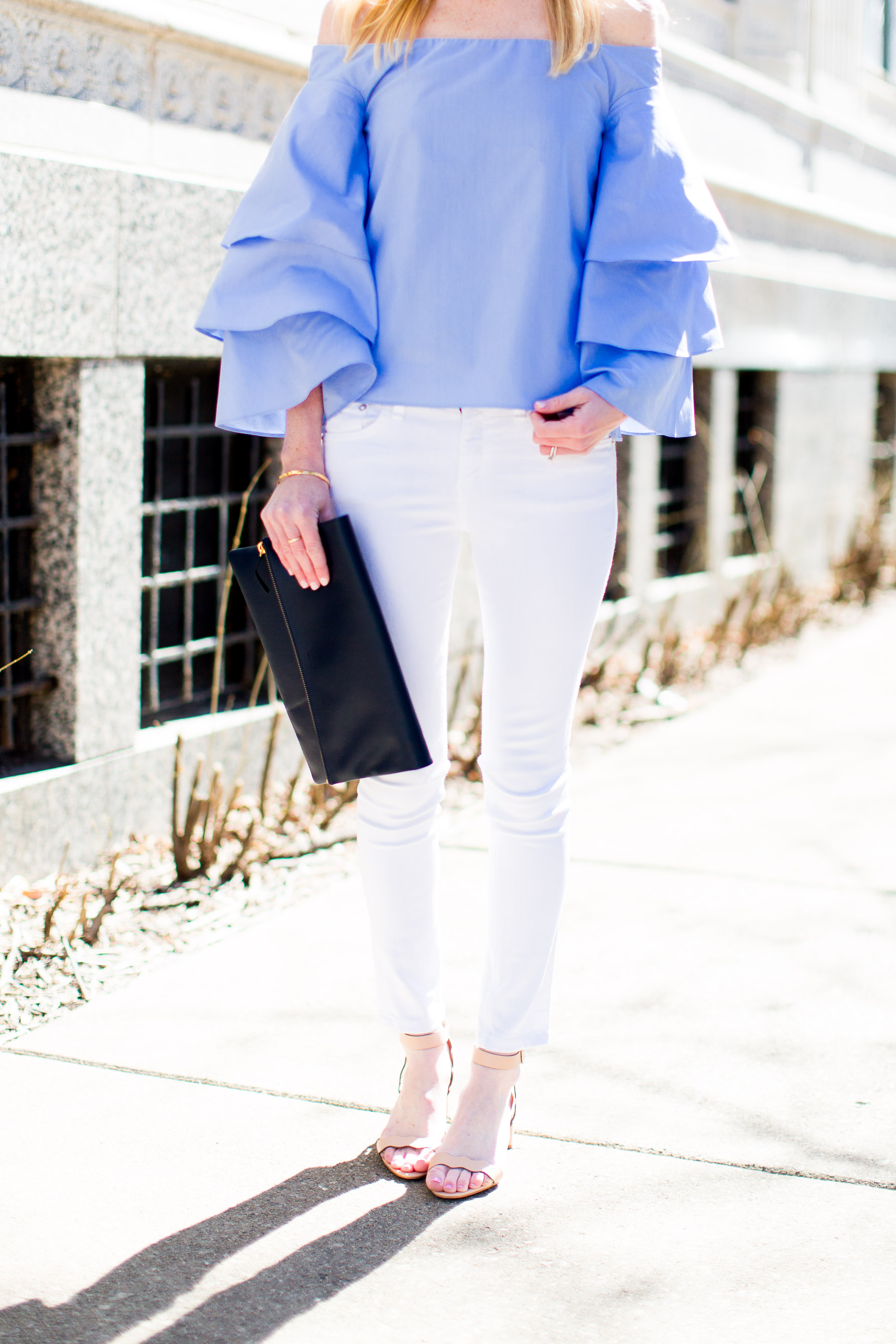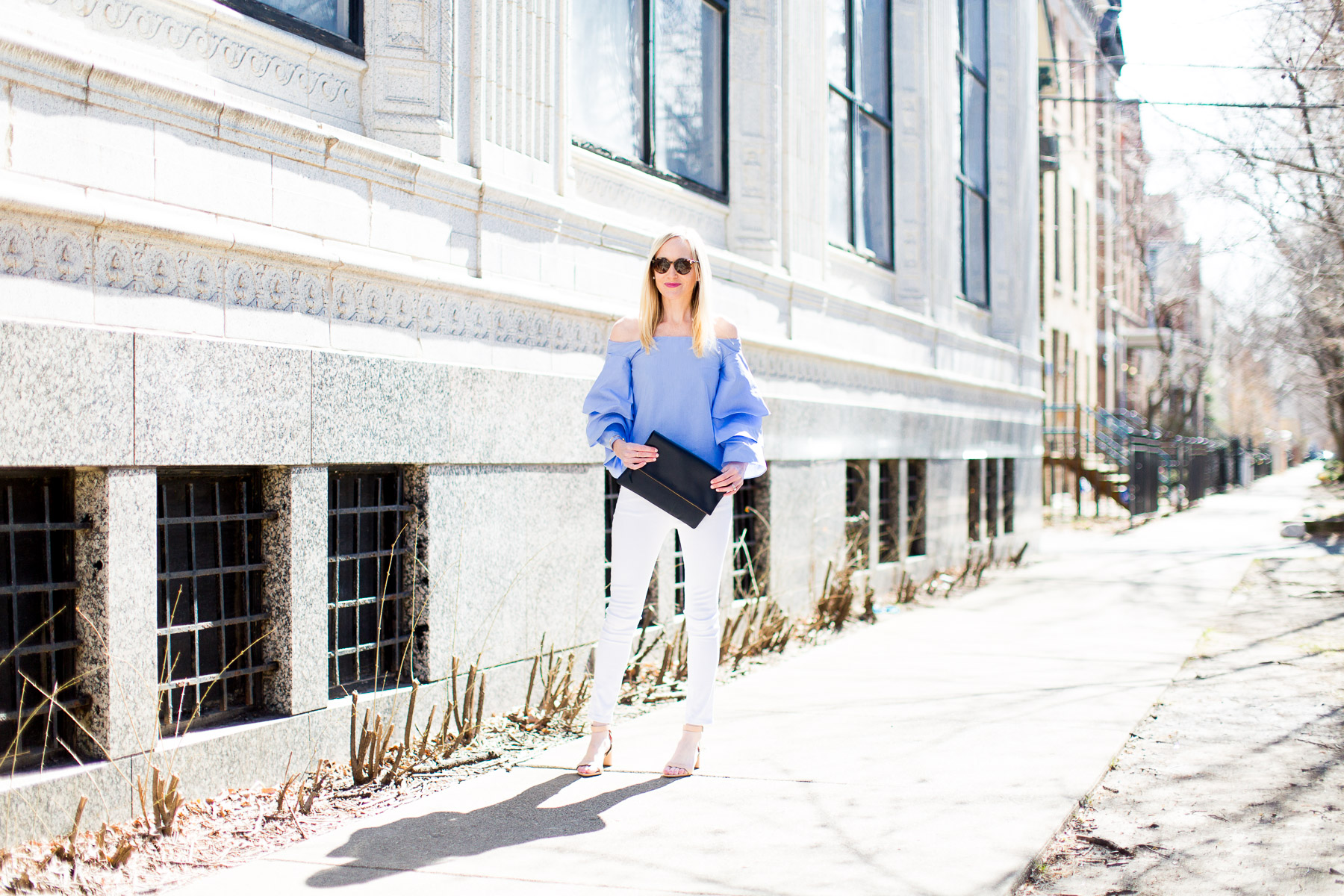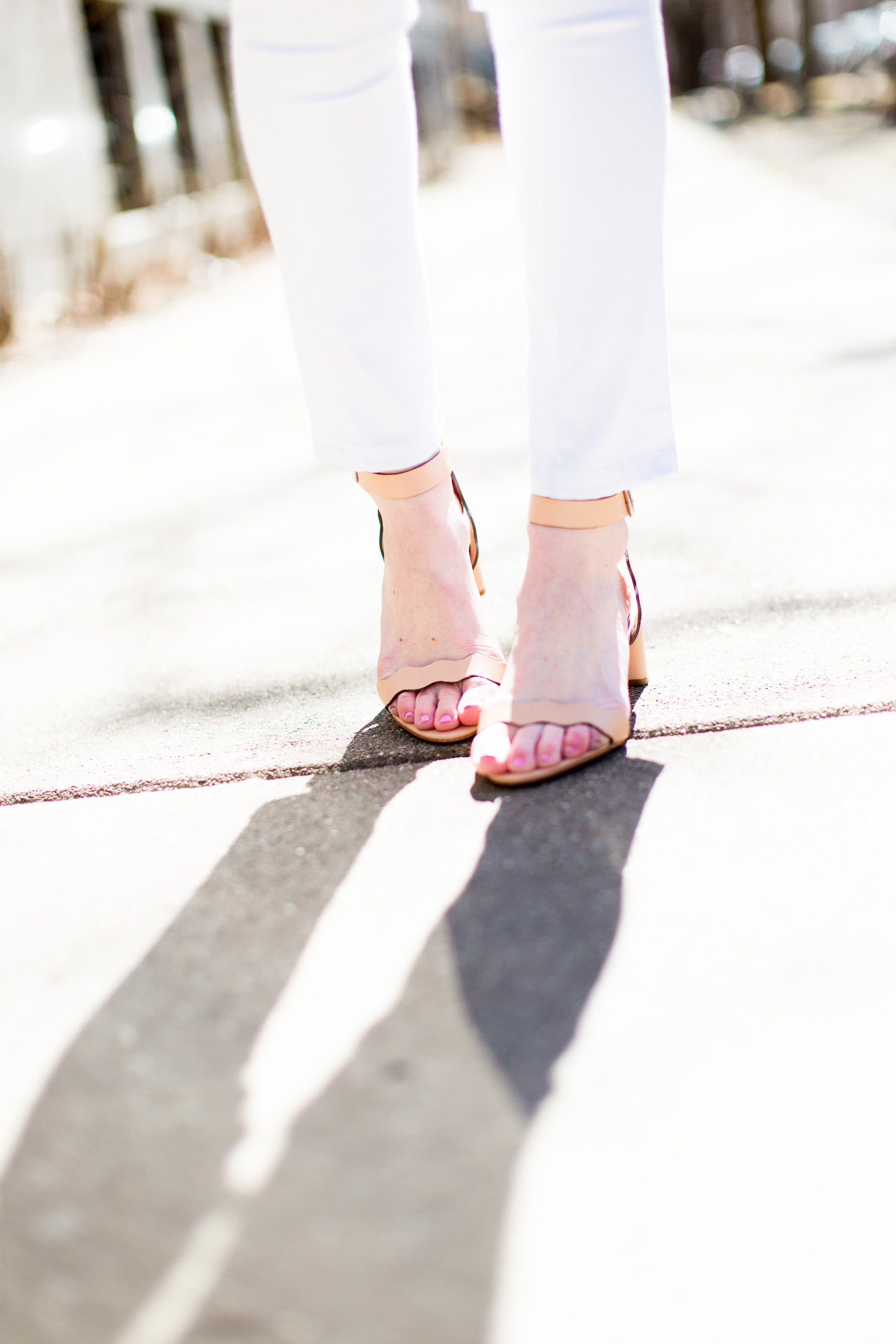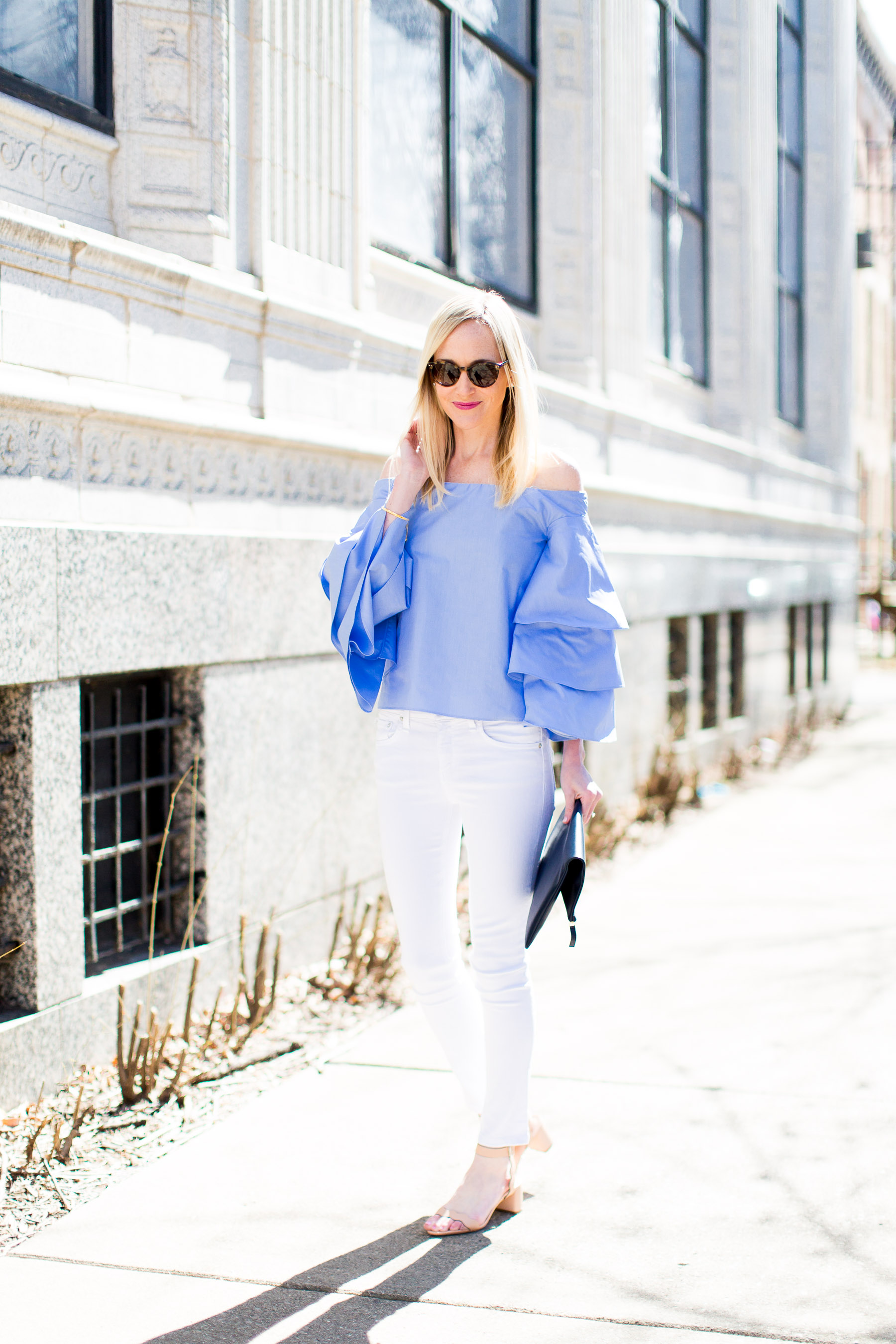 Shop the post:
Tiered Top (See similar picks below!) / Everlane Navy Leather Clutch c/o (Also love the crossbody version!) / White Skinny Jeans (They're worth it! Super soft and don't stretch out.) / Loeffler Randall Sandals (Also available via Nordstrom here. They Run TTS. This version is on MAJOR sale! Love the wedges, too, and the gold ones are beautiful. This Sam Edelman version is so much more affordable. Have 'em in pink and love them! Also TTS.) / Monica Vinader Bracelet c/o