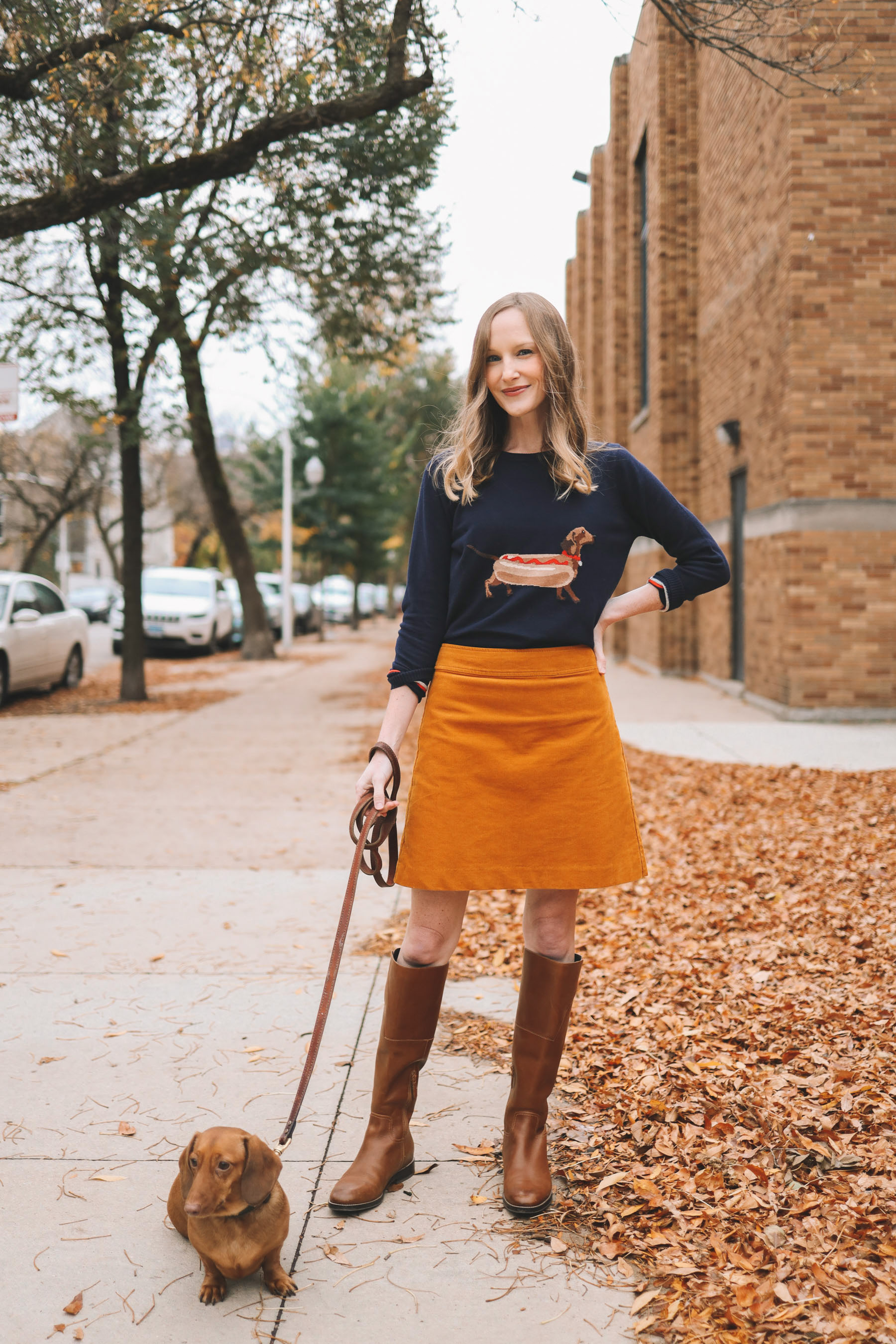 Joules Dachshund Sweater / Corduroy Skirt / Riding Boots (Old from Cole Haan; similar here) / Bean Boot Collar / Leather Dog Leash / Emma's Sweatshirt (Similar), Jeans and Bow Boots / Lucy's Waxed Jacket, Turtleneck (Similar), Jeans and Slippers (Newer)
Today I'm giving away this adorable Noodle sweater!
It's from Joules, one of my absolute favorite companies. Joules is actually known for its sausage dog line; the brand releases new dachshund-adored stuff every season, and I'm always so excited when they come out!
FYI: Joules' intarsia sweaters are fitted. I'm wearing a size U.S. 6 here. It's a little big, but I prefer my sweaters on the looser side as I live a very active chasing-after-kids lifestyle!
To enter to win, simply:
Comment in the comment section below. You can say whatever you like, as long as it's relatively nice and PG!
Make sure you enter your email address. (The only person who can see it is me! You will not be added to any lists, and the information stays private.)
Note: There will be an extra chance to win on Instagram tomorrow, so stay tuned for that!
Good luck, Friends! Winner announced in one week.

Above are some of my other Joules dachshund faves!
Shop the post:
Joules Dachshund Sweater / Corduroy Skirt / Riding Boots (Old from Cole Haan; similar here) / Bean Boot Collar / Leather Dog Leash / Emma's Sweatshirt (Similar), Jeans and Bow Boots / Lucy's Waxed Jacket, Turtleneck (Similar), Jeans and Slippers (Newer)