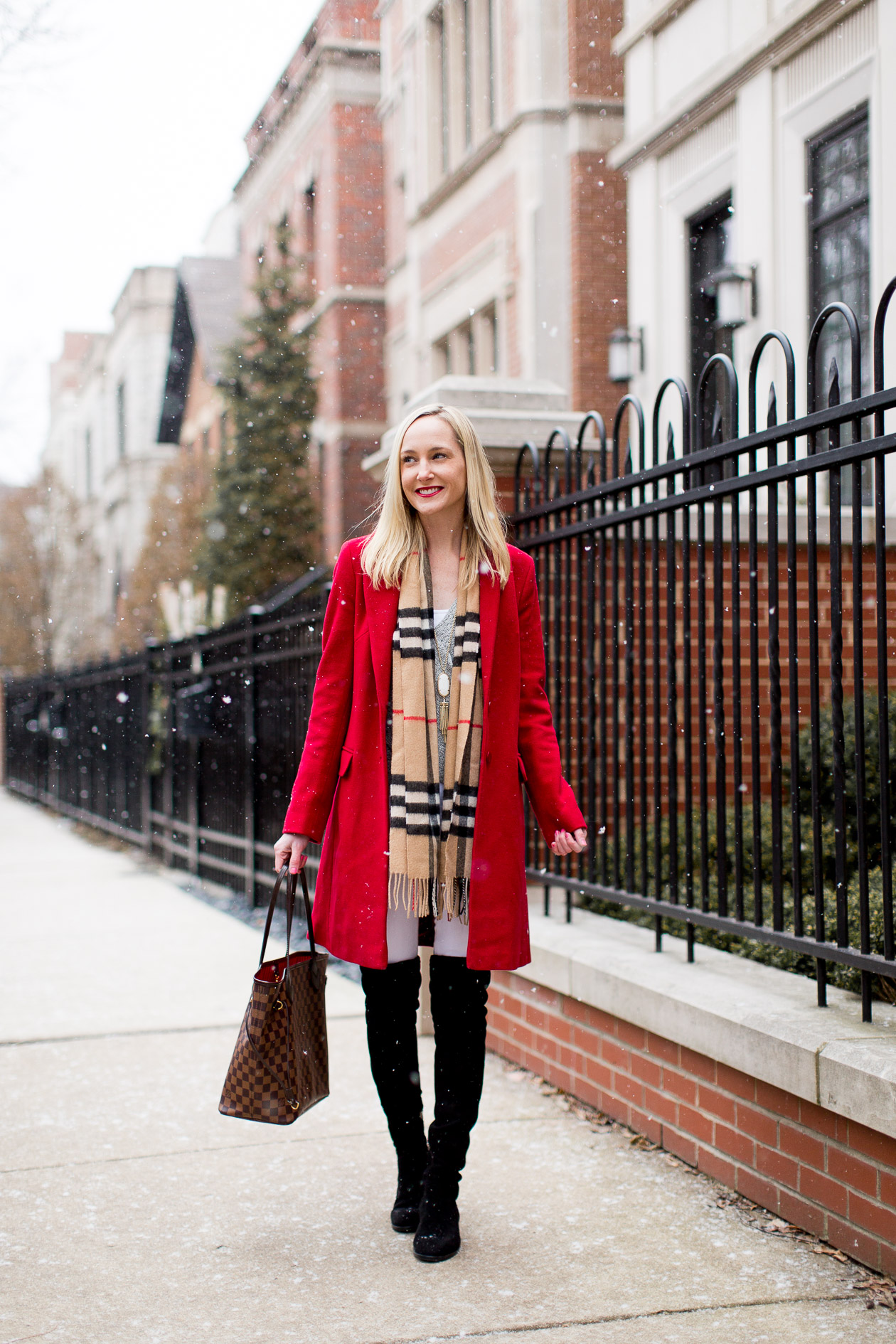 Red Coat (Sizing: It runs small. I'm wearing one size down, and I'd still say that it's snug in the shoulders, so definitely size up. I also love this similar red coat, which is on sale!) / Wrap Sweater (This is actually the one I'm wearing, but I just tried on this one and they're nearly identical! Other recent purchases: this navy SUPER SOFT ruffled top, this striped bell-sleeve top, this gray ruffled sweater, and this super soft gray twist sweater top.) / Over-the-Knee Boots c/o (These are the Stuart Weitzmans that I have in navy.) / Kendra Scott Necklace c/o / Burberry Scarf (Also love this one and this one for Valentine's Day!) / Rag & Bone Jeans / White Tank / Louis Vuitton Tote
Heyyyyy, guys! Hope everyone had a great weekend. In case you missed it, I published this post about making friends in your 30s on Friday, and on Saturday, I shared some of my favorite photos EVER of Little Miss Emma Larkin. Yesterday, Mitch wrote the most hilarious Valentine's Day gift guide. Honestly, I sometimes wonder whether he should just take over the blog completely. I personally much prefer his posts to mine. Ha! ;)
Anyway, here's what's going on:
CHICAGO HAS NOT SEEN THE SUN IN EIGHT DAYS. The last time this happened was 25 years ago. It's true. Read this article. Oh, and it's freezing. Not a great combo. I wish I could tell you that the Larkin Fam has been successfully battling the winter blues, but truth be told, we've been failing. On Saturday, we bundled everyone up (Noodle included) and walked Emma to the park because she loves the swings so much. But we only lasted 15 minutes before Mitch–Mitch!–couldn't take the cold and gloom anymore. And yesterday, we drove up to Roscoe Village for an open house (we love attending open houses, haha), but we were still chilled to the bone when we got back. Sigh. We did, however, snap these pics… and right when we were finishing up, it started to snow. We were so grateful. Cloudy, gloomy weeks are tough, but snow is–and always will be–magical for us.
Until Valentine's Day, I'm going to try really hard to incorporate red and pink into my outfits every day. I know, I know. I'm ridiculously lame. But it's January in Chicago, and I need a few little things that make me happy, and bright colors just do it for me. ;) Have I mentioned that I finally found a red coat I love?! I'd been looking for ages, and I finally pulled the trigger. (Sizing tip: runs small. I went up a size, and it's still a bit tight in the shoulders!) I also love this red coat, which happens to be on sale, in case you're looking! On a somewhat related note, this is the cutest wrap sweater of all time. I actually have this one, but I've tried the other one on, and they're nearly identical. I can't tell you how much I love sweaters that are acceptable to wear on Friday and Saturday nights!
Despite the gloom, we had a really great weekend. On Friday, we went out to dinner with our neighbors, whom we hadn't seen in the longest time. It was so nice to catch up, and every time we hang out with them, I'm reminded of just how lucky we are to belong to such a friendly, welcoming community. And on Saturday, we went out to lunch at Athenian Room and then Maya, Kira and Tom came over for deep dish pizza and we at around the kitchen table, just laughing. It was a great night. :)
My computer battery is about to die, and I'm getting sleepy. Good night, all! ;) Check back in tomorrow for another "Recent Finds" post. Here's the first, second and third!
Shop the post:
Red Coat (Sizing: It runs small. I'm wearing one size down, and I'd still say that it's snug in the shoulders, so definitely size up. I also love this similar red coat, which is on sale!) / Wrap Sweater (This is actually the one I'm wearing, but I just tried on this one and they're nearly identical! Other recent purchases: this navy SUPER SOFT ruffled top, this striped bell-sleeve top, this gray ruffled sweater, and this super soft gray twist sweater top.) / Over-the-Knee Boots c/o (These are the Stuart Weitzmans that I have in navy.) / Kendra Scott Necklace c/o / Burberry Scarf (Also love this one and this one for Valentine's Day!) / Rag & Bone Jeans / White Tank / Louis Vuitton Tote