As crazy as this seems considering the recent heat waves that have swept the country, it's been surprisingly cool over the last few days! Actually, that's not surprising at all. Oh, Chicago, haha!
Madewell Loafers (More traditional version here. They're back! The Sperry pair is just as comfy, btw. Can't decide which I like better.) / Hudson Jeans (SO SOFT and stretchy but don't lose their shape. Btw: My favorite AG skinnies are 40 percent off, which never happens. My eye's on this pair, too.) / Navy Polka Dot Top (Also check out this Polka Dot Top this Navy Polka Dot Wrap Dress.) / Louis Vuitton MM Neverfull Tote
Happy Friday, friends! Let's get right to it, since today's post is pretty important.
Musings, 8/31
I'm only including one.
Help Chelsea! As you might remember, my cousin Annie (who's basically my sister), fought a battle against cancer this past year. It was an unbelievably scary time for my family (and obviously for her), and I can't even tell you how lucky and blessed we feel that she beat it. Definitely tearing up as I type this. (Also, fun fact: during her treatment, her doctors told her that she would likely never walk again. But guess what she's doing as we speak? Climbing Machu Picchu! YES. You read that correctly. GO ANNIE! Are you crying yet? So amazed by and proud of her.)
Anyway, because we were so lucky with Annie, I want to pay it forward a bit and introduce you to Chelsea, Jess' college roommate. She's starting chemotherapy, and needs to have her eggs harvested since chemo can damage them and affect fertility. (Something I didn't know until Annie started chemo.) Unfortunately, though, this is a very expensive process. So I'm leaving her Go Fund Me page here, in the hopes that we can band together and help. Every little bit is helpful; no donation is too small! I love the idea that a portion of the fund is coming from the kindness of strangers who, for lots of different reasons or no reason at all, want to contribute. There's so much good in the world.
You've got this, Chelsea! <3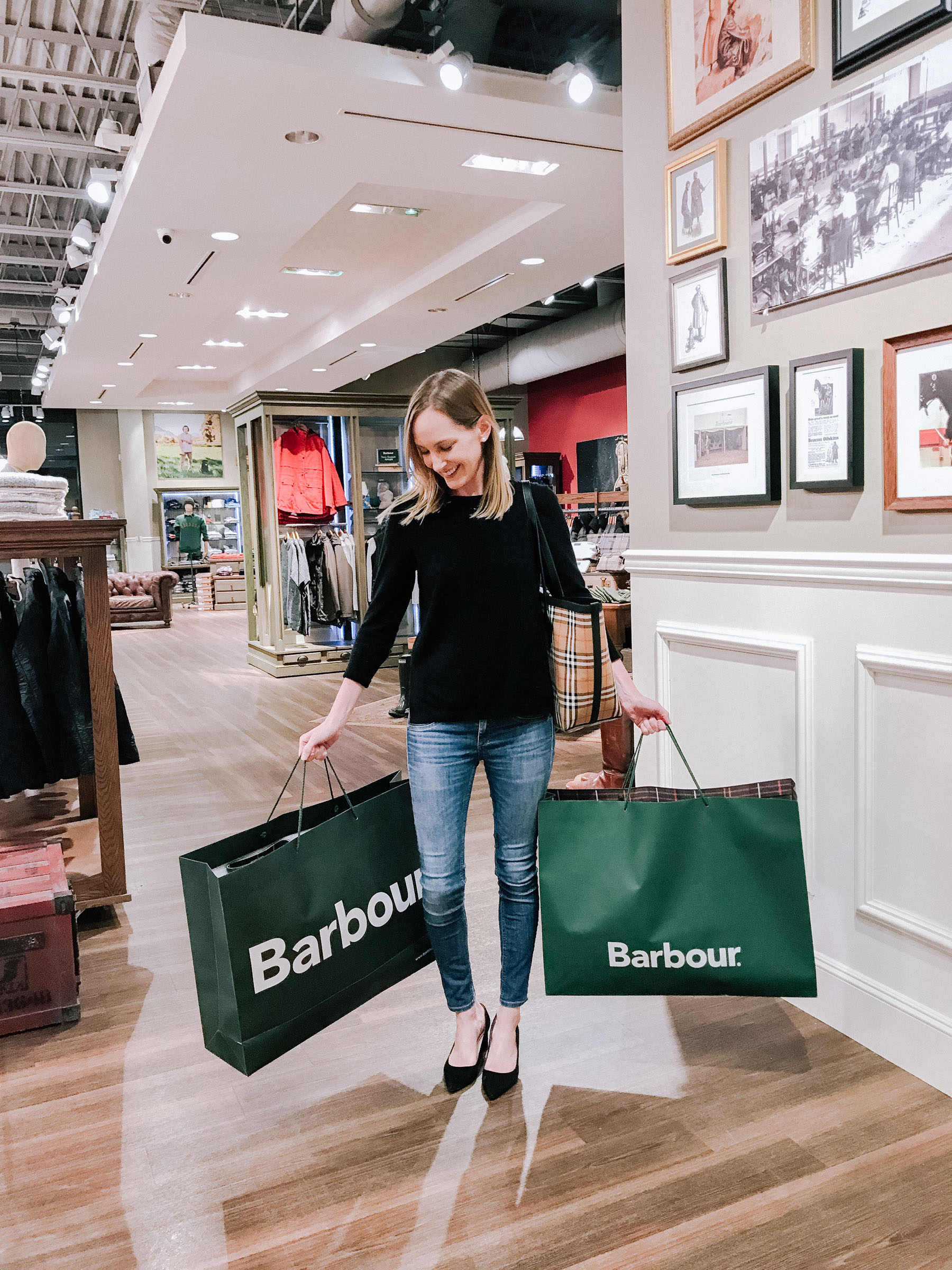 Favorite Cashmere Sweater (Have you seen the new navy striped one?! Also love the Halogenand Everlane versions.) / Newer Version of my Favorite Black Pumps (Nordstrom is now carrying them in camel and they're ADORABLE.) / Rag & Bone Jeans (SO SOFT. Also, this pair of Rag & Bone jeans is on sale, too. Have 'em and love 'em.) / Burberry Tote
What I'm up to this weekend
Sadly, I'm going to be working. Mitch and I are off to New York next week for Fashion Week, and we have a lot to get accomplished before then. We were supposed to go down to my in-laws' lake house, but we just couldn't get everything done in time, and decided that we should reschedule for the sake of our sanity. It's okay, though! We'll probably visit a few parks in between work sessions. :)
Today, though, Mitch and I are shooting a feature with Barbour–and Jess and Neal! I know that we're going to have a blast doing it together, and I can't wait to share it with you.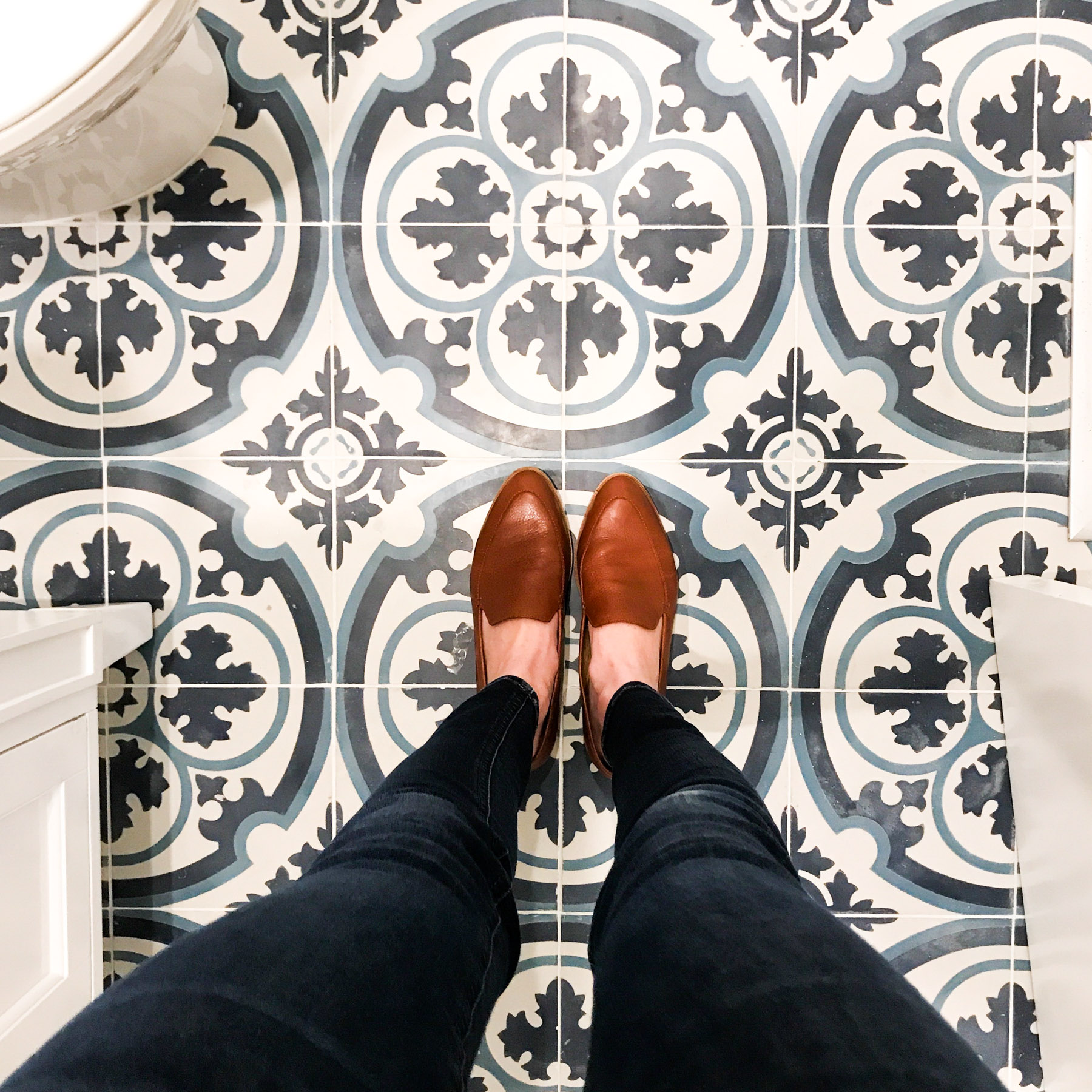 Our guest bathroom reveal post is done, and it's going live early next week. Stay tuned!
Madewell Loafers (More traditional version here. They're back! The Sperry pair is just as comfy, btw. Can't decide which I like better.)
This week's 10 most popular products
The Madewell Frances Loafer: No surprise here. I did a whole post about why they're my faves last year, and I'm so happy they're in stock again. LOVE the white, too. The Seaports are equally as wonderful, just a different style. (And brand.)
Kate Spade Suede Camel Block Heel Pumps: Omg. I can't wait to get 'em up on the blog, but they're everything. The only pumps I wear, and so excited that they finally come in this gorgeous brown color. Great for fall.
Faux Leather Tote: I can't believe I like this tote more than my real leather ones, but it's just so well-made and soft. The price point is unreal, too.
Favorite Sorel Boots: Whoa! A little early, guys. But yes: These Sorels are my go-to winter boots, as I've never had another pair that was warmer. Can't recommend them enough–they even withstand Chicago winters!–and they sell out quickly.
Quilted Navy Barbour Coat: Favorite Barbour. Same cut as the original design but it features polarquilting, making it exceptionally warm.
Ralph Lauren Camel Coat: It's back! Camel coats are difficult to find and sell out quickly, and this is probably my favorite. Scoop it up before it sells out! Runs large; I went down one size.
J.Crew Sweater Blazers: So many options! This one (in camel) is probably my favorite, but I love the new version that the brand recently came out with.
J.Crew Factory Schoolboy Blazer: An amazing deal on the classic camel blazer this weekend! The Regent Blazer is J.Crew's version of it.
Drapey Faux Wrap Top: As I said last week, GET THIS. It's so great. I have it in navy, blush and white, and it's basically all I wear when I go out to eat with Mitch and Emma. (A slight exaggeration, but it makes me feel dressed up even when I need to wear jeans b/c #momlife.)
New Rug: Still making the top 10 list, and for good reason! It's an investment, but I can't believe how robust it is. It's held up exceptionally well through all the Emma and Noodle tests. ;) It brightens up our room, and it's sophisticated and gorgeous.
Recent blog posts
Lilly Pulitzer Sale Dates Announced + a $200 Giveaway: Friends! Read this post. Tons of helpful info and I'm giving away a big gift card. :)
"In the Age of Fear": A little controversial, but what do you think?
How We're Saving for Emma's College Education: Was definitely a little nervous to hit publish on this one, but I'm so glad we shared it. It includes specific numbers in an effort to actually help those who are feeling overwhelmed by it. (Been there!)
What I Wore + Stories: Such a fun series for me! Of course, I really didn't do anything very interesting this past week, so that's a bit of a bore. But perhaps good for people who are looking for some casual outfit inspiration? (And by casual I mean "I have 20 minutes to shower and get dressed and this is what I came up with." 😂)
10 Awesome Podcasts: Mitch comes through with another awesome post! I've been working on some other stuff this week, so I really appreciate it. Also, his favorite podcasts are certainly worth a listen!
Nantucket Beach Days: For the longest time, the youngest in my mom's side of the family was Paige, who is now in her 20s. See how we're embracing the magic of childhood again now that Emma's on the scene!
Recent Finds
GUYS! The Burberry kids' snood is BACK. Okay, so hear me out. A women's Burberry scarf is crazy expensive. It's a classic, and you'll have it forever, but still. If it weren't for the blog, I definitely wouldn't have one. The kids' snood, though, is SUCH a great deal, and it's more than big enough to wear as an adult. I wear mine constantly throughout fall and winter and couldn't recommend enough.