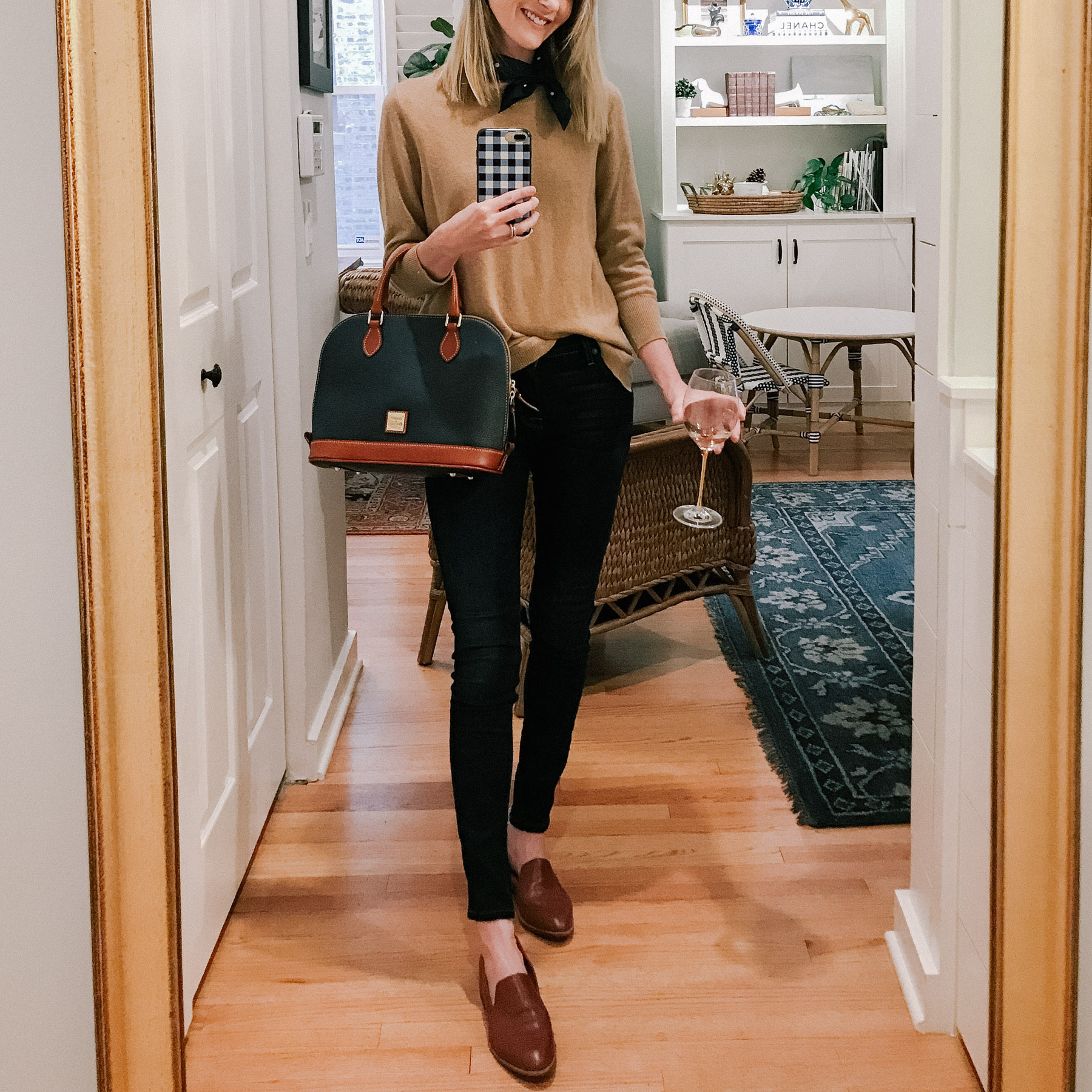 Favorite Cashmere Sweater (Have you seen the new navy striped one?! Also love the Halogen and Everlane versions.) / Hudson Jeans (SO SOFT and stretchy but don't lose their shape. Btw: My favorite AG skinnies are 40 percent off, which never happens. My eye's on this pair, too.) / Madewell Loafers (More traditional version here. They're back! The Sperry pair is just as comfy, btw. Can't decide which I like better.) / Dooney & Bourke Bag (Also at Macy's.) / Polka Dot Scarf / Pottery Barn Rug / Serena & Lilly Kids Table & Chairs
Okay, hi! 👋🏼
Last week, I started a new series: "What I Wore." (Here's the first post!) The concept is pretty simple: I'm featuring iPhone photos of the everyday, very casual outfits that don't make their way to the blog for one reason or another. (Because let's be serious: not every part of one's life can–or should be–professionally photographed. 😂)
As I said last week, I've wanted to start this for over a year now, and I'm so excited to finally be doing it! I'll say that pretty DSLR photos of styled looks have their place, and I do intend on starting back up with shooting. (Soon. Just haven't been into it as of late.) But everyday real life stuff–wrinkles and basics and messy hair and terrible lighting–has its place, too. Right?!
So let's get to it!
The above photo was taken last night. We were planning on grabbing dinner at Athenian Room, one of our absolute favorite restaurants in Lincoln Park. (Mitch grew up in the neighborhood, and his family went there throughout his entire childhood. They even have the original wooden menu sign–which they snagged when it was being replaced–hanging up in their house!) Anyway, we were headed out the door when ALL our neighbors were headed out the door, too. So instead, we all grabbed wine and the kids ate on-the-go meals and we chatted and drew with sidewalk chalk. I feel like I've been talking about this a lot, but we're just so lucky in the neighbors department. It's funny: all Mitch and I dream about is having a backyard for Emma and Noodle, but if we *did* have that, we likely wouldn't sit on our front stoop and see everyone as much. Very lucky to have what we have, and very lucky to not have what we don't have. If that makes sense. ;)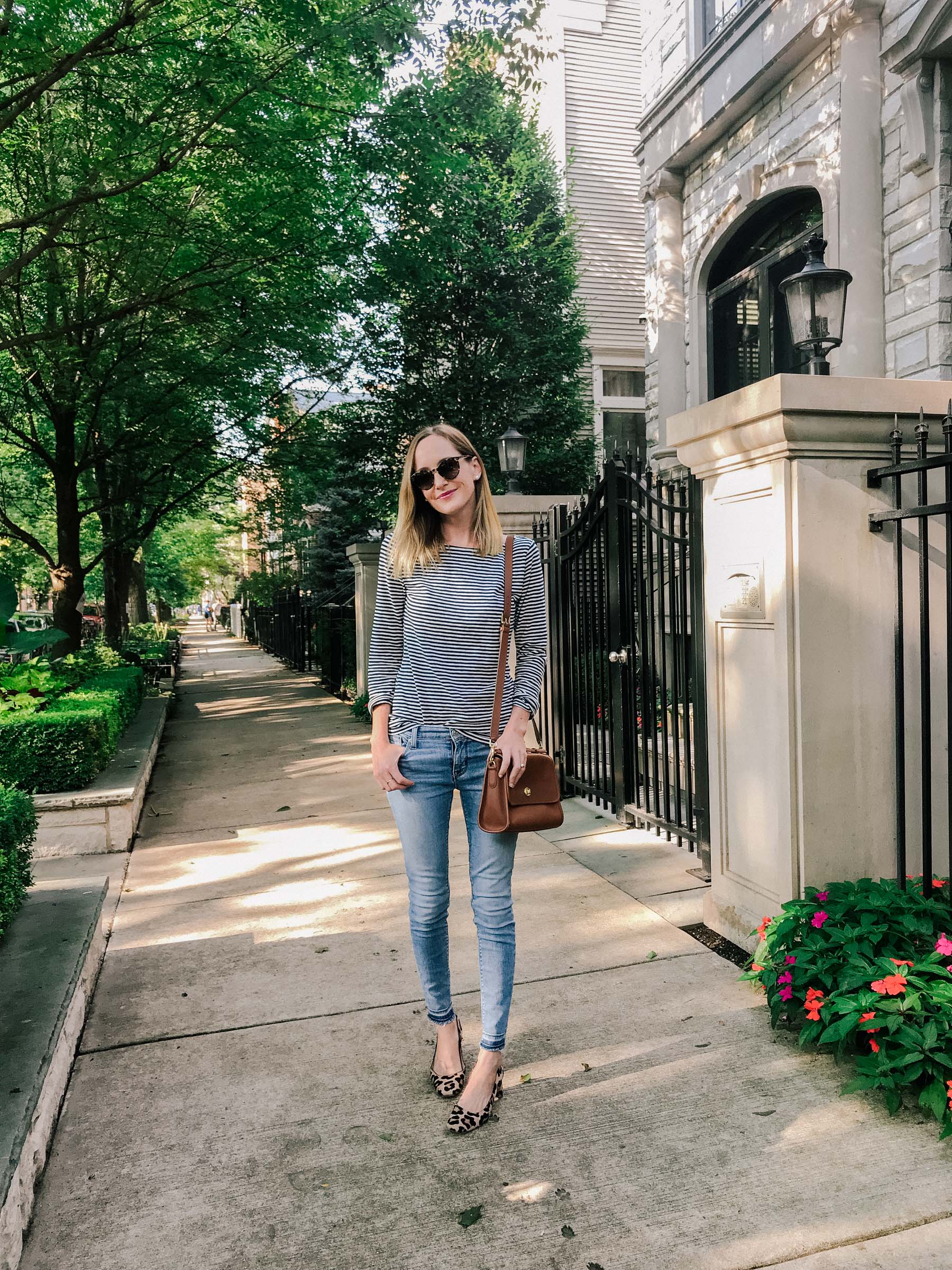 Old Hudson Jeans, but this pair and this pair are both very close! Love this similar pair from J.Crew Factory, btw! / Newer Version of my Kate Spade Leopard Pumps (Solid here.) / Coach Court Bag / Striped Tee (Size up.)
Now that Emma is going to "school" a couple of days per week, I'm making a real effort to get up and be showered before we take her, both so I don't look like the demogorgan during drop-off and so I'm more productive while working. Honestly, though, I usually just throw on a pair of heels with whatever jeans-and-t-shirt combo I'm wearing that day. These are my fave. Solids here.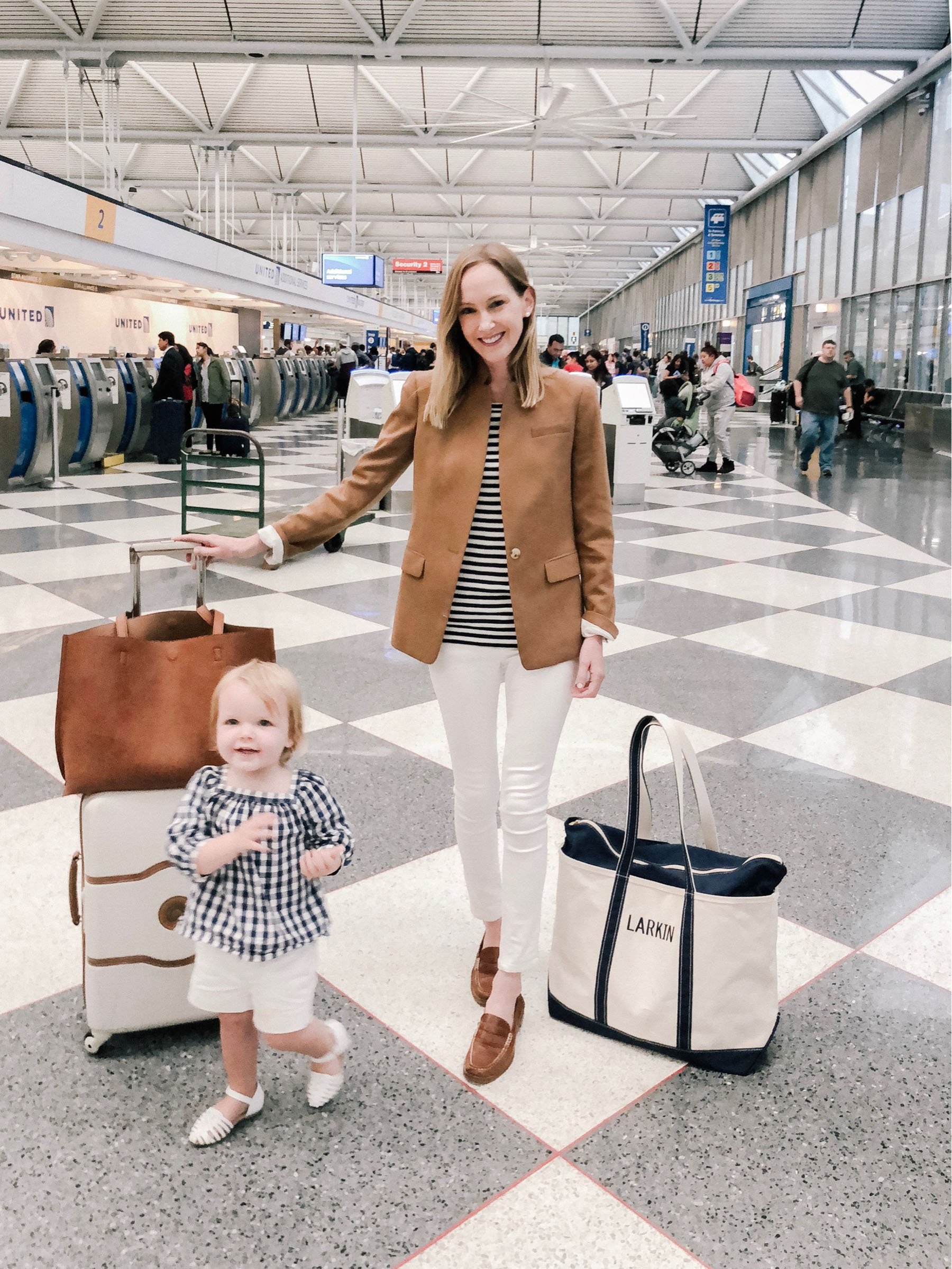 Camel Blazer (Factory Version here.) / Favorite White Skinny Jeans / Faux Leather Tote (Under $50!) / Favorite Loafers (Run TTS and super padded. I also love this pair from Madewell. Madewell makes a mule and a traditional penny loafer, too.) / Striped Tee (Also available here. Here's the long-sleeved version.) / L.L.Bean Tote (Take 25 percent off with code "LABORDAY." Size Large, long handles.) / Delsey Luggage (Same look but better quality here!)
Like I mentioned, we flew to Arkansas last weekend for a freelance job. I've been doing a lot more freelance work recently, and I've really been enjoying it. Not sure if I'm conveying this correctly, but it's kind of nice to have a little privacy "at work." Do you know what I mean? Like, this site–which is my main "job"–is very public. Anyone can see what I'm working on or doing just by logging on. But with freelance writing and photography work, I'm really not allowed to disclose what I'm doing, and now I feel like I have two separate parts to my work life. It's nice!
Also, the first time I flew to Arkansas, I really didn't have very much time to explore. This past weekend, though, we had a couple of hours to wander the town we were in, and we loved it! It was like something out of the 1950s, and I can't wait to go back. Which is really interesting, considering the only things I really knew about Arkansas were in regard to the "Little Rock Nine" and the Clinton family!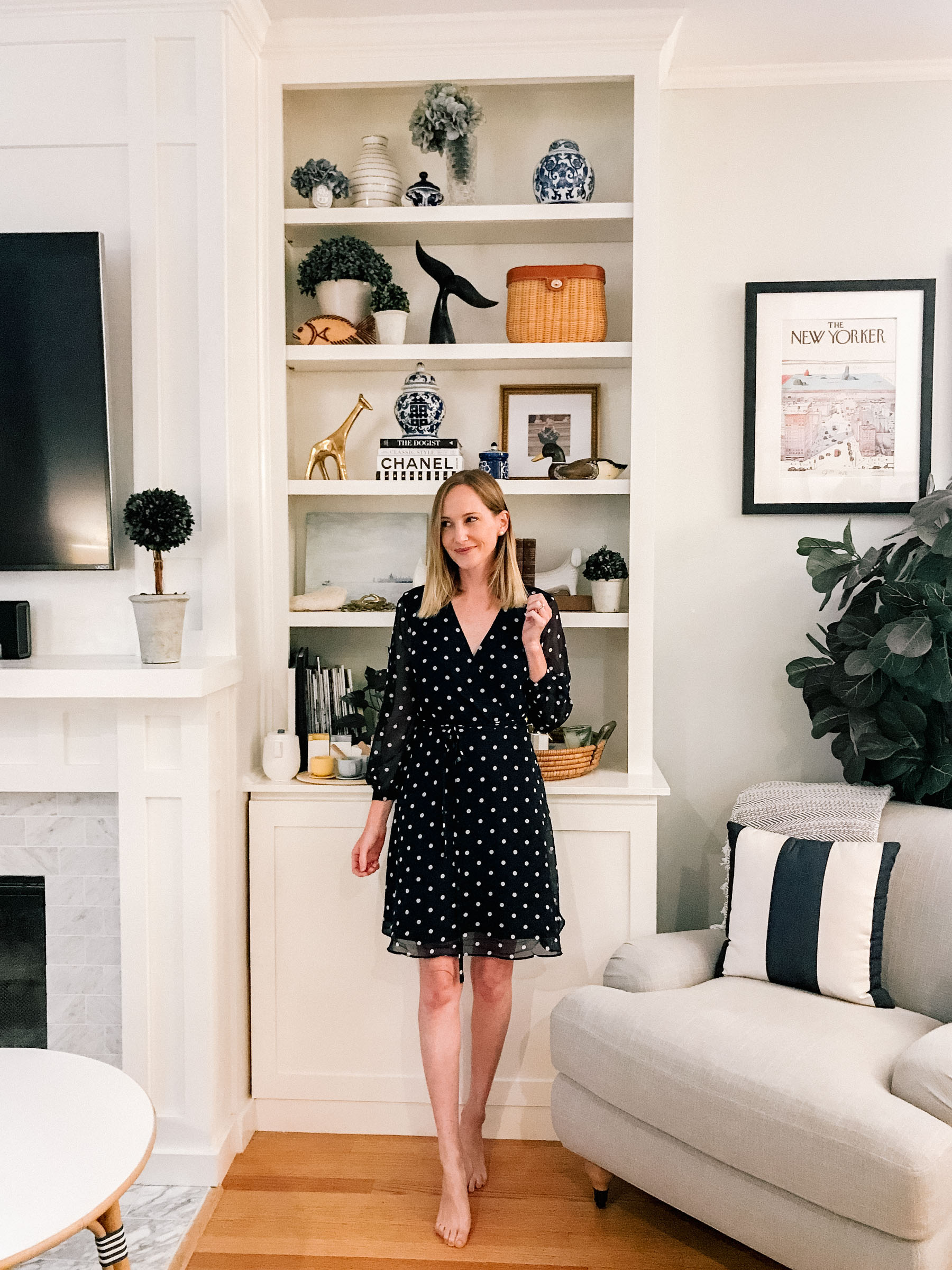 Navy Polka Dot Wrap Dress — Have you seen all the other stuff in the same print?! SWOON!
Not wearing shoes here because it was rainy and I didn't want to dirty our rug, but wore this on a recent date night. Did I tell you guys that Mitch and I are headed off to NYC next week for FOUR DAYS? My in-laws are watching Emma, and while I know we're going to miss her like crazy, we're pretty excited to do it up back in our home city.
I'm going to be honest, here. You can expect a lot of late-night antics on Insta Stories, haha.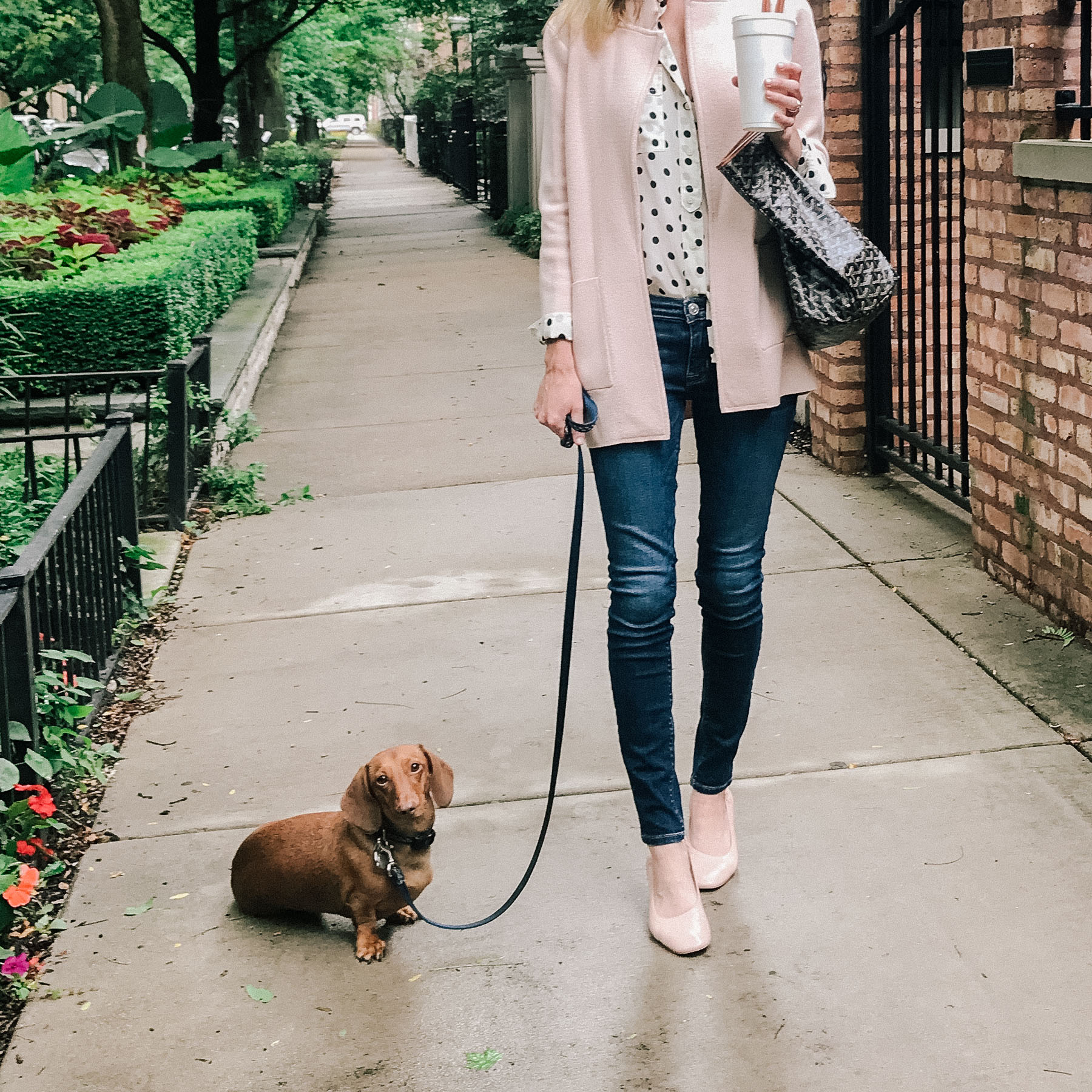 J.Crew Sweater Blazer (Slightly different version.) / Everlane Day Heel / Goyard Bag / Old Polka Dot Top (Love this similar nearly identical one!)
We got slammed with work this past week, so a lot of my outfits are just "walking Noodle before heading off to the coffee shop" outfits. This is one of them. Beale, you're so cute.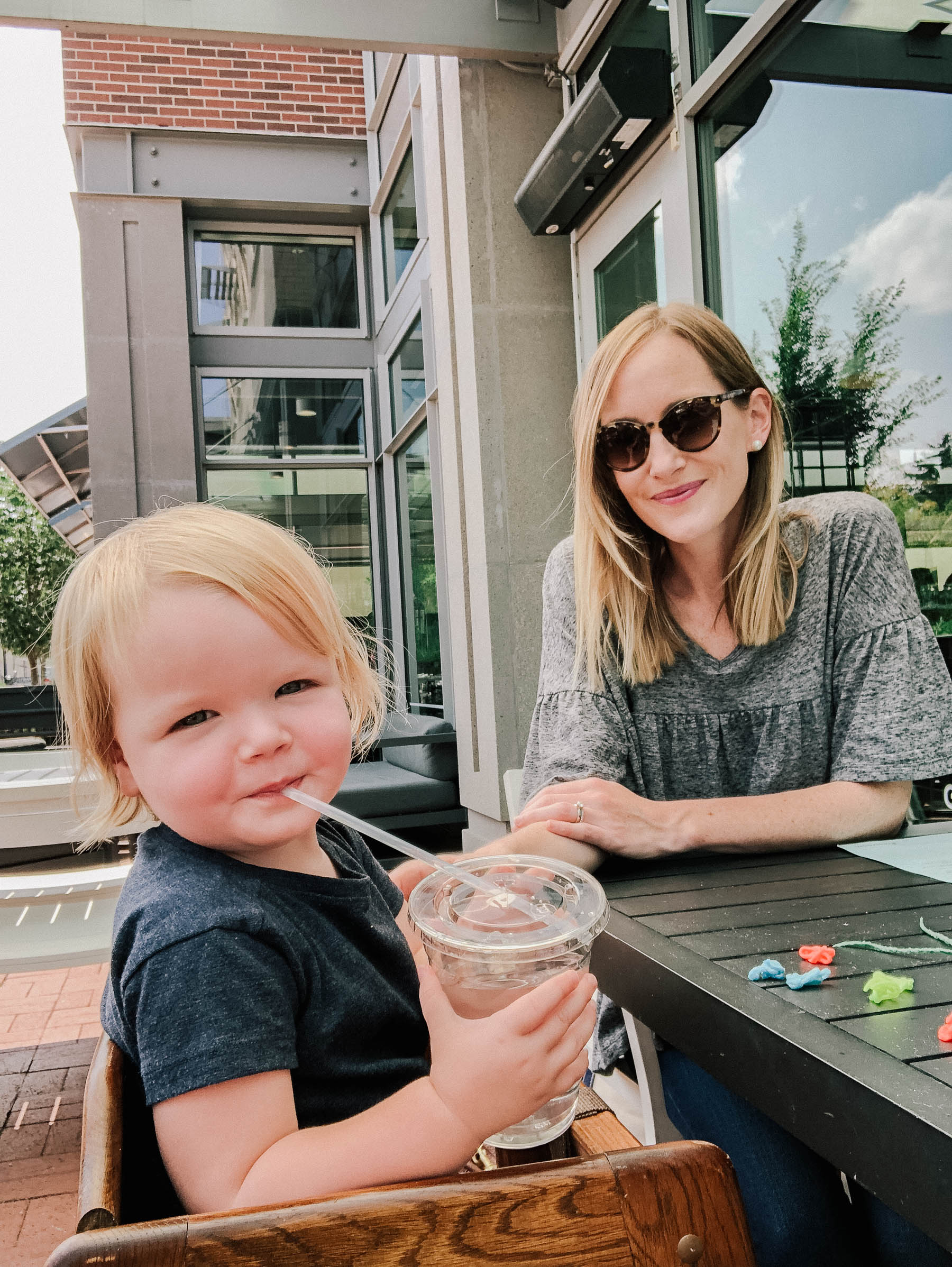 Old top, but it's from Jack from B.B. Dakota — I LOVE the brand's t-shirts and sweaters.
Here we are in Arkansas again! CUTEST STORY: A bunch of readers messaged with recommendations for where to eat in Bentonville, and while I'm not the best with Instagram DM, I happened to see a note from a girl named Elise. She was SO SWEET, and recommended that we go to the Pressroom. So we did, and it was wonderful, and she stopped by with her husband and black lab! It was amazing to meet her, and I can't wait to go back so we can all do dinner or drinks or whatever. :) I know Mitch has a photo of us somewhere on his phone but he's asleep on the couch… so it'll have to go up next week, haha. Thanks, Elise! <3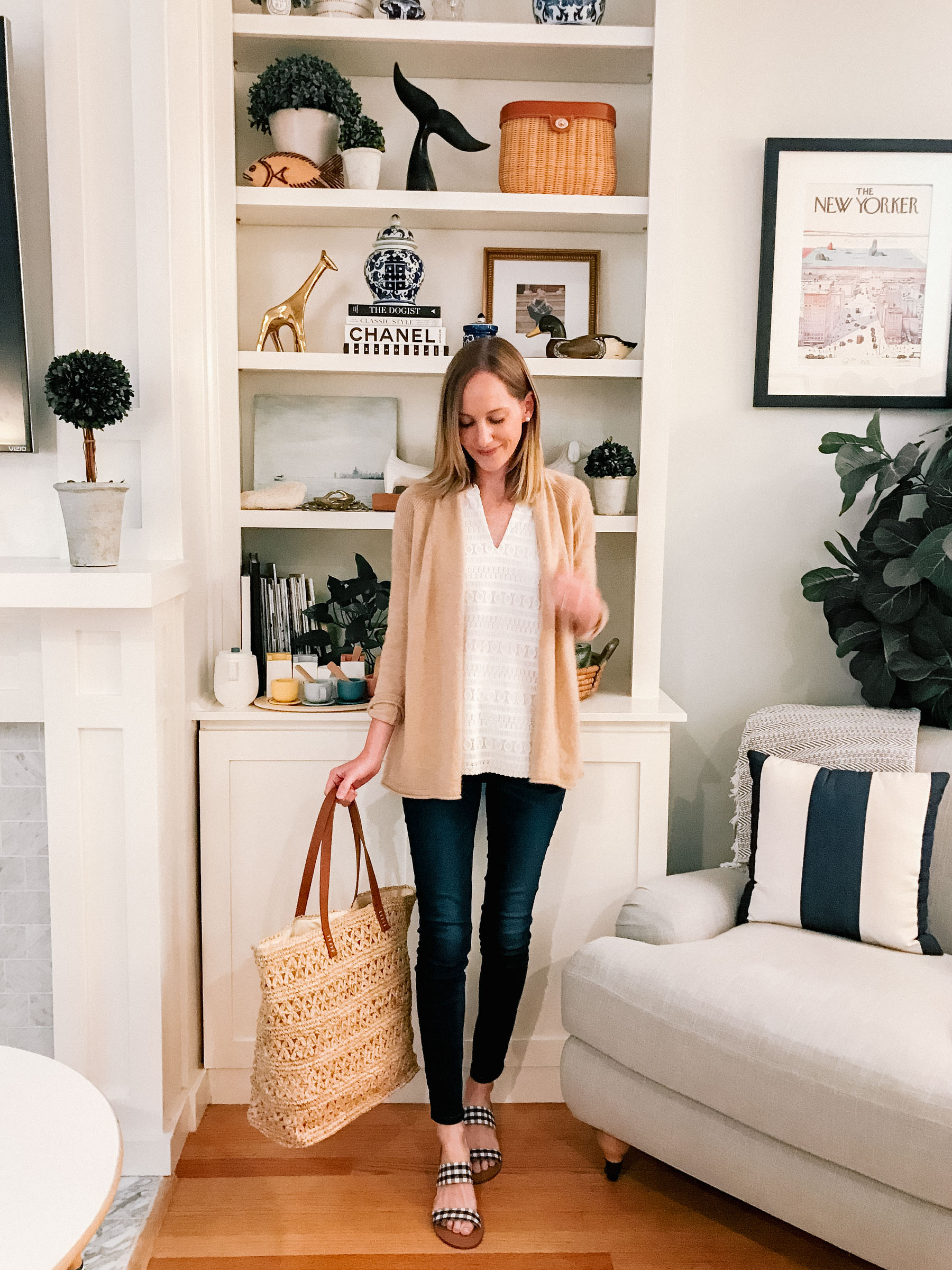 Lilly Pulitzer Cardigan (Newer) / Lilly Pulitzer White Lace Top (Similar) / Woven Tote (Love this one, too!) / J.Crew Factory Gingham Sandals (Totally sold out. BUT HAVE YOU SEEN THIS PAIR FROM J.CREW FACTORY? *Adds to cart.*) / Hudson Jeans (SO SOFT and stretchy but don't lose their shape. Btw: My favorite AG skinnies are 40 percent off, which never happens. My eye's on this pair, too.)
We're currently renovating our guest bathroom, and it's been roughly two weeks so far. (Hopefully finishing today!) But because the house is a construction scene, we've been eating out a bit more. While we just go to our favorite spots on the days that they have specials,  it's been great. In Chicago, we're typically stuck inside for the majority of the year due to the cold, so I don't feel that badly about going out for the burger special during the summer. Gotta take advantage!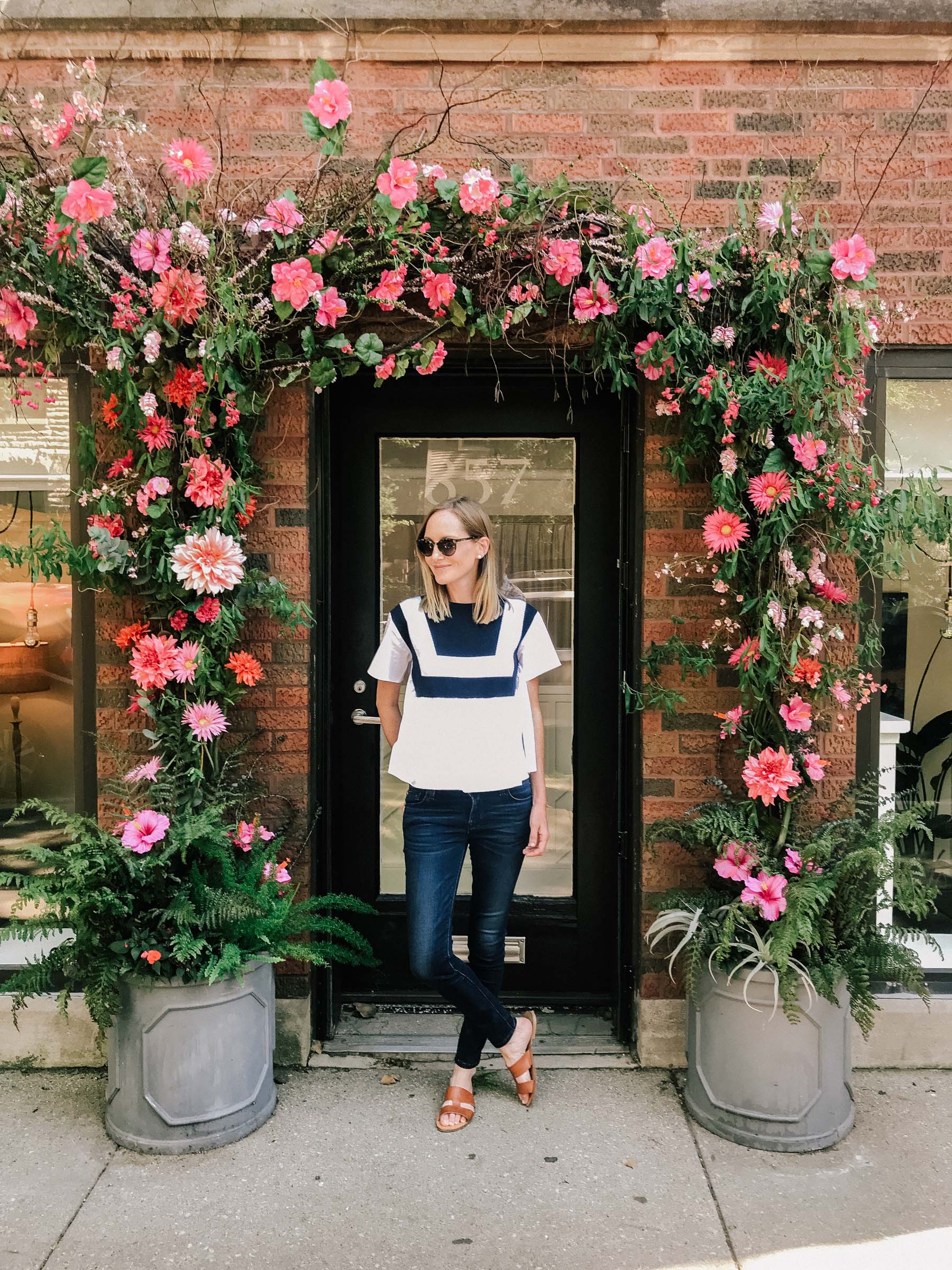 English Factory Top (Shop more English Factory here!) /Hudson Jeans (SO SOFT and stretchy but don't lose their shape. Btw: My favorite AG skinnies are 40 percent off, which never happens. My eye's on this pair, too.) / Similar Sunglasses / Everlane Sandals (Nearly identical Steven Greece Sandals here and here.)
This little doorway is on Webster in Lincoln Park, and I love it. Like, BRAVO, shop owners. You nailed this.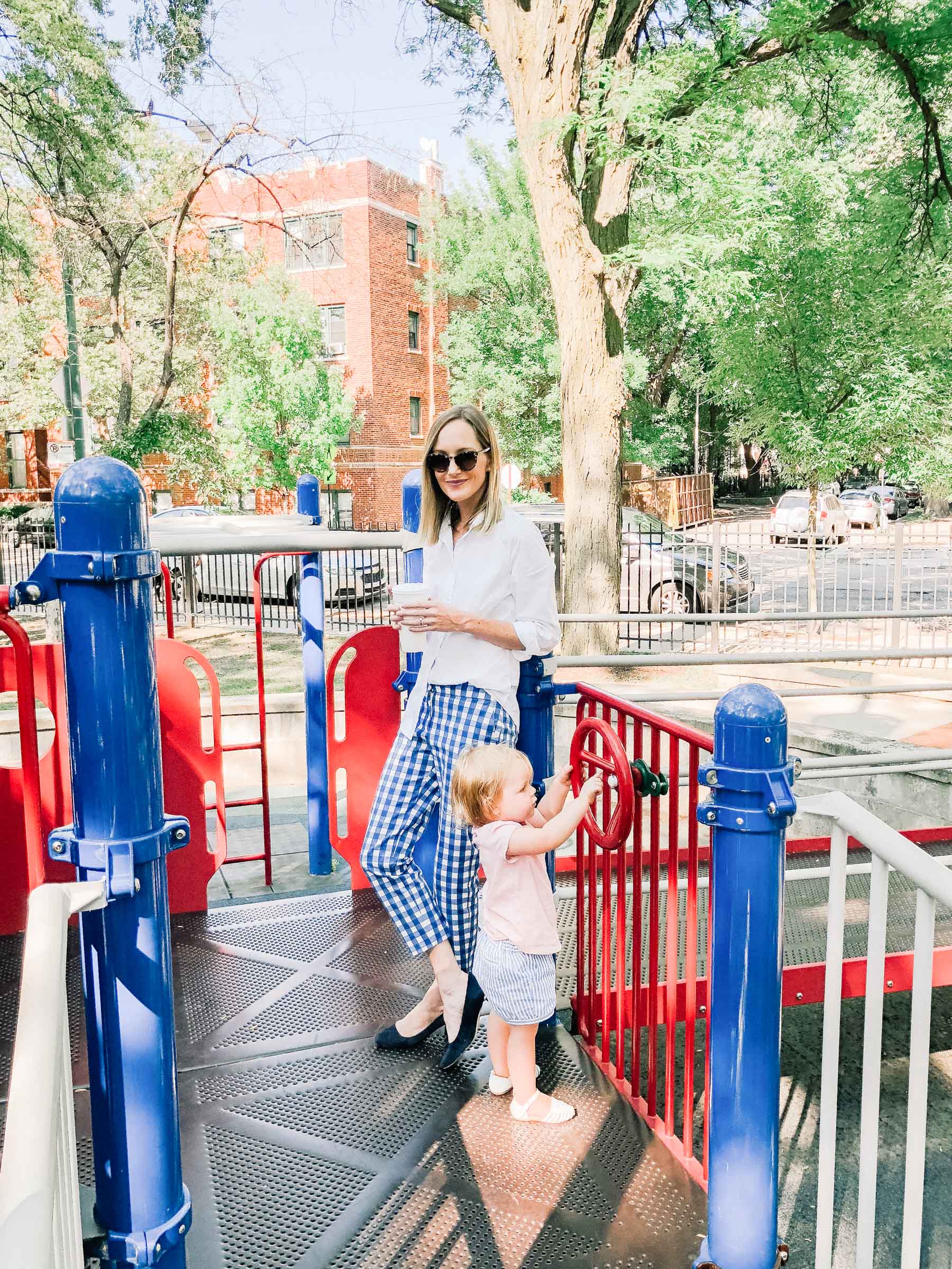 Gingham Pants (On sale! Also at Nordstrom! Skirt, Shorts, and Pumps in same print. Here's J.Crew's version.) / Oversized White Button-Down / Kate Spade Pumps (Newer version.) / Tuckernuck Tote c/o
My favorite weekend morning activity is visiting playgrounds. There are so many by us, and I just love sipping coffee with Mitch, chatting, and seeing Emma so happy. Normally I don't wear heels but we had plans afterwards… and they're my comfiest pumps!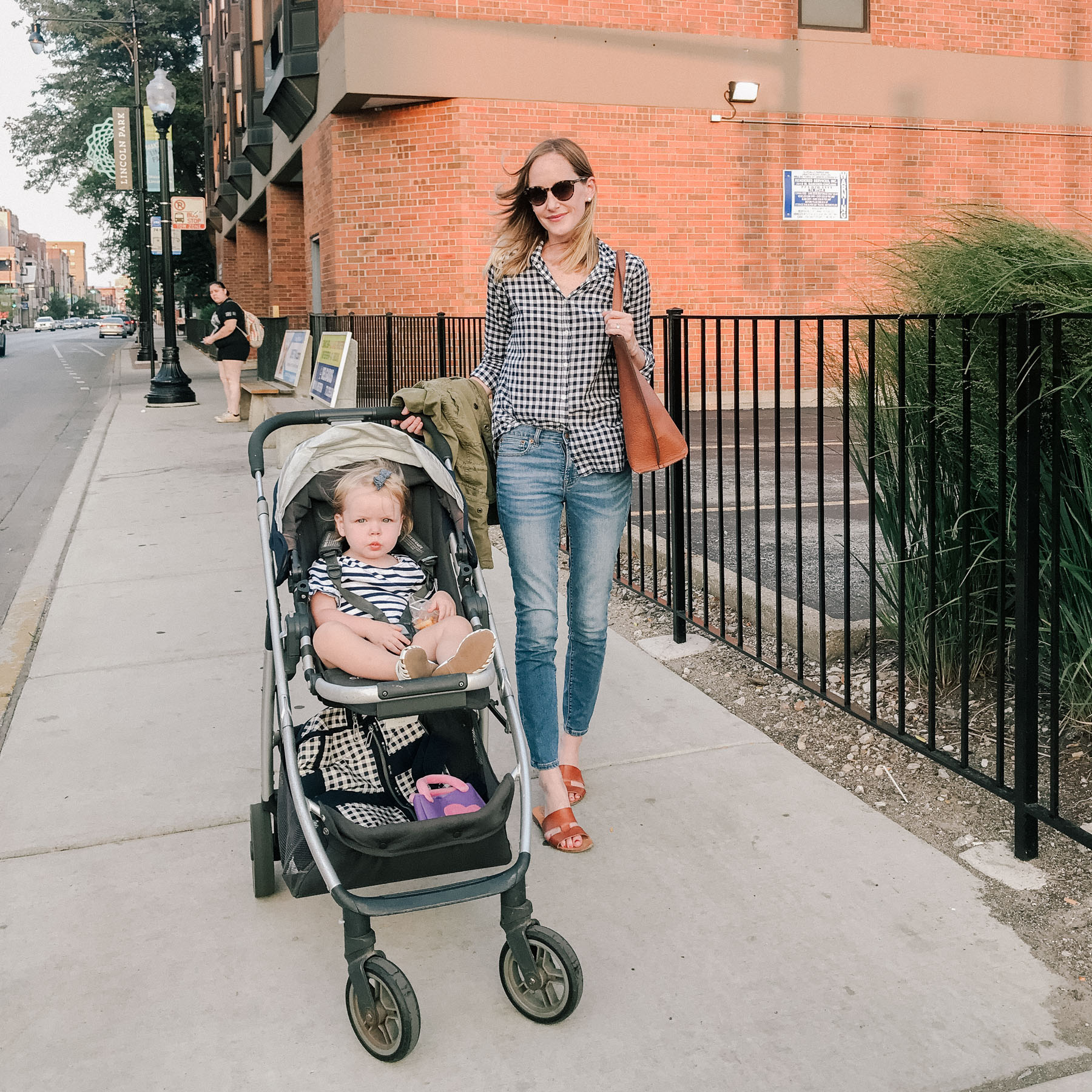 Gingham Shirt / J.Crew Factory Jeans / Everlane Sandals (Nearly identical Steven Greece Sandals here and here.) / Faux Leather Tote (Under $50!) / UppaBaby Stroller
I'm doing a post with Marshalls on decorating our home for fall, and a couple of nights ago, we strolled over to the store to shop. SO MUCH FUN. Emma was loving it (probably because of the Happy Meal), Mitch was loving it (probably because he's obsessed with candles and I told him he could go crazy), and I was loving it (for reasons I don't think I need to explain).
We shot everything yesterday, and I love how it turned out! Of course, it's pretty early for fall decor, but I'm definitely not taking it down to simply put it back up in a few weeks. So it's fall over in the Larkin Household, and I'm not complaining. ;)
Favorite Cashmere Sweater (Have you seen the new navy striped one?! Also love the Halogen and Everlane versions.) / Hudson Jeans (SO SOFT and stretchy but don't lose their shape. Btw: My favorite AG skinnies are 40 percent off, which never happens. My eye's on this pair, too.) / Madewell Loafers (More traditional version here. They're back! The Sperry pair is just as comfy, btw. Can't decide which I like better.) / Dooney & Bourke Bag (Also at Macy's.) / Polka Dot Scarf / Pottery Barn Rug
Repeated an outfit because I just didn't want to add to the laundry fiasco currently occurring over here. ;)
Over and out!