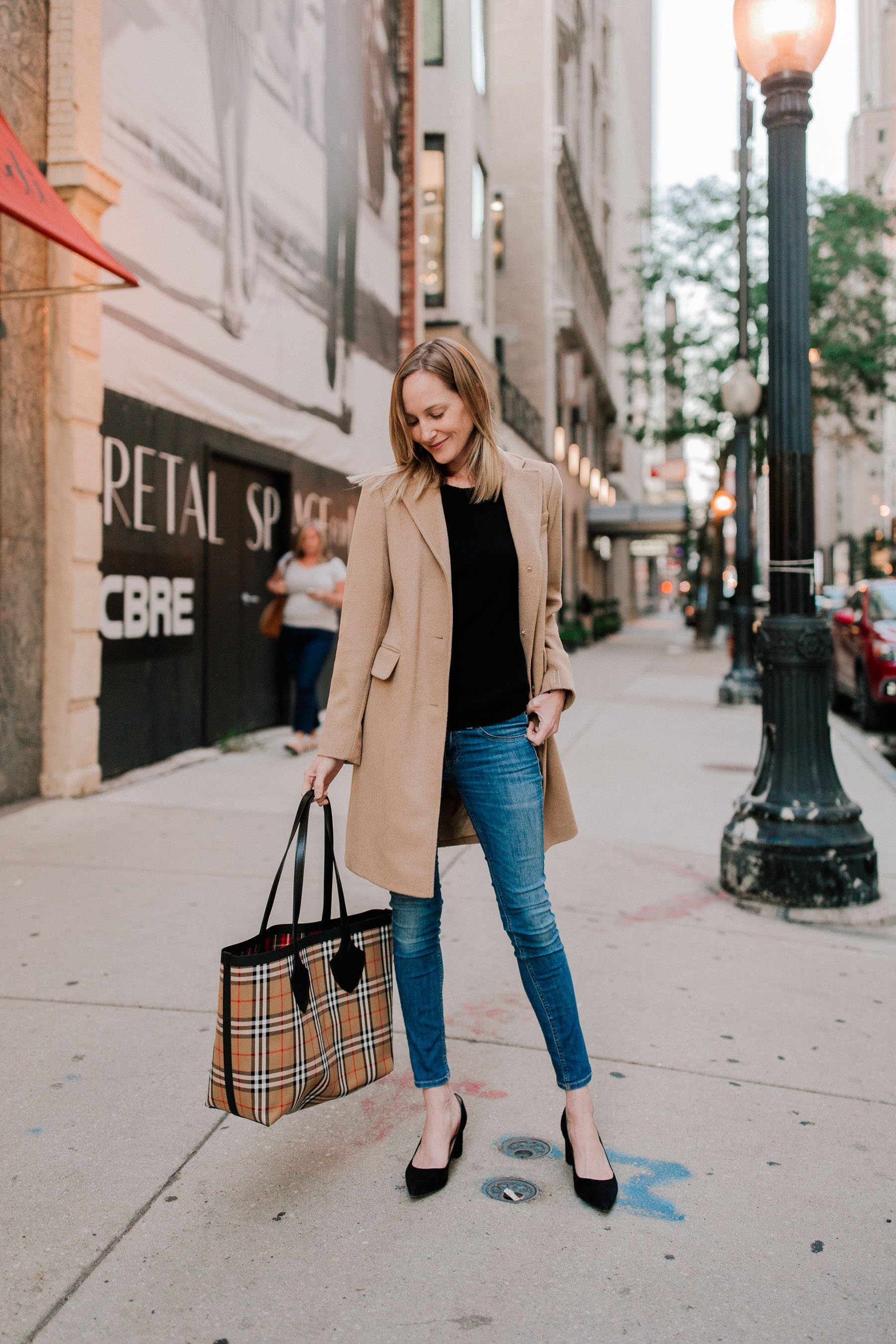 Rag & Bone Jeans (Other faves in dark wash and white.) / Kate Spade Pumps / Burberry Tote / Ralph Camel Lauren Coat / Similar Cashmere Sweater (And what about this gorgeous cable-knit one?!)
I'm back with my first fall outfit post. ;) I took quite the break from outfits, but I'm slowly getting back into things. Part of it is that retailers have started coming out with new fall arrivals, and another part is that Chicago experienced a few cooler days in the 50s and 60s this past week.
So here we are!
First, let's talk jeans for the upcoming season, because I'm obsessed with denim at this stage in my life. I want jeans that look amazing and continue looking amazing throughout the day (no sagging!), and I want them to be super soft and flexible so I can do everything with Emma. Finally, I want them to last. (I'm okay with paying up a little if it means not having to replace every year.)
Let me introduce you to Rag & Bone. Yes, the brand is on the pricier side, but I can't overemphasize the quality you get for the money. They meet all my qualifications that I mentioned above; so much so that I have three pairs in different washes: the jeans you see in these photos (my all-time favorite), a darker wash, and a white pair. But man: the softness. There's just nothing like "going out" in jeans that look amazing but feel like pajamas.😉
I've told this story before, but Bloomingdales on 60th Street in New York is where I purchased my first pair of designer jeans. I'd just gone through a messy breakup, and my mom suggested that I go buy myself "a treat." Seems so silly, but it was somehow helpful, and I wore those jeans and carried my first Longchamp (which I also splurged on 😂) with pride throughout that year. In a way, the purchases represented independence–from both guys and surviving my first year of adulthood in the city.
Bloomies continues to have the best denim department, and I love that I wear my Bloomingdales jeans for years. I love how easily navigable the section is, and that the store brings my favorites back year after year. Again, the pair you see here is my favorite pair of jeans I've ever owned, and they've been with me for a long time. In case you're wondering, I'm wearing a size 26 here, which is one size up from what I normally order in designer jeans. Also, they're called the "Capri" jeans, but I'm almost 5'5 and they're not capris on me. :) More ankle-length!

Favorite denim picks from Bloomies
In terms of the other products:
Kate Spade Pumps: I know I keep talking about these, but they're the best pair of heels I've ever owned. (So many "bests" today!) I have incredibly sensitive feet, and I can literally walk miles in these around the city. Heck, I've worn them to the playground! (Simply because we had plans afterwards. Not a complete psychopath.)
Ralph Camel Lauren Coat: Really excited it came back this year. It's so cozy–far cozier than other wool camel coats on the market–and it's something I'll have forever. Runs slightly large; I went down one size.
Burberry Tote: I KNOW. I'm not sure whether I have words right now, haha. But I'd been looking for the perfect Burberry print tote for years… and when I saw this one shortly after I decided to team up with Bloomies for this post, I knew I wanted to feature it. The BEST PART? It's reversible. Click here to see the amazing #30daysofplaid print that you'll be seeing throughout November and December, haha!
Similar Cashmere Sweater: Can't go wrong with this. I know I talk about this all the time, but Chicago isn't exactly known for warmth. I'd die without my cashmere sweaters, and I love the "C by Bloomingdales" line! My eye's on this cable-knit beauty.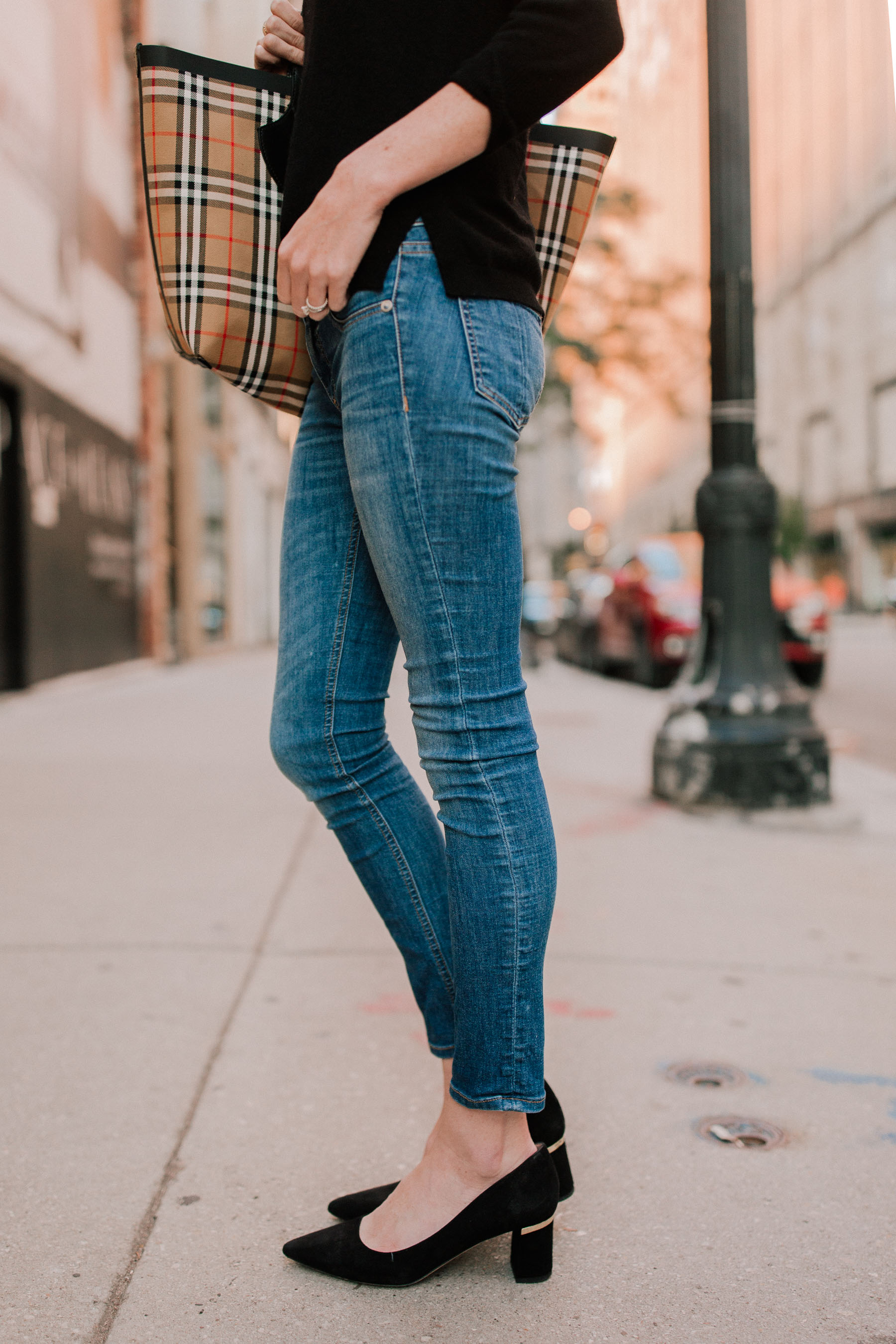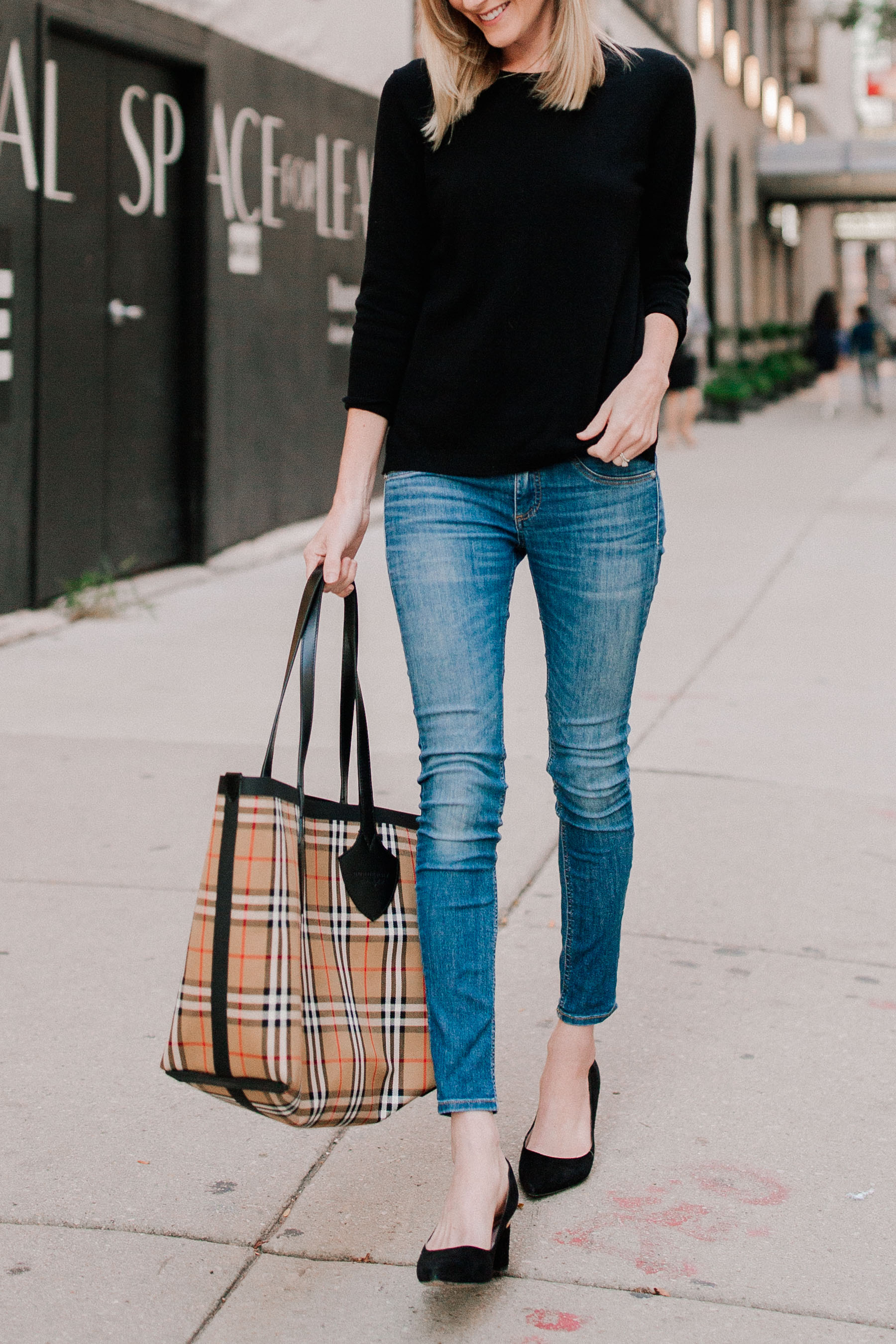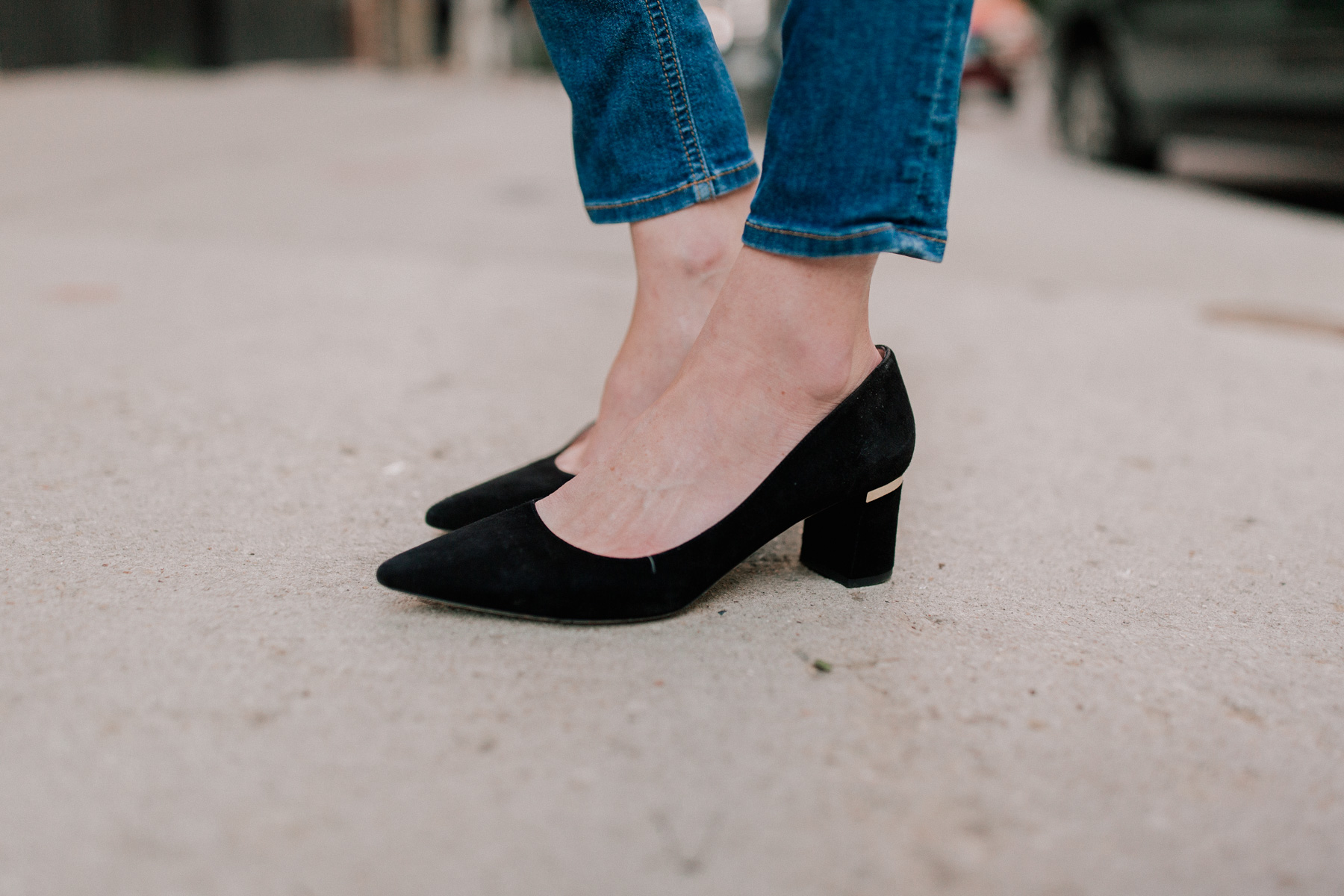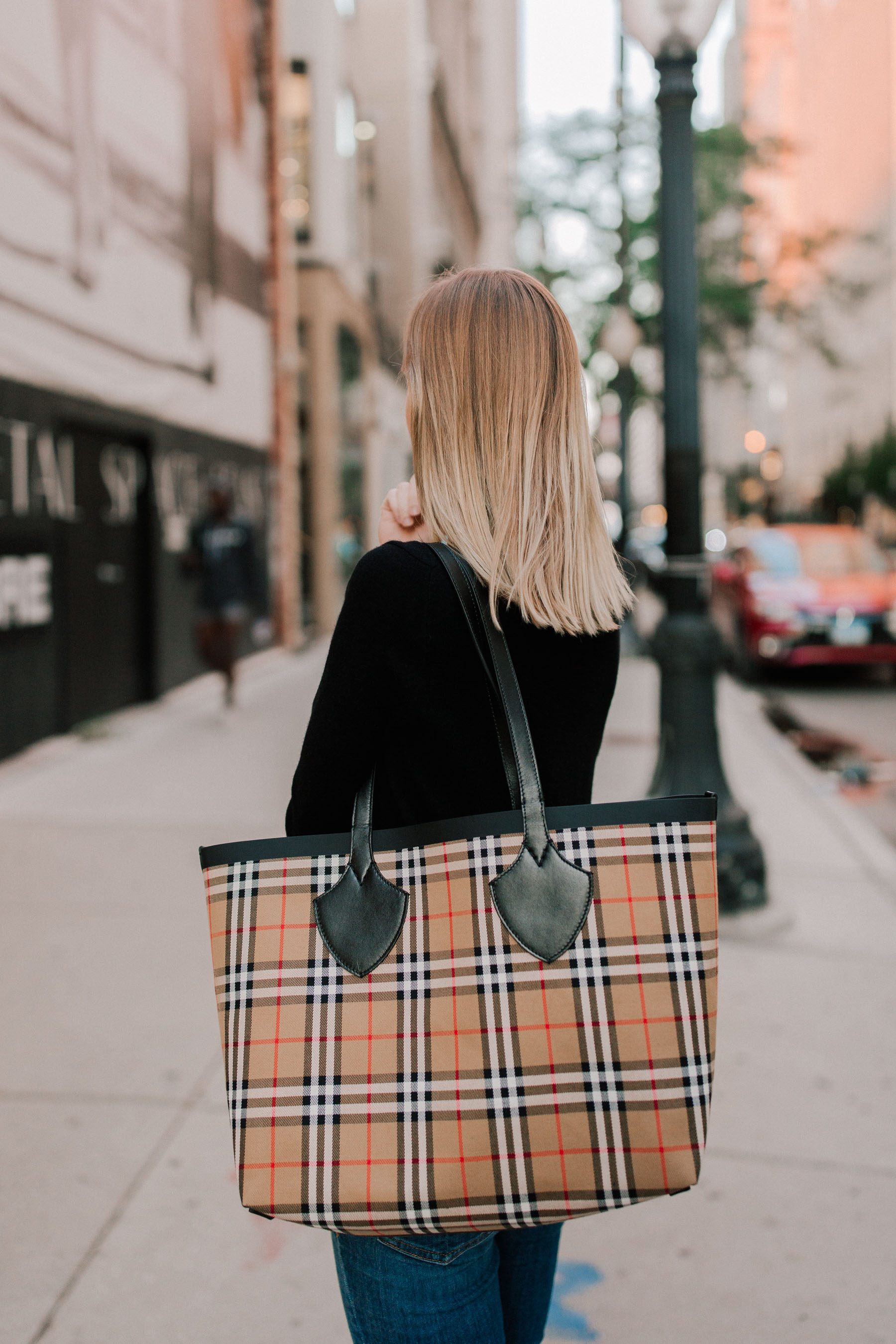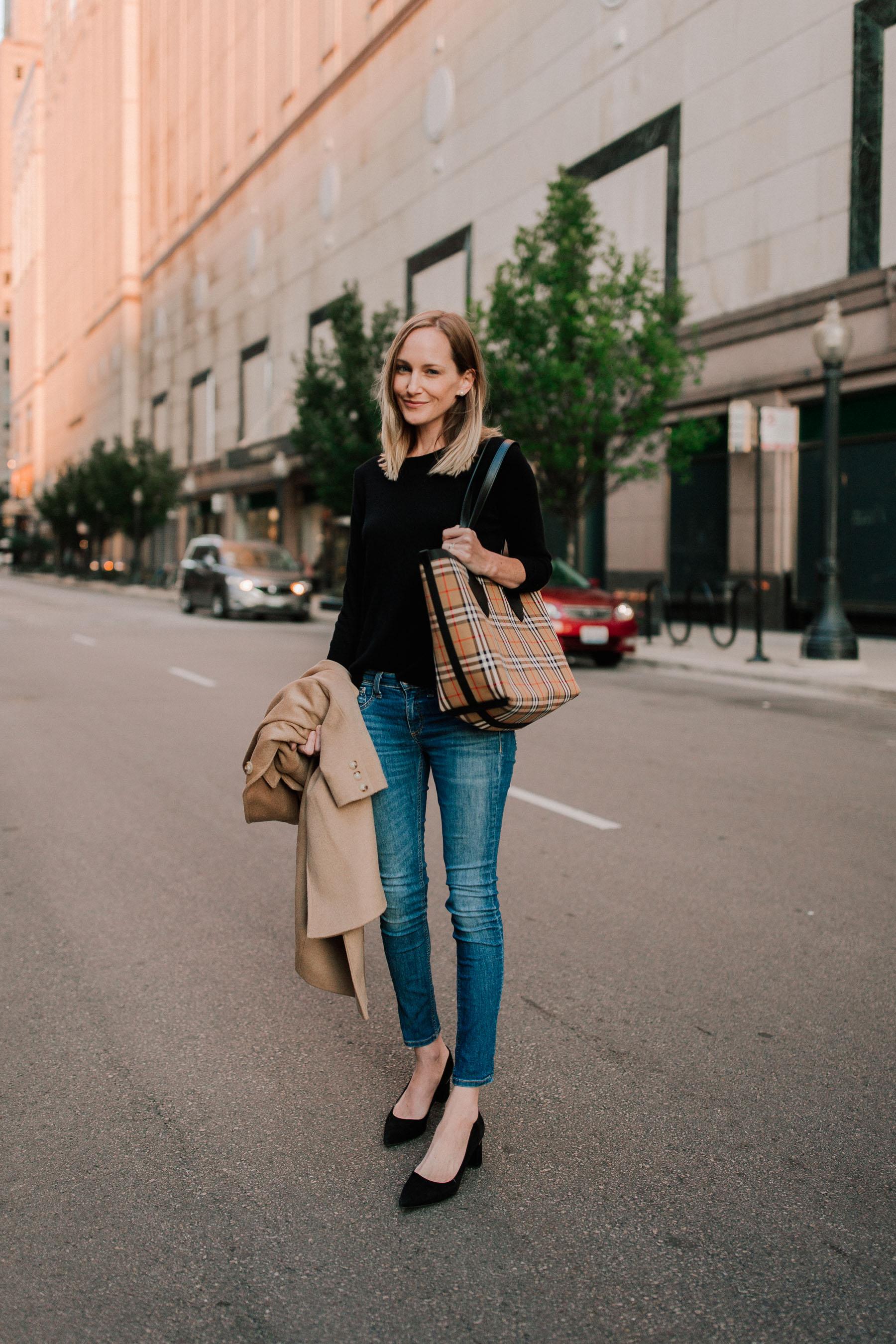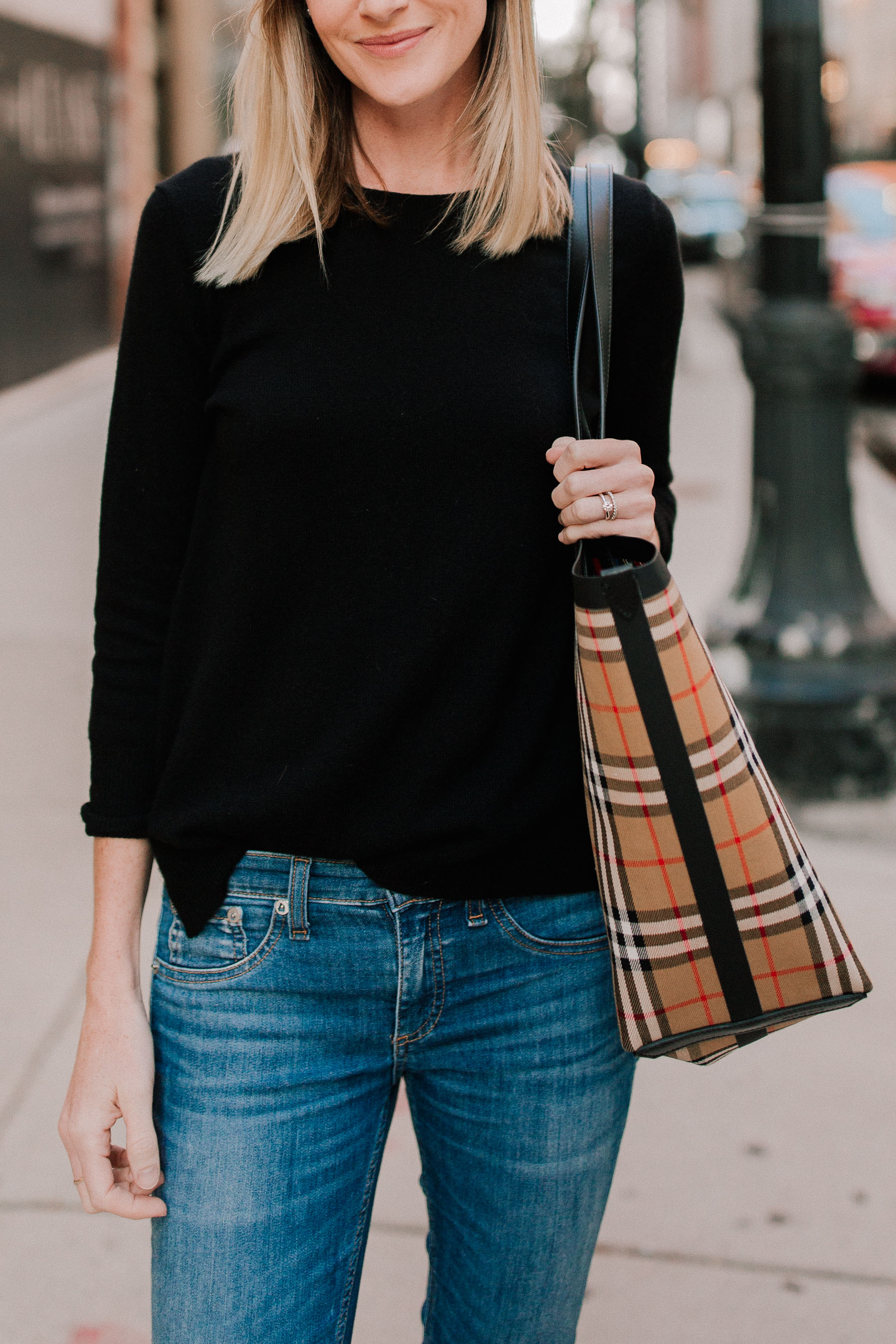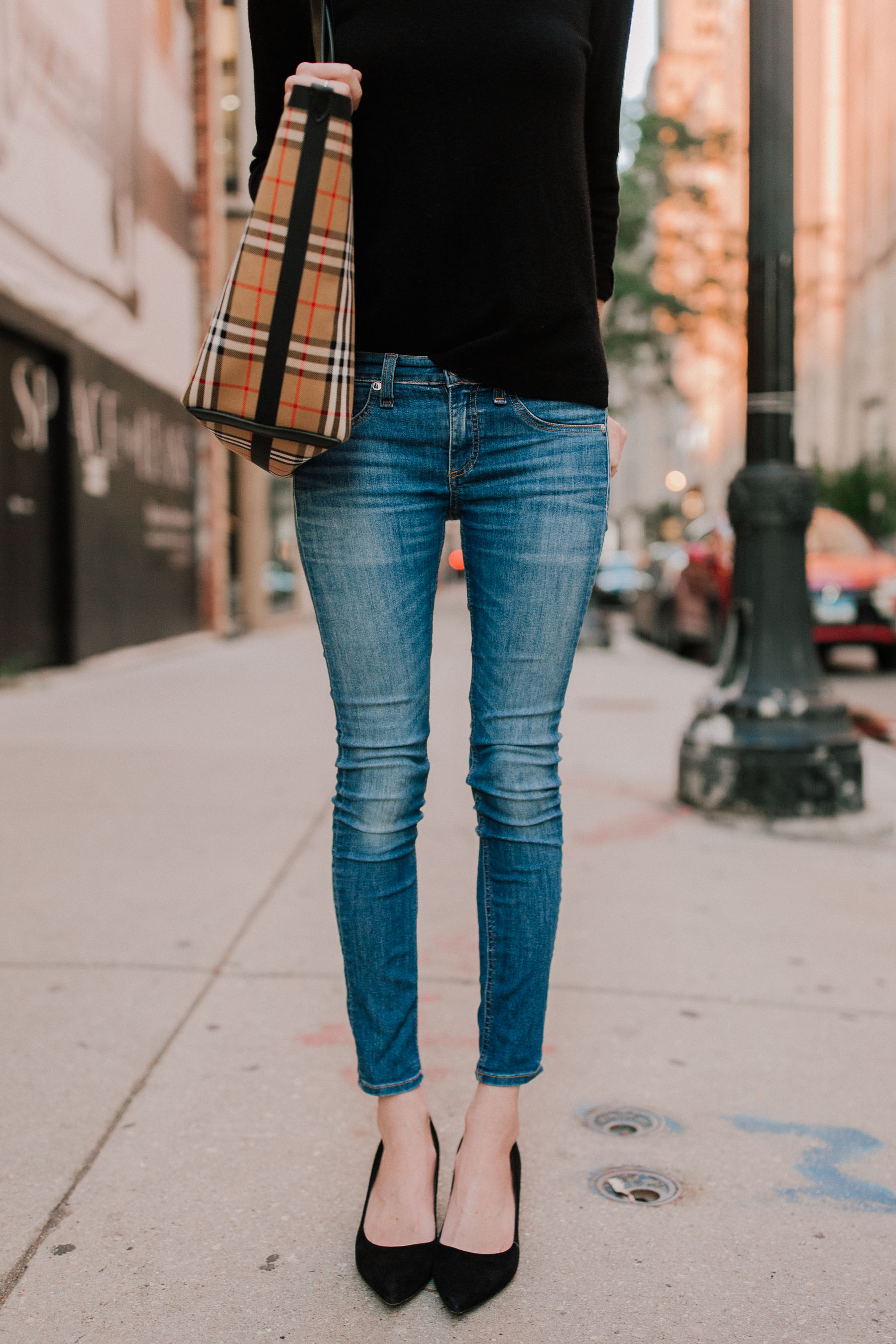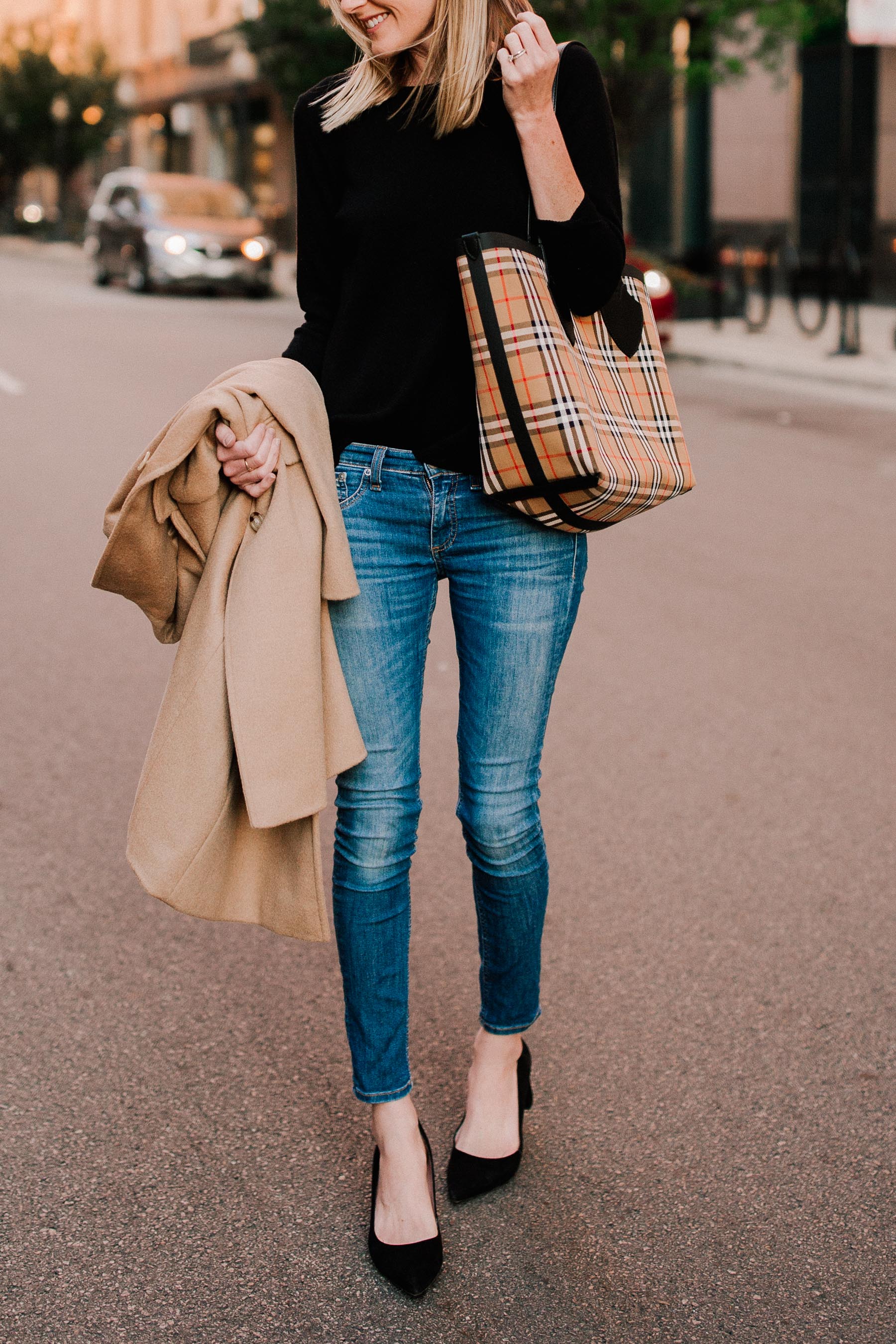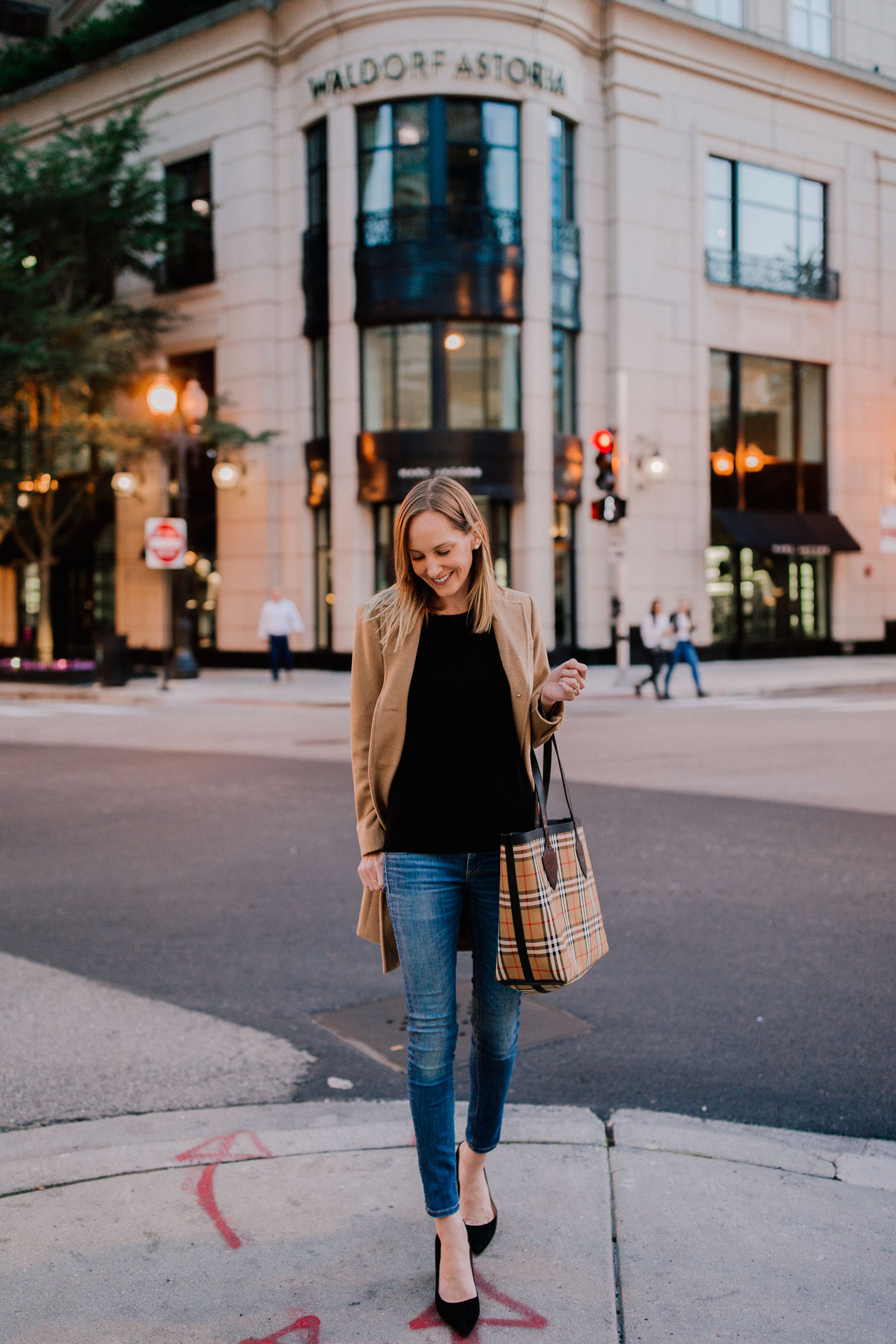 Shop the post:
Rag & Bone Jeans (Other faves in dark wash and white.) / Kate Spade Pumps / Burberry Tote / Ralph Camel Lauren Coat / Similar Cashmere Sweater (And what about this gorgeous cable-knit one?!)
This post was sponsored by Bloomingdales, but all opinions are my own. As always, thank you so, so much for supporting the partnerships that keep Kelly in the City up and running!