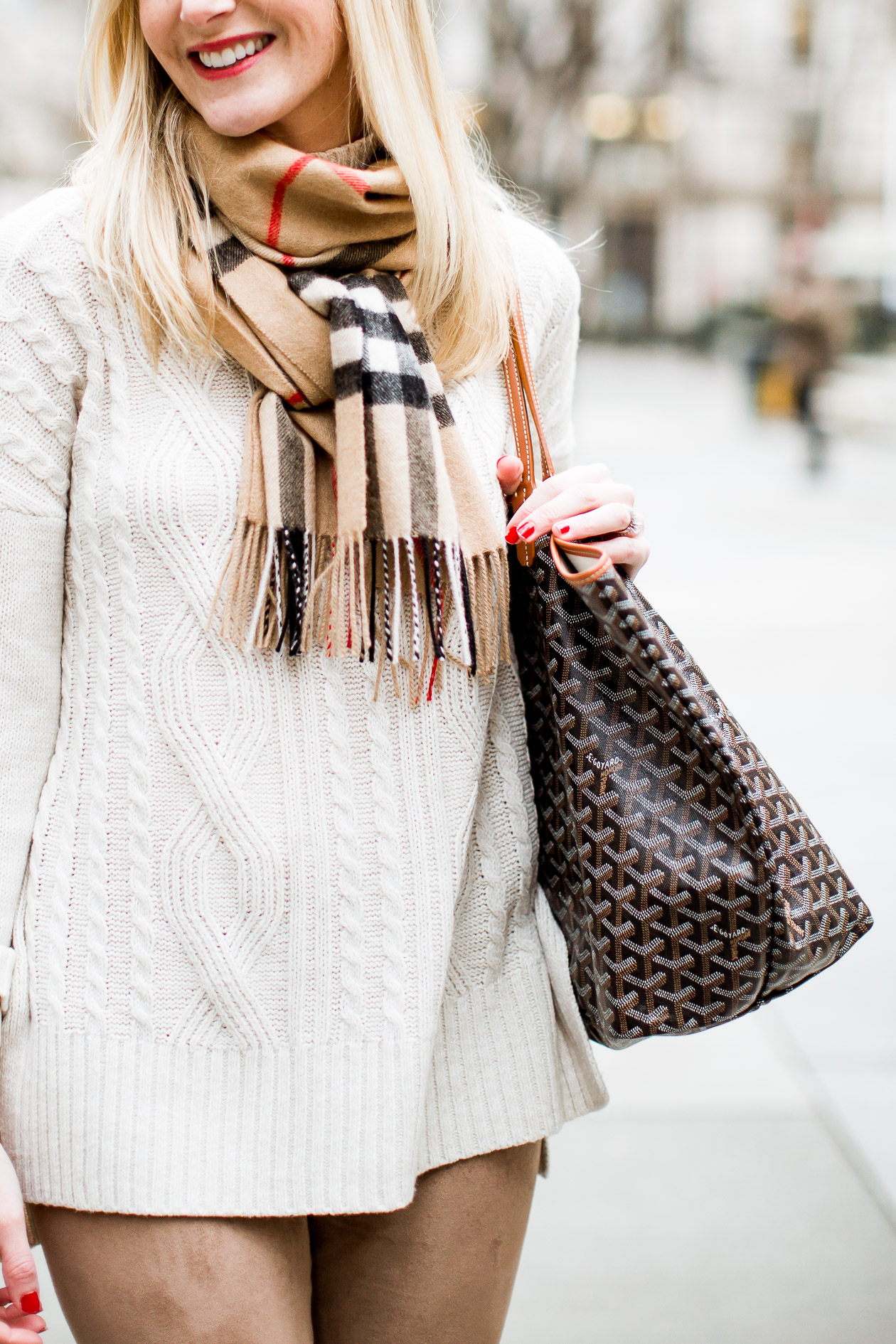 Sanctuary Sweater (Back in stock! Wore this all break, as it goes with anything and you can wash it. It's also available here, though it's weirdly not on sale. I also love this one and this one.) / Lysse Suede Leggings (I adore Lysse leggings. See other faves below.) / Black Booties (Best booties ever and they're still on sale. The shearling-lined pair is on sale, too!) / Burberry Scarf (And the Snood is back in stock! It's marketed for girls, but it totally works for women and it's a fraction of the cost. I wore it here. The rain boots are back, too! I wore them here, here and here.) / Goyard Tote
I have about 10 minutes to write, so let's dive into another bullet point post, shall we?
I've been feeling down in the dumps lately. I think it's because it's the start of a new year, and I haven't exactly gotten off on the right foot. I have 12–yes, 12–big projects ahead of me, and I feel like I've been behind for months. I really wanted to catch up before 2017, but alas. Here I am, still plugging away. My goal is to get all of 'em done before next Tuesday, when Mitch goes back to work. We sat down yesterday and mapped out a plan, so we'll see how that goes! After I finish everything, I'm taking a nice, long break… and I can't wait. Can I just pretend that the new year begins on Tuesday? Yes? Great…

My sweater, which I wore constantly during our Christmas travels, is back and on sale! (Full price here.) I adore it, as it's a bit fancier than my other cable-knits and hangs incredibly nicely. I also love this one and this one from the same brand. These Lysse Suede Leggings are on sale, too! They're ah-mah-zing, but I clearly need to get them hemmed. (I'm 5'4, for reference.) That should take care of some of the bunching at the shins and ankles! (I first discovered Lysse via Tuckernuck, and they're now available on Nordstrom, too.) Oh, and the Burberry Snood is back! (I wore it here.) I talk about this often, but it's marketed for girls yet totally works for women and is a fraction of the price of the regular Burberry scarf. The rain boots are back, too! I wore them here, here and here. Finally, I love my black booties, but they now come in a shearling-lined version which are on sale. OMG. Were you thinking of the Chicagoans, Sam Edelman? Thank you!
My site is about to implode. I've always been really proud of it; I love the design and that I did it without a developer. Sadly, though, the coding is conflicting with itself and the site is running at a snail's pace. I've been told that it's only a matter of time before all is lost, haha, so I'm biting the bullet and beginning to look into a redesign with a professional. If there's anything you'd like to see changed, I'd love to hear!
Did you see yesterday's post? It went up pretty late, but it's chock full of baby gear recommendations, in case you're expecting or know someone who is. :) My favorite part of the post is the video at the bottom. As I mentioned, I tear up every time I watch it!
Emma started eating solid foods! Well, she's tried rice cereal and sweet potatoes so far. It's been hysterical. She genuinely has no idea what to do with it when we put it in her mouth. At first, she just kind of spit it out, and then she started leaving it in there for a while to figure out exactly what it was. Now, she's actually swallowing a little bit of it… though I can't say the girl enjoys sweet potatoes. Onto another food in a few days!
These photos were taken over Christmas break outside of the New York Public Library, which borders Bryant Park. I have a lot of happy memories from Bryant Park, as my dad's old office was located right across the street and I used to meet him there often for Father/Daughter Dinner Nights. Mitch and I also used to walk there often when we were first dating… so we nearly always visit when we're back in the city and it's always so, so special.
How was your weekend?! The highlight of ours was getting together with Emily, Doug and Gracie. The four of us always stay up way too late whenever we get together–babies excluded; they went to bed–but it's always worth it. So many laughs, always! Also, did you catch Emily's recent post? She just upped her camera game and I can't get over how beautiful her pics are! (Also: she's pregnant. Does she not look stunning?!)
The Larkin Family is currently trying REALLY hard to organize our home. When Emma was born, we discovered that we had about a tenth of the time we'd had previously, and suddenly, staying on top of the house became impossible. But now, Emma is getting to the point where she can play on her own for a little while while we organize. Things aren't perfect, but we made some big strides this past week! We picked up 200 of these hangers (on sale!) at Ikea over the weekend, and it made such a big difference in Mitch's closet, the coat closet and Emma's closet. (Actually, we got the kiddie version for Emma.) We also put together this shelf and put it in Emma's closet, and we spent a solid two hours cleaning out the master bedroom. Again, it's not perfect, but we're making strides!
I can't handle this weather. Today, though, we're supposed to reach the 40s at some point, so my hopes are high. It's supposed to rain, but I don't even care. I'm getting out! We're grabbing breakfast at a cute new place around the corner from our house, going to the bank, and then catching up with Blair and Shaheen!
Mitch and I are taking Emma to both the aquarium and the zoo at the end of the week, and I'm counting down the days. We might have to scratch the zoo if it snows, but in that case, we're going to hit up the Garfield Conservatory and/or the Signature Room… so either way, we're going to have a great time. Stay tuned for some fun pics of the Larkins around Chicago!
Over and out!
Shop the post:
Sanctuary Sweater (Back in stock! Wore this all break, as it goes with anything and you can wash it. It's also available here, though it's weirdly not on sale. I also love this one and this one.) / Lysse Suede Leggings (I adore Lysse leggings. See other faves below.) / Black Booties (Best booties ever and they're still on sale. The shearling-lined pair is on sale, too!) / Burberry Scarf (And the Snood is back in stock! It's marketed for girls, but it totally works for women and it's a fraction of the cost. I wore it here. The rain boots are back, too! I wore them here, here and here.) / Goyard Tote