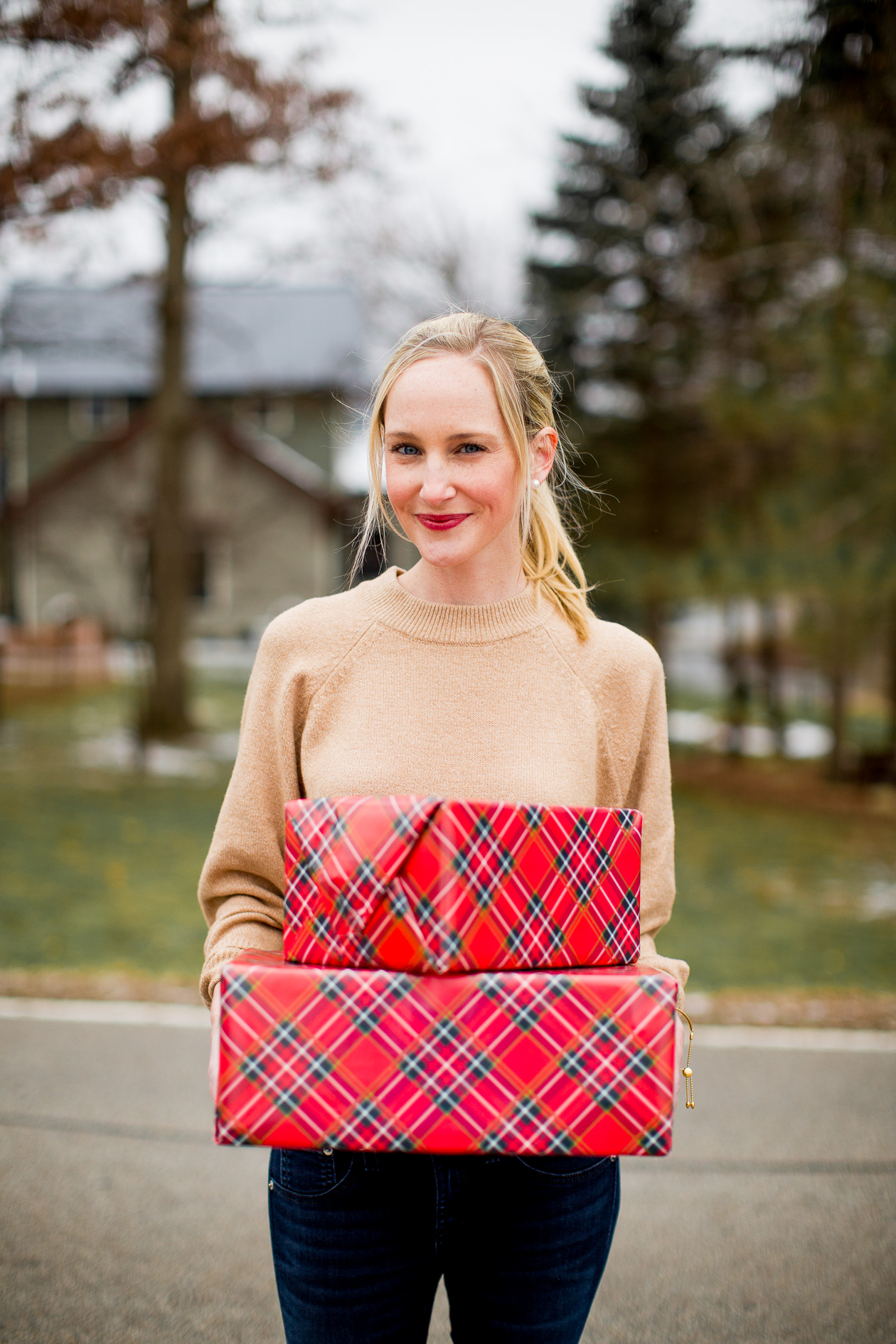 Burberry Boots (Available at Zappos, Saks and Bloomie's, too. Also love these and these, and be sure to check out the Burberry Snood, which is a fraction of the cost of the original Burberry Heritage Scarf!) / Rag & Bone Jeans (And as you know, I LOVE the "Capri" cut. And for further clarification, I somewhere between 5'4 and 5'5, and they clearly don't look like capri jeans on me. I almost always need to get designer jeans hemmed, yet with these, I don't. They're PERFECT. I know I talk about their magic all the time, but they're truly the best-fitting and softest jeans I've ever owned. They have a ton of stretch in them yet they don't stretch out! That said, if you're a tall girl, they might look more like ankle jeans on you.) / BP. Sweater (SO SOFT, and it's machine-washable. Also love this one and this one.) / Monica Vinader Bracelet c/o
Okay. Yes, Christmas is one week from today. And yes, you probably still have a person or two left on your list. But it's okay. There are a BUNCH of companies that guarantee delivery by Christmas Eve or Christmas Day. And let us not forget the magic of the whole photo-of-the-gift-in-the-box thing. I've received photos in boxes so many times, and I can truly say that I never once thought, "Wow. This person just couldn't get her act together." Quite the contrary, in fact. I felt less alone in my on-time gift-giving struggles. And less intimidated about fitting our luggage and gifts into our tiny Prius. And pretty excited about getting mail upon returning back to the city. (Definitely one of those people who get a tad bit depressed after the holidays. So much joy and fun and togetherness and then suddenly it's like BAM. It's -30 degrees and there's no daylight and everyone's gone their separate ways and why are all my gray sweaters looking so ratty?)
ANYWAY.
Mitch and I teamed up today to bring you the a great list of last-minute gifts from companies who promise to get you your stuff on time. So, in no particular order:
♥  This Stewart Plaid table cloth, runner and/or these napkins. They're perfect for your mother, mother-in-law, sister–it's all perfect for anyone who enjoys home decor, really. I know this is about to make me sound like such a crazy person, but I love, love, LOVE Stewart Plaid. (Maybe it's all my years of wearing Catholic school uniforms. Who knows.) But Williams-Sonoma's line is incredible.
♥  The Echo Dot. I know. What the heck is this thing?! But I can't tell you how many Mitch and I purchased this year to give as gifts. (Okay, I can: four. That's a lot, no?!) It's awesome. It's just like its sister, the Echo, but it's less expensive (under $50) and smaller. I personally love it because when I'm holding Emma and don't have a free hand, I can tell it to play anything on Pandora or Spotify just with my voice. (And the speaker itself is amazing!) It's seriously been life-changing. We have one in our living room and one in our master bathroom. I jam out to Ryan Adams or whatever other alternative country band I'm feelin' every morning and it makes my day so nice.
♥  The sweater I'm wearing in these photos. Jess actually convinced me to get it, as it's CRAZY soft and it's machine-washable, which is awesome when you get thrown up on like five times per day. Just ordered it in black, too! (I'm also a huge fan of this sweater in red and this cable-knit sweater.)
♥  A faux fur blanket. If the person you're buying for lives in Chicago, it's necessary. If she lives in a warmer climate, it's simply a luxury. ;)
♥  These plaid pajamas. SO CUTE. I have these (pants and top), which you can also pick up from your nearest GAP.
♥  Cable-knit Hunter boot socks. It goes without saying that the person needs to already own Hunter boots. But if you visit this blog regularly, I'm assuming that some of your friends and family members might like preppy stuff, too. ;)
♥  This Burberry snood. While it's marketed for little girls, it 100-percent works for women, and it's a fraction of the cost of the original Heritage scarf. Obviously, it's still a big gift. But I often team up with other family members to give joint gifts, and this is perfect for a joint gift!
♥  This Stewart Plaid blanket. SIGH! It's perfect. That's all I have to say.
♥  The Free People Scarf of 2016. I just made that up. It's just a scarf. But it's phenomenal. I wore it here. It's not really available in the tan color anymore, but I love the other colors!
♥  This monogrammed necklace, available via Nordstrom or Amazon Prime. As you guys have probably noticed, I wear mine every day. And I, too, bought one for a family member this year. (Don't worry. This doesn't spoil anything. There are SO many of us.)
Do you have any go-to last-minute gifts? I'd love to hear!
Burberry Boots (Available at Zappos, Saks and Bloomie's, too. Also love these and these, and be sure to check out the Burberry Snood, which is a fraction of the cost of the original Burberry Heritage Scarf!) / Rag & Bone Jeans (And as you know, I LOVE the "Capri" cut. And for further clarification, I somewhere between 5'4 and 5'5, and they clearly don't look like capri jeans on me. I almost always need to get designer jeans hemmed, yet with these, I don't. They're PERFECT. I know I talk about their magic all the time, but they're truly the best-fitting and softest jeans I've ever owned. They have a ton of stretch in them yet they don't stretch out! That said, if you're a tall girl, they might look more like ankle jeans on you.) / BP. Sweater (SO SOFT, and it's machine-washable. Also love this one and this one.) / Monica Vinader Bracelet c/o