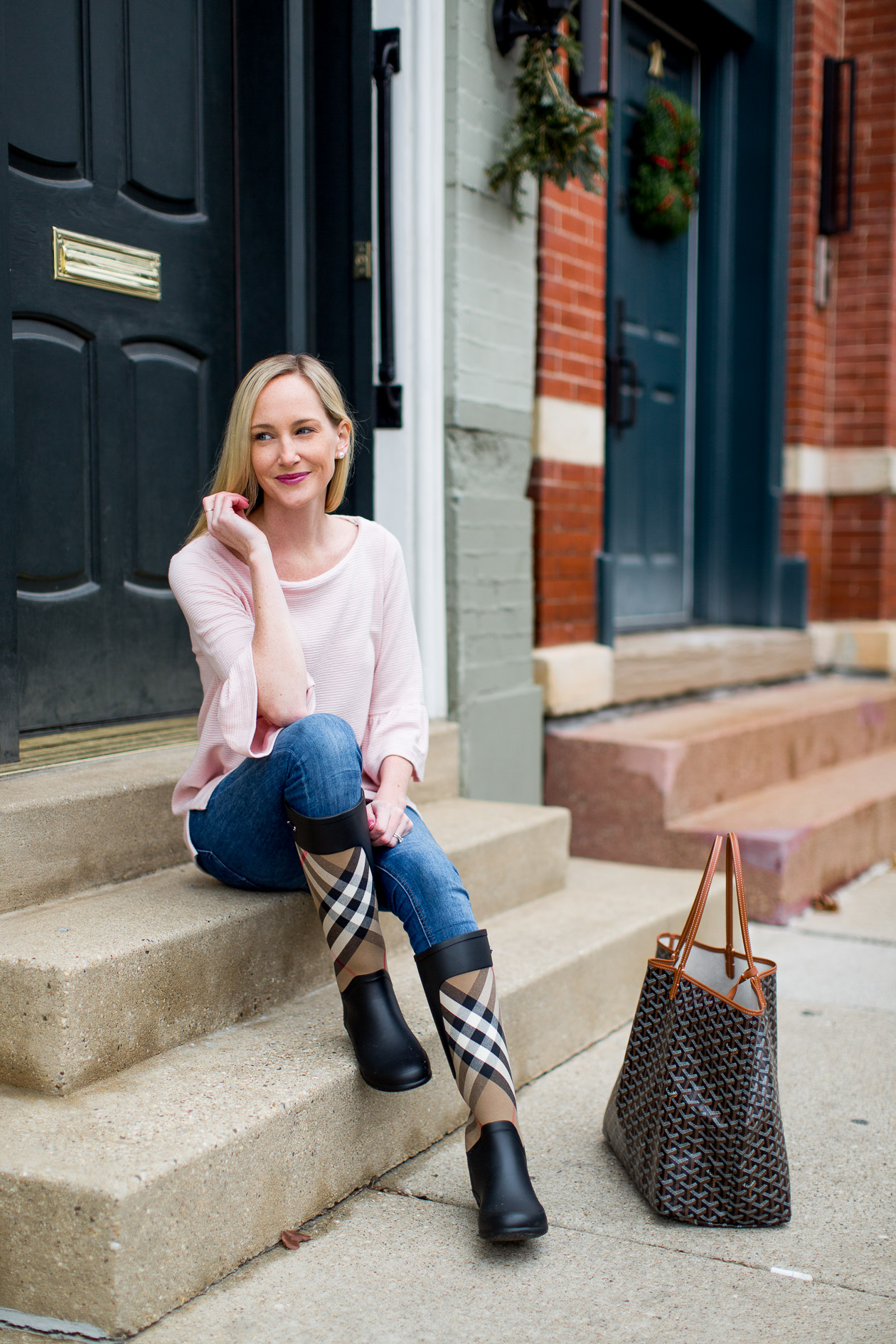 Ruffled Top (It's back in stock! Sells out quickly, so grab it before it's gone. Ships and returns for free! Pleione is one of my fave brands, btw. Love this similar top and this one, too.) / Lanston Cardigan c/o (Also love this one and this one.) / Burberry Boots (See my review here. The boots are also available at Zappos, Bloomingdales and Saks.) / Rag & Bone Jeans (In black here, and I love this pair, too.) / Goyard Bag (Christmas present! Using it as a baby/laptop bag. Shop Goyard here. I have the St. Louis GM, which is the largest size.)
Ah, apologies for the super late post. (4 p.m. — YIKES!) But these are real-time pics! Meaning that Mitch, Emma and Noodle just walked me over to the neighborhood coffee shop and we snapped these photos on the way. Look at us being crazy behind. But after 17–yes, 17!–days of traveling, it's pretty much a miracle that this blog even still exists, haha.
A few things on my mind:


Did you see yesterday's (also late) post? The photos are some of my all-time faves. Thank you to my father-in-law, John, for snapping them out on the ice!
Did you notice the shoppable bars underneath each blog post on Kellyinthecity.com?! They're in "testing mode" right now–haven't yet spent much time populating them with products–but I'm so excited to work on them this week! Any suggestions for categories you'd like to see?
My favorite ruffled-sleeve top is back in stock. I love this shirt. It's a knit and therefore warmer than silky tops, yet it's fancy-looking enough to wear out at night with black jeans or pants. Wouldn't it be so cute for Valentine's Day? Pleione is one of my fave brands, btw. Love this similar top and this one, too.
We're home! This holiday season was amazing, but we're so happy to not be living out of suitcases anymore. Really looking forward to staying put for the next couple of weeks, sleeping in our own bed, and settling into everyday life again.
I'm getting my ducks in a row! I'm feeling overwhelmed. I know it's because I have a baby, I just finished up "busy season," and I've been on the road for what seems like forever. But I've gotta get my act together, guys. Yes, there's the email mess to clean up. But I also have outstanding partnerships, late paperwork, personal stuff, and house projects to complete. Eeeek. There's SO MUCH. But we can do it! Mitch has off for the next two weeks, so we're coming up with a plan to dig ourselves out of this hole. (While also having fun around Chicago with Emma.) We're actually having a "meeting" tonight at our kitchen table to finalize the game plan. We're dorks. Wish us luck!
I GOT A NEW BAG. (You can shop Goyard here.) I love my Louis Vuitton so, so much and use it all the time, but I have the "MM" version, and it's not large enough to hold my laptop, camera and everything I need for Emma all at once. Yes, it was definitely a splurge, but I'd been googly-eyed over it forever, and I've really fallen in love with the idea of only having a few investment bags and that's it. (Simple is key these days!) My plan is to only own the Louis Vuitton Neverfull MM (everyday bag), Goyard St. Louis GM (work tote/baby bag), Clare V. clutch, Madewell Transport Tote (just because I can't part with it — also available here), Lonchamp Le Pliage (since it folds up and takes up very little space), and Coach Court Bag (a special present from my parents). Henri Bendel also recently sent Emma this baby bag, great for walking around the neighborhood, so we'll likely hang on to that one, too. Okay, that's a lot, haha, and I admit that blogging has turned me into a bag lady. BUT THAT'S IT! 2017 is the of purging! (And thank you, Mitch! Nicest xmas present ever! Love you!) Any interest in a Goyard St. Louis review?
Lanston recently sent me this cardigan, and I'm smitten. Today is my first day wearing it, but I loved that it has pockets and a brushed fleecy lining, perfect for winter work days. A good cardigan is hard to find, and I'll be wearing this one year-round! (Also love this one and this one.)
I'm excited to get back to posting regular content. :) Up tomorrow: My Year in Review.
Mitch and I are looking for things to do in Chicago over the next two weeks! Right now, we have the Aquarium, Zoo, Conservatory and lunch at the Signature Room "scheduled." Do you guys have any baby-friendly suggestions? Thank you so much in advance!
Hope you're off from work today and enjoying some real r&r!
Shop the post:
Ruffled Top (It's back in stock! Sells out quickly, so grab it before it's gone. Ships and returns for free! Pleione is one of my fave brands, btw. Love this similar top and this one, too.) / Lanston Cardigan c/o (Also love this one and this one.) / Burberry Boots (See my review here. The boots are also available at Zappos, Bloomingdales and Saks.) / Rag & Bone Jeans (In black here, and I love this pair, too.) / Goyard Bag (Christmas present! Using it as a baby/laptop bag. Shop Goyard here. I have the St. Louis GM, which is the largest size.)