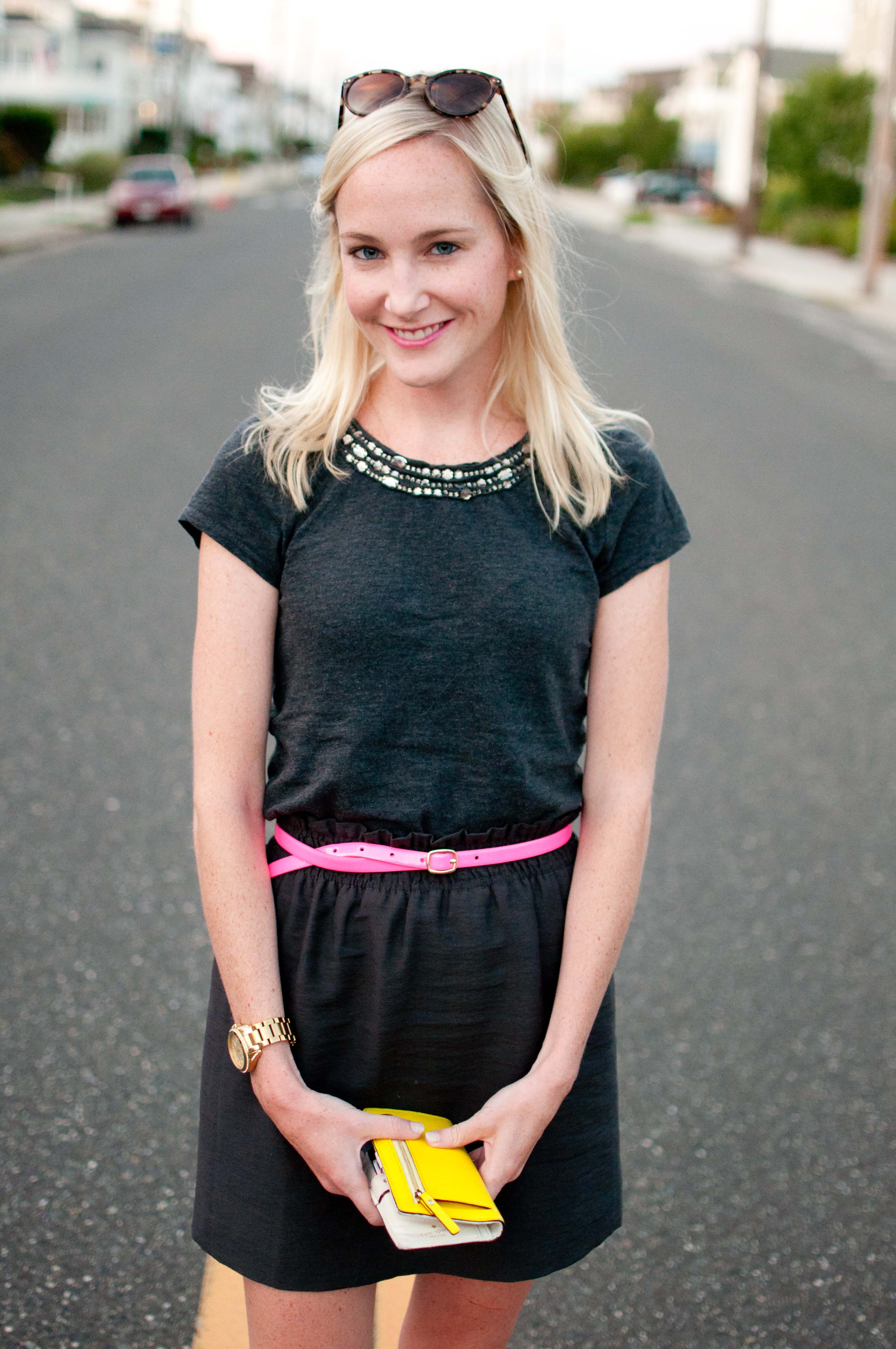 Today was a pretty stressful day. I woke up late (hence the top with the built-in necklace), and had to haul a ton of school stuff with me all the way to 14th Street from the apartment. (Explanation for the wrinkles? ;)) Maybe this wouldn't be too difficult for a normal person, but I'm pretty much the weakest girl you'll ever meet. Have you seen my arms?! My high school field hockey coach told me that I was the only player she'd ever encountered who didn't gain any muscle whatsoever from a season. (Which kind of made me feel like I'd accomplished something spectacular, ha.)
Top: Ann Taylor Loft (Old), similar here / Skirt: J.Crew (Sold out), same skirt here in navy / Belt: J.Crew, similar here / Watch: Michael Kors / Wallet/clutch: Kate Spade / Shoes: Kenneth Cole via TJ Maxx, similar here / Earrings: J.Crew, less expensive version here / Sunnies: Kate Spade / Lipstick: Clinique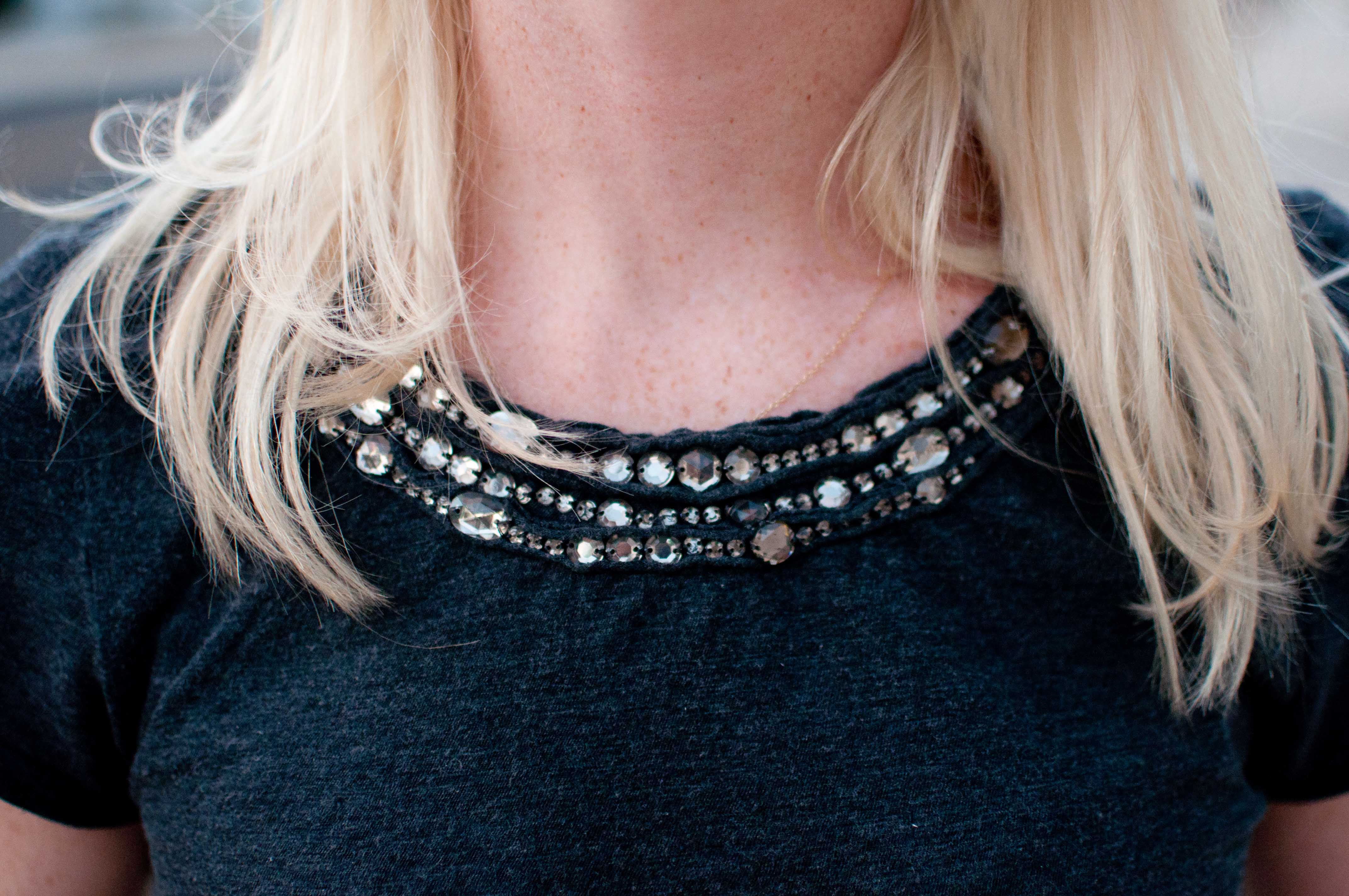 Anyway. In preparation for my students' arrival on Monday, I had to get quite a bit in order–including my classroom, which was a hot mess. Before this year, we weren't really allowed to throw out materials, even if they were from the 1960s or 1970s. I kid you not: I've been drowning in 50-year-old materials for years. They were everywhere! (Okay. Not all of them were 50 years old, but you get the point.) I understand why our administration didn't want us to throw them out: I mean, materials are materials. You never know whether they'll be helpful one day! But many were outdated, and the students had very little interest in using them. They also made my classroom look heinous. There was crap everywhere! Really. Piles of it. And no matter how much I tried, it just made the room look drab. But today, the rules changed, and we were given permission to get rid of the clutter.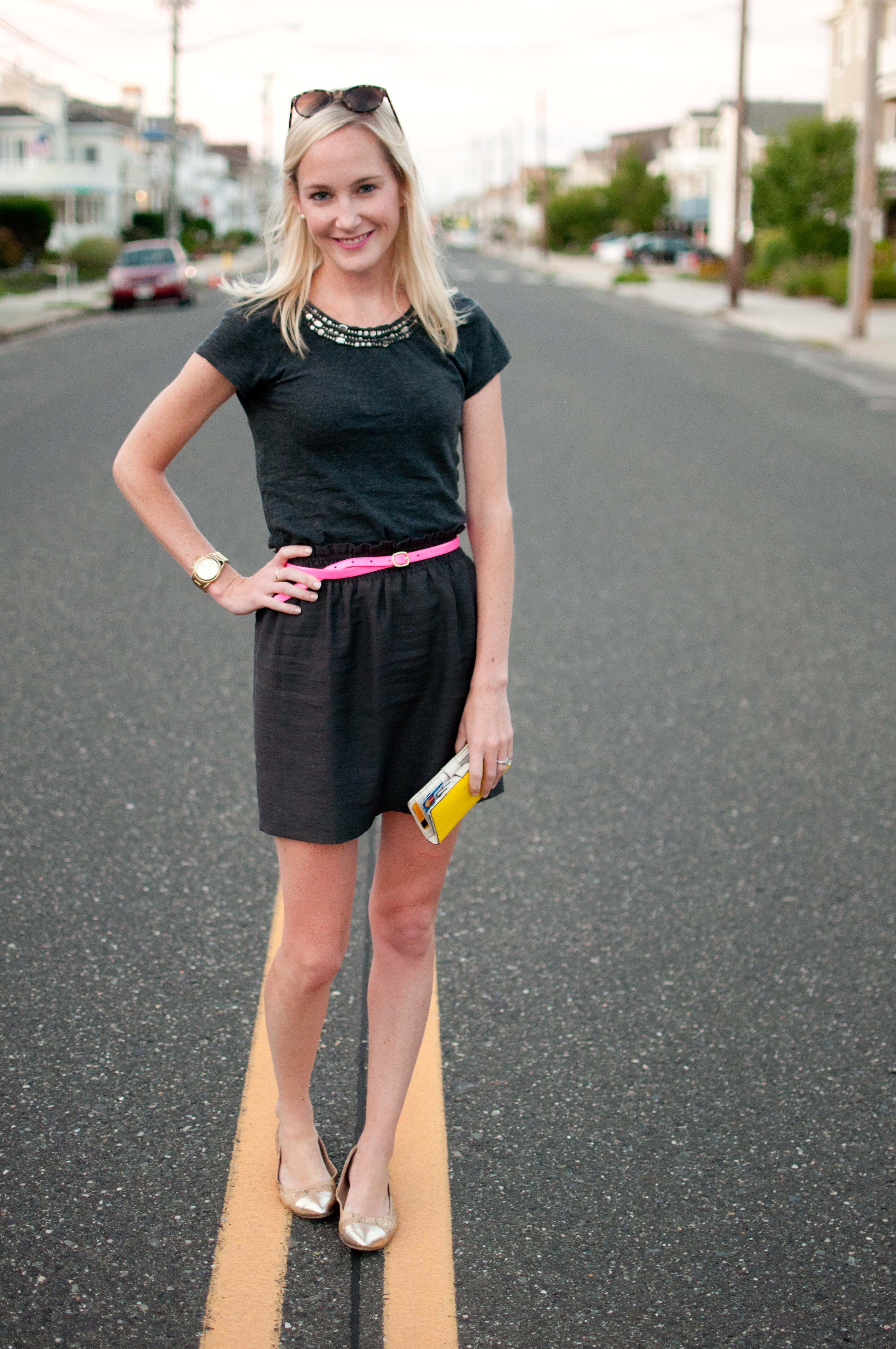 It took forever. I hauled boxes and trash bags out of my room for hours. And–ugh… prepare yourself–I found a TON of dead mice and their poo in an old refrigerator that's been in my walk-in classroom closet for ages. (I'd never opened it before because I couldn't get past the huge barrier of clutter that surrounded it.) It was awful. (#newyorkcityprobs) Mice don't bother me very much (unlike spiders), but dead ones?! The stench almost made me pass out. There was a lot of shrieking, some flailing of the arms, and bleaching of everything that surrounded the area. Gr-oss. But it was all worth it. My room looks better than it ever has! It's far more inviting for the kids, and I'm actually excited about spending my time in there. :)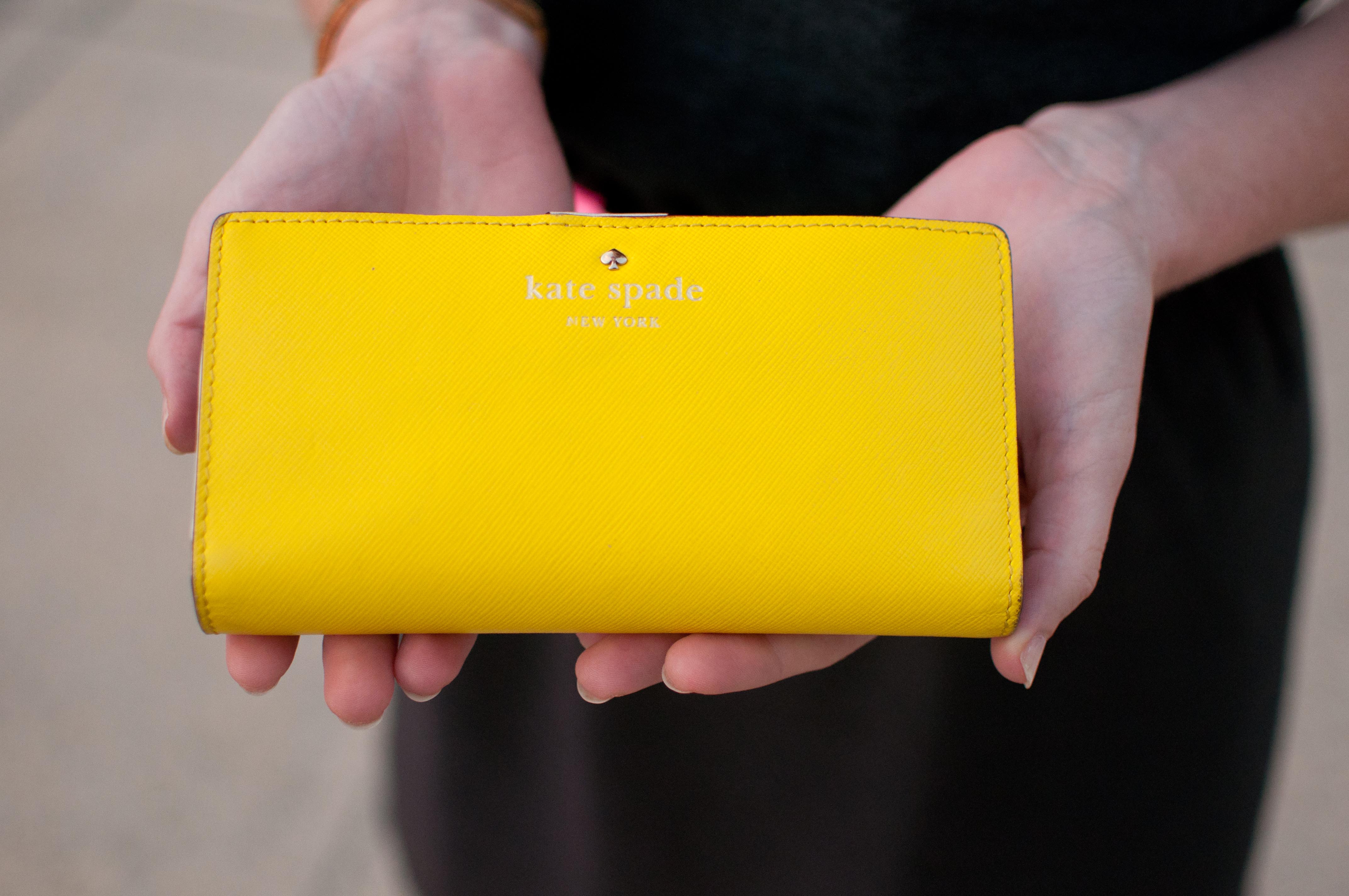 After work, Mitch and I headed straight down to Ocean City, New Jersey for our four-day weekend. (We're off for Rosh Hashanah.) Can't wait to unwind on the beach, visit the boardwalk, and hang out with my parents who are coming down Friday. Good life, happy wife.
Top: Ann Taylor Loft (Old), similar here / Skirt: J.Crew (Sold out), same skirt here in navy / Belt: J.Crew, similar here / Watch: Michael Kors / Wallet/clutch: Kate Spade / Shoes: Kenneth Cole via TJ Maxx, similar here / Earrings: J.Crew, less expensive version here / Sunnies: Kate Spade / Lipstick: Clinique