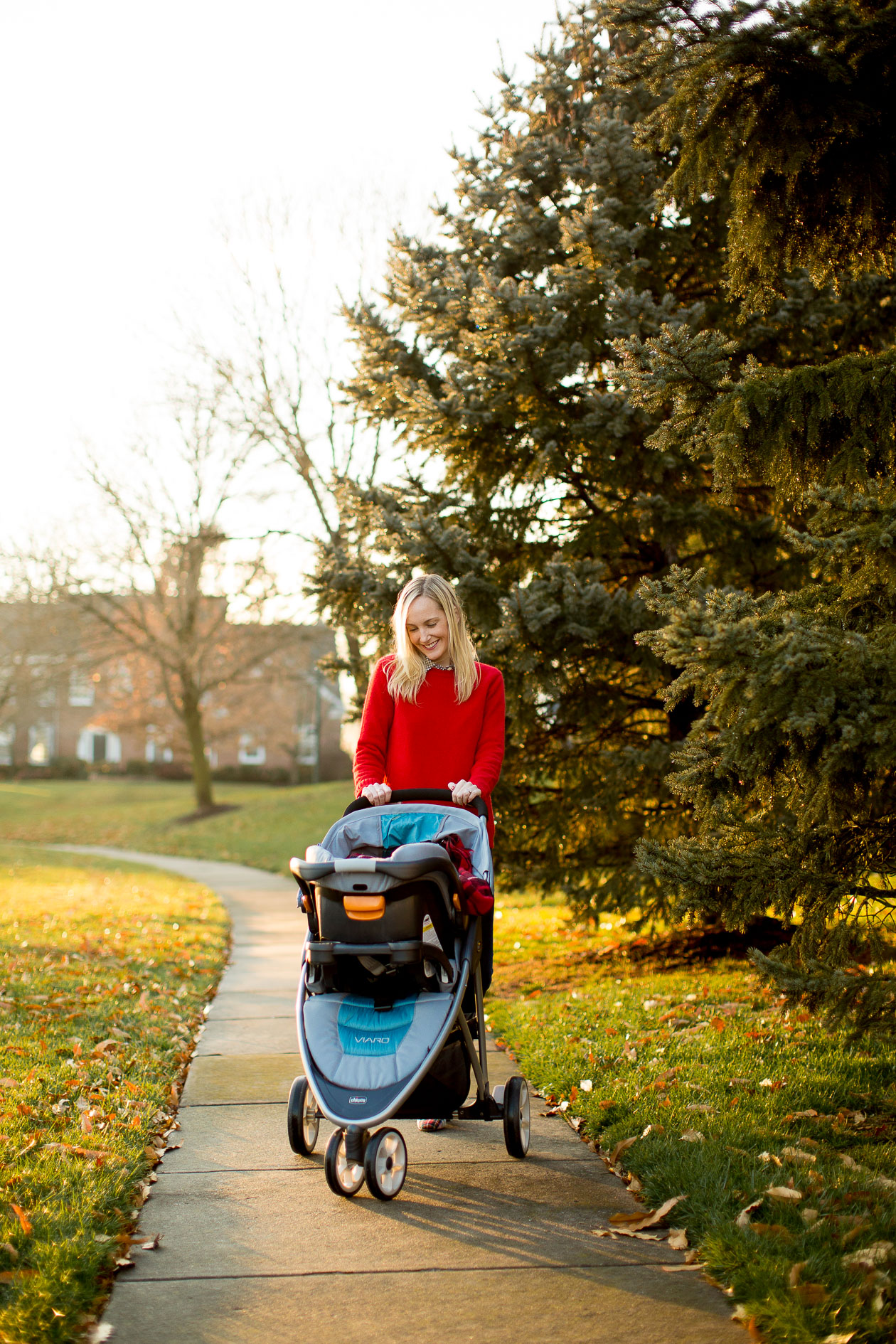 Warning: I get a little sentimental at the bottom of this post, but you HAVE to watch the video!
The Larkin Family, as you know, had quite the travel schedule during the holidays. Over the course of 17 days, we drove from Chicago to Bucks County, Pennsylvania… and then to Long Island, New York… and then to NYC… and then to Lake Bloomington, Illinois. While long car rides in a Prius with a five-month-old are never easy, this road trip was particularly difficult because of the weather. We battled heavy fog, several snow and ice storms, and a tornado. (As it turned out, we were several miles away when it hit, but it was terrifying at the time.) Needless to say, we're going to try to simplify things next year–whether that means flying and giving everyone gift cards for Christmas, cutting out presents all together, or making two stops and two stops only. (Many options have been discussed with our families; we'll see!)
I don't want you to get the wrong idea, though: Christmas was awesome, and we thoroughly enjoyed our trip. We had so many great times with the people we love, and I'm incredibly grateful that we were able to see (almost) everyone and spend such a significant amount of time with our families. And, hey. I can't say we messed up on all fronts. I do think we traveled smart in a bunch of ways. Here are a few things we did to make our journey easier:
Noodle stayed with my in-laws
My mother- and father-in-law are the sweetest people you'll ever meet, and they're clearly far more experienced with raising children than we are. ;) When we told them about our travel schedule, they immediately told us that they wanted to take Noodle to make things easier on us. We were reluctant at first, as Noodle requires a lot of work and we felt pretty sad about not seeing her for nearly two weeks. But in the end, having her stay at the lake was a godsend. There was really no way we could have survived that trip with a dog in tow! (Thank you so much, John and Lisa!)
We shipped as much as we could to our destinations
All hail Amazon Prime, Nordstrom, Zappos, and USPS/UPS/Fed-Ex in general. From formula and baby supplies to gifts and collaboration products, we directed everything to our parents' houses and it was beyond helpful. There's only so much you can fit in a tiny Prius!
We doubled up on baby gear
Emma is John and Lisa's fourth grandchild, so there's a ton of baby stuff at the lake house. Everything's there, and visiting is super easy. But Emma is my parents' first grandchild. While they have a great selection of children's books and toys, it's been a very, very long time since a baby was around and therefore the house is–understandably!–lacking essentials like strollers, cribs and highchairs. Again, there was absolutely no way we could fit everything we needed in our Prius, so we were beyond excited when Chicco offered to send the gear we needed straight to Bucks County. Thank you, Chicco!
Note: This post is not sponsored, but as I mentioned, Chicco did send us the below products.
I cannot begin to explain how amazing it was to have a second set of gear at my parents' place. Even if we lived a couple of hours from them, I know we'd still want the stuff. And I know what you're thinking: Baby stuff is so expensive! You recommend having TWO of everything?! But here's the thing: Chicco products, while amazingly reliable, are reasonable. And anything that makes having traveling with an infant a bit easier is a must in my book!
So let's get to some of our favorite Chicco stuff, and why it made our trip so much easier:
First of all, Chicco's Lullaby Baby Playard is the only portable crib I've found that is actually pretty. I love it in gray and navy, and the fact that it doesn't look like a giant eyesore wherever we set it up. It's also extremely practical, as its multifunctional design allows us to get away with having fewer things. For example, the playard can be used as a crib, play area, dresser and a changing table. (The storage compartments hold the essential products we need, like diapers, wipes and lotion. And the changing table component snaps on and off extremely quickly.)
Something else we love? That the mattress cover is machine-washable. We're no strangers to baby throw up and poop disasters, and the ability to wash the cover makes life a lot easier when we're on the go! Finally, I love that the playard can be used for three different stages: newborn (angled napper), infant (removable bassinet) and toddler (extra-large playard area).
In case you're wondering, Emma currently sleeps in the removable bassinet, but she's just about ready to start sleeping in the playard area!
Finding a good stroller system can be daunting and challenging. There's just SO much out there, and everyone swears by something different. For my parents, though, we picked Chicco's Viaro Travel System for a few reasons: it has an easy one-handed "quick fold," it steers amazingly well, its aluminum frame makes it lightweight, it has a huge undercarriage storage area, it features cup holders for days, it has a little tray area for Emma, and it has easy toe-tap breaks.
But what really sealed the deal was the fact that the infant carrier is multifunctional. Of course, it works as a carrier. But it also acts as an infant seat for the stroller and it's a car seat. Which means that even if we're going from car to stroller to home, Emma never needs to wake up. The carrier simply snaps in and out of the car seat base and stroller! (It's called "KeyFit 30" and it's the #1-rated infant car seat in the country!)
Emma started sitting in a highchair right before we left for our trip, and it's been the best thing ever. She gets bored very easily, so often, it's one activity and position to the next. But with her Polly Highchair, she's entertained for a long time. While we obviously use it to feed her (she recently started eating rice cereal!), we also put her in her chair while we're eating dinner (family meals!) and for playtime.
The primary reason we chose the Polly was because of its slim design. We immediately loved how we could fold it up and store it neatly in my parents' coat closet without it taking up too much space, but we also quickly learned that it's so much more than just a slim design. ;) It has a three-position reclining seat and six height adjustments which means that it'll grow with Emma, and it has a removable tray, an adjustable footrest and foldaway armrests. It's super comfy, too! (The material wipes clean like vinyl but is really soft.) Not sure if you saw my Instagram Stories over Christmas, but Emma squeals with delight every time we put her in the Polly!
Finally, before I go, I wanted to highlight one of Chicco's recent commercials. I think I've actually mentioned it before on the blog, but this is pretty much exactly how I feel as a working mom. Yes, I work from home, but it can be beyond challenging some days with deadlines and contracts and conference calls and shoots, and I'm constantly feeling guilty about the choices I make.
If, for example, I have a really awesome day with Emma, I often feel guilty about neglecting my work because my family needs me to work. On the other hand, if I have a great workday, I feel guilty about missing out or not being entirely "present" for Emma.
While I am trying so, so hard, I often feel defeated and like I'm not doing a good job in any of the areas of my life. This video, however, made me feel so, so much better. It makes me cry every time I watch it. (I also think the video applies to moms who aren't working. All moms are torn in a zillion different directions, and while motherhood might seem easy, it's not!)
Thank you, Chicco, for reminding us that we are, in fact, doing a good job. :)