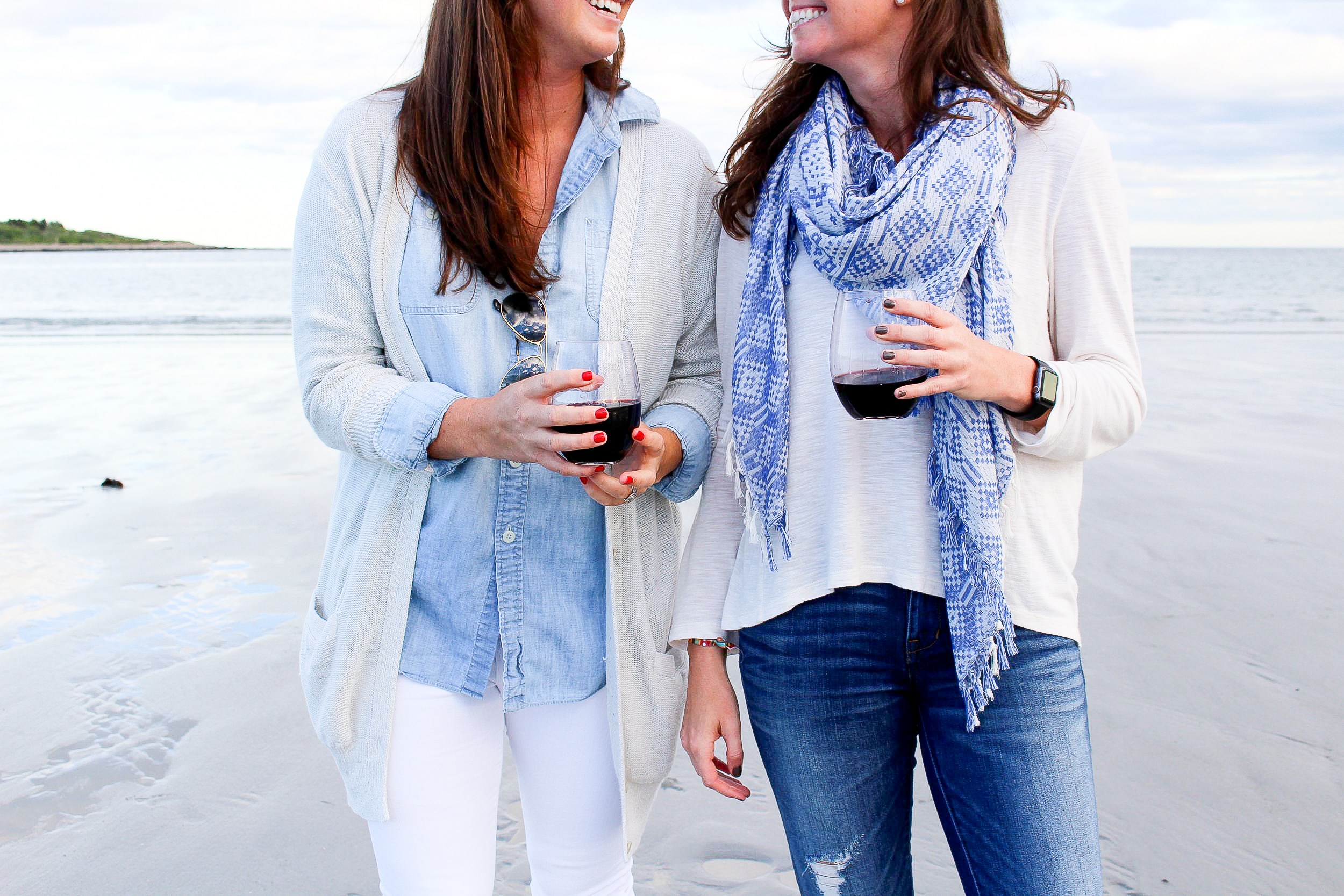 Image from my friend Meg's blog!
Over my 3.5 years of blogging, I've been incredibly lucky to have met a ton of inspirational and fun ladies–some in-person and some not (YET). Blogging is crazy sometimes. It connects me with people from all over the country (and sometimes even the world!), and I've become close with girls via cell phones and computer screens.
And here's the thing: Before I started this blog, I would have found all of this a little creepy. But it's not creepy at all. My online friendships–many of which are with you guys!–are amazing and very real, even if the face-to-face isn't there. (Though it's the coolest thing when you finally meet in person. You're like, "You have an ACCENT?" "Wow, you're TALL!" "OMG it's okay if I hug you, right?!")
On some of my darkest days, my online friends have lifted me up. And on some of my best days, my online friends have been there, cheering me on. And whenever I'm confused about how to decorate a room or what shoes to wear to an event, my online friends come to the rescue! It's this wonderful little support and love network, and I'm so grateful to be a part of it.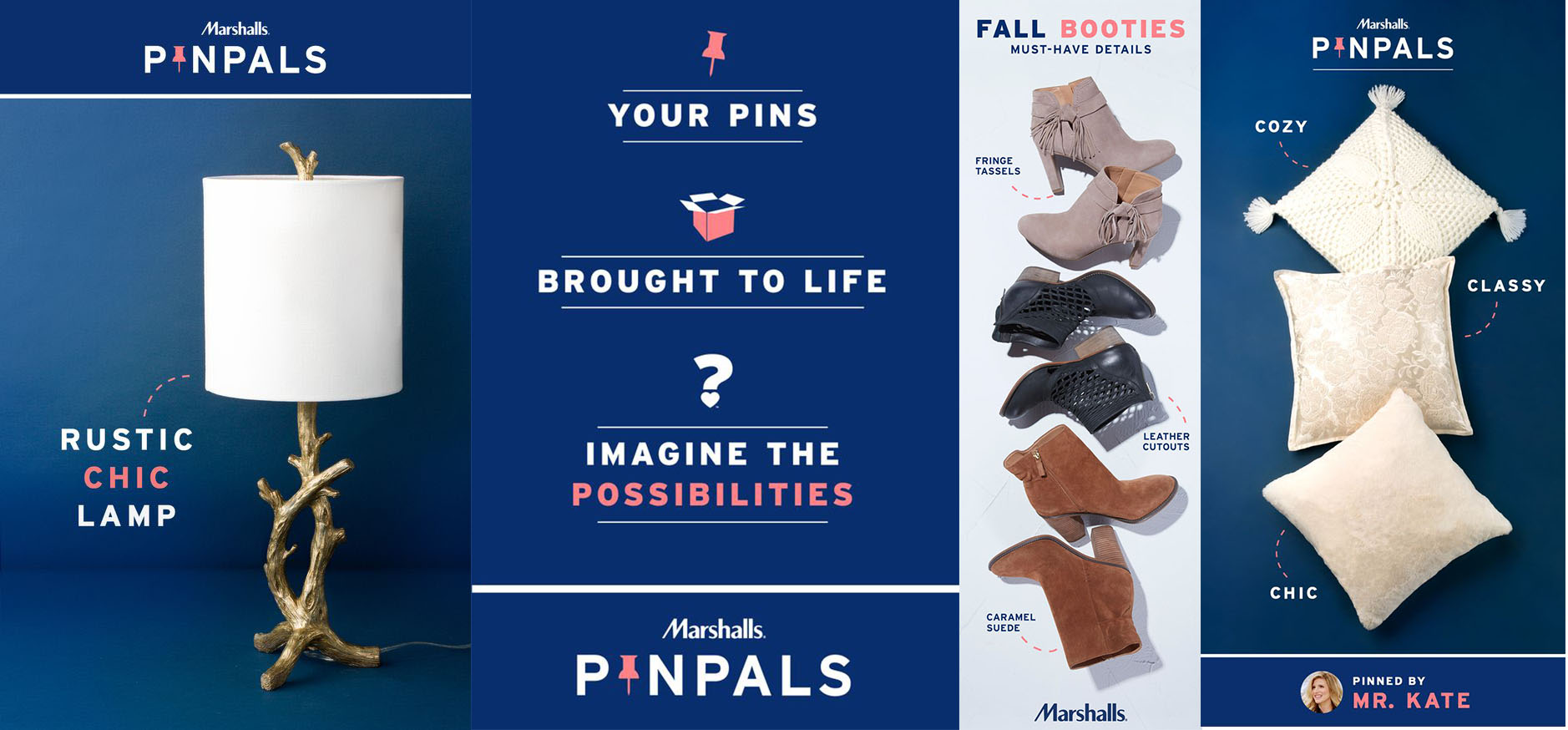 From the Marshalls "Pin Pals" Pinterest Board
Recently, I teamed up with Marshalls to surprise three of my online girlfriends with care packages inspired by their Pinterest boards to bring their Pinspiration to life. I wrote about this recently, but I've known about the magic of Marshalls since I was 12. Much like Pinterest, Marshalls is a place I've always gone to look for inspiration and surprising finds. Every time I walk in there, I find new styles and treasures. So when the retailer approached me about its "Pin Pals" project, I couldn't wait to get started. And I immediately knew which three Pinners I'd pick: Meg (this is her blog!), Jessie and Michelle. They'd provided me with years of Pinspiration, after all. It was about time to thank them. ;)
(BTW: Follow the Marshalls Pin Pals Pinterest board. You never know when you'll find a #MarshallsSurprise!)
Last Wednesday, Emma and I set out to go shopping at our nearest Marshalls in Chicago for our Pin Pals. Funny story: I totally thought we were going to ROCK the experience together, but Emma wasn't game. We were all smiles until I'd filled the bottom part of the stroller to the BRIM, and then we fell apart. Long story short, we changed a diaper, ate lunch, hugged and finally fell asleep–over an hour later–all in the pillow aisle. (How fitting, haha!) A huge thank you goes out to the Marshalls staff for being so understanding and helpful. It's truly a special company!
We did it, though. And I'm so excited about about the care packages we curated! Below, meet my three "Pin Pals" and get a sneak peek of some of the surprises we're sending to Connecticut, Georgia and California. :)
Meet Meg
Who she is: Meg is the past Director of Marketing for Vineyard Vines. She's now the Director of Content Marketing for LEGO. (So cool, right?!) Meg also runs the Connecticut-based site For the Long Hall. It's one of my most-read blogs, as each post truly tells a story. She has an adorable dachshund named "Miles"–who Noodle will one day marry–and she herself got married last year, too! The photos are nothing short of incredible, btw. Some favorites here, here and here. This blog post is insane! Truly the dreamiest coastal wedding ever.
(I should also mention that Meg inspired the concept of this post with one of her recent blog posts.)
How we met: Through Vineyard Vines! I've been super lucky to work with the team on a few occasions, and if memory serves me correctly, Meg was the first VV staff member I worked with. :)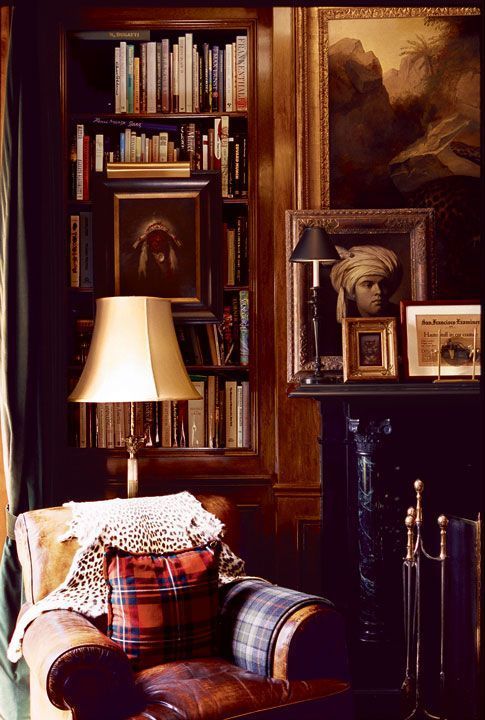 About her style/pins: I love Meg's style. Honestly, it's taught me to live a simpler life. That I don't need to pile on the accessories and overthink everything; that a little plaid, some quality basics, and a few striped shirts go a long way. And that apple picking is always a good idea. Meg Hall is definitely my idea of classic New England living! Above is a pin from her Pinterest account, @Megmburns.

Some of Meg's Marshalls surprises: When I saw the above plaid Ralph Lauren pillow, I squealed. I loved it so much that I got one for Meg and one for me. ;) Pillow twins! I also picked up an apple-scented candle for her, as when I think of apple picking, I think of Mrs. Hall. Finally, Miles got a cable-knit sweater because, um, hello: it's fall and Miles needs to match his mama. ;) More surprises incoming, Meg!
Meet Michelle
Who she is: Michelle is the California-based Pinner behind @michelleannwilk, Instagrammer behind @michelleannwilk, and blogger behind Coast Lane (formerly California House Blog), which is launching soon!
How we met: Through Instagram, for sure. (Right, Michelle? Oh my goodness. I can't remember how I met half of my best friends, so it comes as no surprise that I can't remember how I met my online friends, either.) Michelle and I haven't met in real life yet, but I can't wait to do so whenever I make my way out to California or whenever she visits Chicago! Though only visit Chicago in the summer, Michelle. Otherwise, I fear you'd never come back. ;)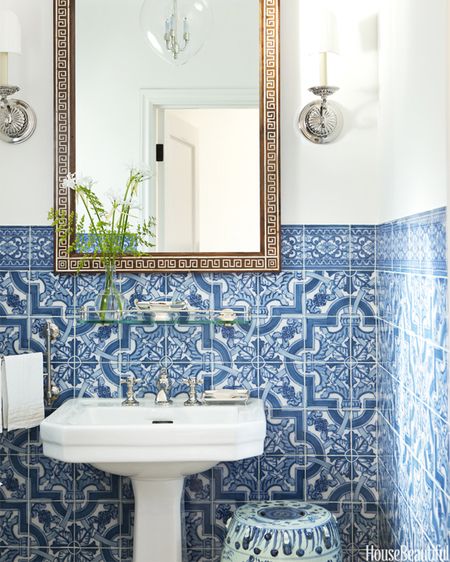 About her style/pins: Michelle (along with my friend Kira) is the person I go to for design-related questions. Whenever I don't know what to do for art or what chairs to buy or what rug will tie the room together, Michelle comes to the rescue. Truthfully, I trust her style judgment more than my own! Michelle is all about the navy blue, which (as you guys know), I love. She's also a huge fan of gingham, scallops, rattan, chinoiserie and stripes. She's my style guru! Thanks for helping me pick out my dining room chairs, find the perfect gingham bedding, and help me decide on bathroom fixtures, Michelle!
Some of Michelle's Marshalls surprises: Of course, Michelle is getting an adorable chinoiserie mug (which all the girls are getting, actually!), along with new sheets for her bed. She just moved to a new place, and a new home calls for new bedding, after all. She's also getting a cute blue soap dispenser for her new bathroom. :) I hope you enjoy your other surprises, Michelle!
And really: be on the lookout for the launch of Coast Lane. I already know it's going to be one of my favorite blogs!

Meet Jessie
Who she is: Jessie is an adorable Atlanta-based girl (@jholmesspringer) who's married to her best friend and has (surprise, surprise) a dachshund! (Her name is Bimba and she looks JUST LIKE NOODLE. It's crazy!) She also used to have a blog called Jessie Holmes Springer. Who votes for her to bring it back? I do, I do!
How we met: Through Instagram! Jessie and I shared a love for C.Wonder, dachshunds and all things preppy… and her dog, Bimba, totally inspired me to finally get Noodle. To this day, I love following along on Jessie's adventures with Cole and Bimba. I love her decorating style (#omg: Palm Springs meets Ralph Lauren meets Jonathan Adler), her snaps of Bimba, and her love of travel. Girl, make your next stop Chicago, okay?! I kind of know we'd be bffs in real life. ;)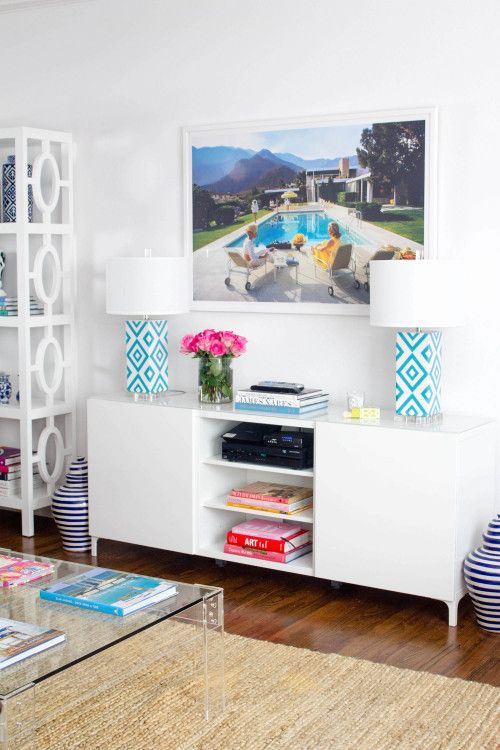 Hey: I know that living room. Hi, Mackenzie!
About her style/pins: I love everything. When I think of gold accents, stripes, ikat, and crisps whites with splashes of navy, teal and pink–I think of Jessie. Her pins, and her actual home, are just so inspiring! I wish Cole would get together with Mitch and tell him to let me "Jonathan Adler-ize" our place just a little bit. ;) Goals: here, here, here and here.
Some of Jessie's Marshalls surprises: Gold, gold, gold. Of course, Jessie is getting a chinoiserie mug and a bunch of treats for Bimba, but she's also getting some great gold pieces: an elephant ring holder, a couple of elephant-adorned wine glasses, and the cutest polka dot dog bowls with paw prints inside. SO much more to come, Jessie. Keep your eyed peeled!
Have you connected with girls via social media? Who would you pick as your "Pin Pal"? :)
This post was sponsored by Marshalls, but all opinions are my own. As always, thank you so much for supporting the partnerships that keep Kelly in the City up and running!