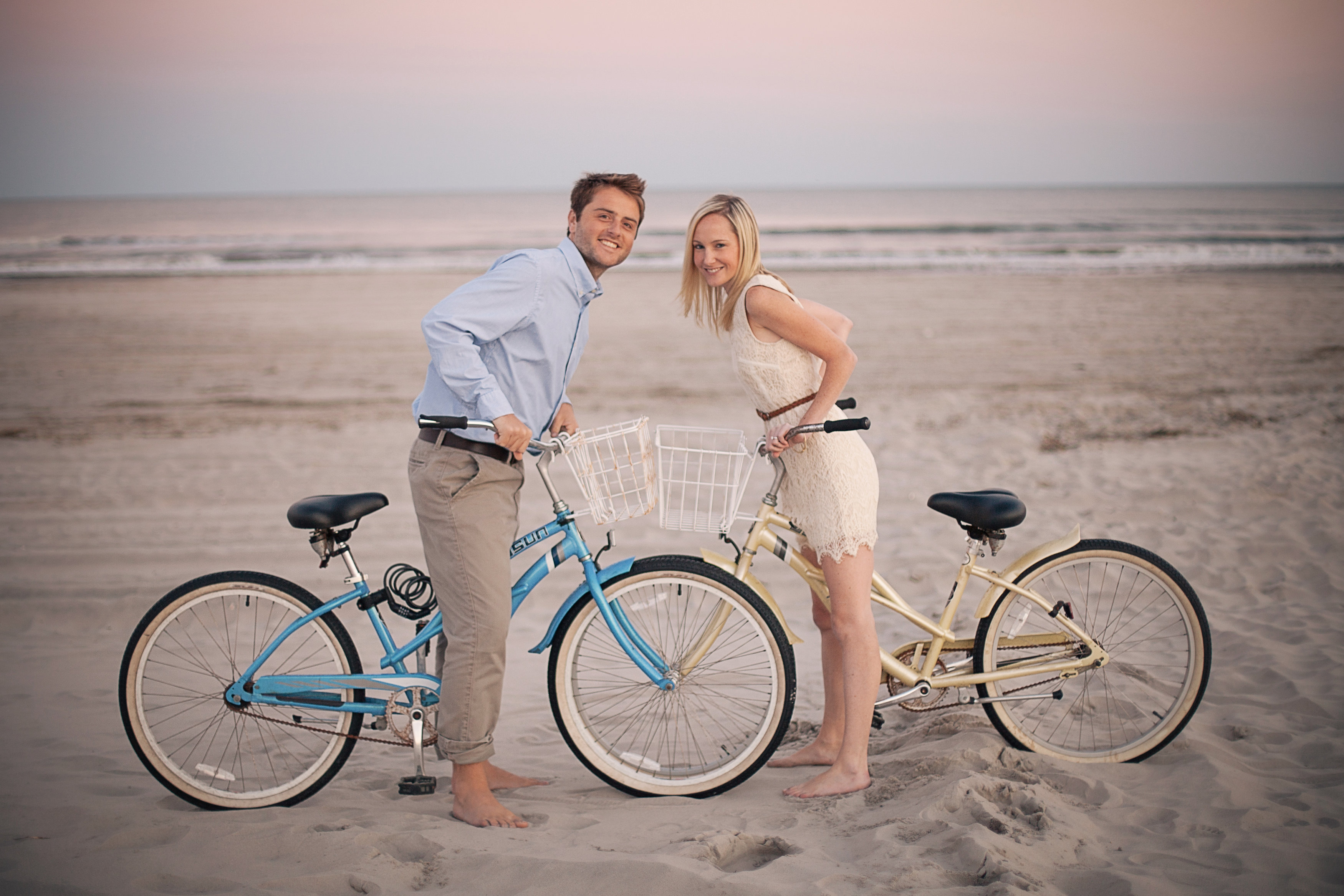 One of our favorite engagement photos by my friend Rachel! Mitch proposed on May 4th, and while we don't really celebrate the day, there's always something special about it. Love you, Mitch.
Grab you coffee! Here are the first 10 things that come to mind.
Emma is planning her fifth birthday and she wants volcanoes and dinosaurs everywhere. Her birthday isn't until August, but I love the enthusiasm! She also noted that she wants to wear a volcano dress (?) and put miniature dinosaurs wearing dresses in the goodie bags. 😆 Help.
If you're a Chicago resident, have you heard of Montgomery Ward Park and the neighboring Erie Cafe (which has outside seating)? They're SO PRETTY, and they're our new Chicago kid-friendly hangout spots. Situated right on the river, they're both a dream, and I feel like I'm on vacation when there. Tons of seating for parents to park themselves and sip their coffees, too. ;)
Can we talk about the magic of the Kate Somerville acne line? (Available via Sephora + Nordstrom.) My skin went bonkers this year, largely due to stupidly taking Biotin without doing my research beforehand. And then it was further aggravated by face masks. (Oh, 2020/2021.) During a good old-fashion vent/sob session with a friend, she recommended Kate Somerville, and out of desperation, I ordered it. WOW. My skin was clear in less than a week! The products are pricey—around $100 in total for everything I'm using—but probably less than what I'd spend on prescription stuff… and just as effective (if not more), in my opinion. (Was on Accutane back in the day so I definitely have some experience in this area!) I cannot believe the difference in my skin. I'll of course report back in the next couple of weeks to update you on whether it remains clear, but right now I'm utterly shocked and absolutely thrilled. Here's what I've been using:

"Exfolikate" Exfoliator (Sephora/Nordstrom): This is a physical and chemical exfoliator, meant to be used 2x per week. I know I keep talking about this stuff, but it's WILD. You rub it around your face for a little bit—maybe 30 seconds?—and then let it sit for two minutes. (No more than that.) When you wash it off, your skin feels insanely smooth and soft. It's nuts. I should also note that a little goes a long way, and since it's only meant to be used twice per week, the smaller $25 tube is more than enough. Watch this video on the Exfolikate product, btw. It's a total godsend!
Antibac Clearing Lotion (Sephora/Nordstrom): I use this in the morning. It really clears up skin quickly. It's a five percent benzoyl-peroxide-based treatment, which is a lot stronger than most products with benzoyl peroxide. Some people say it's crazy drying, but it's important to only use on problem areas; do not use it all over your face or near your eyes. I also make sure to put moisturizer over it in an effort to minimize dryness, and that seems to do the trick. (I have very sensitive skin, too.)
Eradikate Treatment (Sephora/Nordstrom): I use this at night on problem areas. Smells awful since it's a sulfur-based product, but it's worth it. The first time I used it, it cleared blemishes overnight. Like, I woke up in the morning and they were gone. (Note: I find the Eradikate Treatment to be better than the Mario Badescu stuff).

Speaking of skincare, have you heard of Hyram? Apparently everyone has but me, haha. If you're old like I am, though, he's a young skincare guru who's super knowledgeable and entertaining. You can find him on YouTube. I've only watched a couple of videos, but they're definitely inspiring me to keep up with my new skincare routine!
I'm hiring! I'm looking for some behind-the-scenes part-time assistance while I expand and change this site. (Some potential news to come in a while.) If you are a solid writer, have knowledge of the preppy fashion/design world, and are fluent in Photoshop, get in touch via jobs@kellyinthecity.com. Would love to chat with you!
My BFF Kira (of Kira David Design) is hiring, too! She's looking for multiple designers (part- and full-time) to help with Chicago projects. Contact her via kira@kiradaviddesign.com.
I watched and loved "Ginny and Georgia" on Netflix. It was so good! Keep in mind that it's a racy TV series about teenagers. 😂 But it's basically a PG-13/R-rated version of "The Girlmore Girls"—I think the characters even call themselves out for it in the beginning—and they explore some really important issues that really weren't discussed as much when I was a teen.
One Home Project Every Day: I'VE BEEN MOTIVATED AND BUSY!

I cleaned out my jewelry box. Wow. It was like a time capsule. 😆 I've been throwing things in it for years, and I finally sat down to make it functional again. I kept very little, but now I find myself actually going into it every few days to change out my jewelry, whereas before, I just didn't wear any jewelry because the box was so disorganized. It's been fun!
I used baking soda to clean our bathroom floor. It's my best-kept secret for cleaning grout and marble tile! I simply make a paste using water, apply a layer and wait 24 hours. It hardens after a little while, so Mitch and I do walk on it once that happens because otherwise it would make things wildly inconvenient, haha. But it's magic! Everything comes out sparkling white… without the use of harsh chemicals that could damage the flooring/grout. Btw: If you need extra cleaning power, you can mix in some hydrogen peroxide. (You can also use cleaning vinegar on non-marble surfaces.)
I preventatively sprayed outside for spiders. Speaking of chemicals. 😉 This is very much necessary at our house. We're a spider magnet. (Or I may just have really good spidey sense when it comes to creepy crawlers.) It got so bad last year that we almost stopped using the patio and deck. I really like Zevo, but I needed something in bulk. So my father-in-law got me Miss Muffet's Revenge for my birthday, which was absolutely hilarious. I sprayed last week, wearing goggles and a mask, and kept the kids and dog away for a few days. No spiders yet. Fingers crossed!
We put sand and rubber mulch in our planters to keep the plants from blowing over. Only took us two years. A nice little update.
I power-washed the outdoor stairs in the backyard. Guys. Wow. Power-washing is cathartic, no? Took me a while to get the hang of it, but it made such a big difference.
I wiped down the railings outside. City life is grimy. They took several wipe-downs, but no more soot all over our hands.
We installed the Safety First Ready-to-Install Baby Gate on the deck stairs. Our previous one didn't quite make it through the winter. (It was a total piece of junk.) The Safety First one is amazing, though. It comes fully assembled, with step-by-step instructions ON the gate itself. It was so easy! I really couldn't believe it. It's also insanely sturdy. (I should note here that you need two flat surfaces in order to install the gate, preferably drywall or wood. If you're dealing with a baluster on one side like we were, you'll likely need to secure a piece of wood to said baluster in order to make it work. We ran to Home Depot and picked one up. Not too hard! If you'd rather not screw into drywall/wood, Safety First also makes a pressure mount version of the baby gate, which gets great ratings. Similarly, this Safety First gate for wide doorways gets good reviews. Lots of options.)
Mitch planted flowers in the parkway planters, and English ivy in our front garden. Here's hoping this ridiculous Chicago weather doesn't kill it all.
I switched out the knobs in the basement playroom. Half of the playroom had brass and half had black or brushed nickel, so it's nice that everything matches now! Per usual, I went with the "Massey" in Aged Brass.
I washed the outdoor couch cushion covers. We have the Pottery Barn Torrey All-Weather Wicker furniture, and it's AMAZING. We have the standard cushion covers, which are actually very weatherproof. (Because we're hot messes, we really tested them last season. Forgot to take them in out of the rain more times than we can count!) Soaked the covers in Oxyclean and then put them through the washing machine, and they came out looking brand new. This is the best line of outdoor furniture EVER, and I can't recommend it enough!
We had new faucets installed in the kitchen and basement to match the hardware. In the kitchen, we went with the Connor Bridge Faucet in Aged Brass, and we did the Kingston Brass Bridge Faucet in Brushed Brass in the basement—and to be honest, I might suggest saving the money and going with the KB version if you're looking. It's gorgeous and so well-made!

Lucy is going to peewee, so we shuffled around backpacks and got a new one. Since Emma has outgrown "Frozen" and Lucy is full-on obsessed, we passed the Elsa backpack down to Lucy, and I found a new PB "Mackenzie" rainbow backpack for Emma on eBay. (Huge fan of the PB Mackenzie line!)
I bought myself a pair of Tevas. I'm SO happy these sandals are so in because hello, Mom needs comfort this summer. I think they look really cute with most outfits, too! I plan on wearing mine OFTEN with this t-shirt dress.
Emma got her school pictures back and they're the cutest. Two years ago, they had picture day on Super Hero Day, which resulted in Emma wearing her Elsa dress in her photos. We couldn't stop laughing.
Over and out!