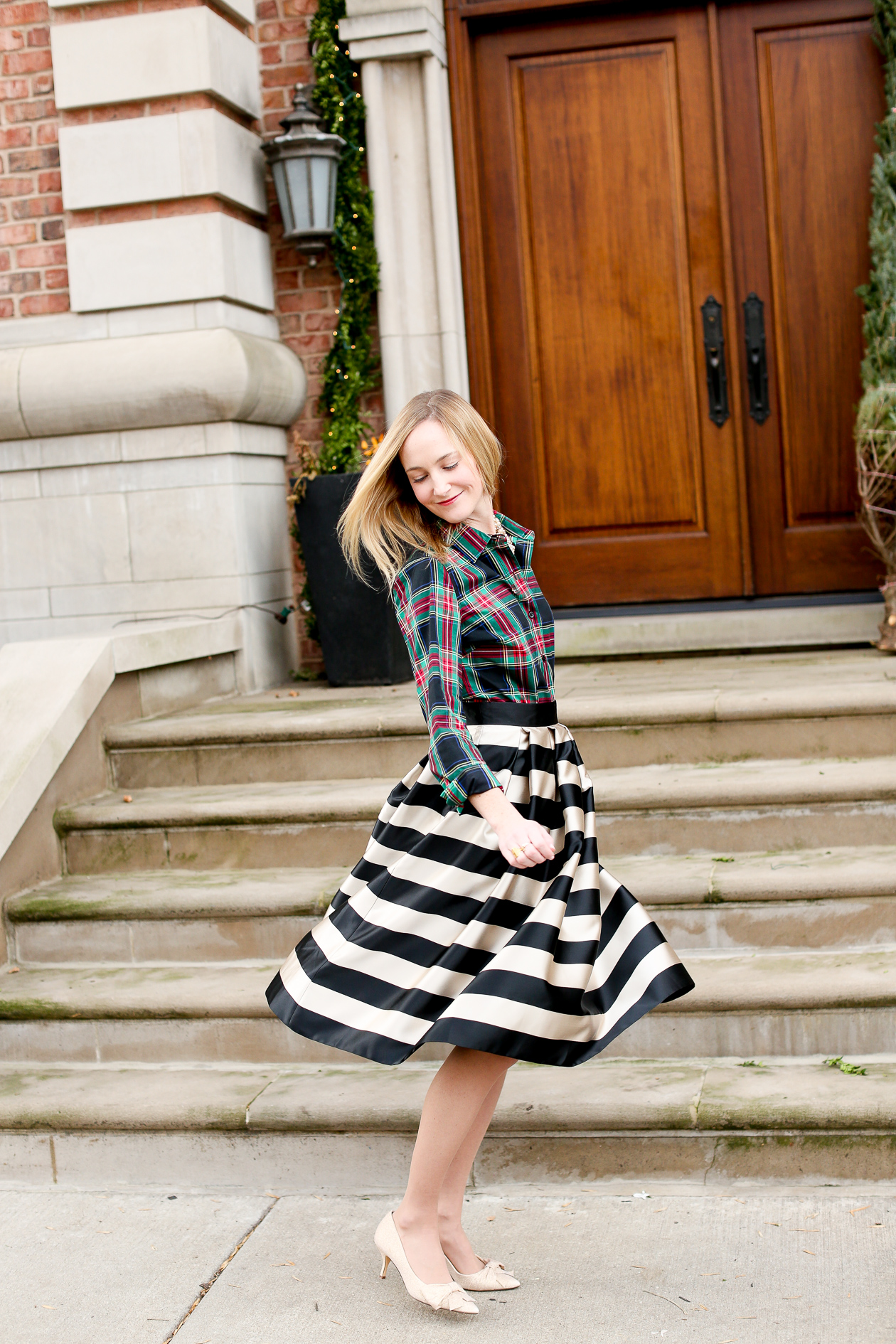 Vineyard Vines Tartan Cashmere Button-Down c/o / White House Black Market Skirt c/o / J.Crew Bracelet (Old, similar here, here and here) / Nina Pumps c/o / Fornash Necklace c/o (But love this one!) / Moon and Lola Earrings c/o (Also love these classic pearl studs. Shipping is free!)
Every year, Mitch and I try really hard to plan a Christmas dinner for just the two of us. It's difficult, though. While we love the holidays and all the parties, events and traveling that come along with 'em, they can be ridiculously busy!
We also have a running joke that nearly every Christmas dinner we've ever "successfully accomplished" has been a huge disaster. For example, at the first one, I burst out in tears at the table because I was so terribly sad that Mitch and I weren't spending the holidays together. (We'd only been dating for a few months at this point. He was going to Illinois to be with his family, and I was going to Vermont to be with mine.) And then there was the time that our food was so bad that we had a tough time getting it down. And who can forget the dinner we tried to make at home? RIP little fire extinguisher. ;)
Last weekend, after gawking at the beautiful townhouses on Burling Street, Mitch and I were feeling really festive. We got all dressed up and decided that while it was pretty early in the month, it was the perfect night for our Christmas dinner. So we walked to Chicago Q, a beautiful barbecue restaurant in the city's Gold Coast neighborhood. (Its white-washed walls and East Coast decor reminds me so much of home!) And it truly was perfect: tons of ribs, wine and laughing. Maybe doing it early is the secret we've been looking for. Stress-free and easy!
I wore my favorite holiday shirt from Vineyard Vines, which is made of cashmere so it's a lot softer, warmer and cozier than the typical holiday tops. (Why are they always made of taffeta? So chilly!) While it looks great with jeans or dressier pants, I also love that it pairs well with festive skirts.
Like this one from White House Black Market! It's my first midi skirt, and I'm in love. Because I'm not the tallest girl, I always thought I'd look silly in midi skirts… but I don't know. I'm feeling more fun and festive in it than silly! It definitely added to the magic of the night. ;) And bonus? It really didn't wrinkle! (#Winner)
If Mitch and I manage to go out together again before we head home on December 19th, do you guys have any Chicago restaurant recommendations?! We're looking for a cheery, festive atmosphere! :) Thanks, guys!