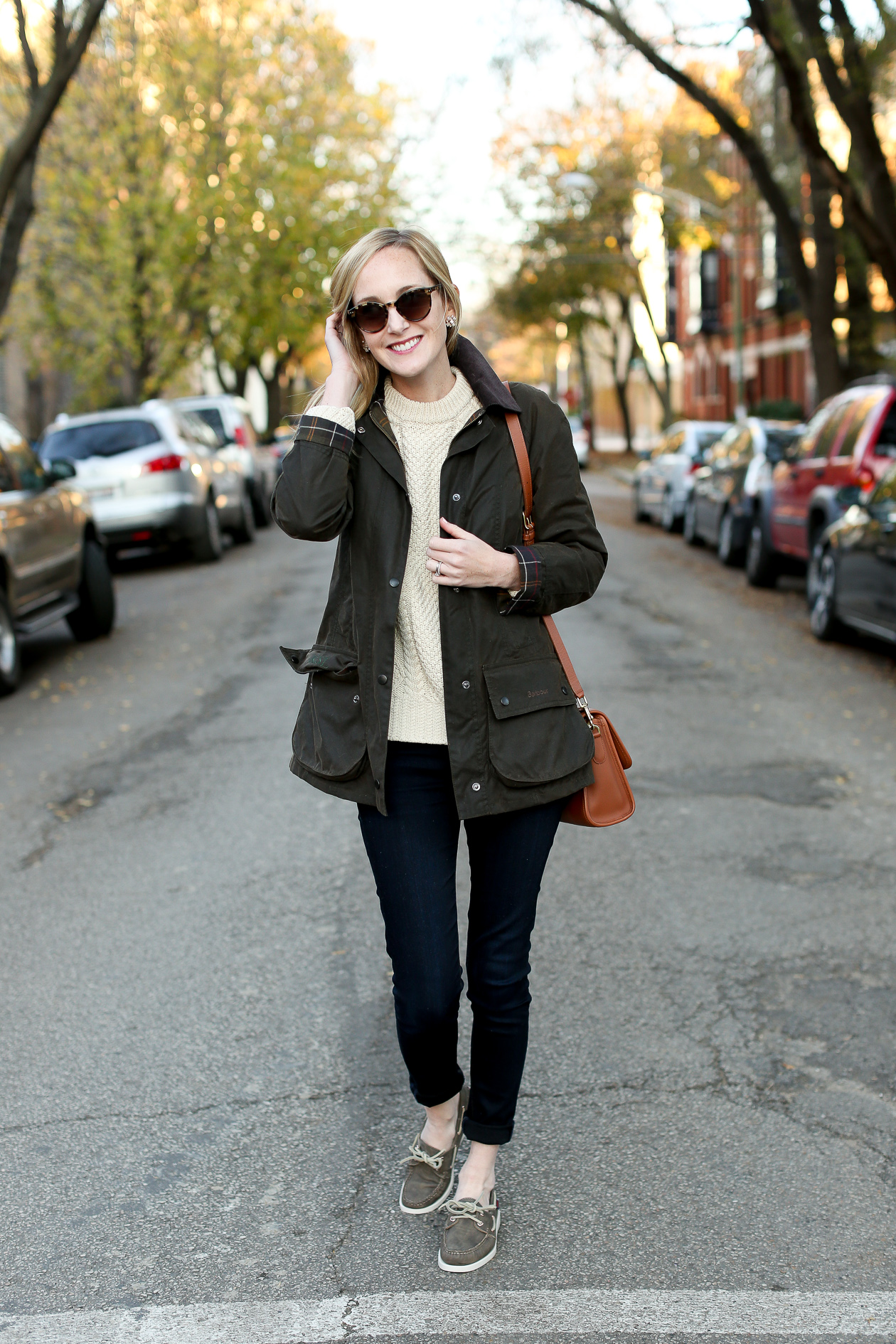 Sebago Boat Shoes c/o / L.L.Bean Fisherman Sweater / Barbour Beadnell c/o / Coach Bag / Hudson Jeans c/o / Moon and Lola Earrings c/o (Old, but these are my new go-to Moon and Lola earrings!)/ Kate Spade Sunglasses (Old, similar here)
Quick post today, as I'm both recovering from a bout of something stomach-related (#ugh), and a really fun dinner with girlfriends last night. ;) But today is my first of several Sebago posts going up over the next week, and I'm so excited! :) As part of the project, I got to try out a ton of the company's shoes, and this pair was one of my absolute favorites. It's part of the Docksides collection (also for men), and it's slip-resistant. (Really nice for those wet early-morning walks with Noods!) It features non-marking soles, rawhide laces and non-corrosive brass eyelets, and its genuine moccasin construction wraps the foot in a single piece of leather, making it super comfy.
(Did you see the navy?! I was looking for a pair that really complemented my Barbour, but I adore the navy!)
Sebago was established in 1946 when an owner of five independent shoe stores in Maine–determined to keep his stores stocked–partnered with two local businessmen and created a handsewn footwear factory. As New England is a place where water is only ever a car drive away, the company took its name from Sebago Lake in the southern part of the state. Since Maine inhabitants are always seeking Sebago Lake out for recreation, water sports, and gorgeous sunsets, the name seemed perfect for the shoe company!
With avid sailors running Sebago in the late 1960s, they looked to create a functional, handsewn leather boat shoe. The Docksides (which is what I'm wearing!) was launched in 1970 to meet that need. Today, it's still being handsewn and finished in the same way. Of course, new materials and colors are always being used, but I love that it's the same shoe that became famous back in 1970.
And no, Noodle. You may not eat this pair of boat shoes. They're favorites!
Also, I must mention that it was nearly 60 degrees yesterday. In Chicago in December. What's going on?! ;)