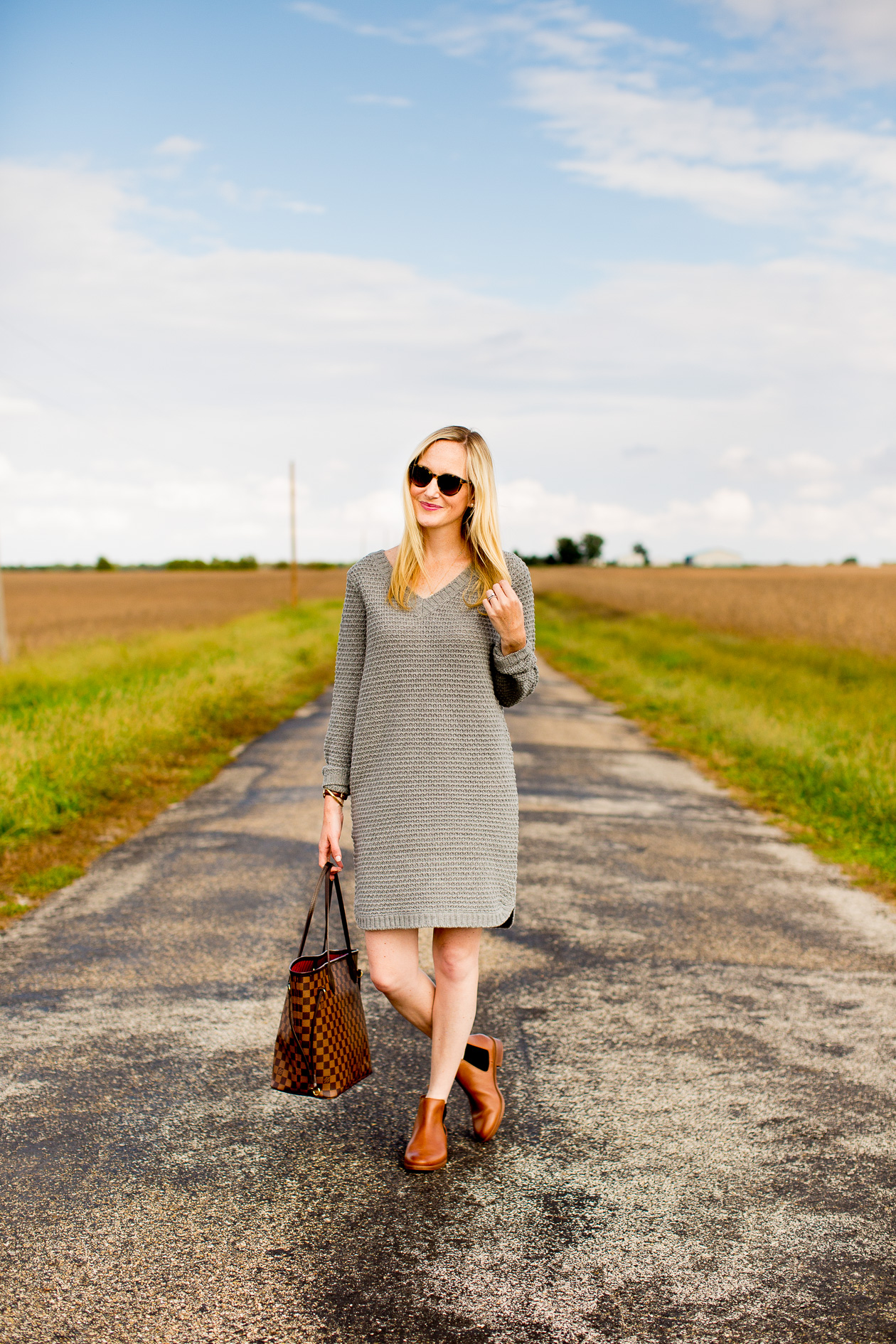 BB Dakota Sweater Dress (25 to 30 percent off with code "MAINEVENT16." Also available here, here and here!) / Clarks Boots c/o (Also available here) / Similar Sunglasses (Part of the Shopbop sale, too!) / Monica Vinader Bracelet c/o (Also love this one) / Similar Necklace (Also part of the Shopbop sale!) / Daniel Wellington Watch c/o / Louis Vuitton Tote (Buy here, here, here, here, here or here)
Huge news: from now until midnight Pacific Time on Friday, Shopbop is offering 25 percent off all orders and 30 percent off orders of $500 or more when you use the code "MAINEVENT16." Now's the time to stock up on brands and products that rarely go on sale, like:
The best sweater EVER! (Worn here. Also loving this dress and this top.)
The dress I'm wearing in these photos (taken near my in-laws a couple of weekends ago) and in this recent post. (Okay. It goes on sale. But whatever. GREAT deal!)
BB Dakota. (I can't tell you how much I adore this sweater. It's SO soft. Definitely ordering this one! And love this one, this one, this one, this one, and this one.)
Madewell. (OMG THE TOTE. Also love this peplum top which I wore here, the tote in black, this dress and these boots.)
Canada Goose. I couldn't survive Chicago winters without my down coat.
Hunter boots. (These are my faves! Read my Guide to Buying Hunters here.)
Jeans. (I love Hudson Krista jeans, Paige jeans and Rag & Bone jeans — These are my current obsession!)
Clare V. (I'm finally splurging on this beauty!)
Sorel. (I've worn Joan of Arctics for years, but how cute are these?)
Blank Denim. (Huge fan of these and these. And might actually pull the trigger on these?)
CLU ruffled tops and dresses. (I love all of 'em. Cannot choose. Help.)
Club Monaco. (May I borrow this from someone?)
Stuart Weitzman. (I have the Lowlands and they're AMAZING.)
Sperry. (Just got these for a fun blog collaboration. So comfortable! Also love these in navy.)
Dolce Vita. (These boots coming to a blog post soon!)
Joie. (I adore this sweater. My favorite suede booties! I also love these sweaters: one / two / three. Love these sandals, this dress, and this top.)
Karen Walker. (I look like a bug in them. But I bet you'd look adorable!)
Sam Edelman. (These navy pumps, these lace-up flats and these booties.)
Superga. (Mitch and I wear our matching sneakers every morning for our walks!)
What did you score?! I'd love to hear!
Shop the post:
BB Dakota Sweater Dress (25 to 30 percent off with code "MAINEVENT16." Also available here, here and here!) / Clarks Boots c/o (Also available here) / Similar Sunglasses (Part of the Shopbop sale, too!) / Monica Vinader Bracelet c/o (Also love this one) / Similar Necklace (Also part of the Shopbop sale!) / Daniel Wellington Watch c/o / Louis Vuitton Tote (Buy here, here, here, here, here or here)