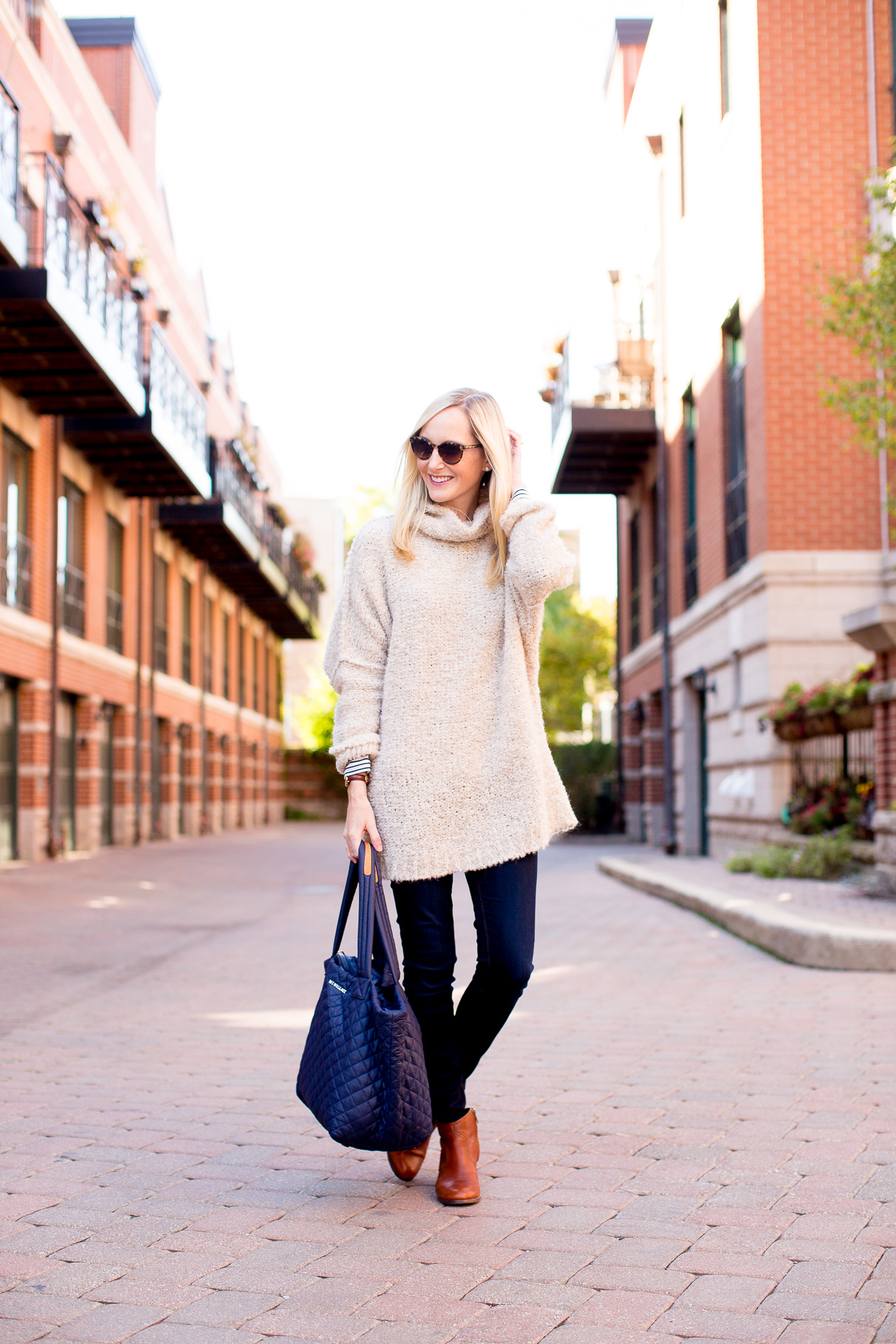 Free People Sweater (It's on sale!! On sale here, too. Available via Shopbop, Zappos, Saks, and Bloomies, as well. Also have my eye on this adorable sweater-like top. Nab it now before it sells out! Other sweater faves below.) / Hudson Jeans c/o (But recently bought this pair. SO EXCITED!) / Lands' End Booties c/o (They also come in suede. Don't see your size? I adore this similar pair. I also have these, and love them! I went down 1/2 size.) / MZ Wallace Tote (I use it as a baby bag, too! I have the medium, but it comes in large, too.) / Daniel Wellington Watch c/o / J.Crew Striped Tee (Mine's older. Speaking of striped tops: oh my goodness, so cute, totally bought this, and swoon! Free shipping and 30 percent off with code "YESPLEASE.") / Similar Sunglasses
Sorry for the radio silence for the last couple of days, but Mitch and I were celebrating our birthdays! I've always loved that our birthdays are only a few days apart–mine's on October 8th and his is on the 11th–as it makes for some really fun celebrations. (Even though Mitch constantly makes fun of me for being "so much older," haha.) This year, we decided to simply spend the weekend alone, as our little family of three. And it was absolutely amazing. :)
I seriously think we must have walked 20+ miles over the course of the weekend. The weather was just that perfect. We visited the Lincoln Park Zoo; went out to breakfast, lunch and dinner; and explored new neighborhoods, coffees/bottles in hand. And Mitch just made the whole thing so special. Dare I say it was the best weekend of my life? I can't tell you how many times I stopped to think about just how lucky I am.
I have SO many more photos to share, so stay tuned. But Mitch actually has Columbus Day off, and I'm rushing through this post because we have one more day of our amazing weekend with our little Emma (and Noodle)! In the meantime, though, definitely grab this sweater before it sells out. It's magical, and weirdly on sale right now! (Sizing: it runs big. I'm wearing a size small here because I was going for that perfectly oversized look, but I definitely think I could have gone with an XS.) OH! I also just recently bought this top, and I adore it! Aren't those bell sleeves the cutest?
Hope you guys had a great weekend!
Shop the look:

Shop my favorite brown leather booties:

Shop the post:
Free People Sweater (It's on sale!! On sale here, too. Available via Shopbop, Zappos, Saks, and Bloomies, as well. Also have my eye on this adorable sweater-like top. Nab it now before it sells out! Other sweater faves below.) / Hudson Jeans c/o (But recently bought this pair. SO EXCITED!) / Lands' End Booties c/o (They also come in suede. Don't see your size? I adore this similar pair. I also have these, and love them! I went down 1/2 size.) / MZ Wallace Tote (I use it as a baby bag, too! I have the medium, but it comes in large, too.) / Daniel Wellington Watch c/o / J.Crew Striped Tee (Mine's older. Speaking of striped tops: oh my goodness, so cute, totally bought this, and swoon! Free shipping and 30 percent off with code "YESPLEASE.") / Similar Sunglasses
Shop the look:

Shop my favorite brown leather booties: