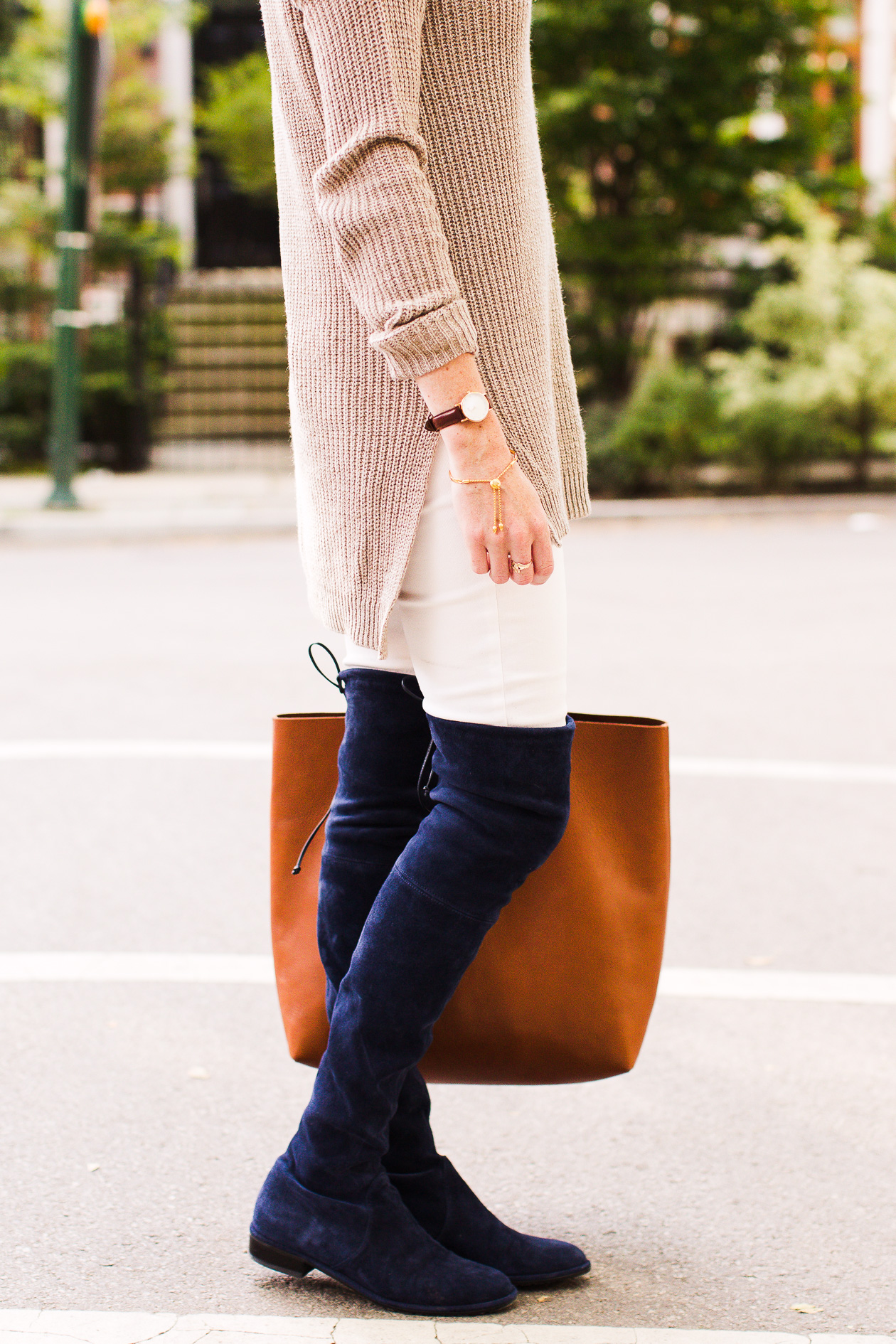 Sweater (Oh my goodness. This ruffled hem sweater is back! Snatch it up before it sells out.) / Jacket / Boots (More affordable here and here) / Tote / Bracelet / Necklace / Similar Sunglasses / Jeans
AH! I feel like we haven't "talked" in forever. But here are a few random thoughts/happenings. Thrilling, I know. ;)
Actually, before I start, a little bit about what I'm wearing. Some honesty: I get thrown up on a lot these days. So having clothing that's machine-washable (not dry-clean only) is SUPER important right now. This machine-washable sweater is crazy soft, really flattering (totally hides the leftover pregnancy pudge), and only $38. And because it's from Nordstrom, it ships free. (Definitely ordering it in the grey, too! I'm wearing a size small, by the way.)

I'll admit that I'm really upping my sweater game this year. Most of my old sweaters are pretty fitted, and I'm much more into the loose, if not oversized look on account of Pinterest and the fact that I'm a size larger, haha. (Whatever. More to love, right?!) Other favorite sweaters right now, besides the one I'm wearing in this post, include this one from Free People (duh), this ruffled hem one (it's back!), this pocket one, this bell-sleeved one, this pink bubble stitch one, this super fuzzy one, and this long one.

I should also mention that I adore BP. sweaters in general. If I had more closet space (hehe), on my list would be this one, this one and this one. (The jacket is also from BP. Size down! Runs big.) Above is some of my other favorite stuff from BP.!
Obviously, Nordstrom has it all when it comes to fall and winter clothing as well as holiday shopping. As I've said before, the company offers free shipping and returns, and stellar customer service… so the ordering/returning process is always incredibly easy. :) I also love that the selection is carefully curated. Shopping at Nordstrom is kind of like having a personal shopper. You just know the products are going to serve as stylish, instant updates to your looks!
Anyway…
Random thoughts/happenings:
Remember the spider incident? Turns out that Mitch, having been woken up rather abruptly, assumed there was a mouse or bat loose in the room because he felt something "furry." (It was my hair, which brushed his face when I climbed on top of his head.) I was definitely wondering why my hair was pulled during the chaos, but it seems that Mitch simply thought he was catching the mouse-bat! Ah, clarity. The things we talk about over a couple of glasses of wine…
Emma is all smiles. I need to do an Emma update soon, but holy adorableness: Girlfriend doesn't stop smiling, and my heart explodes every time she does it. When she wakes up in the morning is my absolute favorite. She's just so happy. God, I love her so much. And I just can't believe I get a lifetime with her. Guys, I wish you could meet her! I'm going to be posting some Emma cuteness on Instagram today, though. :) Be sure to check it out!
Mitch's birthday celebration was so much fun. We've been really good about reserving time for our little family lately, even though it's meant seeing [amazingly understanding] friends a little less often. And that time has been nothing short of magical. On Tuesday, we headed downtown right after Mitch got home from work, and we spent the night strolling Emma along the Chicago River and eating BBQ at Bub City while watching the Cubs.
This ad made me cry. I know I keep talking about this, and you're probably sick of hearing about it. But I have all the emotions about finding a good balance between life and work and everything in between. (And I do realize that finding that balance is only going to get harder in the months and years to come!) This week, I'm focusing on loving myself and acknowledging that I am doing a good job with mothering and working. Even though it sometimes feels like I'm not. (Also, if I haven't responded to your emails or comments, I'm so sorry. Your messages mean the world to me, and I do see all of them! I'm just struggling to find the time to respond. If you're not mad at me, keep 'em coming. ;) And if I happen to respond, know that it's nothing short of a miracle, haha!) Two things I'm considering to make life a little easier: hiring a monthly or bi-monthly cleaning service, and putting Noodle in doggy daycare a couple of times per week so that she can get her energy out. Thoughts?
My mom is coming back next Wednesday! I. AM. SO. EXCITED. First of all, I just adore my mother. She's my best friend, and we have so much fun together… even if we're just hanging out at the house on a rainy day, me topless. (#life) I'm getting ridiculously pumped about long walks around Lincoln Park with coffees, going shopping for Emma, and (hopefully) introducing Mom to some Chicago friends who still haven't met her. :) AND THEN my aunt and cousins (who I love like a mother and sisters) arrive next Friday! They'll be meeting Emma for the first time, and I'm beyond excited. GIRLS' WEEKEND!
I'm on the hunt for a Halloween costume for Emma. Any suggestions?! My first thought is having her be a little pumpkin, since that's kind of traditional. But then again, she could be a strawberry. Or a monkey. Or… Oh my goodness. I just need to settle on something. ;) No pressure, but it NEEDS TO BE GOOD. We're hosting our now-annual Halloween party again, after all!
My sister-in-law got a killer job! This actually happened a while ago, but I totally forget whether I told you about it. She and my brother are moving back to New Orleans next summer, and they both got jobs at the same hospital. I'm so excited about trips to see them! (Thanks for giving us an escape from Chicago winters, guys.) Mitch and I used to go to New Orleans a lot, as tickets were super cheap from NYC. Can't wait to get back. So proud of you and happy for you, Kim! What an exciting adventure you're about to embark on.
I'm playing the guitar again. It's going poorly. But it's really fun and it makes me happy and Emma seems to enjoy it, haha. Maybe one day I'll get the guts to play you a bad song. Dad, what do we think about "Landslide" for my debut? (For those of you who don't know, Dad told me–on the way to gymnastics practice on Village Road in Princeton Junction when I was eight years old–that "Landslide" would be the song that we danced to at my wedding. When Mitch proposed, I mentioned to Dad how excited I was to dance with him to the song… and he just looked at me, totally perplexed. I reminded him about what he'd said, and his response: "What? I never said that." Hahahaha — It's this big joke between the two of us now, and it's made the song even more special. (Though we danced to "Daughter" by Loudon Wainwright at my wedding.) But I digress…
This weekend, we're headed to Evanston and/or Winnetka. We did it last year around this time, and it was such a great fall day. I can't wait! Any suggestions of things to do/see? Last year I'll admit that we just got lunch and admired all the pretty houses.
Okay, that's enough randomness for today. Over and out, Friends!
Shop the post:
Sweater (Oh my goodness. This ruffled hem sweater is back! Snatch it up before it sells out.) / Jacket / Boots (More affordable here and here) / Tote / Bracelet / Necklace / Similar Sunglasses / Jeans
Favorite Sweaters:

Shop BP.:

Special thanks to my photographer. ;) Sorry I included so many pics, but I feel like Mitch has been killin' it lately!
This post was sponsored by Nordstrom, but all opinions are my own. As always, thank you so much for supporting the partnerships that keep Kelly in the City up and running!