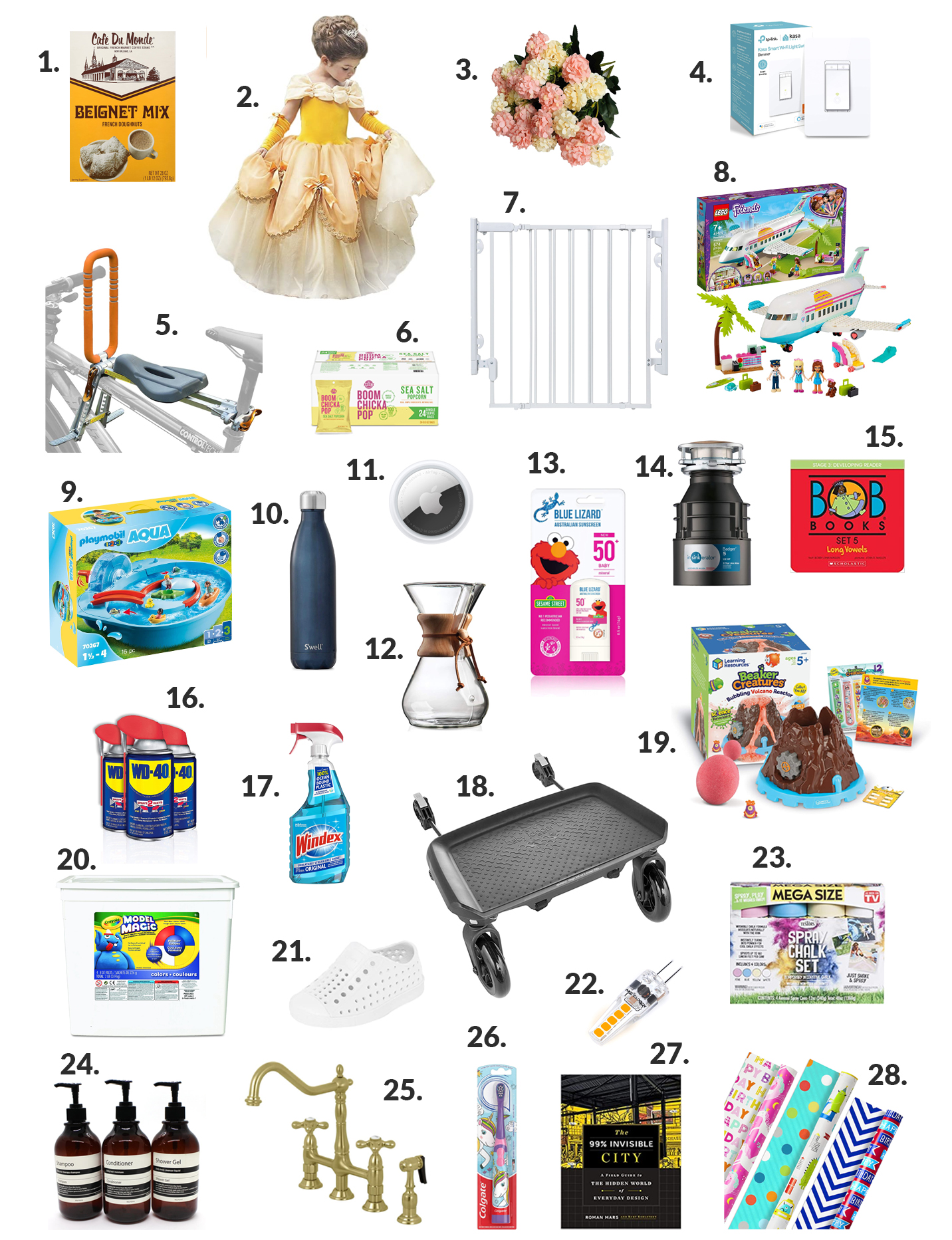 One / Two / Three / Four / Five / Six / Seven / Eight / Nine / Ten / Eleven / Twelve / Thirteen / Fourteen / Fifteen / Sixteen / Seventeen / Eighteen / Nineteen / Twenty / Twenty-One / Twenty-Two / Twenty-Three / Twenty-Four / Twenty-Five / Twenty-Six / Twenty-Seven / Twenty-Eight
Mitch here!
Looking back through our recent Amazon purchases is a strange window into the soul. It's like a journal that shares the true story of our lives without the lies and exaggerations I usually tell myself. We buy some truly bizarre stuff on Amazon, and I'd like to share that with you today.
(Though I refuse to look back at my 2020 purchase history. Amazon and I went to some strange and dark places during the pandemic.)
1. Cafe Du Monde Beignet Mix: If sugar-covered fried dough is your thing, you'd do right to Amazon some beignet mix right this instant. Kelly's brothers live in New Orleans, and Cafe du Monde is a family favorite. Just make sure to hose your kids down after each beignet sesh.
2. Belle Dress: These Amazon princess dress up dresses are incredibly intricate and fun. You can get a dozen of them for less than the price of an "official" dress which is great as the girls change their favorite princess by the day and then rip their favorite dresses to shreds. 
3. Fake Hydrangea: Giving flowers as a gift never made any sense to me. Here you go! A chore! Don't you have a vase? Uh, you can just use a big bowl, I guess. Now watch these flowers die for the next week until you guiltily throw them away. Aren't I thoughtful?! But artificial flowers are just great. Kelly put these in the play house flower boxes, and I have to say that they look pretty nice. They also haven't died yet. Because they can't.
4. Kasa Switches: I'm determined to replace every light switch and outlet in our house with Kasa smart devices. So far Kelly has tolerated the project, but if I don't get it done soon I could run out of my wife tolerance runway, and crash and burn. #MitchesGetSwitches
5. Child Bike Seat: I'm a bike guy. If it was up to me, I'd do 20 miles a day from here on out. I do the pedaling, the riding, the squeaky hand break, the greasy chain, and all that stuff whenever I can. Kids make it tricky, though. That is until I found this kids bike seat—which is currently sitting in a box next to my bike. But when I hook it up I SWEAR I'll be a biker once again and my kids are going to love our adventures together.
6. Boomchikapop: Kelly is in the middle of a fierce Boomchikapop addiction. She eats like four bags per day. She says she likes it because it doesn't have very much flavor which is a statement that makes absolutely no sense whatsoever.
7. Baby Gate: Installing this thing took no less than three trips to Home Depot. And then it rusted shut. An all-around a worthy endeavor.
8. Lego Friends Airplane Set: Emma is Lego-crazy, and I'm so happy about it. A good Lego set can keep her busy for days, and days of Busy Emma is exactly what I need this summer. 
9. Water Table Activity: Honestly, I forgot I bought this and have no idea where it is. Looks like fun though! (Edit: Kelly just told me it was a gift. We sent it to our nephew.)
10. Swell Bottle: This Swell bottle keeps iced coffee cold and hot coffee hot for an abnormally long time. It's absurd. It's also absurd that I've only ever used this thing for drinking coffee. It's possible I'm drinking WAY too much coffee.
11. AirTag: AirTags are peace of mind. It's honestly ridiculous how often I lose my keys. And I'm starting to suspect that I'm losing them more now that I've strapped an AirTag to them. It's like my brain fully outsourced the location of my keys to Apple. Strange stuff but I'm here for it.
12. Chemex Pour Over Coffee Maker: Did I need another coffee machine? No. Did I buy one? Yes. Have I used it? No. Do I plan to? Also, no. I'm not taking questions at this time. 
13. Blue Lizard: This stuff defies all logical sense. Sure it's expensive, but if you put it on your kid they'll look like Casper the Friendly Ghost for the rest of the day and will emerge sunburn-free. Well worth it!
14. Garbage Disposal: Adulthood is buying a new garbage disposal a week after the one you installed last year went out of warranty. Sure, it only leaked once, but if you don't do it now, it'll flood the whole house JUST WATCH.
15. Bob Books: Emma is making incredible progress as a reader and much of the credit goes to this Bob Books series. I know Kelly talks about them a lot here, but if you have a young reader in your family, I can't recommend them enough. 
16. WD-40: This stuff is a cure-all for anything going wrong in your house. Squeaky door? Spray it. Stuck stroller wheel? Spray it. Angry wife? Spray it.
17. Windex: Do other families churn through Windex like it's water? I was running out for Windex two or three times a week before we discovered Amazon's "Subscribe and Save" feature, and now they just drop a pallet off every couple weeks. 
18. Baby Jogger Glider: We're at that awkward stage where we absolutely need a stroller when we go out, but both kids refuse to sit in it so I end up carrying one kid, holding the other's hand and sort of butt-bumping the stroller across Lincoln Park. I'm hoping this Baby Jogger Glider thing will help to simplify the problem.
19. Bubbling Volcano: Amazon is the best for quick-and-easy kids activities that can kill a summer afternoon. Emma is in the middle of an intense volcano obsession so this Learning Resources kit was a no-brainer.
20. Model Clay: Play dough is a huge mess and kinetic sand is even worse. So far, this Crayola Model Clay is the most engaging and contained of the sticky molding toy genre we've found. 
21. Native Shoes: Shoutout to Native Shoes for allowing Emma to put her shoes on without my help. Total game-changer for getting out of the house. They apparently sell adult shoes, too! (Though meh.)
22. Crazy Light Bulb: Whoever built this house had a sadistic sense of humor. By my count, there are over a dozen different lightbulbs varieties installed throughout and all of them burnt out within a year of us moving in. I think I've finally figured out which is which and have replaced most with LEDs that promise to not burn out for a hundred years.
23. Spray Chalk: We had a bit of a heart attack with this stuff after Emma sprayed little messages in front of the neighbors' houses and then watched it sit there like graffiti for weeks until the third rainstorm finally washed it away. Yikes. Not sure I can recommend this.
24. Refillable Soap Bottles: I never thought I'd say anything remotely like this, but I've really enjoyed having these decorative soap bottles in my shower. They really spruce up the place.
25. Kingston Brass Faucet: Shoutout to this faucet for being only $400 and for looking better than other brand-name faucets that charge four times the amount. Also, this faucet showed up in two days instead of the two months the other brands were quoting. 
26. Unicorn Toothbrush: It turns out that kids love mechanical toothbrushes with unicorns on them. I should've bought these things years ago.
27. 99% Invisible City: You and I both know I'm not going to read this book, but I bought it and put it on the shelf for some glorious day in the far off future when I'm going to break all my awful time management habits and start reading again.
28. Wrapping Paper: I'm the first to admit that most of Kelly's schemes are perplexing to me at best, but this one is legit. She started buying wrapping paper, cards and presents in bulk so we're prepared for all the kid birthday parties each weekend. It's genius. As a result, we never have that "Oh crap we're going to be late and we don't have a present!" feeling anymore.
Mitch. OUT!