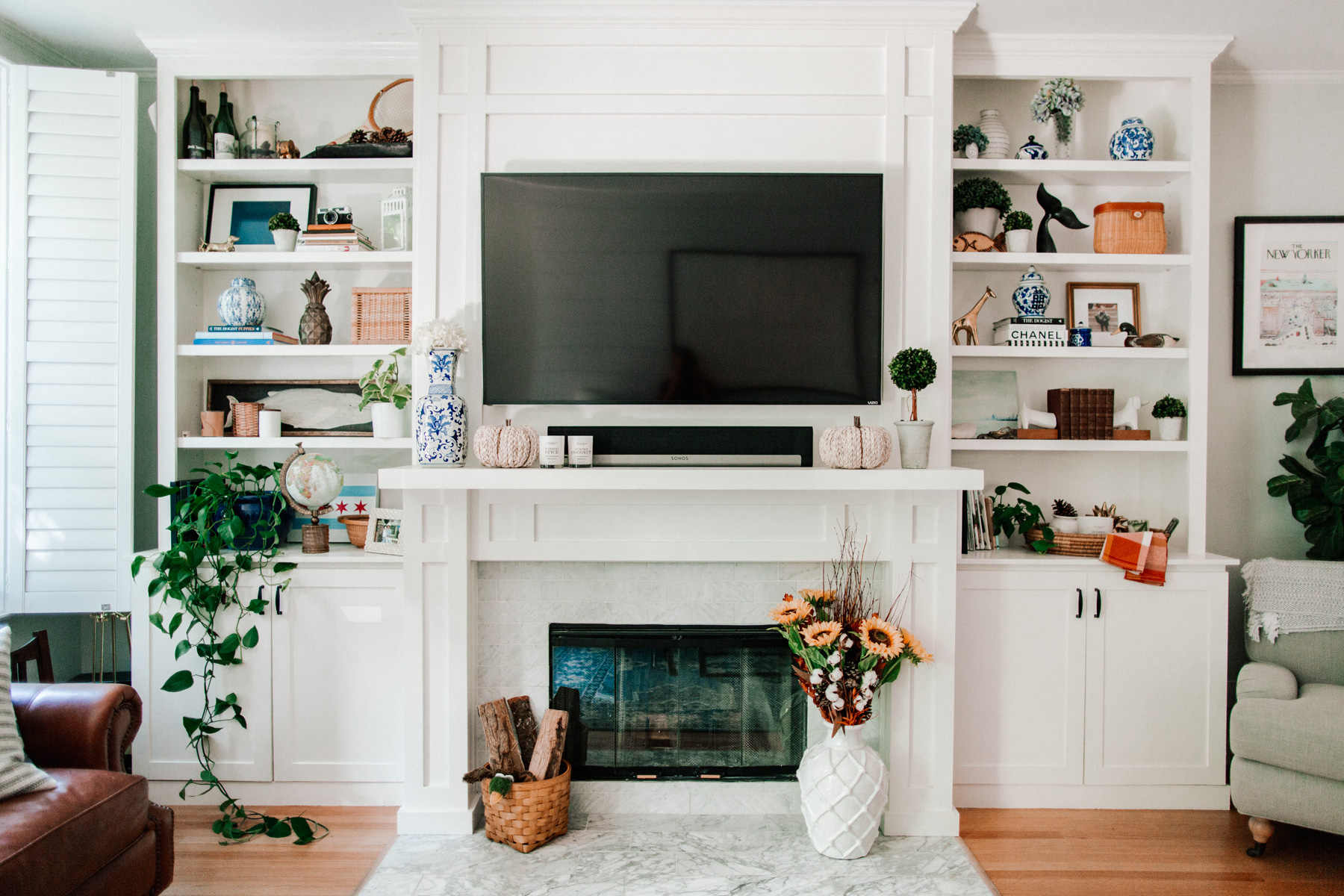 I want to like decorating. But it's daunting for me. On so many different occasions, I've invested good money into furniture and decor only to wind up regretting it. (And, of course, I kept the stuff out of guilt.) There were those awful nesting tables that looked flimsy, offered no storage, and showed all the wires. And what about that twill couch that collected stains like Emma collects rocks? (So many stains. So many rocks.) And we can't forget the innumerable rugs I thought I loved but then inexplicably grew an intense hatred for down the line. Idk, guys. It's hard. 😂
Seasonal decor, though, is something I adore. It's ever-changing and less of a commitment, and I never grow sick of it since it's switched out before I have the chance. It's just fun… and a great stress-free and easy way to change up the feel of my home. It also makes the seasons special for Emma.
As you may have noticed, I've been partnering with Marshalls for years. ☺️ My love for the company started early; you can read about the time I fell asleep clutching a Marshalls find as a middle school student here. 🙈 So it's probably no surprise that every time I get a new "assignment" from their team, I get really excited. This one, though, was my all-time favorite, as the directions were to decorate for the upcoming season. Yassss!
Not sure if you caught it on Instagram Stories, but the Larkin Family made a night out of it, and we had a blast. (Including Emma, who picked up a couple of fall-themed coloring books and a "Little Mermaid" play dough set, and Noodle, who stayed home but received a treat as well.)
Onward, though! Let's get to what we picked out: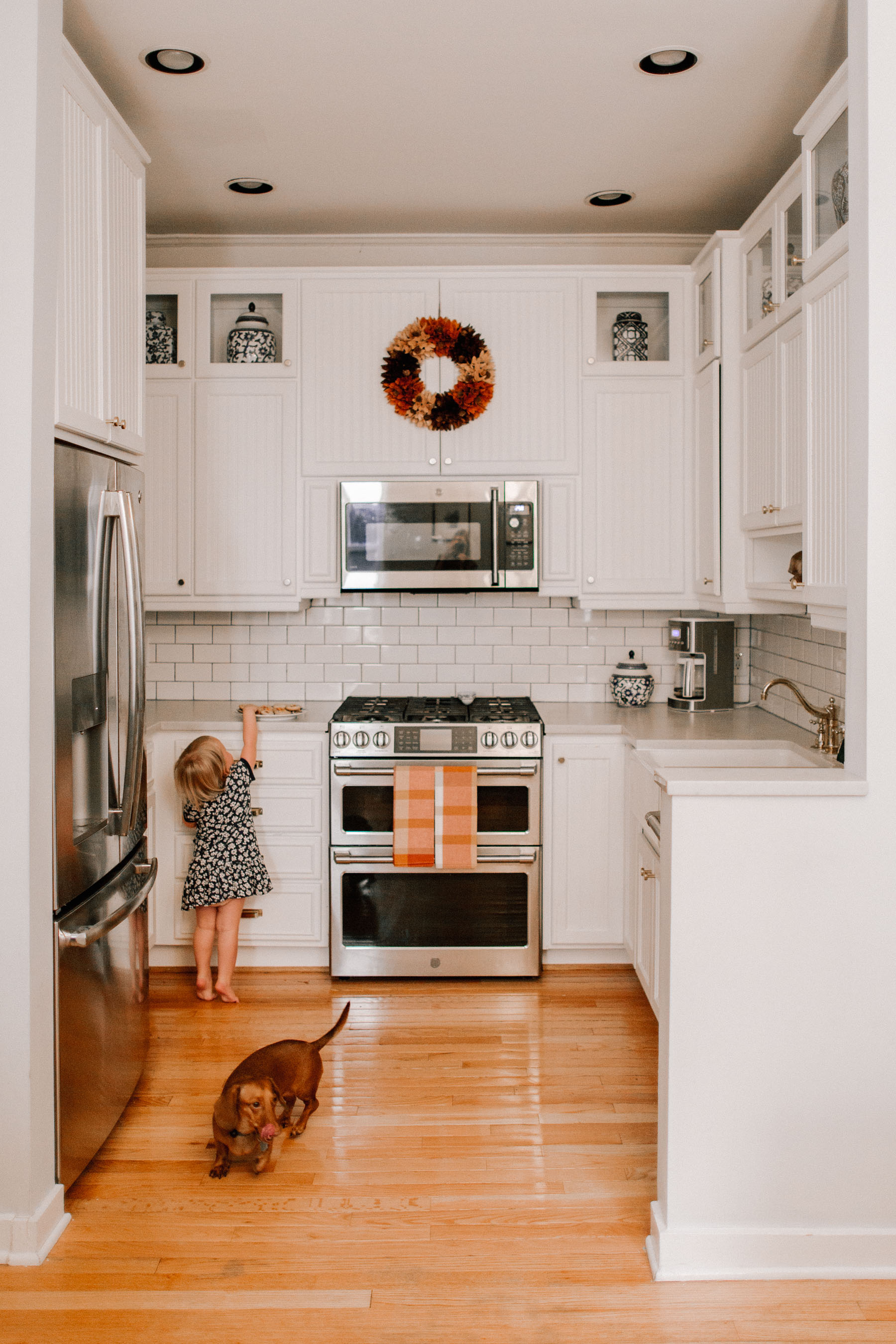 First thing's first: the kitchen. Since we renovated this past year, we've adopted a simplistic and clean aesthetic for it. We try to keep stuff off the countertops and go with a few pieces of decor that pack a punch. The majority of the ginger jars you see in the top cabinets are actually from Marshalls–between $12.99 and $24.99 for the brand name ones, opposed to the normal $65 to $200 I see in other stores. And for the fall, we added a seasonal wreath ($19.99 compared to other stores' prices of $85 to $150) and new dishtowels, which really seemed to warm up the space.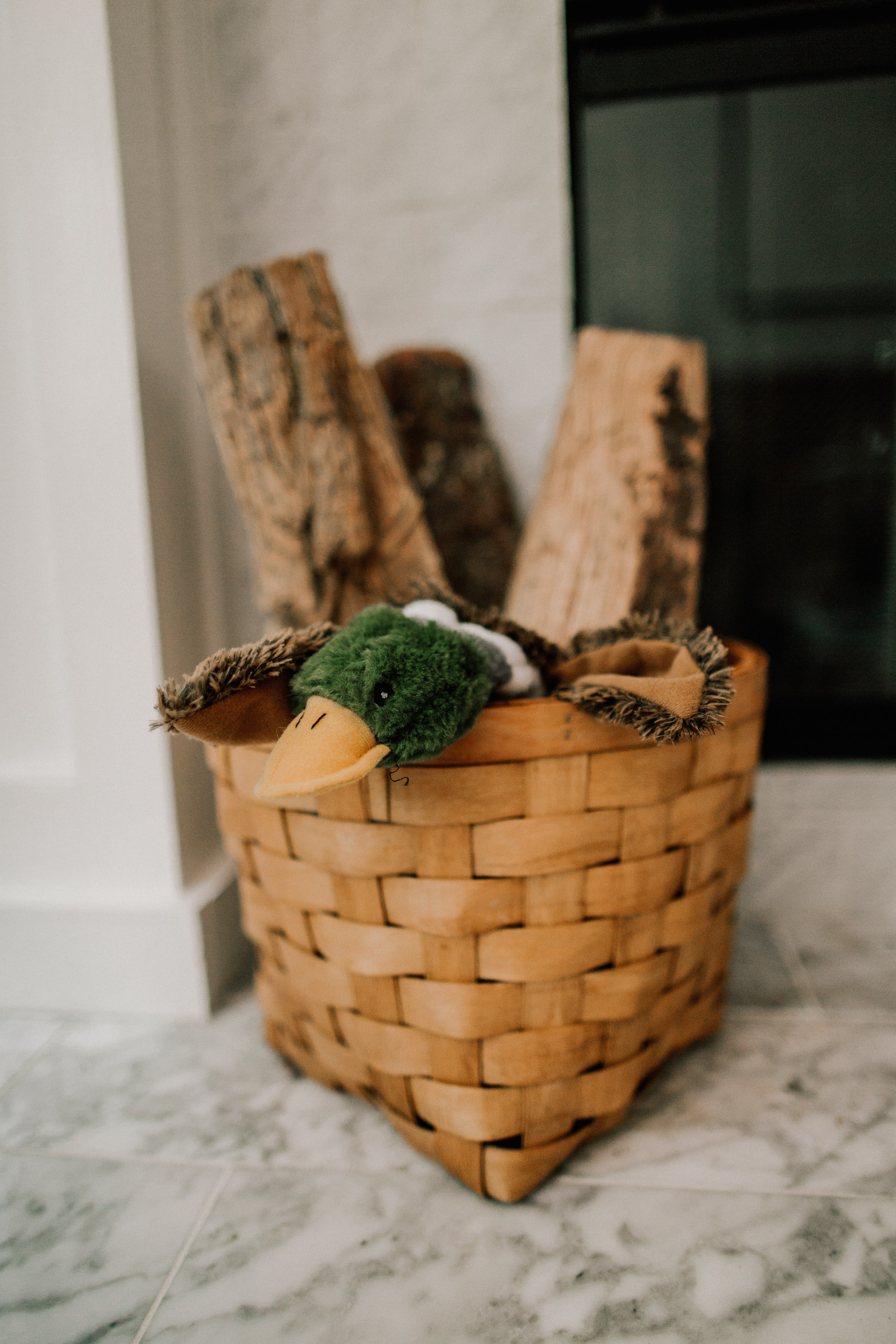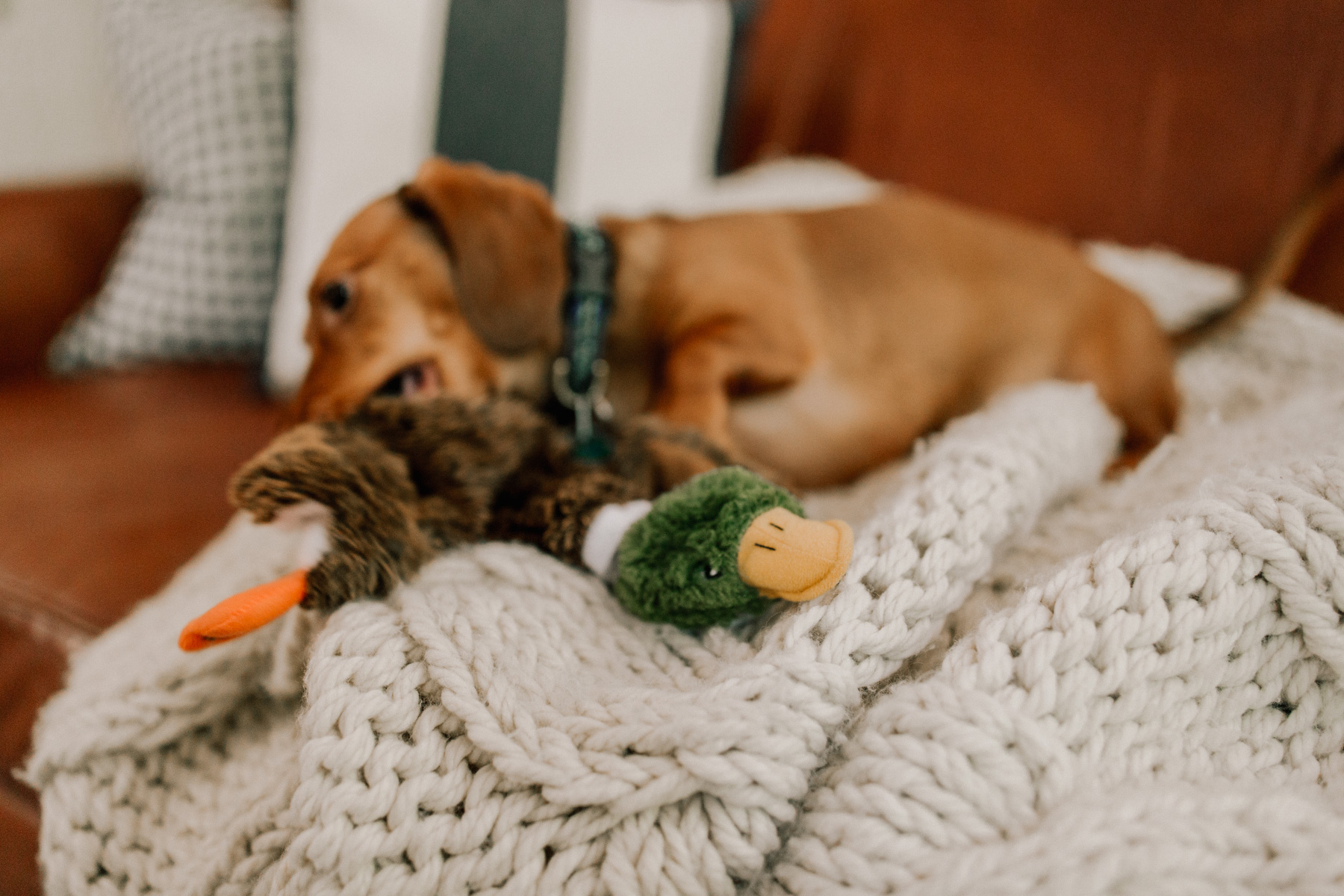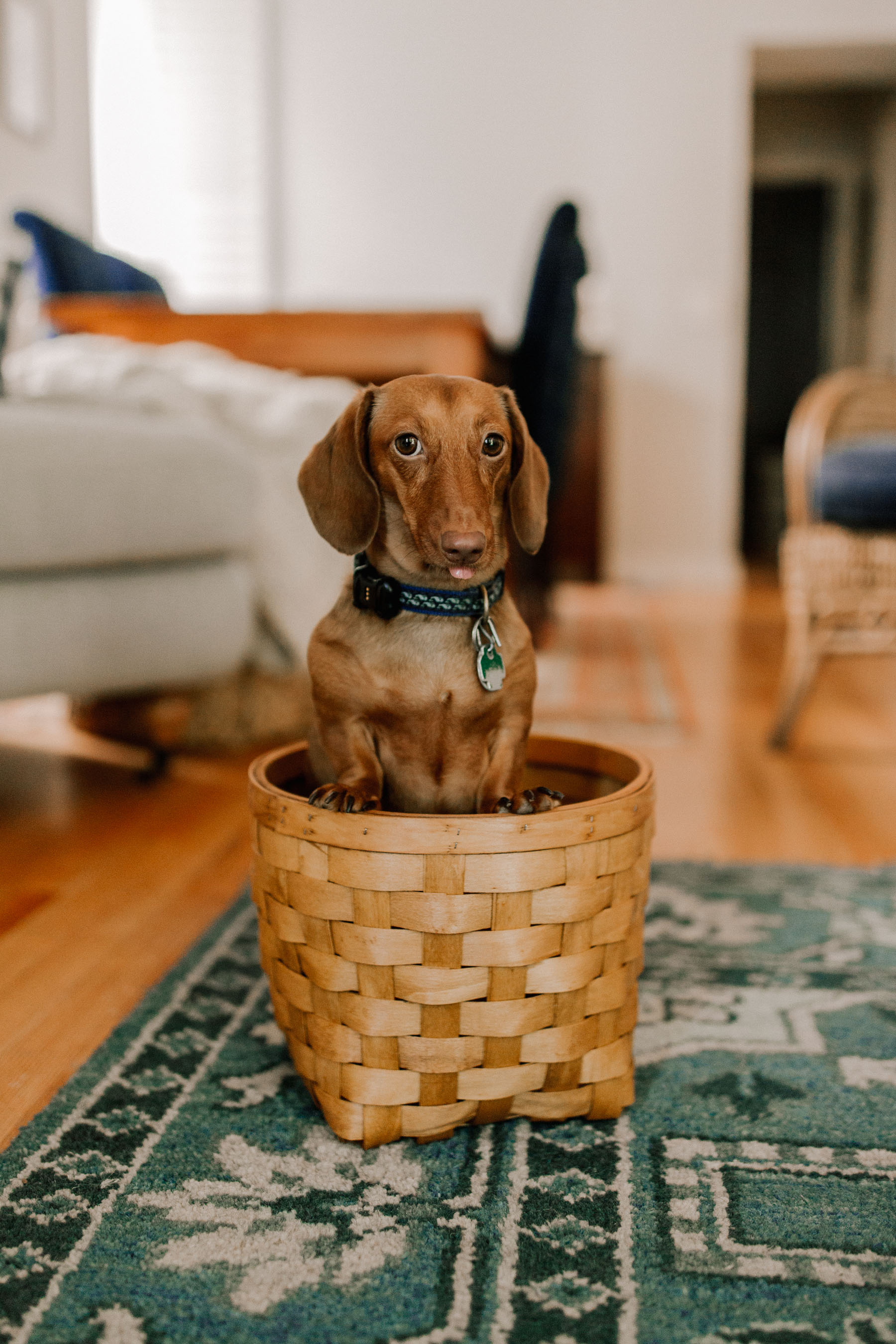 Next came a new basket. I just can't help myself when it comes to baskets since they're multifunctional: they look great staged around the house, but they also help us stay organized in our tiny city home. Of course, Mitch will kill me if I buy any more… but he approved of this one, since the quality was great and it was only $7.99.
We also picked up a $4.99 duck toy for Noodle/Beale, which she loved. I'm not a huge fan of seeing dog toys strewn across the living and dining rooms, but this one reminds me of the duck decoys I have on our shelves. Very fall!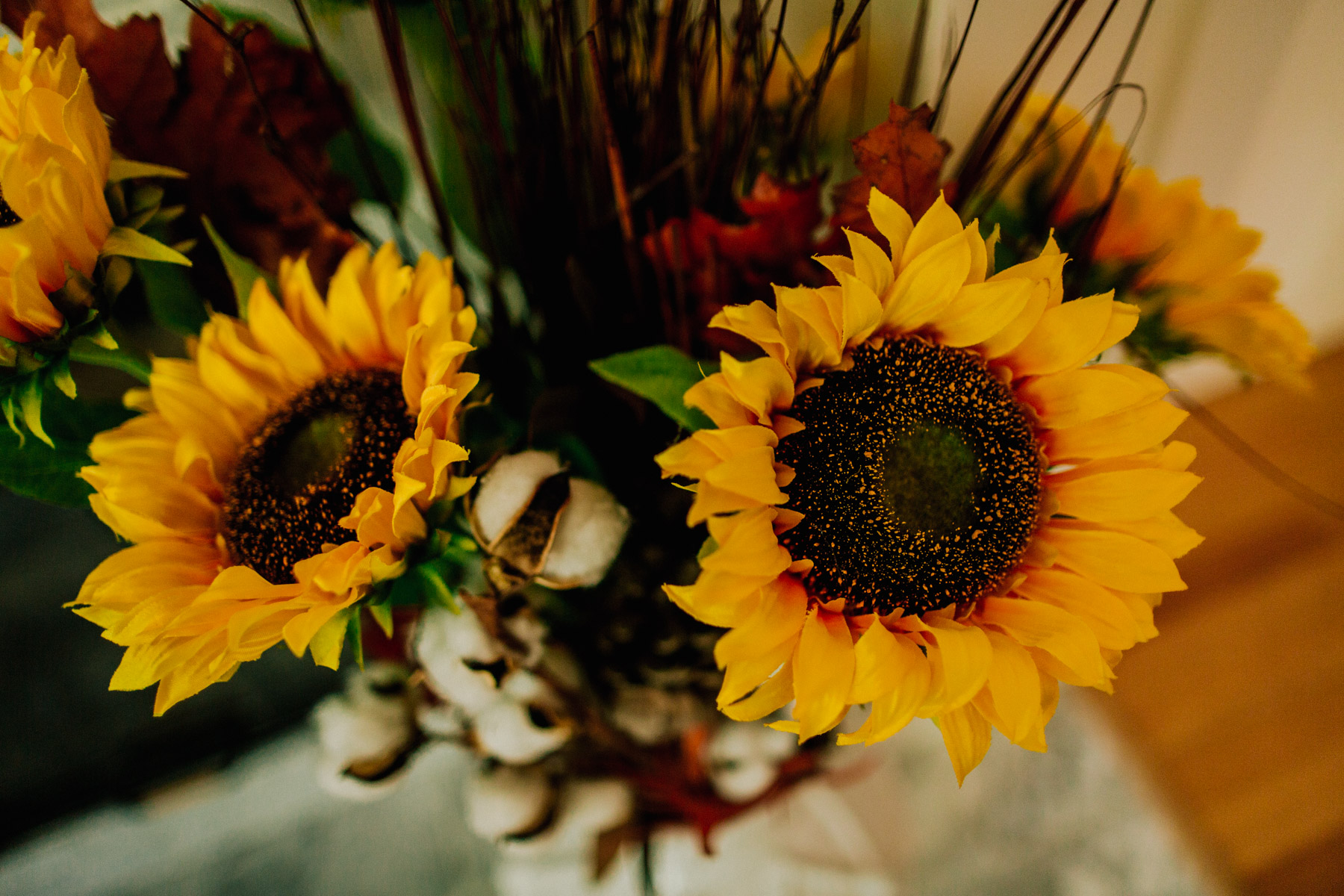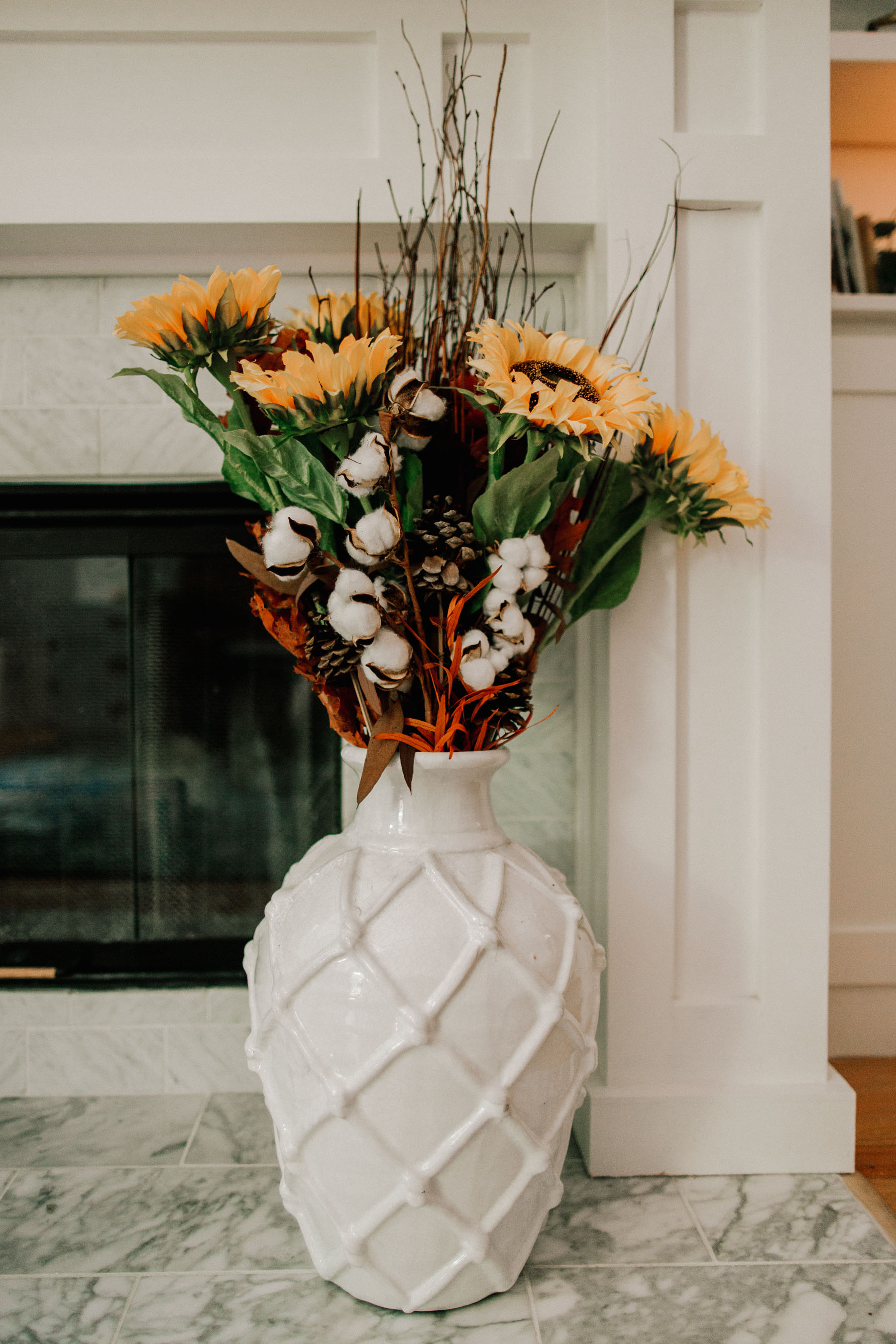 Other great finds were the sunflowers and fall foliage, which I used to replace our summer hydrangeas. They really seem to pull the room together and make it feel like fall! I usually find faux flowers at a nearby craft store, but prices are almost double there.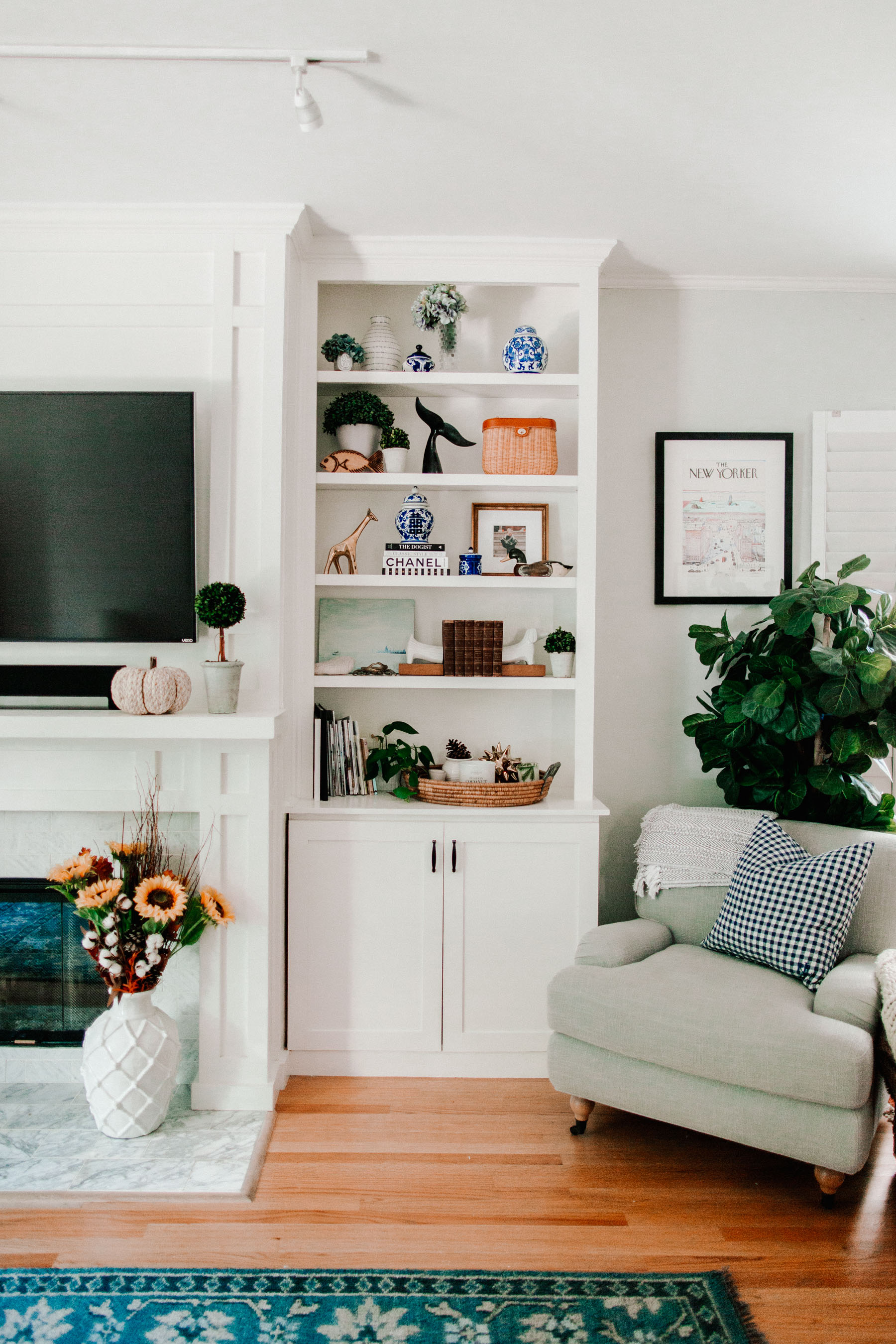 Had to highlight the navy gingham pillow you see above, too. Mitch picked it out for me from Marshalls for Mother's Day, and I love that it works for all four seasons. It's from a designer brand yet was only $29.99. (He told me, haha. The man loves a deal.) Everyone fights over it because it's filled with down feathers and undoubtedly our comfiest pillow… yet somehow Emma or Noodle–the two physically weakest members of our family–always seem to win it. ;)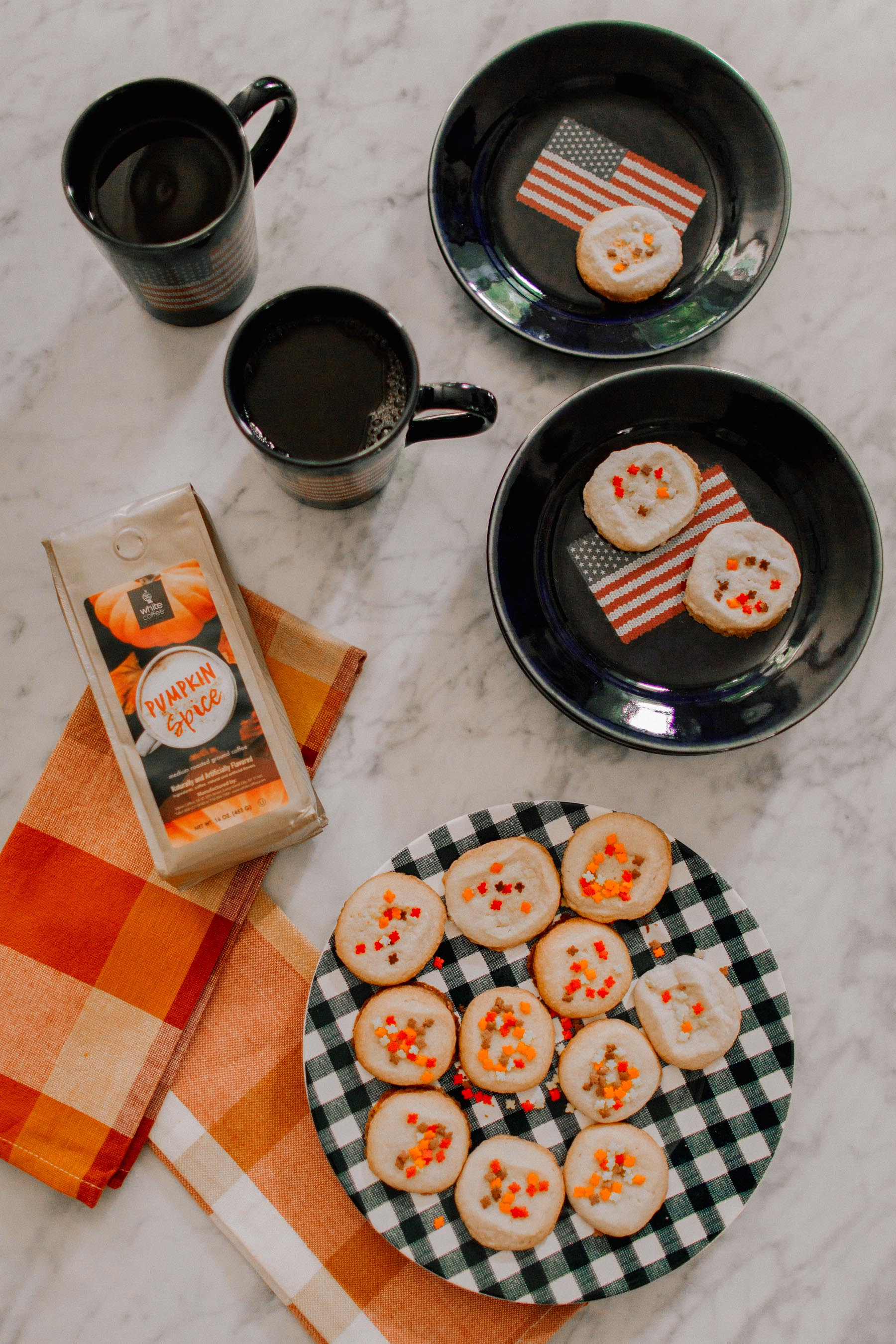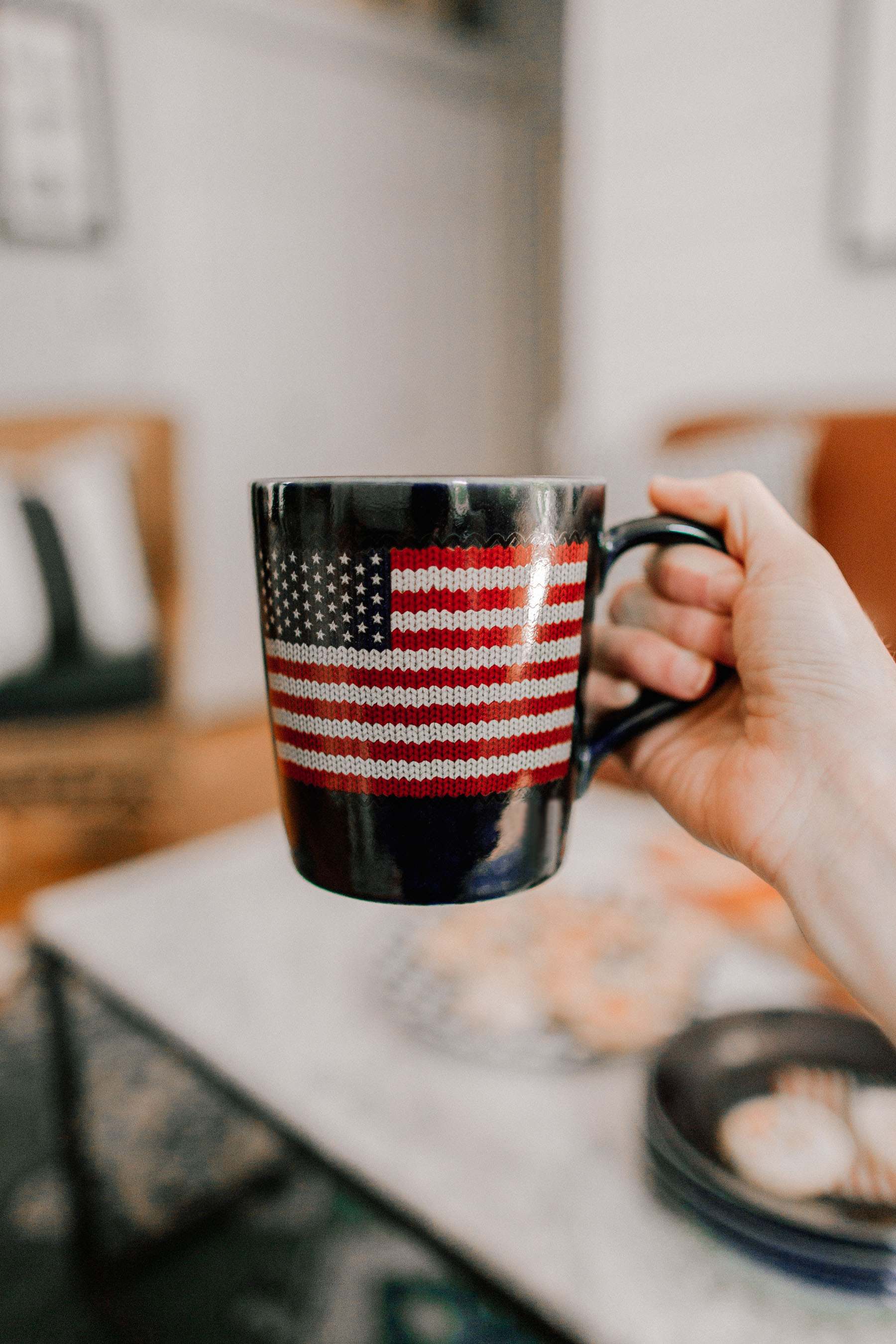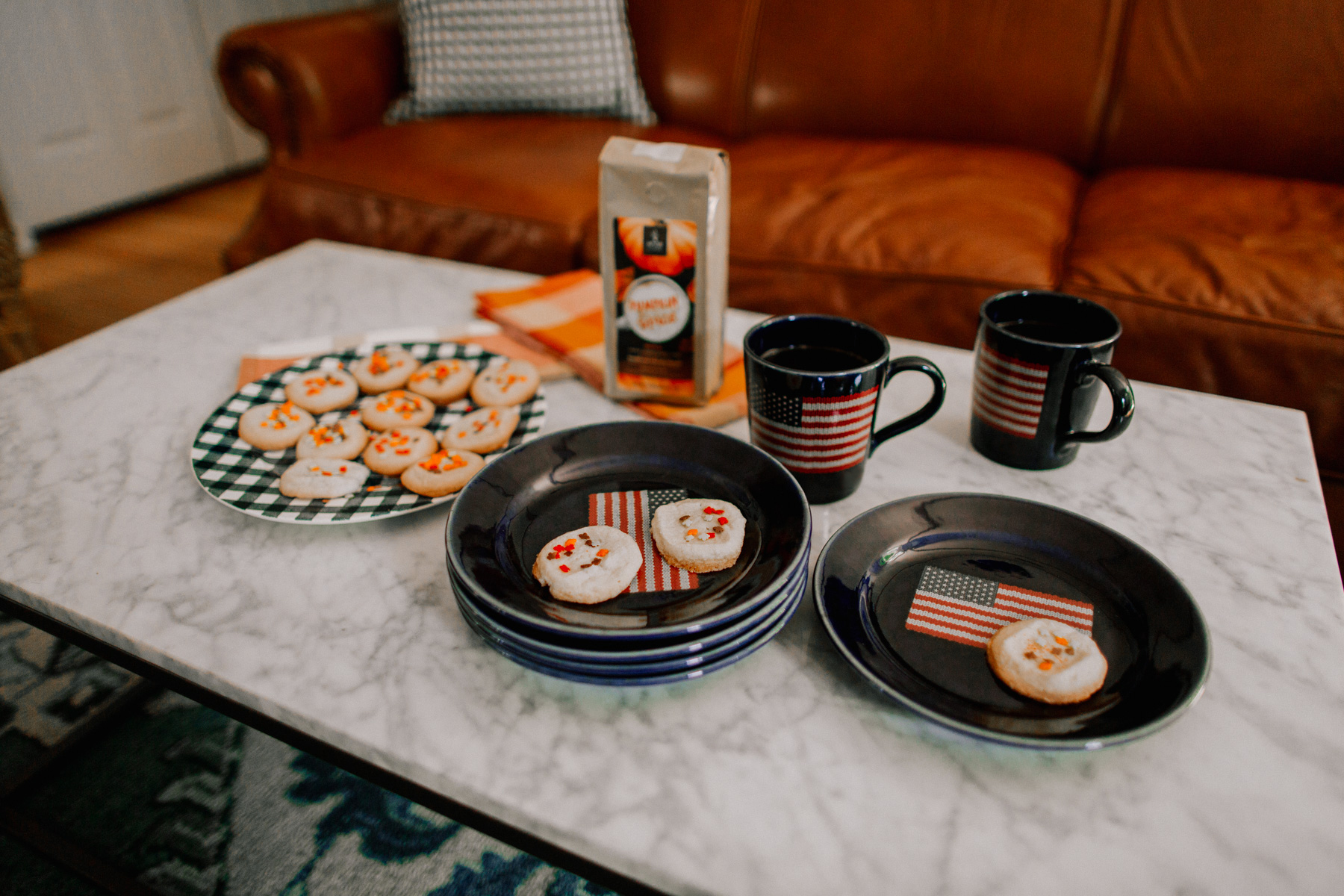 These were probably my favorite finds out of everything: plates and mugs with "sweater" American flags on them! They remind me so much of New England, and New England reminds me of my college days and fall and leaves and pumpkins and everything that's wonderful about the season. :) The best part? They were a steal.
The pumpkin coffee was a real treat, too. When we picked all of this out, it really wasn't available at coffee shops yet. But lo! We found a solid week's worth of the stuff for only $3.99. Can't beat that, considering that's the price of most cups of coffee in the city.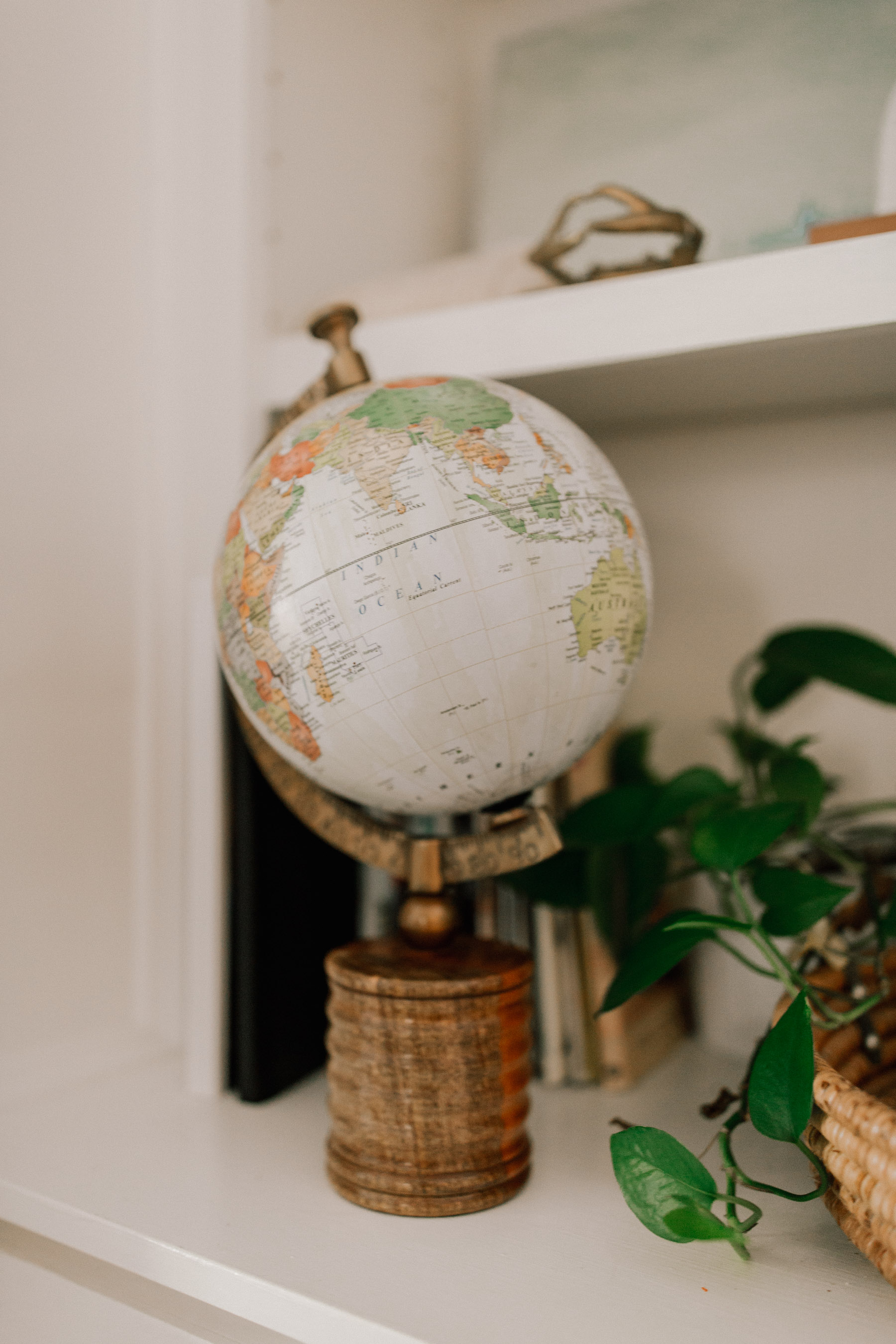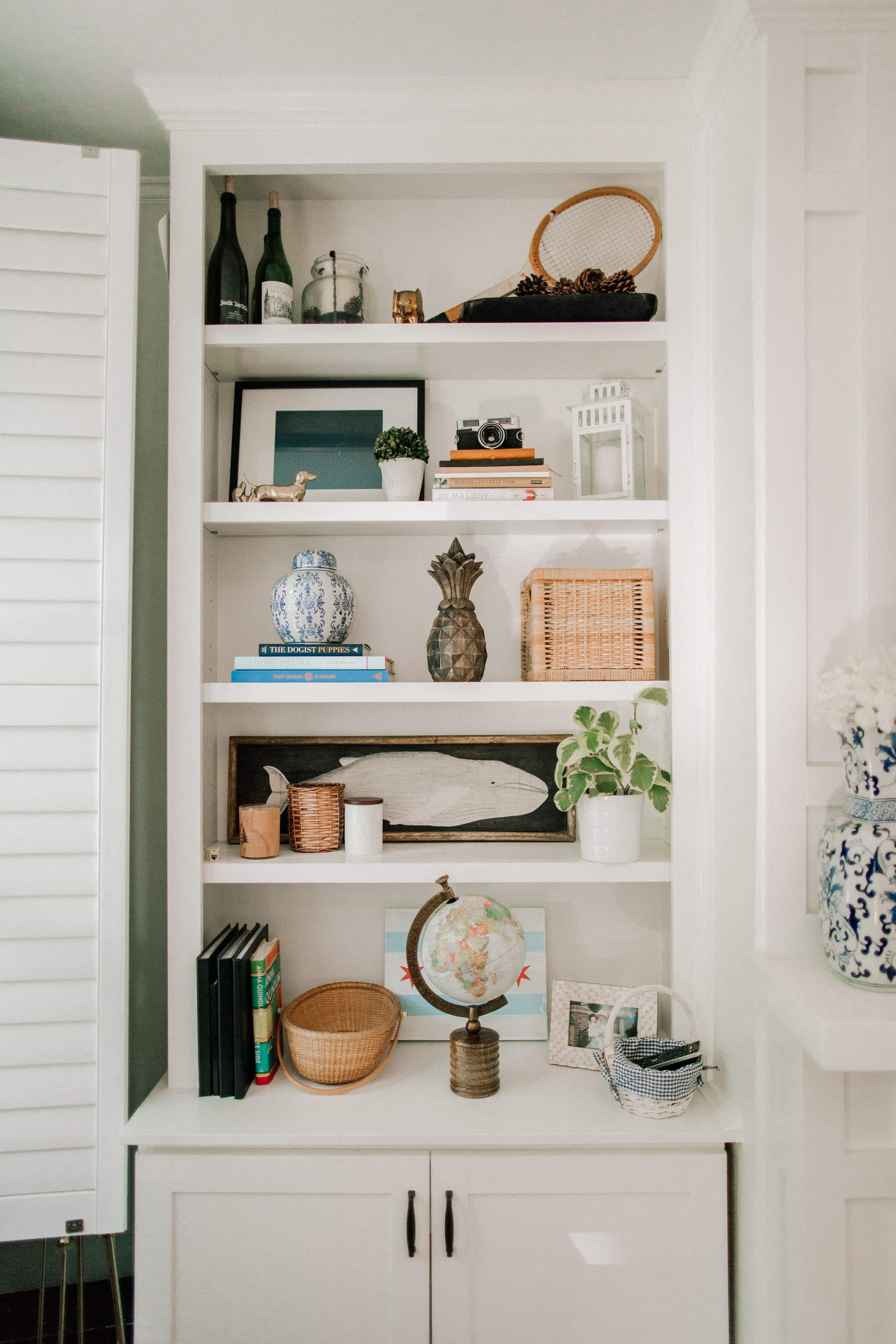 The globe reminded me of going back to school, and I loved the idea of Emma one day using it… so it came home with us as well. But a lot of the other decor you see on the above shelf are older finds from Marshalls, too! The gingham basket, wooden pineapple, woven candle holder and ginger jar? All past steals and deals. :)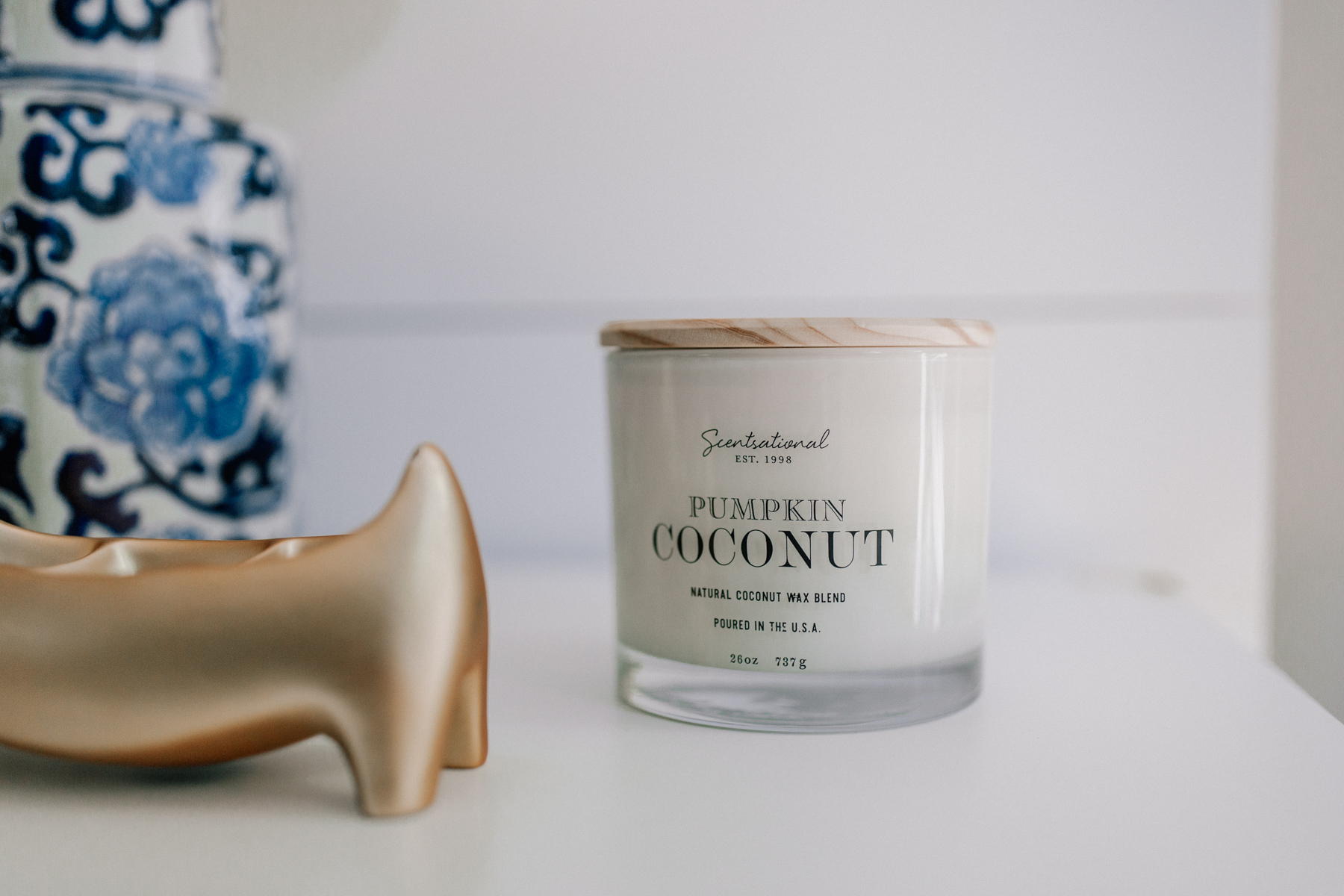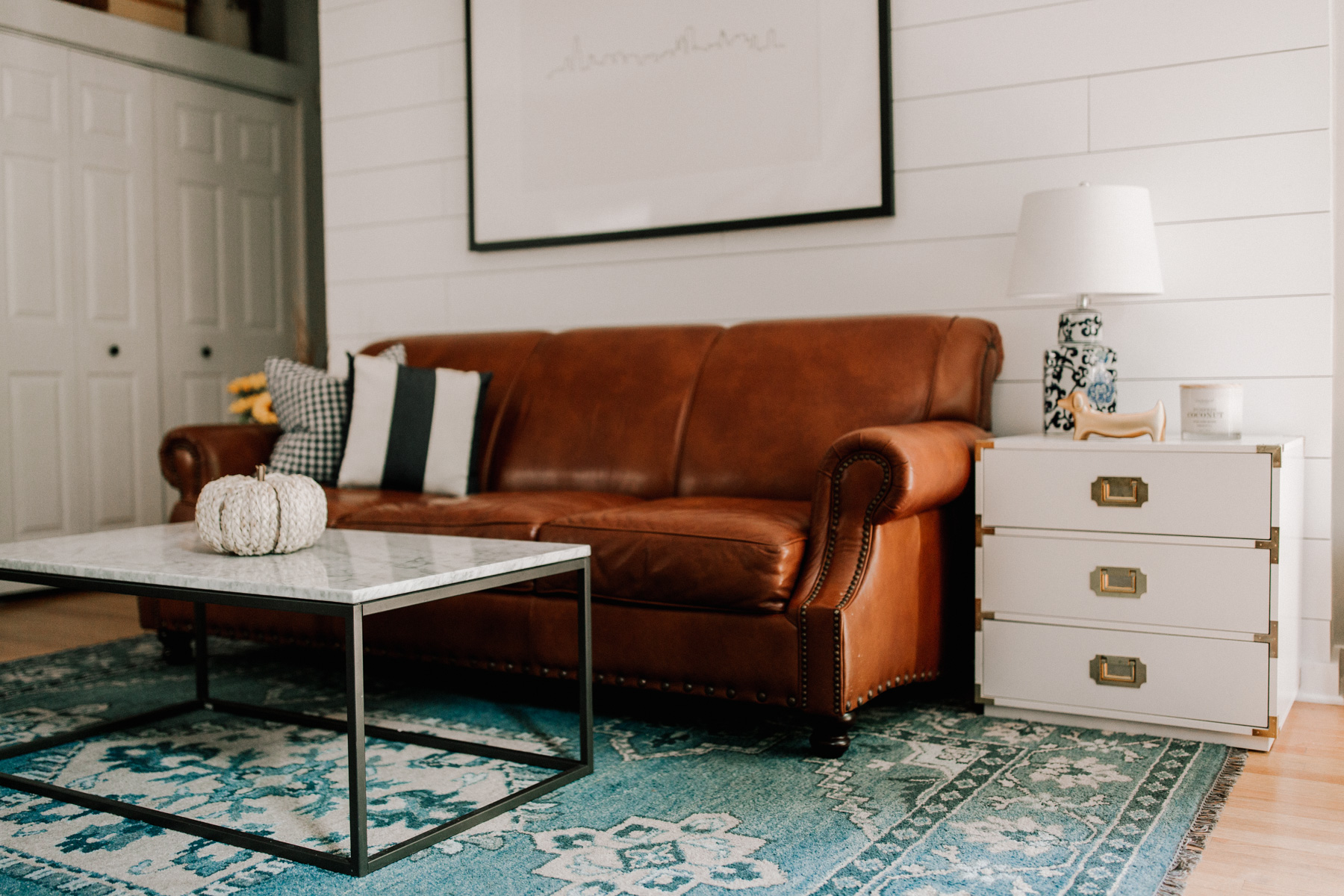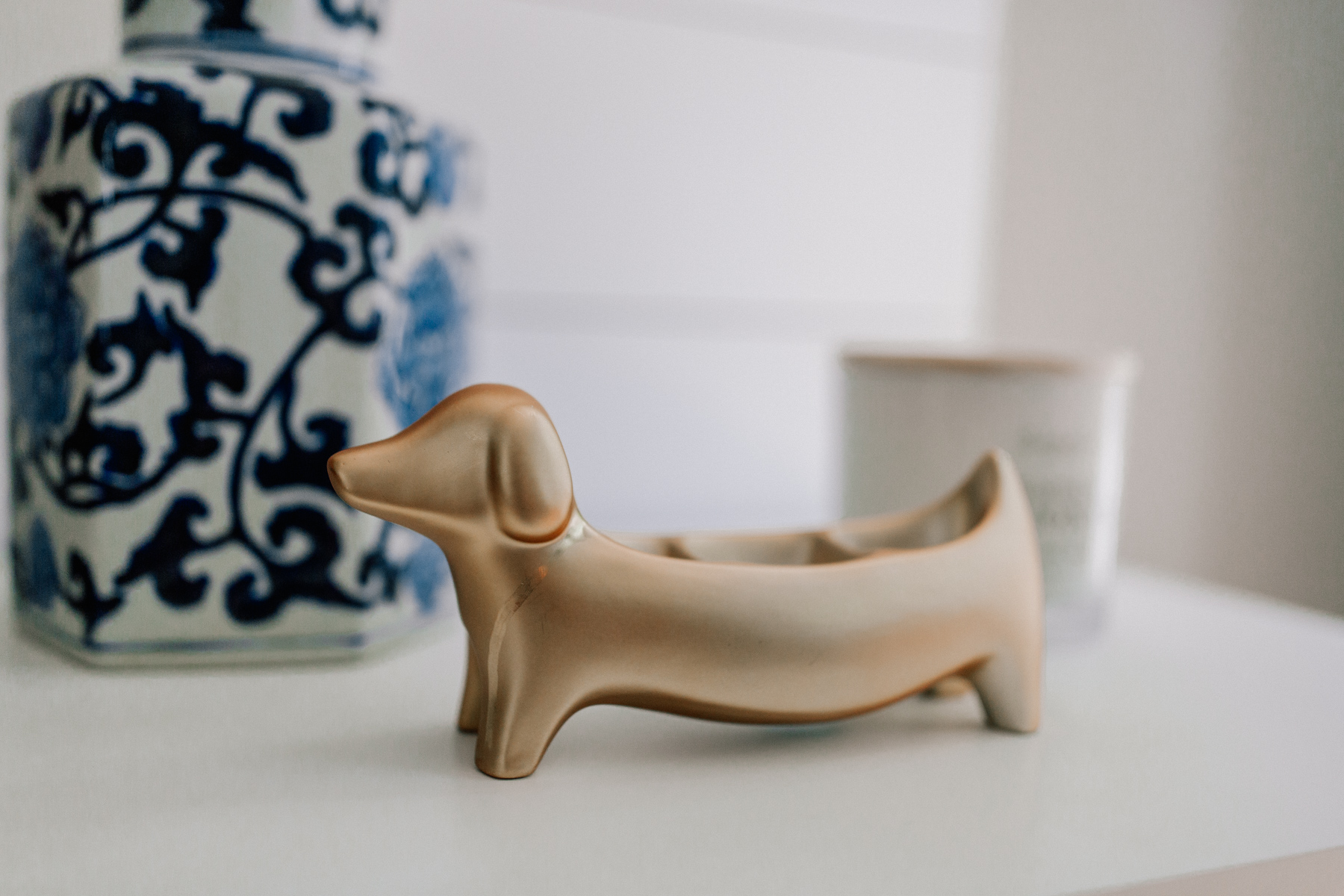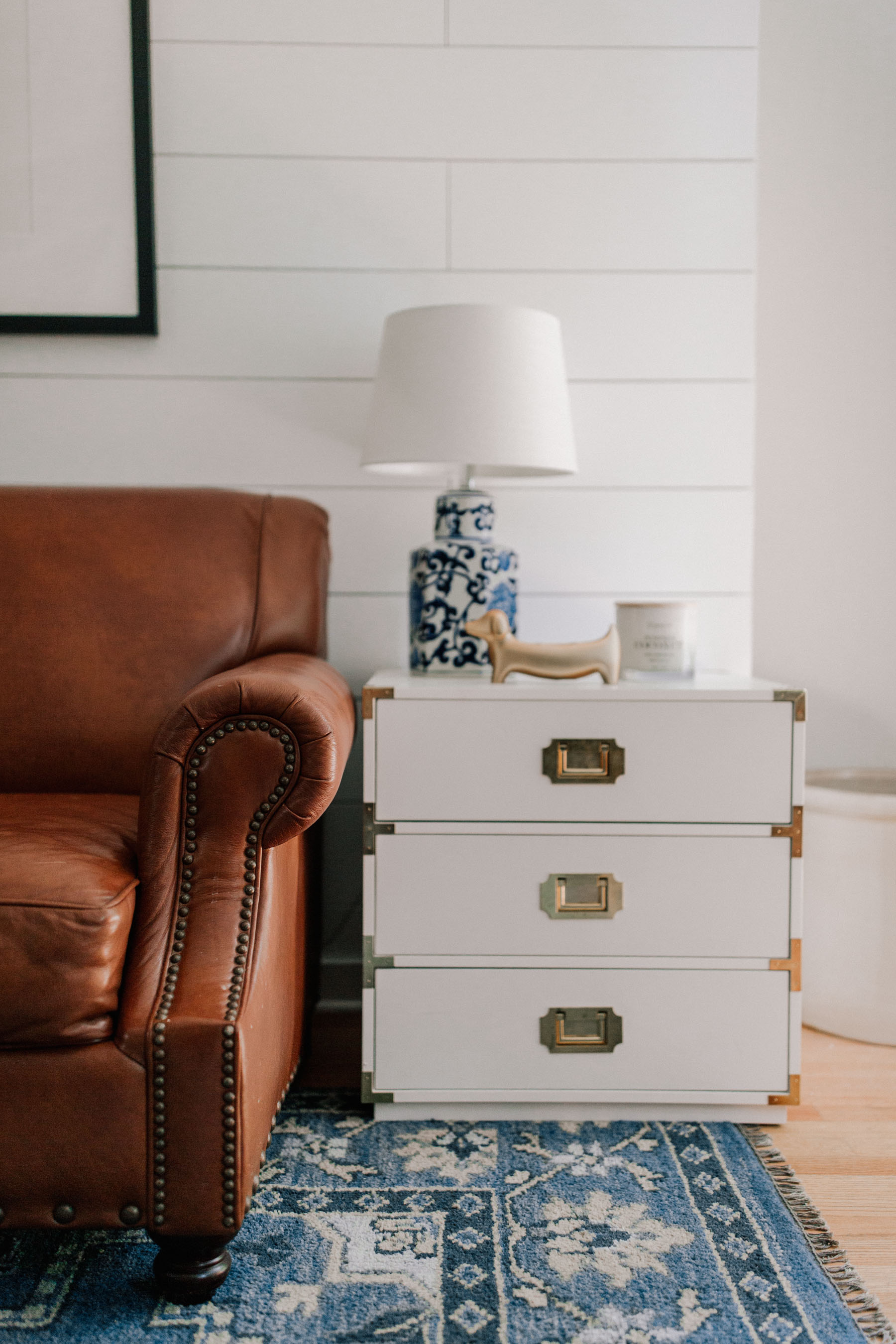 And then we grabbed a bunch of fall-themed candles to place around the house to make it feel warm and cozy. I love the big pumpkin coconut one's smell, and the smaller ones are great accents. The minute we lit them–and put on a little "October Road" by James Taylor–we were instantly transported to fall!
The golden dachshund was Mitch's find. (Only $7.99 compared to the designer version which is over $100!) And the woven pumpkin you see on the coffee table is totally toddler-proof, so we obviously brought home several more to deck out the mantle.
Fun fact? The chinoiserie lamp is a Marshalls find from a few years ago… and there's that gingham pillow again!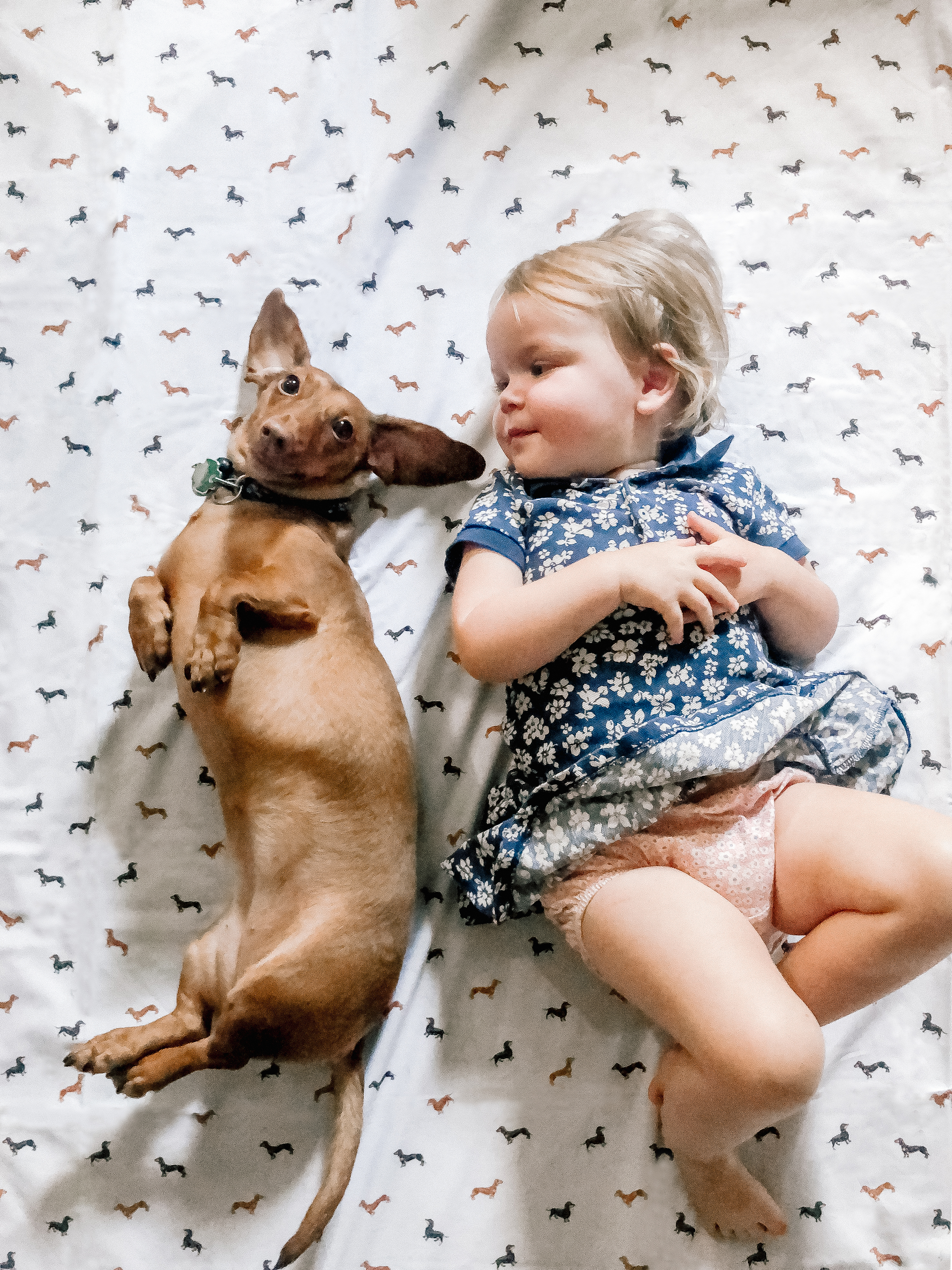 Lastly, dachshund sheets! So many of you have been messaging them to me from your local Marshalls; even offering to mail them. (Which was unbelievably sweet. Thank you, friends!) Bur I finally found them, and I adore 'em. They're soft and from one of my favorite designers, they feature those muted fall colors I love so much, and they were only $49.99 compared to $82.99. Worth every penny! I mean, this photo is everything, right?!
Favorite ways to decorate for fall? Would love to hear 'em!
This post is sponsored by Marshalls, but all opinions are my own. As always, thank you so, so much for supporting the brands and partnerships that keep Kelly in the City up and running!