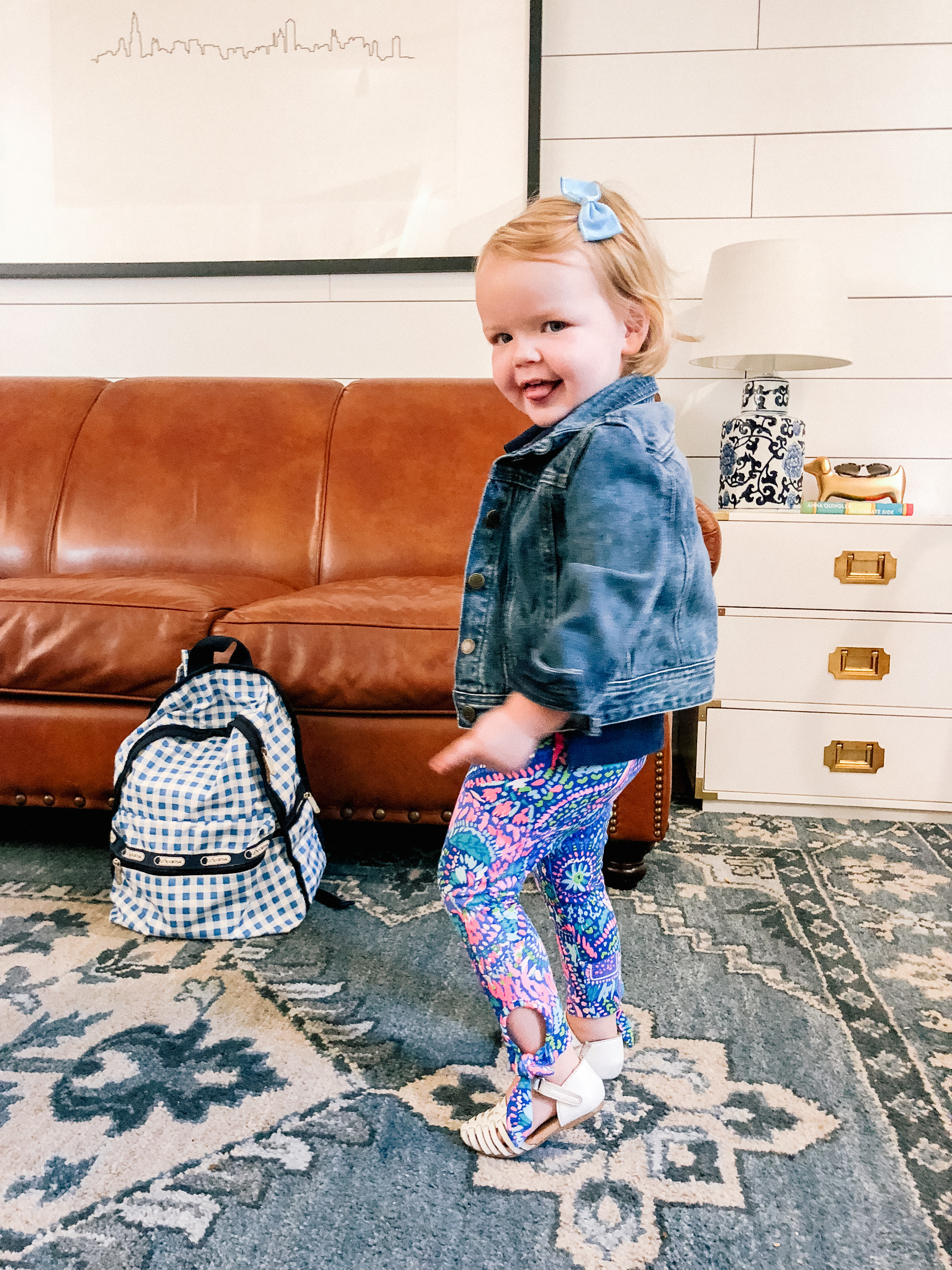 I totally thought I could handle everything yesterday: live blogging about the Lilly sale, a photography project deadline, and mommying. (The most important part of it all!) Truth: not so much. 😂 But hey. The project has been submitted, and we decorated every square inch of the sidewalk outside our home with chalk. (It's truly stunning. So many mermaids, so many "Beales," and so many blue hearts because blue is our favorite color right now.) And here we are with a static post, which is something to be proud of!
Btw: you can scroll down to the bottom of this post to see who won the $300 giveaway. ;) Oooh — the anticipation! Is it you?!
Okay. So today's the last day of the Lilly Pulitzer After Party Sale. (Regular content to resume tomorrow; so sorry I haven't posted anything of real substance over the last week. I guess there was this somewhat hidden post on why Fashion Week wasn't the best for me, and this post in which I launched a new "book discussion" series of sorts. But yeah. I'm itching to sit down and write today! Suggestions on topics? Gimme something thought-provoking!)
This morning, though, I wanted to highlight and review a few of my most-loved Lilly products that are included in the sale. Guys, I even went so far as to take selfies of 'em on my headless body at night in my mirror. I mean, if that's not dedication, I don't know what is. ;)
Things I learned from the try-on session:
I'm absolutely terrible at mirror selfies.
Emma's a ham.
So is Noodle.
I should wash my mirror.
Remember: you can see my top picks from the sale here, in these easy-to-shop guides. But let's get to it:
Measurements:
Height: Almost 5'5
Weight: Somewhere between 105 and 110 pounds
Bra: 34 A
Jeans size: 25 or 0
Dress size: 0 or XS
Top size: Small or 2 — I definitely prefer my tops to be a bit roomier.

Size: Small, but the XS looks about the same. I order smalls because I learned I can make it to month six in pregnancy in 'em! 
Hands down, this is the best top that Lilly's ever made. It's gorgeous, and something I've had for years yet wear just as frequently as I did when I first got it. In fact, I wear it year-round. Don't know what to wear? Elsa. Wear it with jeans, dress pants, shorts, skirts–it goes with nearly everything and fits like a dream… even on a preggo! (My #1 pregnancy shirt right up until the end.)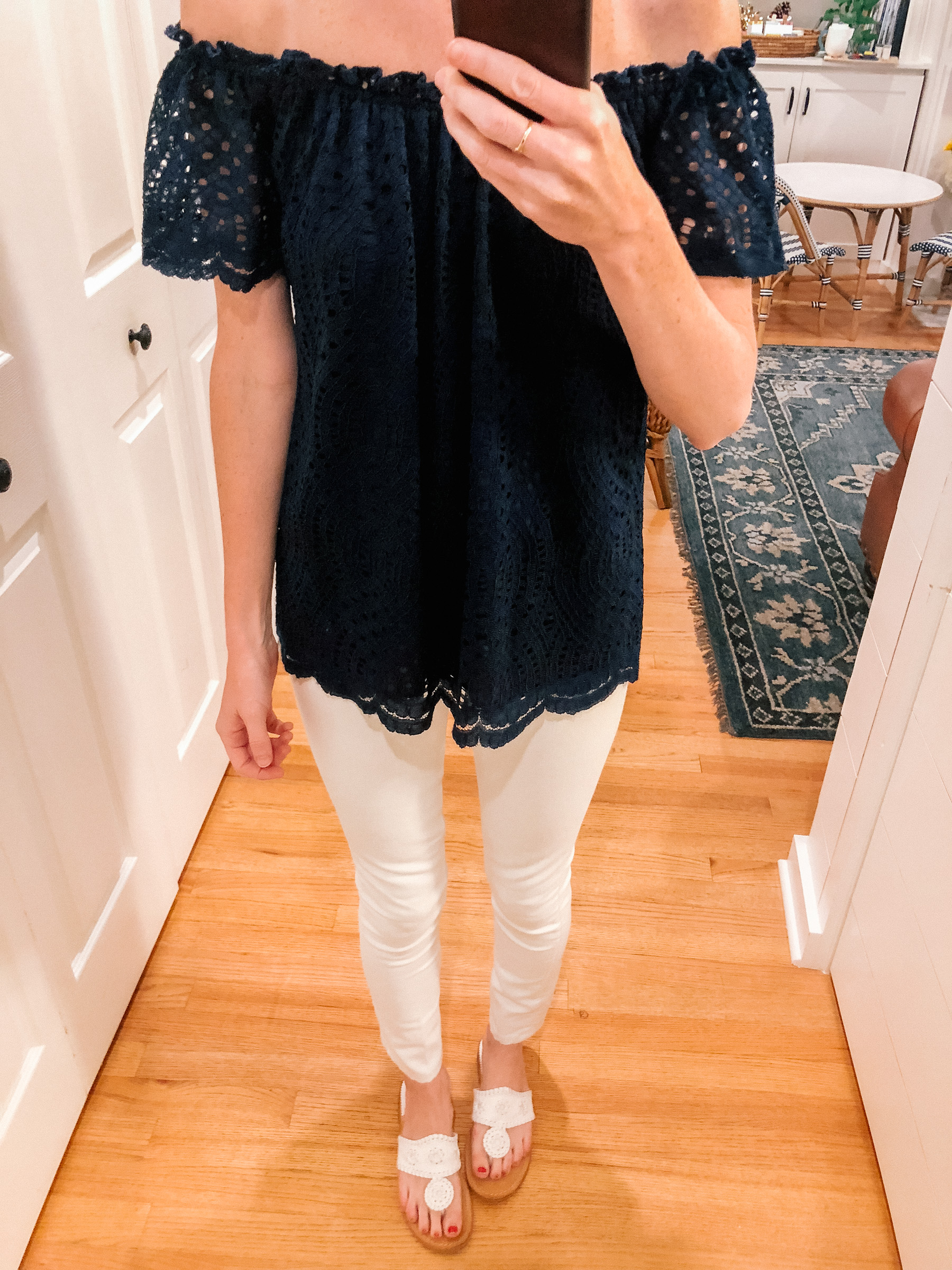 Size: Small
I can't tell you how many compliments I get on this top. The best part is that you can wear it above your shoulders if you want to; it just gets a little shorter.
I'll be honest and say that while it's stunning, it's not ideal for moms. GREAT for ladies who aren't picking up babies/toddlers all day, though.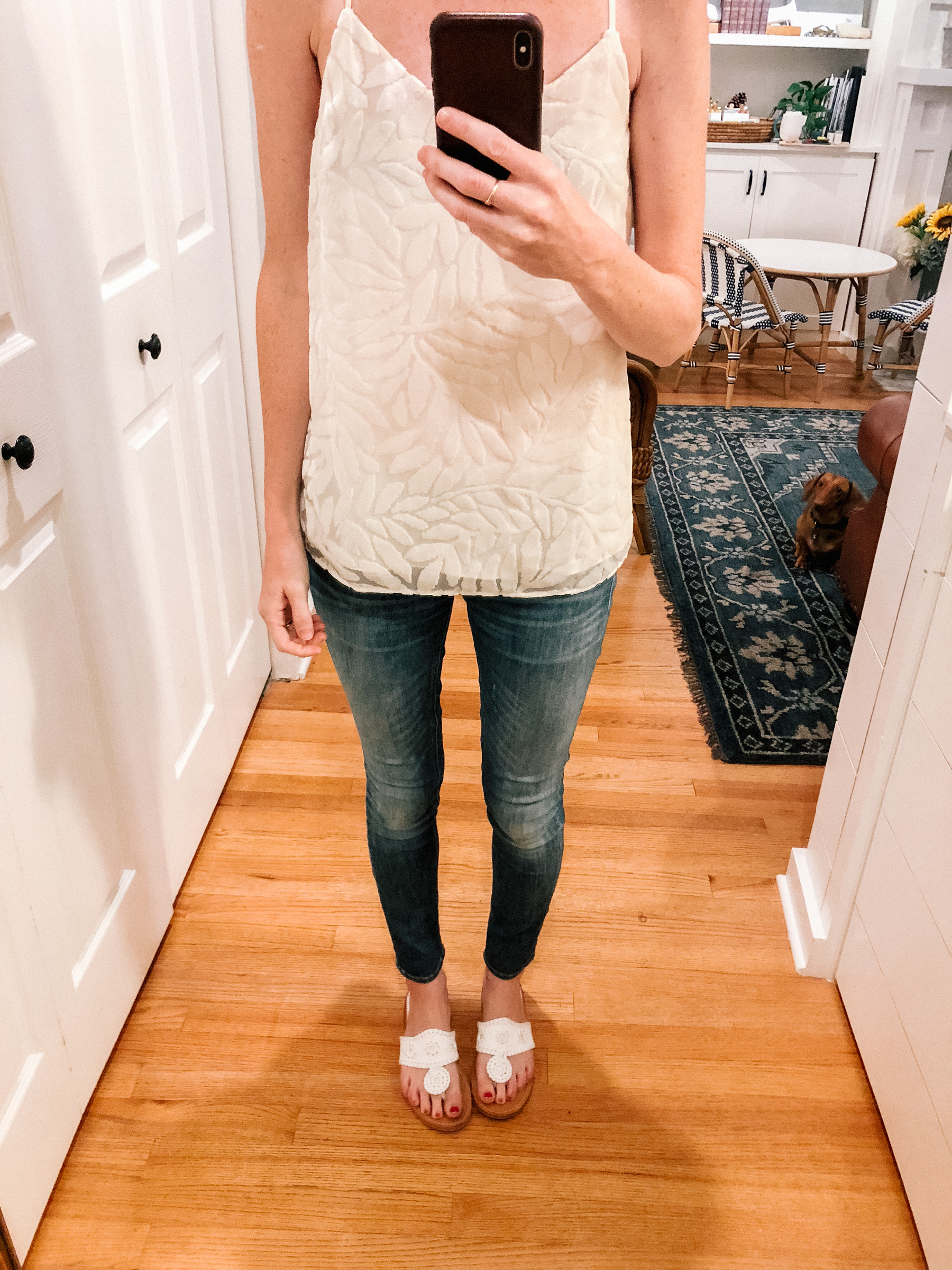 Size: Small
This was a go-to going out top for me last fall and winter. I wore it with a blazer or cardigan, and it kept me a bit warmer than the usual silk or polyester camisoles. Love that the style is reserved yet the subtle print reminds me of summer!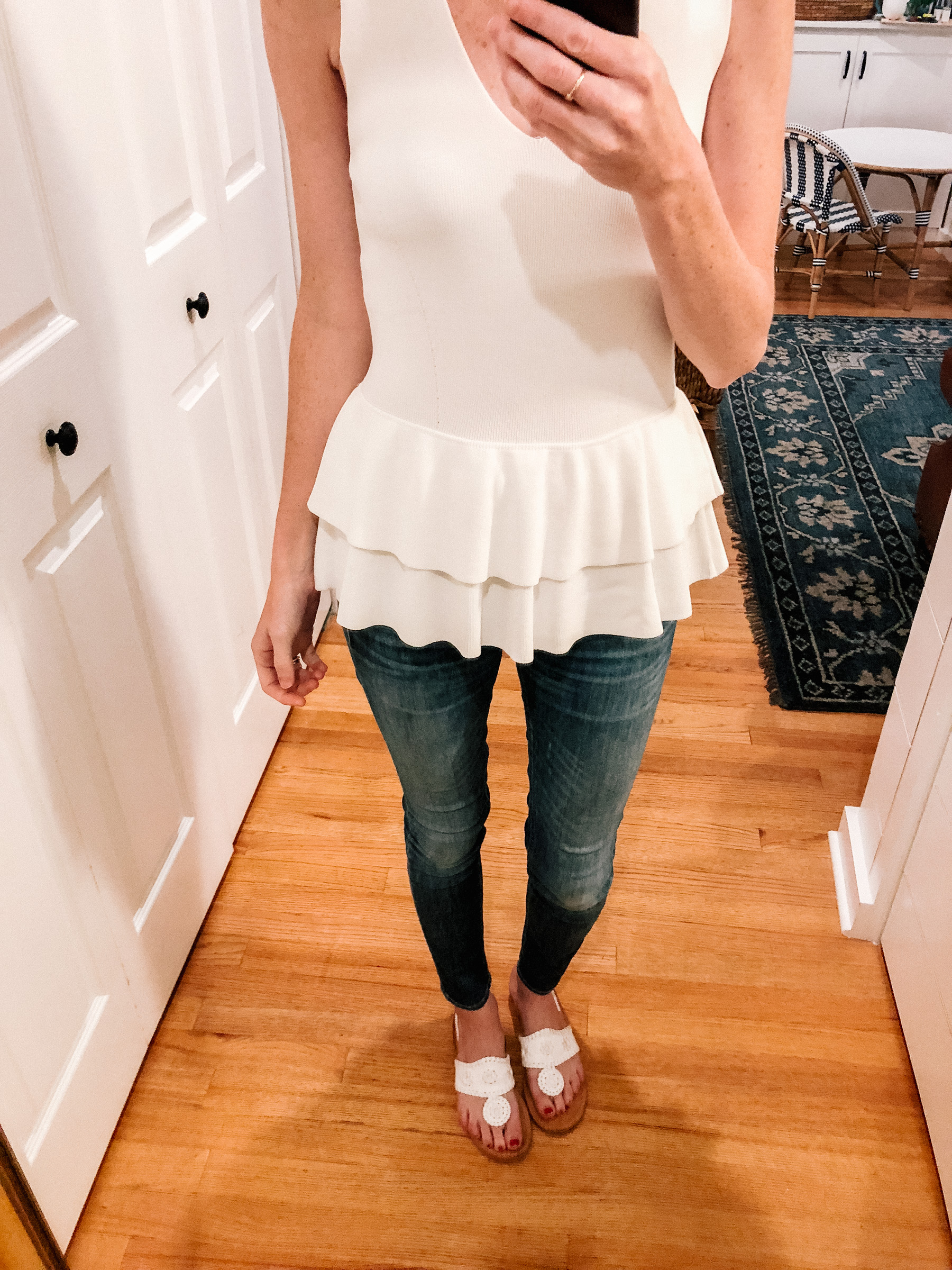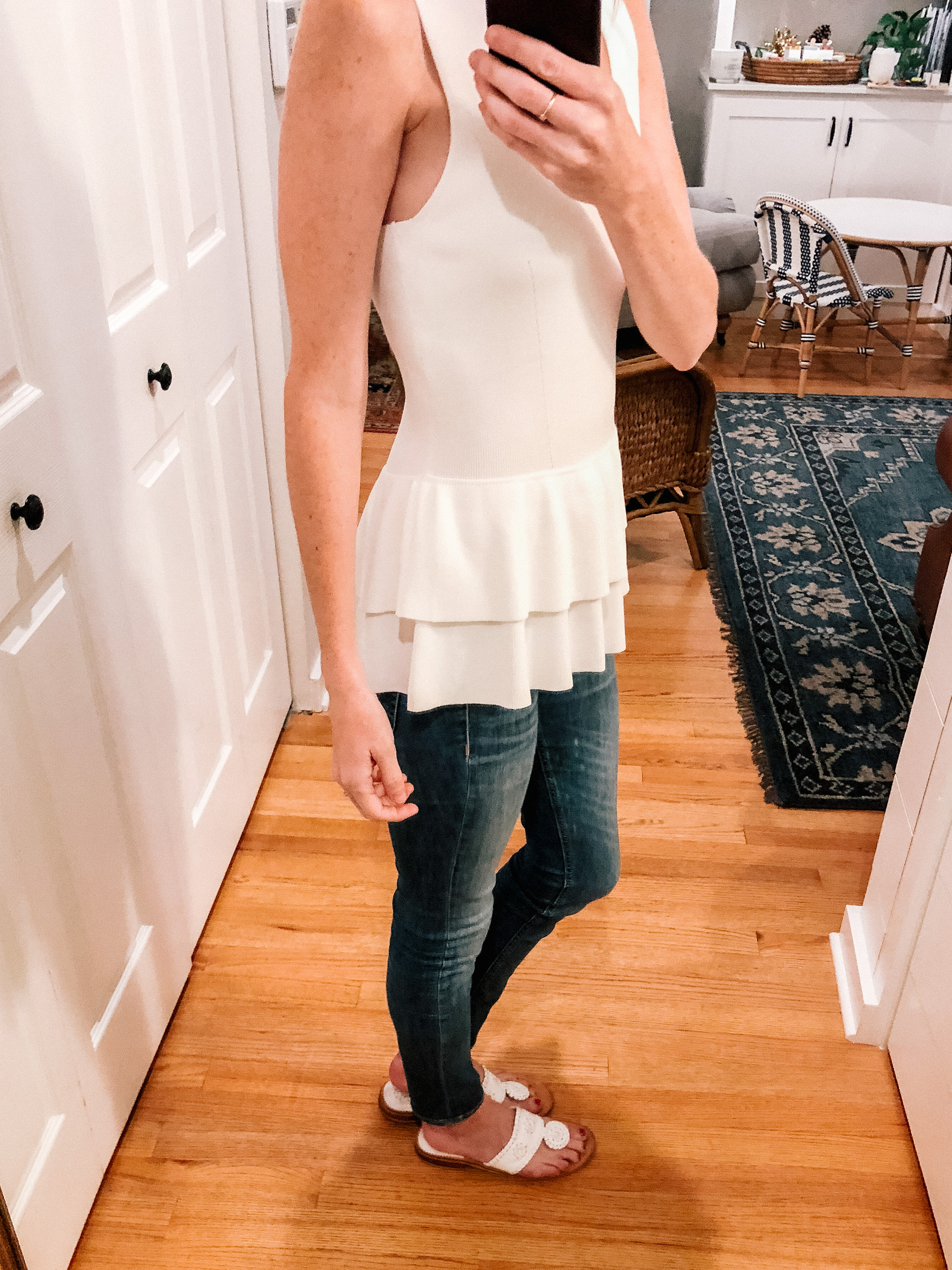 Size: Small
I KNOW. It's so cute! I usually wear it with dark jeans, and again: all the compliments. I'll say that it runs a little small. I know I like my tops on the looser side, but this is FITTED. Size up.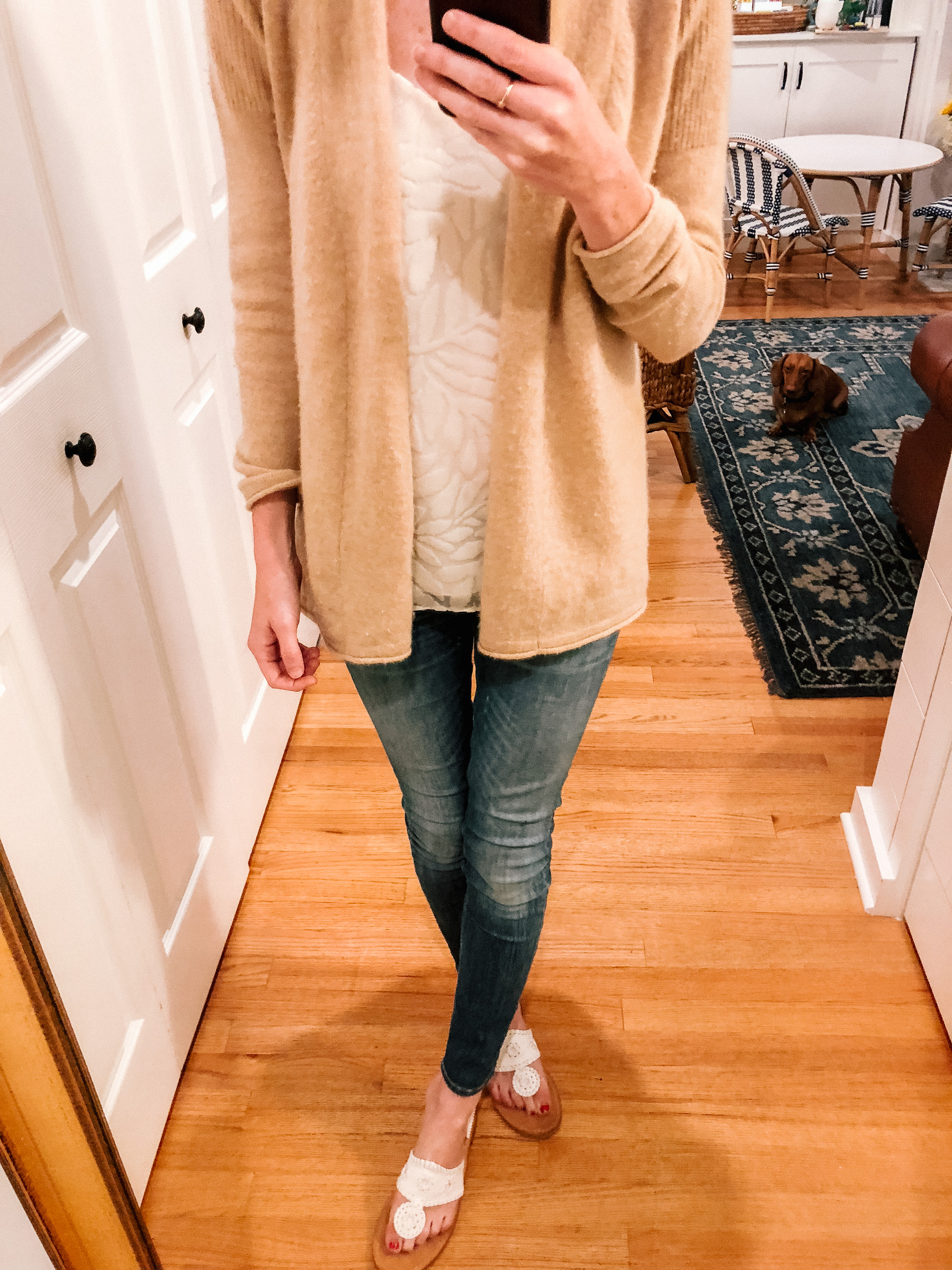 Size: Small
It's everything. And my #1 choice when I need an extra layer–and it's almost always in my carry-on. It's cashmere, so it'll pill, just like most cashmere sweaters will. But I simply use a de-piller every few months. (Clearly it's in need right now.) SO SOFT and cozy!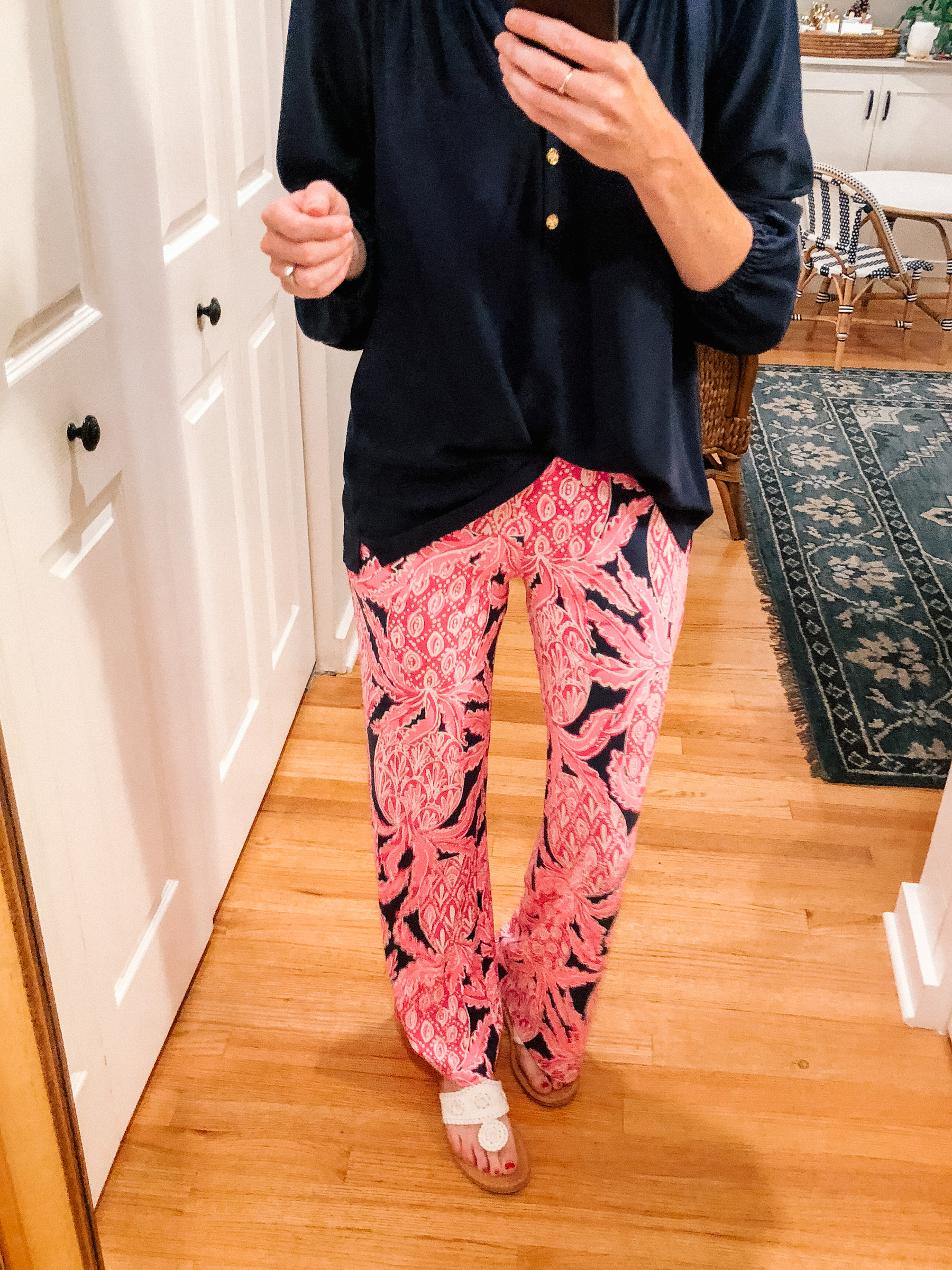 Size: Small
You need 'em. They feel like pajamas yet they're fancy pants. Can be dressed down or up. I never head to the Shore without them! Everyone's always like, "Kelly, you look lovely!" And I think to myself, pajamas pajamas pajamas.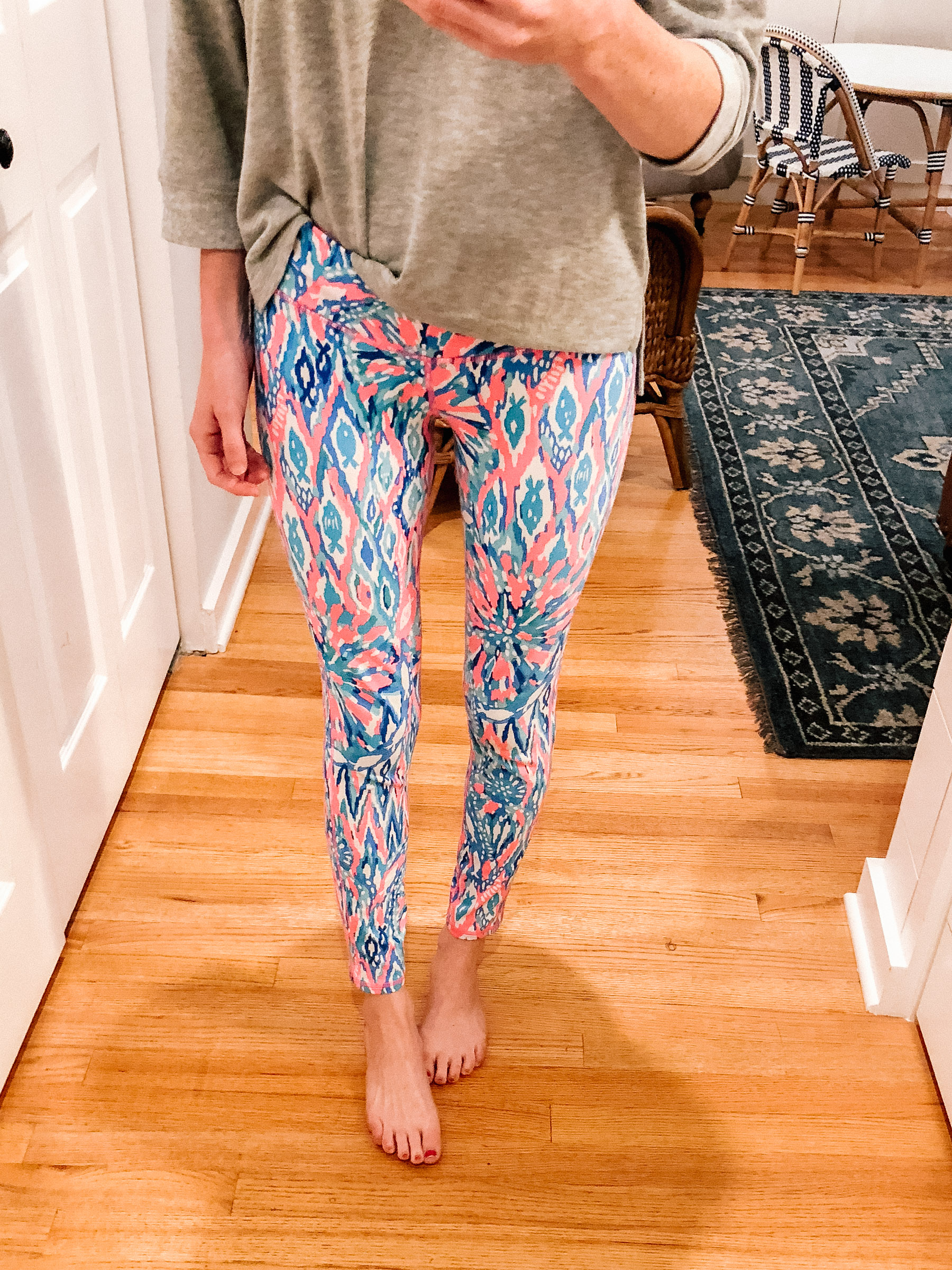 Size: Small
Without a doubt, the softest leggings I own. I REALLY wish Lilly would make them in navy and black so I could get away with wearing them more often. Come on, Lilly!
But yes: worth the investment. I wear these on morning walks, to mommy-and-me stuff, and while traveling. And I'm currently wearing them as I type this. ;)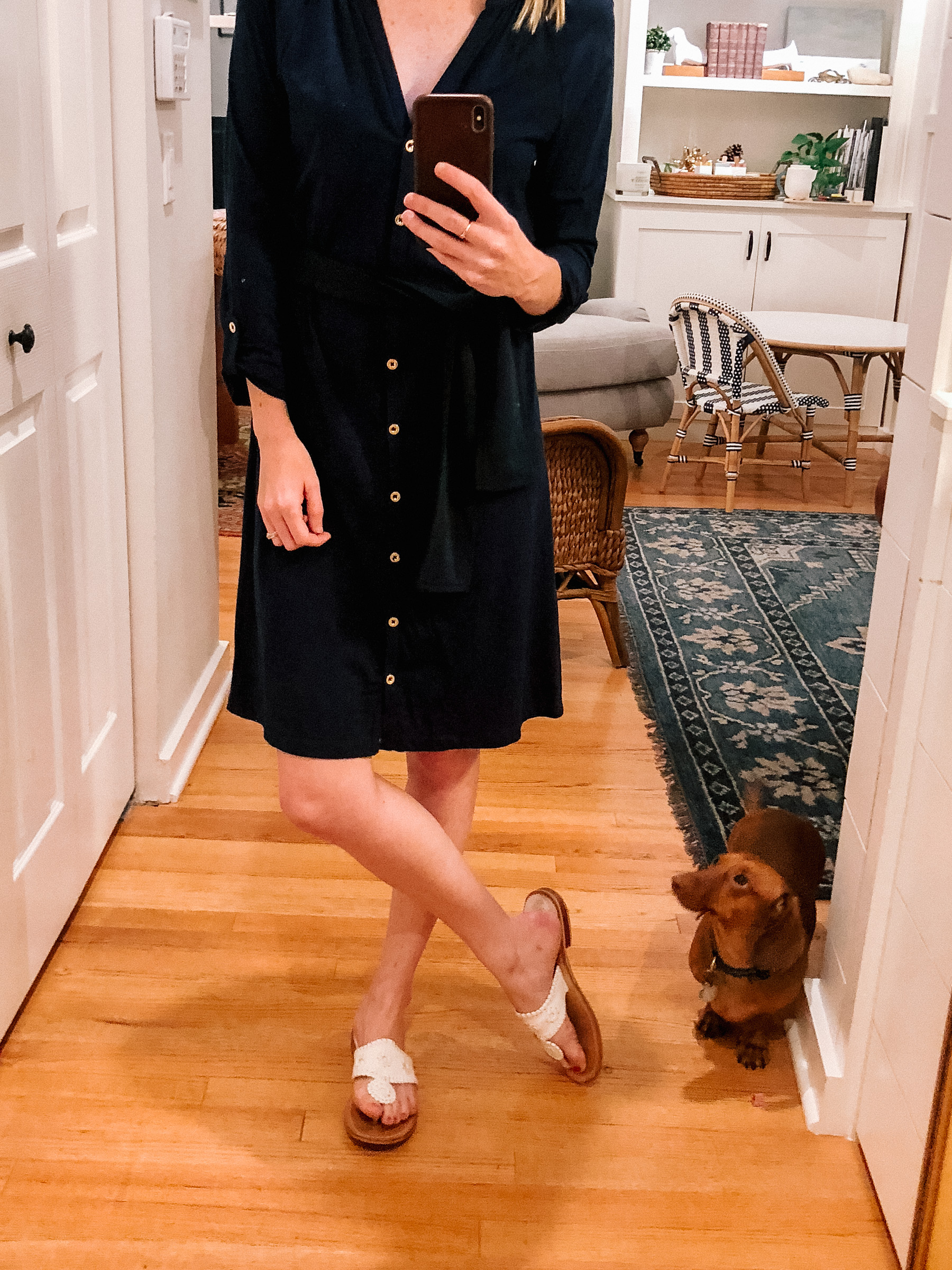 Size: Small
It's beautiful, and you can wear it again and again and no one notices. Doesn't wrinkle easily; travels great.  went with a small since it has a sash and I figured that would give it some shape. I think it looks good!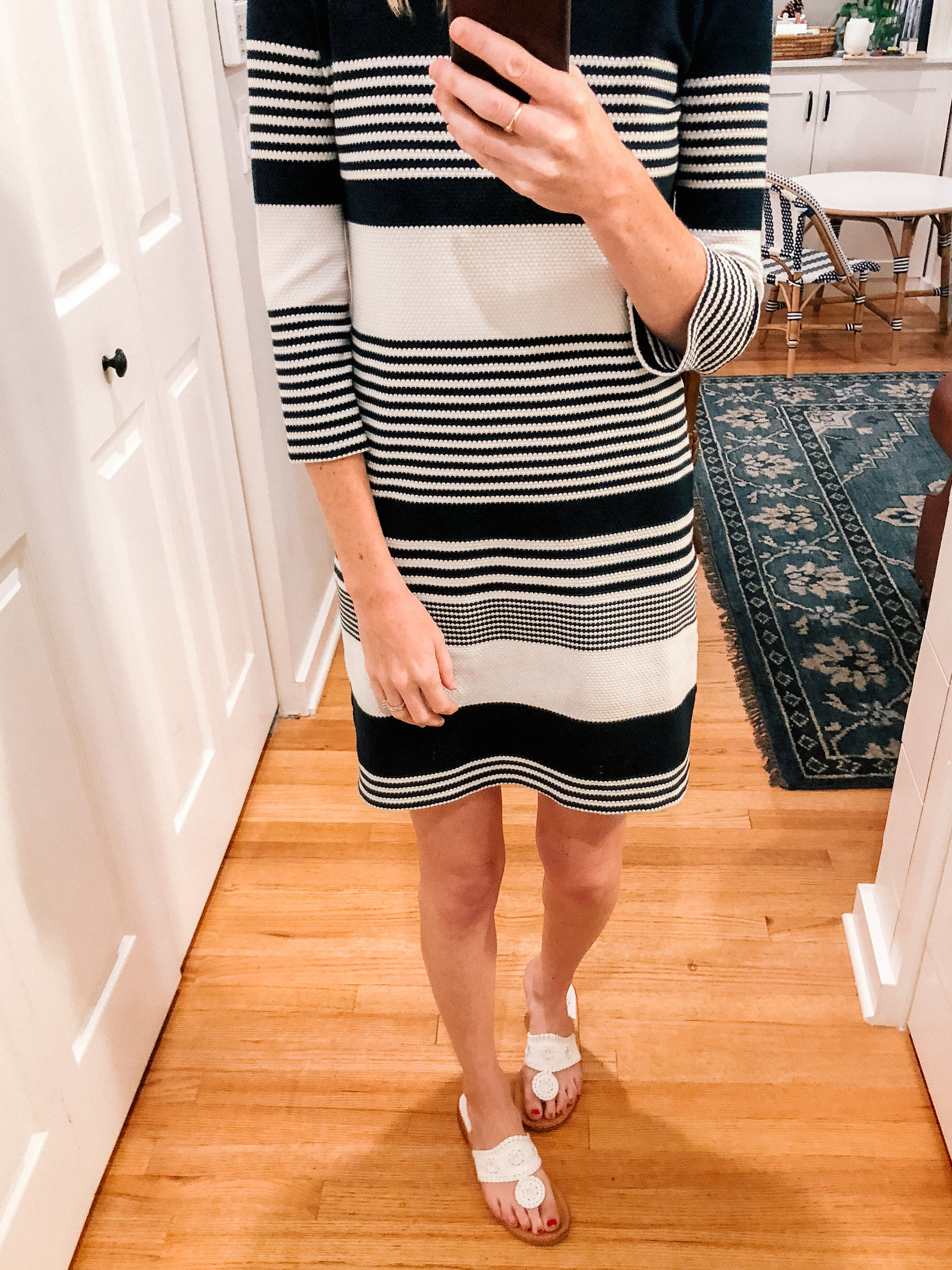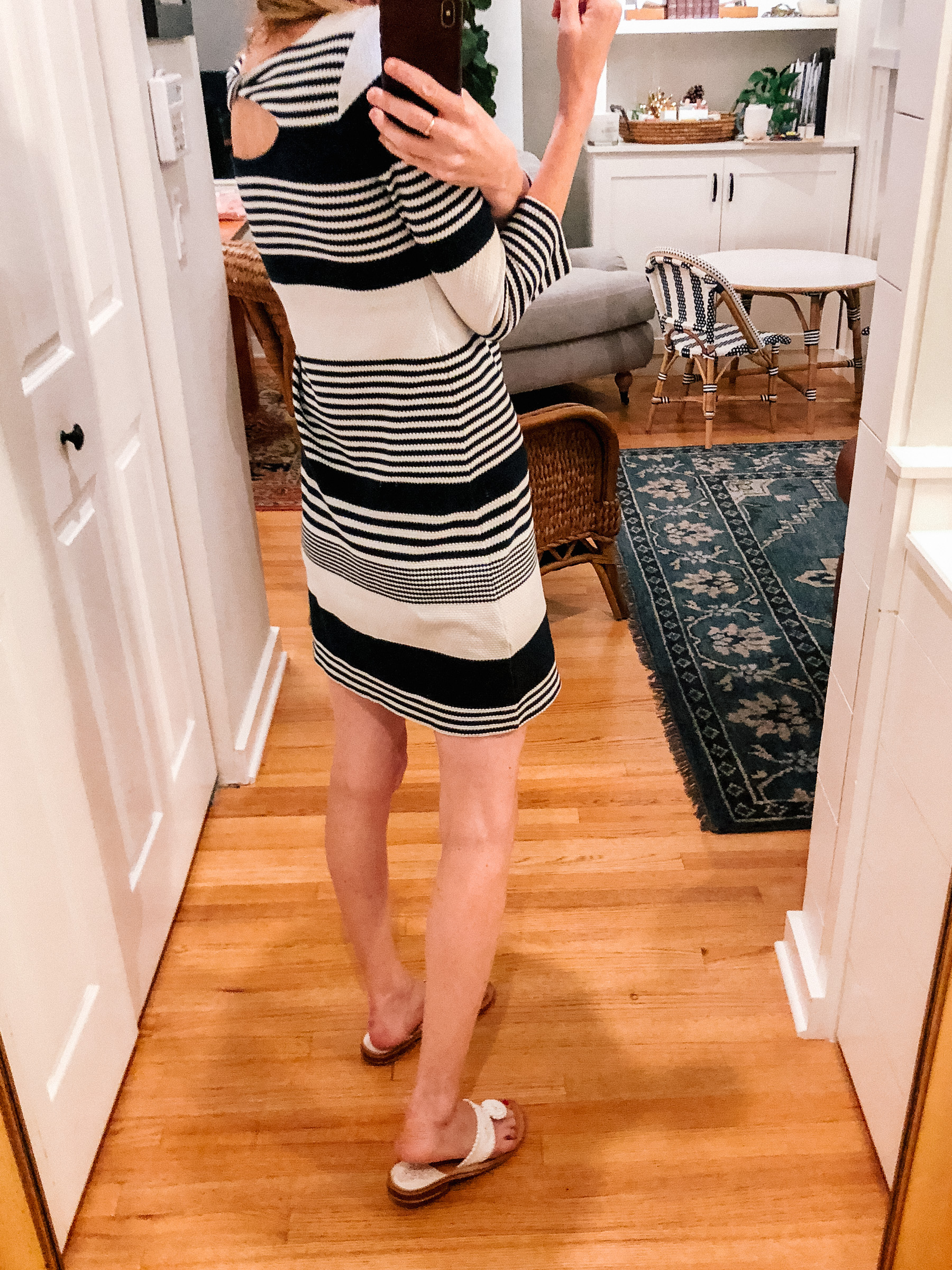 Size: XS
Another dress I wore all summer, which you may have noticed. I know I keep saying this, but if you look closely, you can see that the stripes are actually tiny scallops, which makes my preppy heart happy. On a sadder note, I recently washed the dress with very dark jeans, and now the white stripes are a little bluish. I've had awful luck with laundry this summer, eh? I need to FOCUS.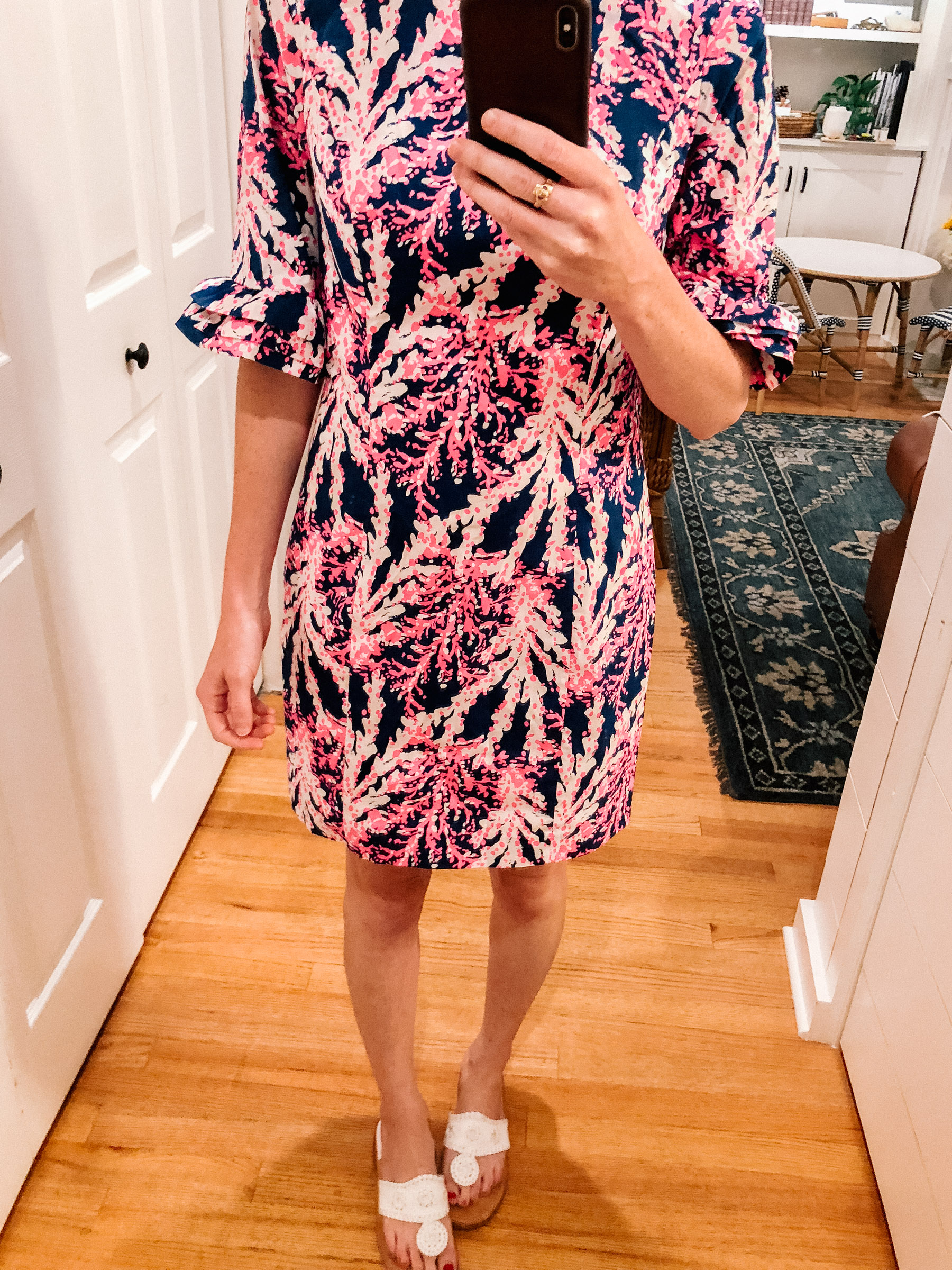 Size: 2
Wore this in New York! And loved it. The pattern disguises any wrinkles, and the cut is super flattering. Love how it cuts in a little at the waist.
Note: I'm not sure I could have gotten away with the size 0. I would consider sizing up.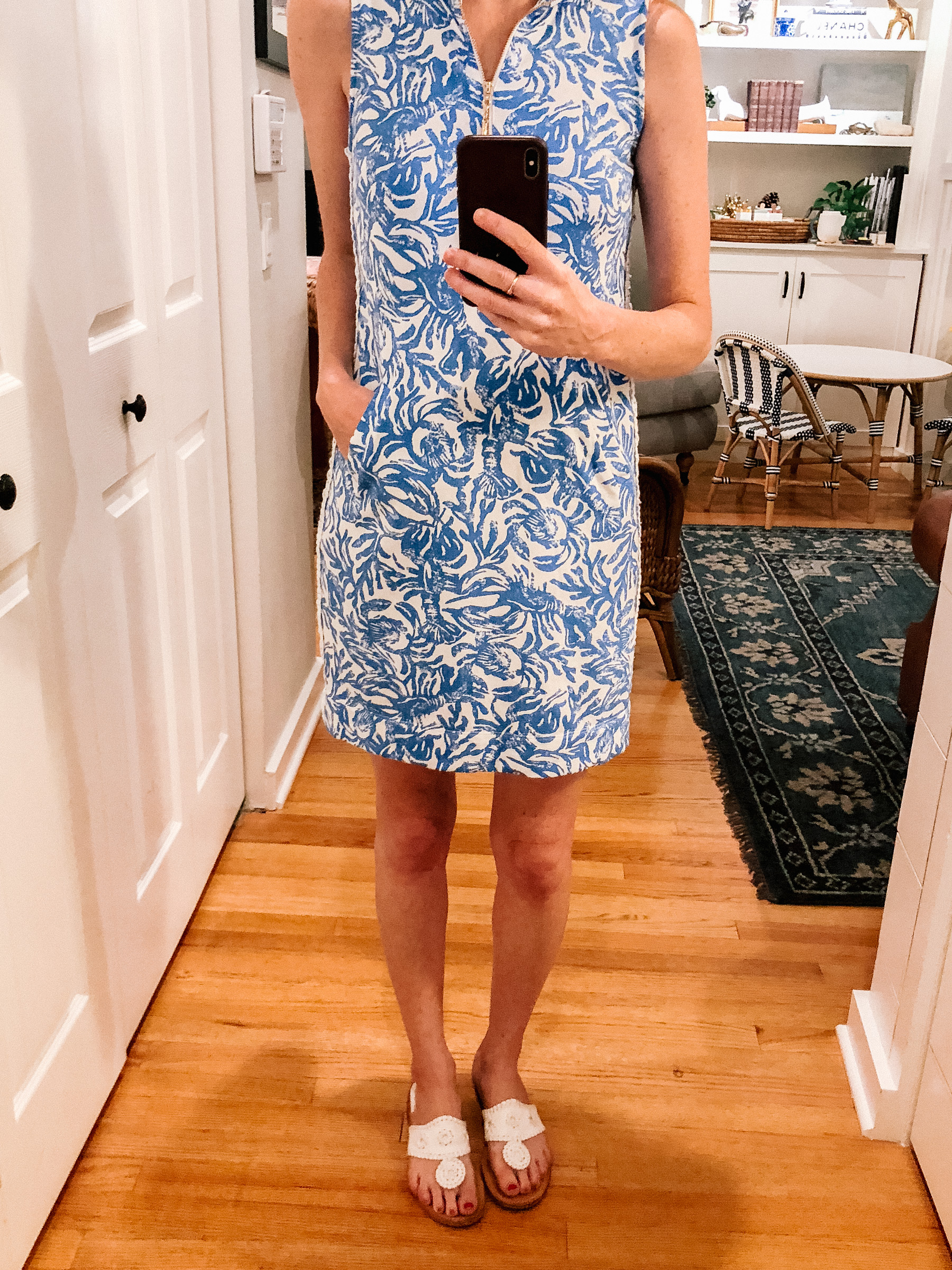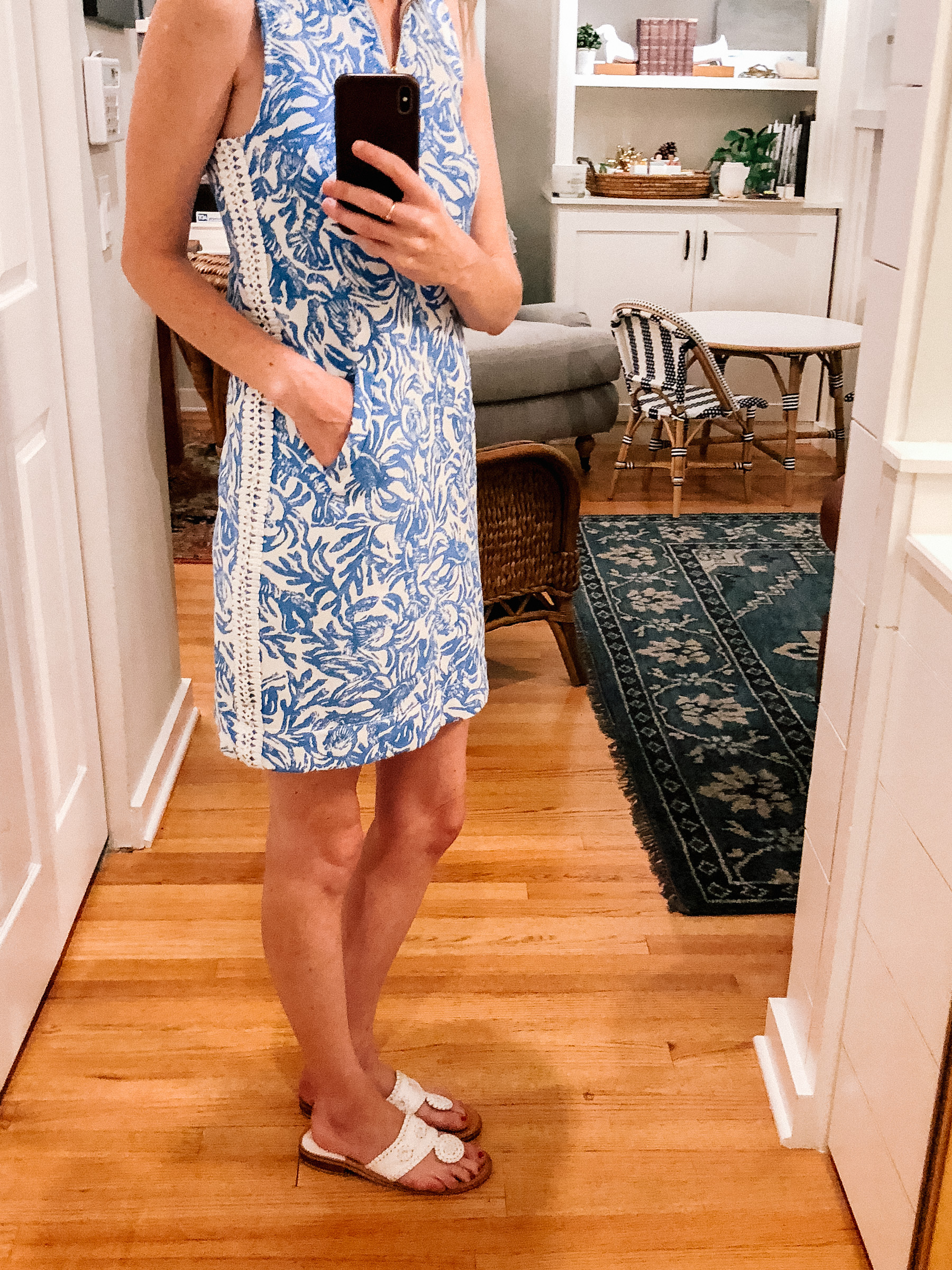 Size: XS
Wore this in Bermuda a bunch, and it's a go-to pool dress for me here in Chicago. Love those pockets and the detailing down the side.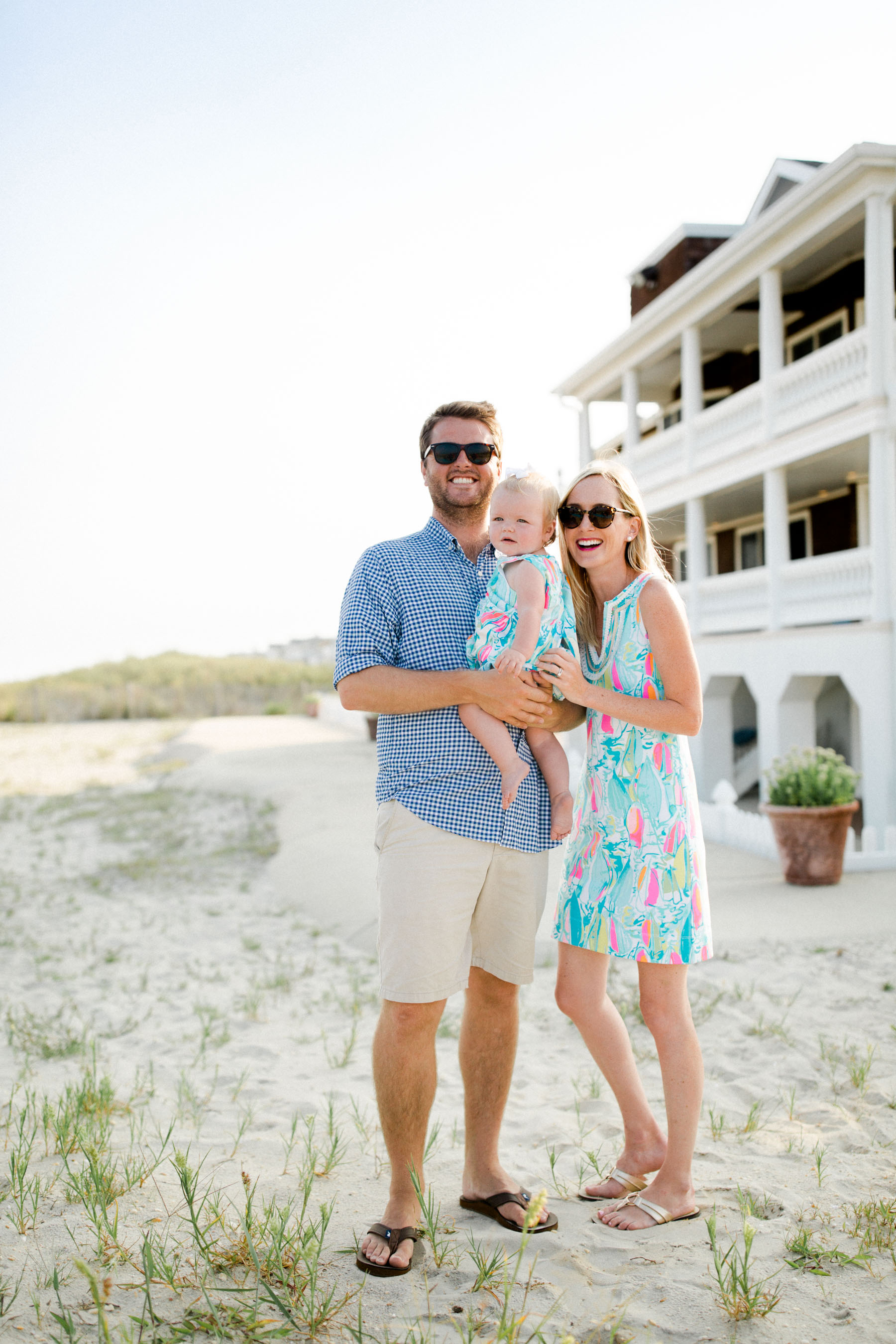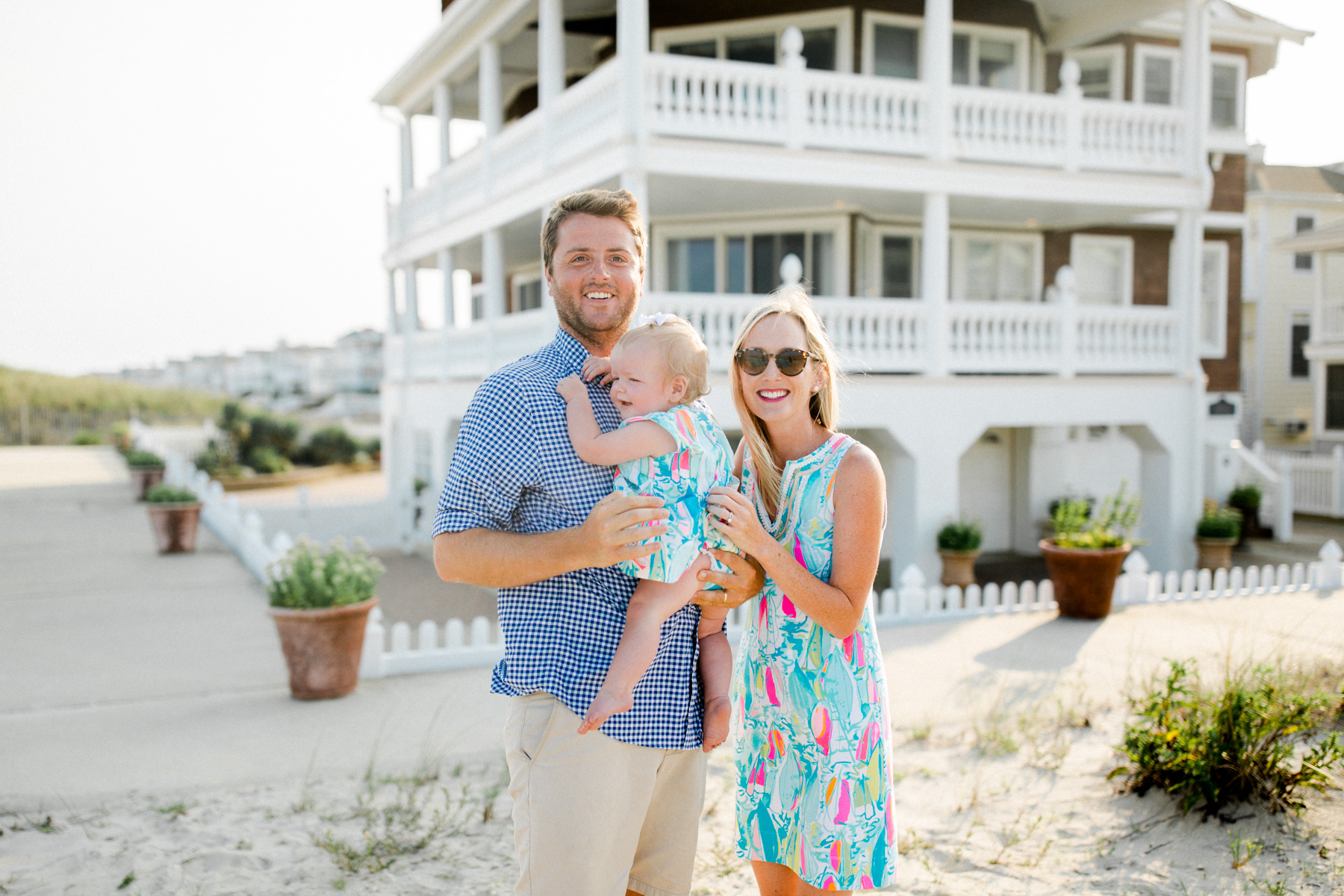 Size: XS
This one is crazy dirty–there's ketchup all over it, and it's currently in the wash. So please excuse these old photos. But I'm a huge fan of how it looks dressy, yet it can be dressed down very easily since it features a thick t-shirt material. Do you always feel like you're either to dressed up or too casual? Simply bring a pair of Jacks and a pair of wedges, and this dress will save you!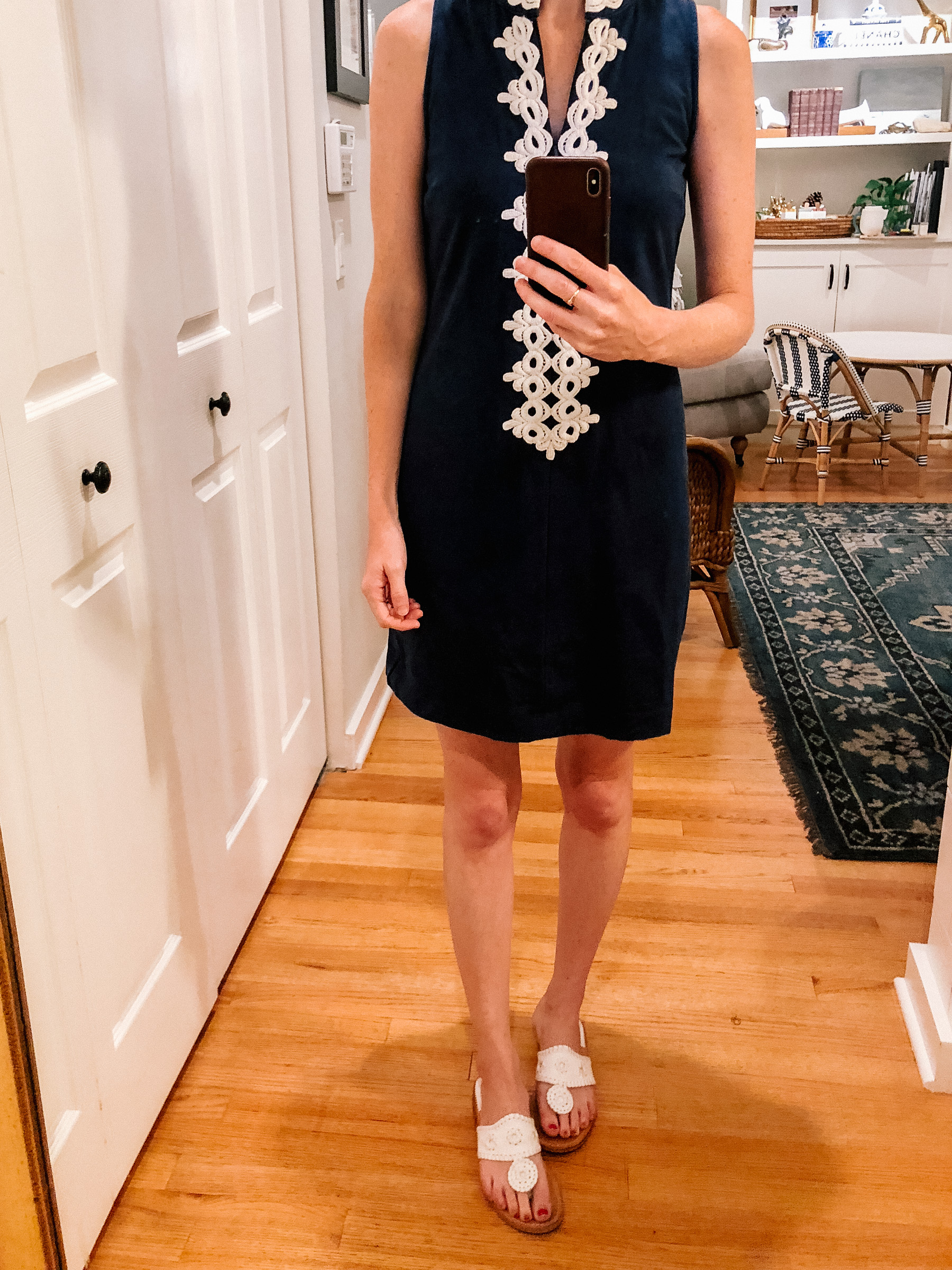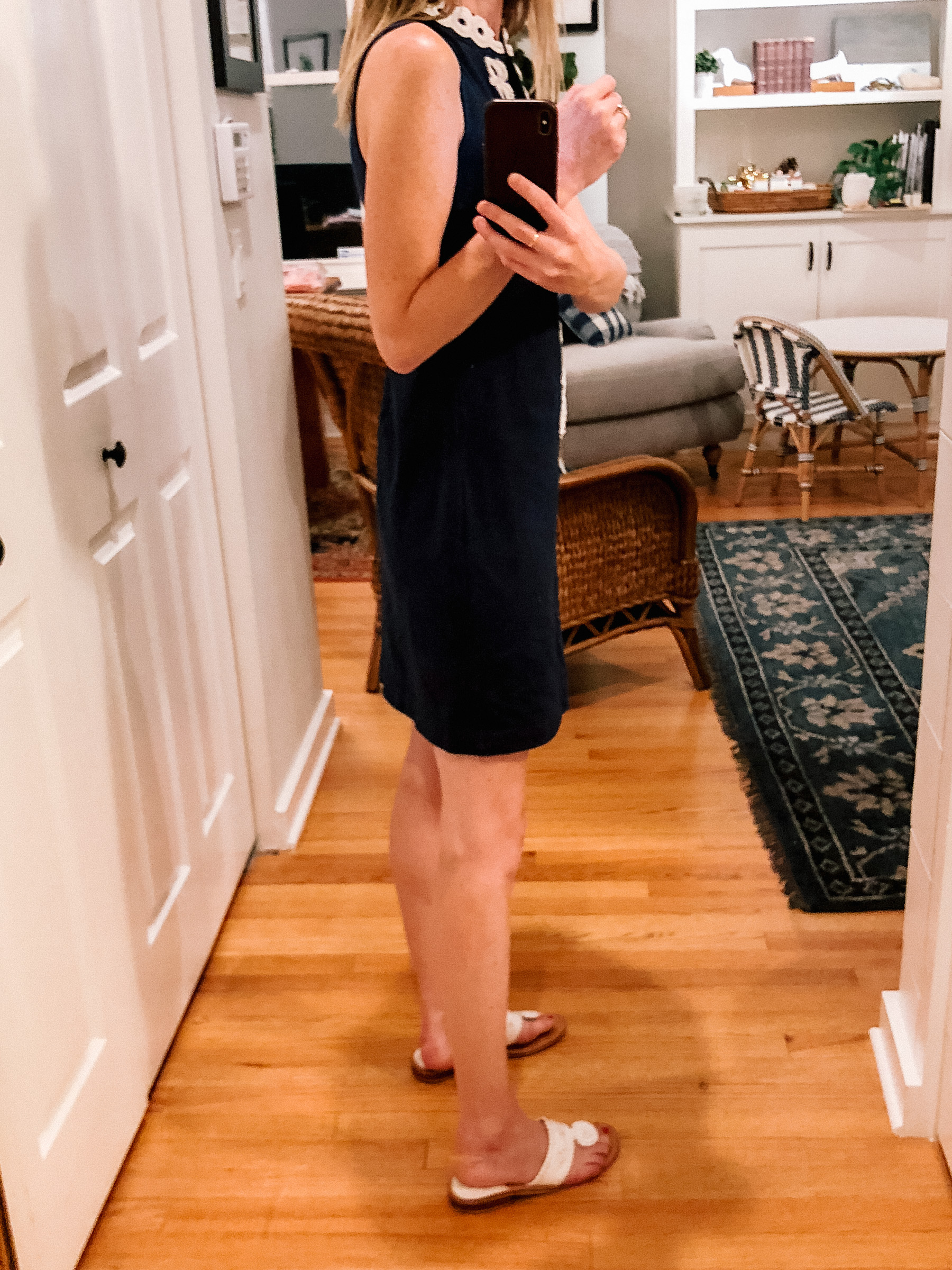 Size: XS
Same thing with this one. T-shirt material so super comfy, and works as both a casual and fancier dress. Material is thicker, too, which is a plus.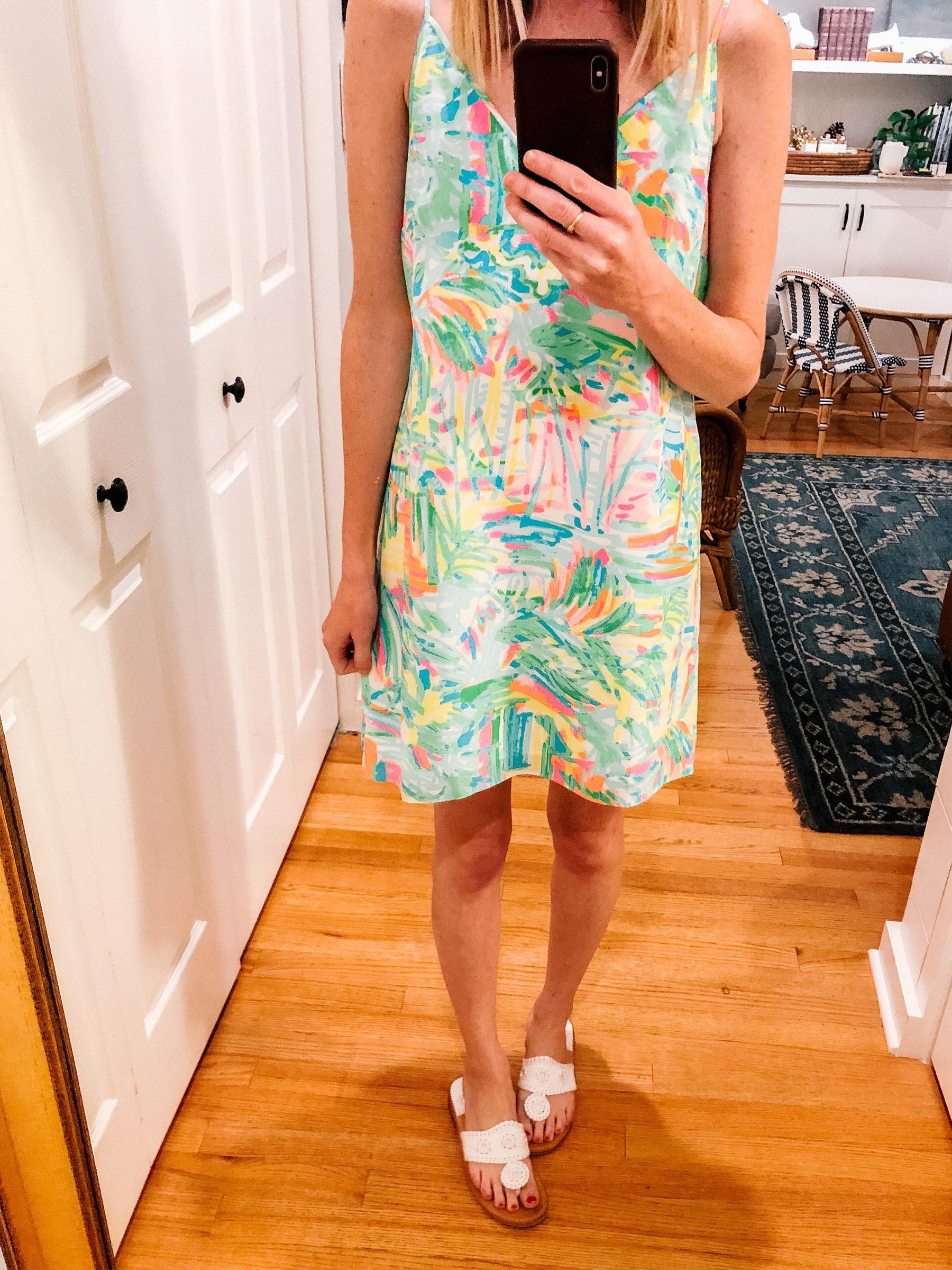 Size: XS
Winner for most flattering! Camisole dresses are the best, and I adore this pattern. Brings me back to the Jersey Shore, even though I think those are palm trees. Whatever.
Btw: this runs on the larger side, so I might size down.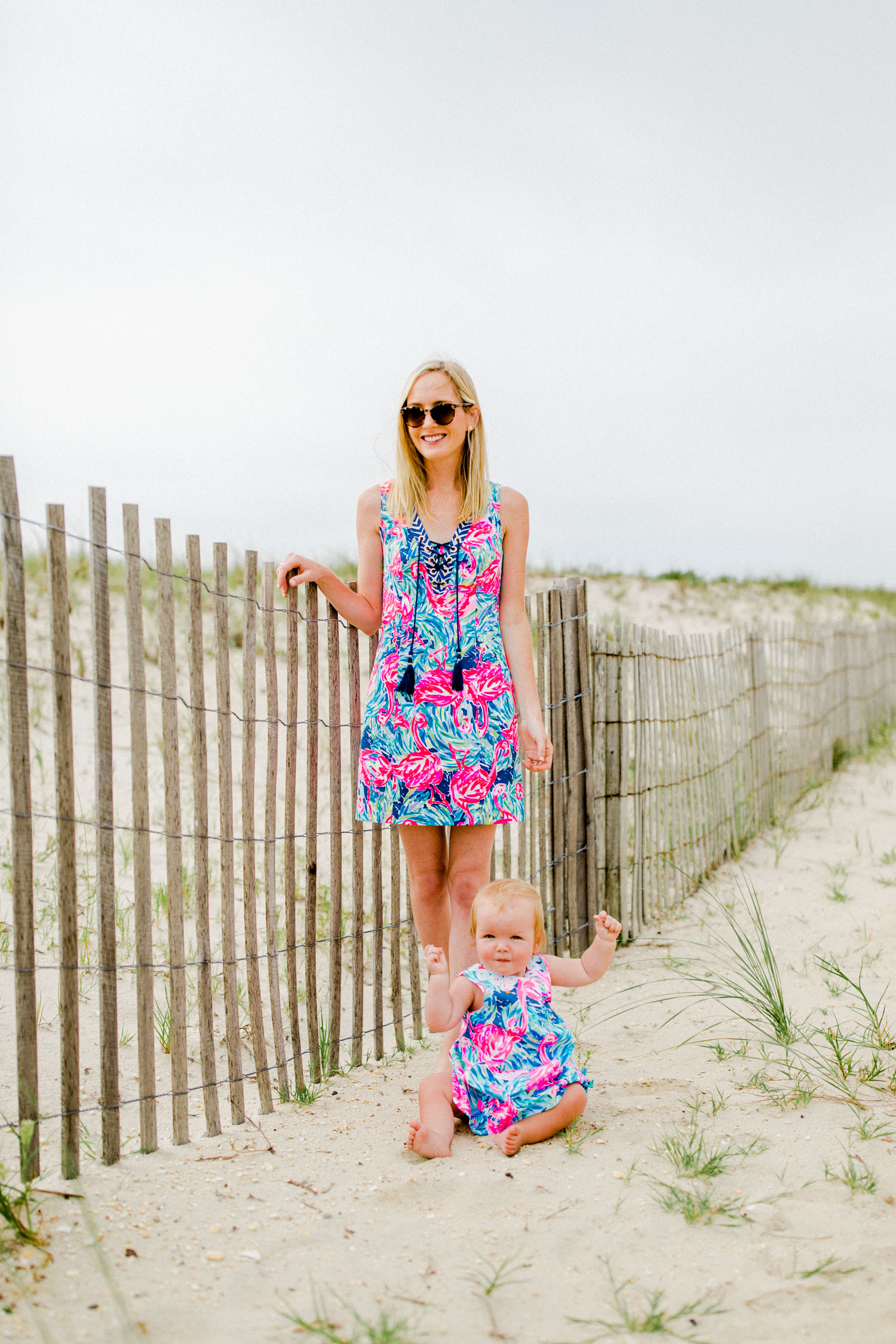 Size: 0
I actually gave this dress away since I wasn't wearing it enough. But isn't it cute?!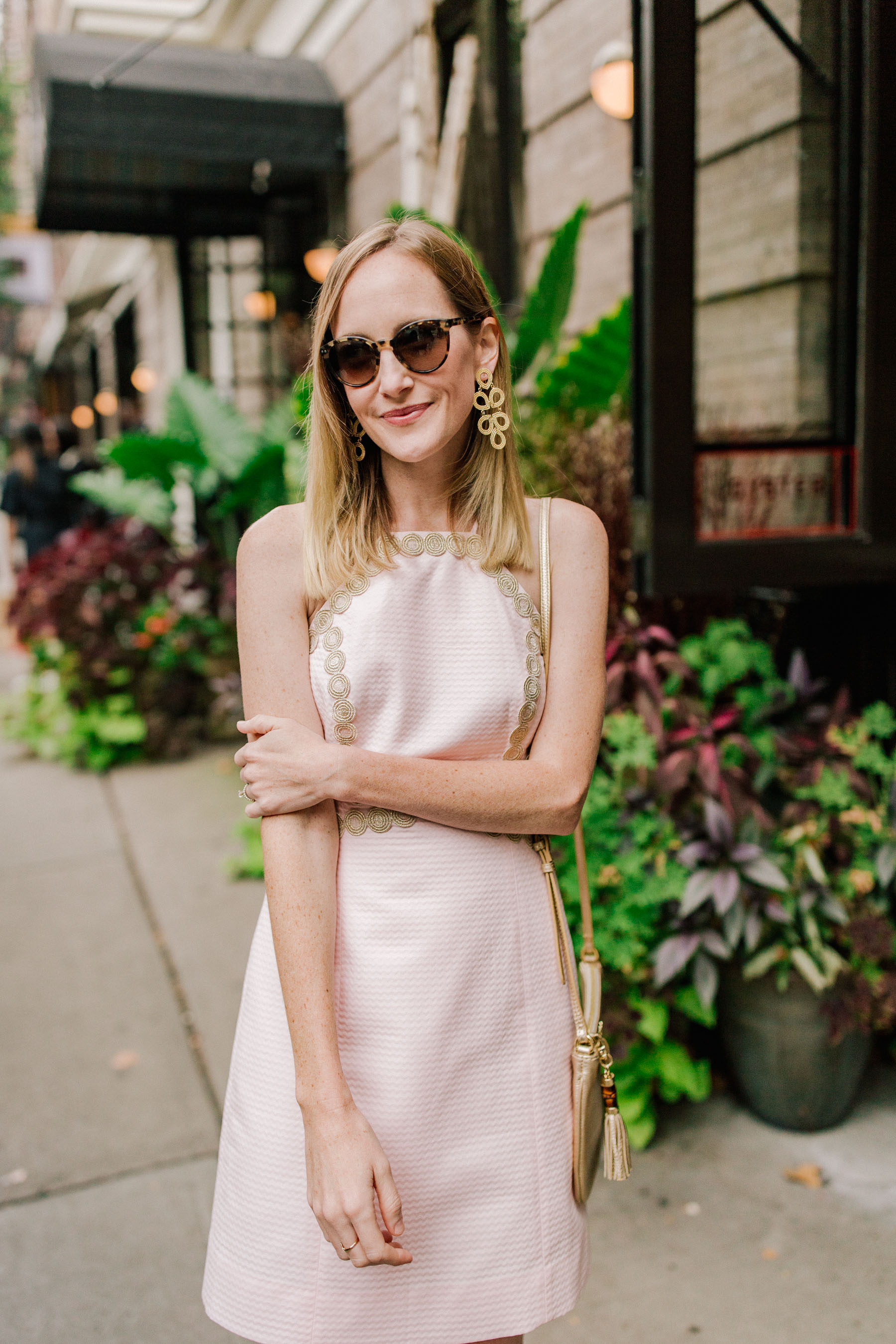 Size: 0
Another number I wore in New York but it's also in the wash. Sorry about that. Love the neckline!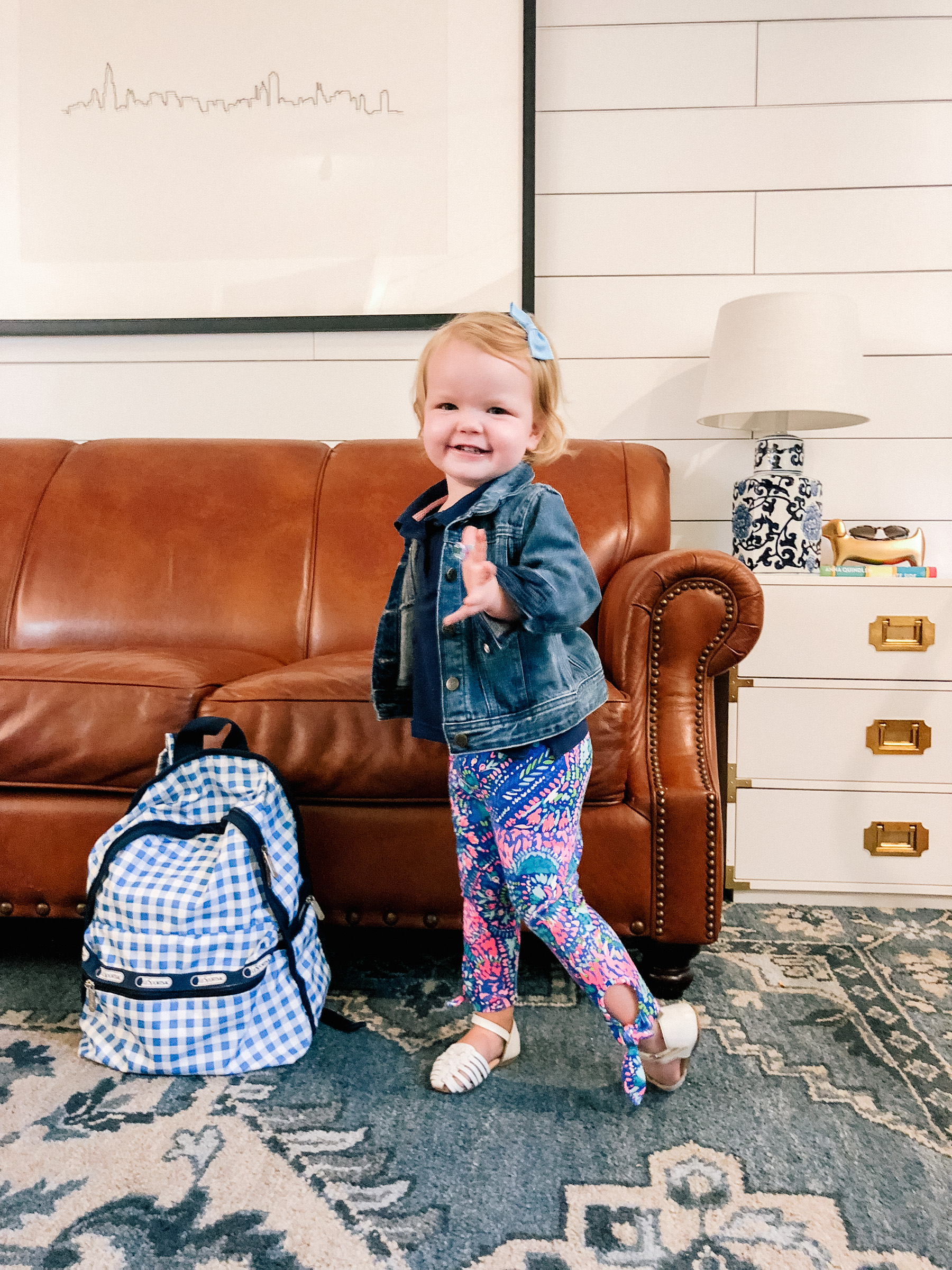 Emma gives everything five fingers up and doesn't know what size she wears. (Spoiler: it's an XS.) We love Lilly!
$300 Giveaway Winner: Leah S.