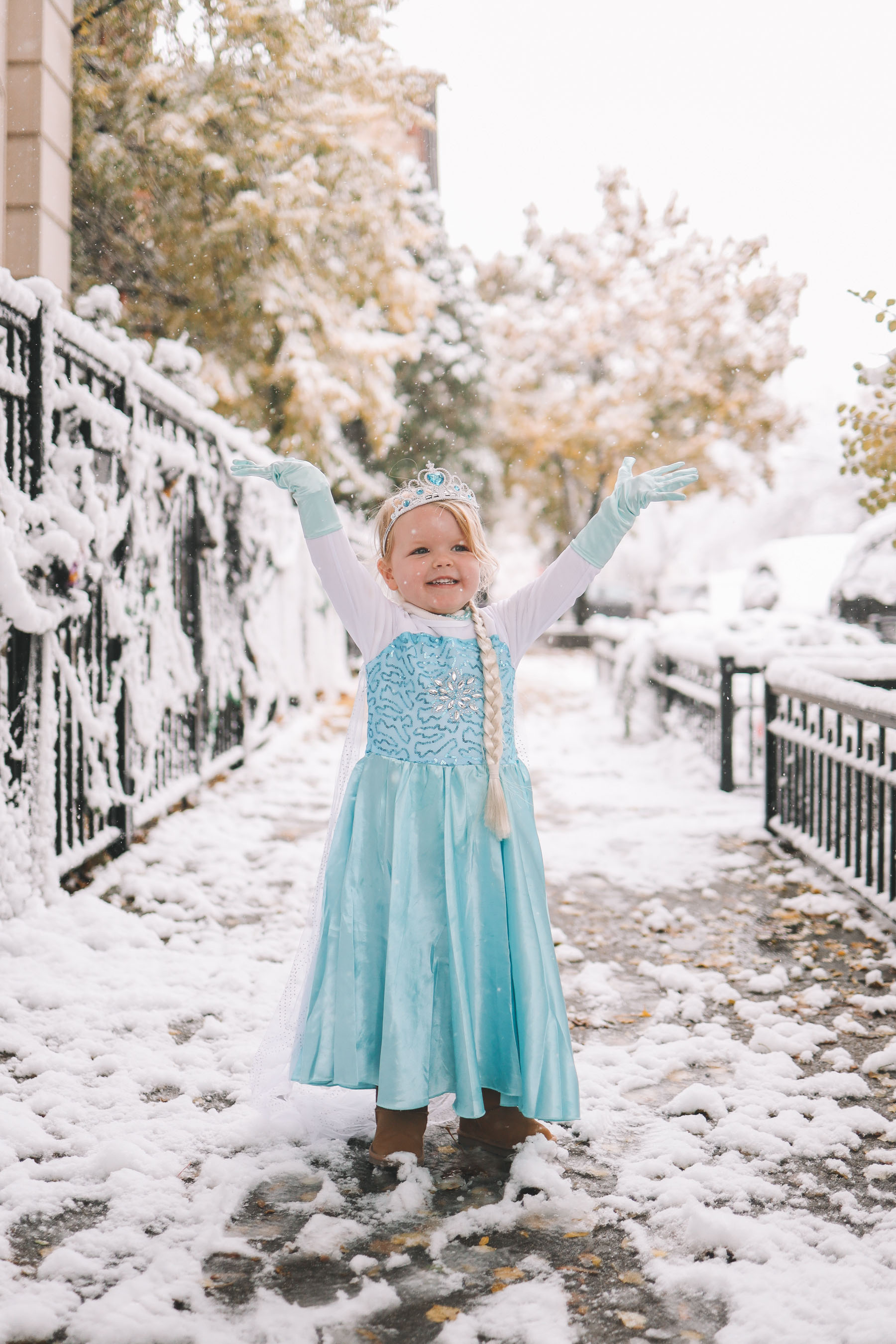 I lost the SD card with these images for the longest time… and then I found it… and then I lost it again. But lo! It's been recovered, and I'm living for the photos. And considering how much snow Chicago's experienced over the last few days, what better time to share them? Never mind the fact that they're from Halloween. 😜
As luck would have it, we got a ton of snow on October 31st, and Emma was convinced that her ice princess powers caused the storm. It was pretty great. Of course, she lasted roughly 35 minutes out in the cold, despite the Dudley Stephens turtleneck and down puffer coat that she wore over her Elsa costume. But it was a wildly magical 35 minutes! I can't tell you how many people stopped her to ask her why she'd "set off an eternal winter." Bring back autumn, they winked.
It was an awesome night. After trick-or-treating, we ran back home to warm up. We spilled our candy out on the floor and counted it–14 whole pieces!–and then Dad set up the projector in the kitchen and we almost made it through an entire Disney movie. (We were under construction at the time and therefore we were living out of the kitchen. 😉)
And finally, we drifted off to sleep with our sparkling crown, glistening gloves and long blonde braid–kind of creepy but whatever–on the nightstand. Dreams do come true!
I think I mentioned this, but my parents are taking the girls to Disney World for their 60th birthdays in February. We tried to convince them to go to France or something, but they insisted that Disney would bring them the most joy. (Isn't that the sweetest? I definitely teared up when they told us that!) We leave on the 1st, and I couldn't be more excited. My dad has already grabbed the Fast Pass tickets for all the princess attractions. 😂 I'm also totally letting Emma wear her Elsa dress costume every day… and my friends from the Printcess Co. are sending her custom Frozen ears!
Looking at these photos makes me SO excited to see the magic through my daughters' eyes. Has anyone taken kids to the Bippidi Bobbidi Boutique, btw? Would love to hear about your experience, if so! (Definitely bringing our own dress to cut down on costs, that's for sure!)
Okay, I'm going to leave you with the rest of these pics. But do yourself a favor at watch this video of Mitch. Who thinks he should remake "Lost in the Woods" next?!
That's rhetorical because the answer is clearly YES. ;)
Over and out!
Emma's Elsa Costume / Lucy's Anna Costume / Lucy's Olaf Snow Suit / Mitch's Kristoff Costume / Noodle's Sven Costume / My Anna Costume