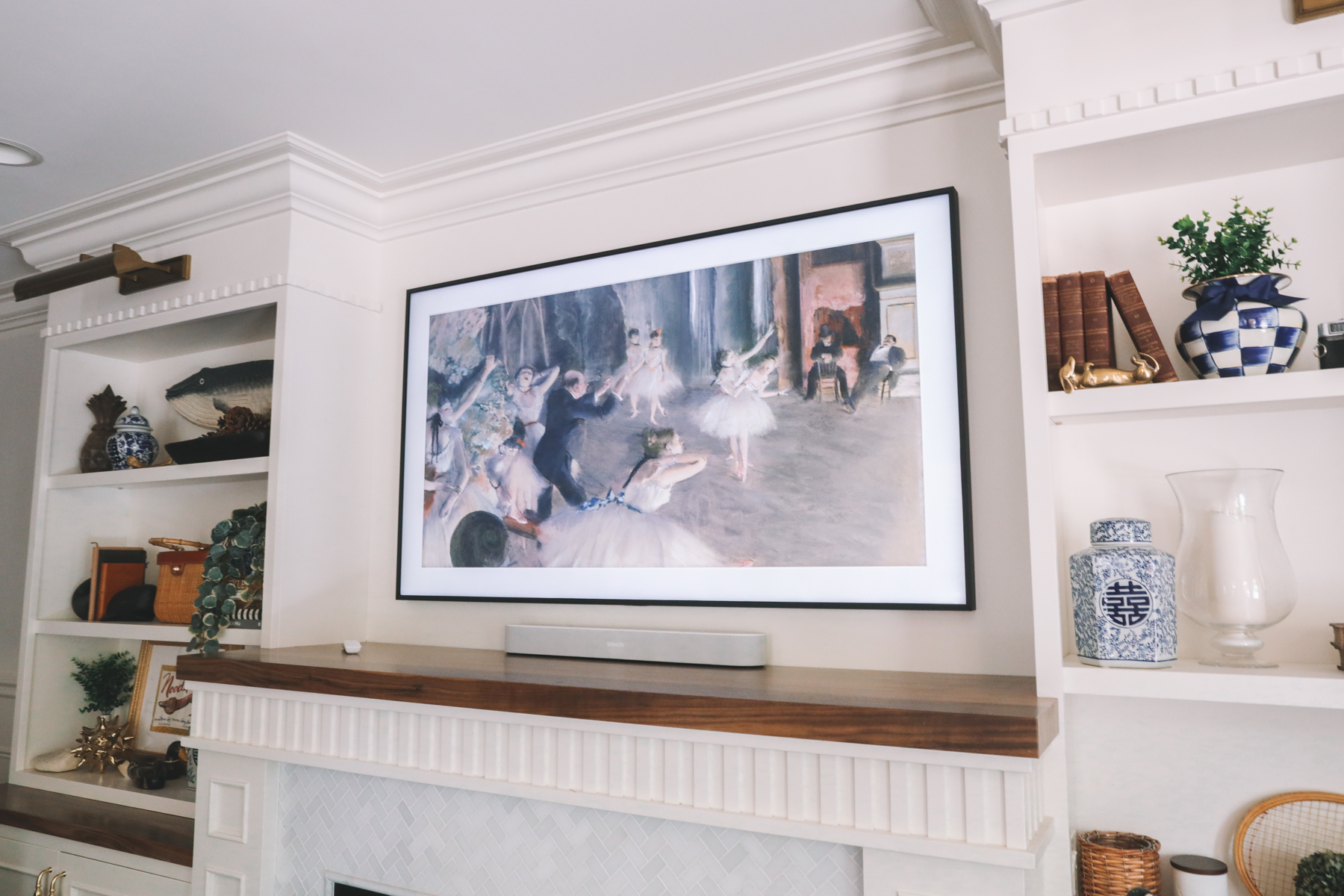 Living Room Details / New Rug Details / Basement/Playroom Details / Samsung Frame TV Review
Mitch here!
Home ownership in 2020 is confusing. In addition to all the regular home maintenance chores, our homes are filling with internet-enabled gadgets and systems that would blow even George Jetson's mind. But I just finished installing our Sonos wireless speaker system and today I'm going to review it all for you.
What is Sonos?
Sonos is a system of wireless speakers and accessories that allow for a whole home audio experience without expensive and unsightly wires all over the place. Sonos speakers use wifi to connect the various speakers installed throughout the home to create a versatile, internet-enabled, multi-room speaker system.
🤓
The Sonos system works with as little as one speaker which can be plugged into the wall anywhere in the home. This speaker can then be paired with additional speakers to create zones of sound. Sonos products also work with outdoor speakers, home theaters, and ceiling speakers to bring all the various audio equipment in your home into one easy-to-use system.
How it works
The system is controlled by the Sonos Controller app on any smartphone, tablet or computer. The app organizes the various music streaming services, podcasts, radio stations and any "line-in" devices connected to your system such as TVs, record players or video game consoles.
The app then allows you to pair any Sonos speakers into distinct zones throughout your home. This means you can play music in every room during a party, or listen to a podcast throughout the living space while the kids have Disney music on up in their rooms. Or you can group the whole house with the TV and listen to the game as you do chores. You can even set a timer and play relaxing music throughout the home at a certain time every morning.
The app is simple to use and the permutations for pairing zones are endless. Sonos also works with the Siri, Alexa and Google Assistant to use voice commands in addition to the app.
I'm clearly a huge fan. ;)
The speakers
Sonos offers a wide variety of speaker products to fit the unique needs of each home. The catalogue is sort of confusing and I think it's best understood if I break their products into three categories: Standalone Speakers, TV Speakers, Sonos Accessories.
So here we go!
Standalone Sonos Speakers
The easiest way into the Sonos ecosystem is through one of their plug-and-play speakers. Their most accessible speaker is the Sonos One, which is about the size of an Amazon Echo and can fill a small to medium-sized room with great sound. The Sonos Play:3 is an older speaker roughly twice the size of the One, and is capable of filling larger spaces. The Sonos 5 is their premier standalone speaker, capable of filling large spaces with high fidelity audio. It also comes with smart assistant functionality and a line-in for use with record players or other accessories.
Sonos also sells a portable speaker, the Move, which can be picked up off its charging base and brought outside. To accomplish this, it uses hybrid WiFi/Bluetooth functionality that will keep it blasting music even after you've left your WiFi behind.
A warning, Sonos speakers are addictive! I was given a single Sonos One as a gift five years ago and now my whole house is filled with the stuff. The functionality of the system improves with every new component, so just look out if you're planning to gift this to your husband at any point.
Sonos TV Speakers
Bringing TV content into the Sonos system requires a hardwired connection and, in my case, a contractor to hide the wire behind the wall. Once wired, a Sonos sound bar will replace your TV's built-in speakers and easily integrate the TV content into the greater system. The set-up process is easy and you can use your regular TV remote to control the Sonos speaker without even thinking about it. After setting up, a Sonos sound bar can be paired with other Sonos speakers, zones and a sub to easily create a wireless surround sound system.
You can think of these three Sonos sound bars as the good Sonos Beam, which also happens to be cheapest; the better Sonos Playbar; which is older but has significant audio advantages over the Beam; and the best Sonos Arc, which is expensive but offers the newest technology with the best speaker array.
I use a Playbar and a Beam and while they both work great, the Beam is what I'd recommend to most people. It is fully capable of filling a decently sized room with high quality audio. It also has Alexa and Google Assistant built in, and works with Apple's AirPlay 2 technology for easy pairing with Apple products. At $400, this is the best value Sonos has to offer.
I also have a Sonos Sub wirelessly paired with the Beam to shake the whole house when I'm watching movies. Kelly loves it.
Sonos Accessories
Sonos also offers products designed to Sonos-ify other audio equipment. The Sonos Port (or the older Sonos Connect) can bring non-Sonos receivers, turntables, and CD players and stuff onto the Sonos network. Similarly, the Sonos Amp (or the older Sonos Connect Amp) can amplify third party speakers on the Sonos network. We use Sonos Connect Amps to push audio to our ceiling and outdoor speakers, for example. And I use a Sonos Connect to bring our basement projector into the system.
Known Sonos issues
Though they are obviously speakers, it might be easier to understand these products as little computers complete with computer chips and software in addition to their speaker parts. And like any other computer, they get old and can't keep up as new features and demands are made on them. This presents a real problem for Sonos as their customers were bought into the expensive ecosystem to solve their home audio needs for good. Understandably, they get annoyed when their speakers get old, more clunky and less functional over time.
To solve this issue, Sonos has confusingly split its control app in two. The S1 app is meant to be used with older speakers and components, and the S2 app is meant to be used with all the newer stuff.
I bought most of my Sonos speakers used from stereo stores and on Craigslist, so I'm stuck in the land of S1. And I can report that after they split the apps in two, my Sonos system has been, essentially, broken. I understand that Sonos wants all of its loyal customers to upgrade their old components and join them in the S2 app, but this stuff is expensive and it's frustrating to be given a lesser app with a worse experience.
Simply put, Sonos is great as long as you're willing to pay—and then pay again when Future Sonos launches the S3 app and bricks all your speakers again.
I guess that's how it goes.
Sonos alternatives
Despite this, I'm of the opinion that Sonos offers the best multi-room, wireless home audio experience, but again, this stuff is not cheap. Luckily, a slew of big tech players have recently announced competitors to Sonos with cheaper price tags and similar functionality:
Newer Amazon Echo speakers are capable of wireless multi-room audio. These speakers sound great, have an infinite number of use cases, and go on sale often.
Google's new Nest Audio speakers also have multi-room functionality. They come in fun colors and have the full power of the Google Assistant behind them. They also work in tandem with the rest of Google's hardware products including Google Home speakers, Chromecasts and Nest Hub smart displays.
Apple's Airplay 2 technology works with any capable device to allow multi-room audio via the iPhone's Home app. Apple does sell its own Airplay 2 enabled speakers—the HomePod and HomePod Mini—which make multi-room audio simple.
I'd love to hear your thoughts on the Sonos system and I'm happy to answer any further questions below.
And, as always,
Mitch. OUT!
Living Room Details / New Rug Details / Basement/Playroom Details / Samsung Frame TV Review