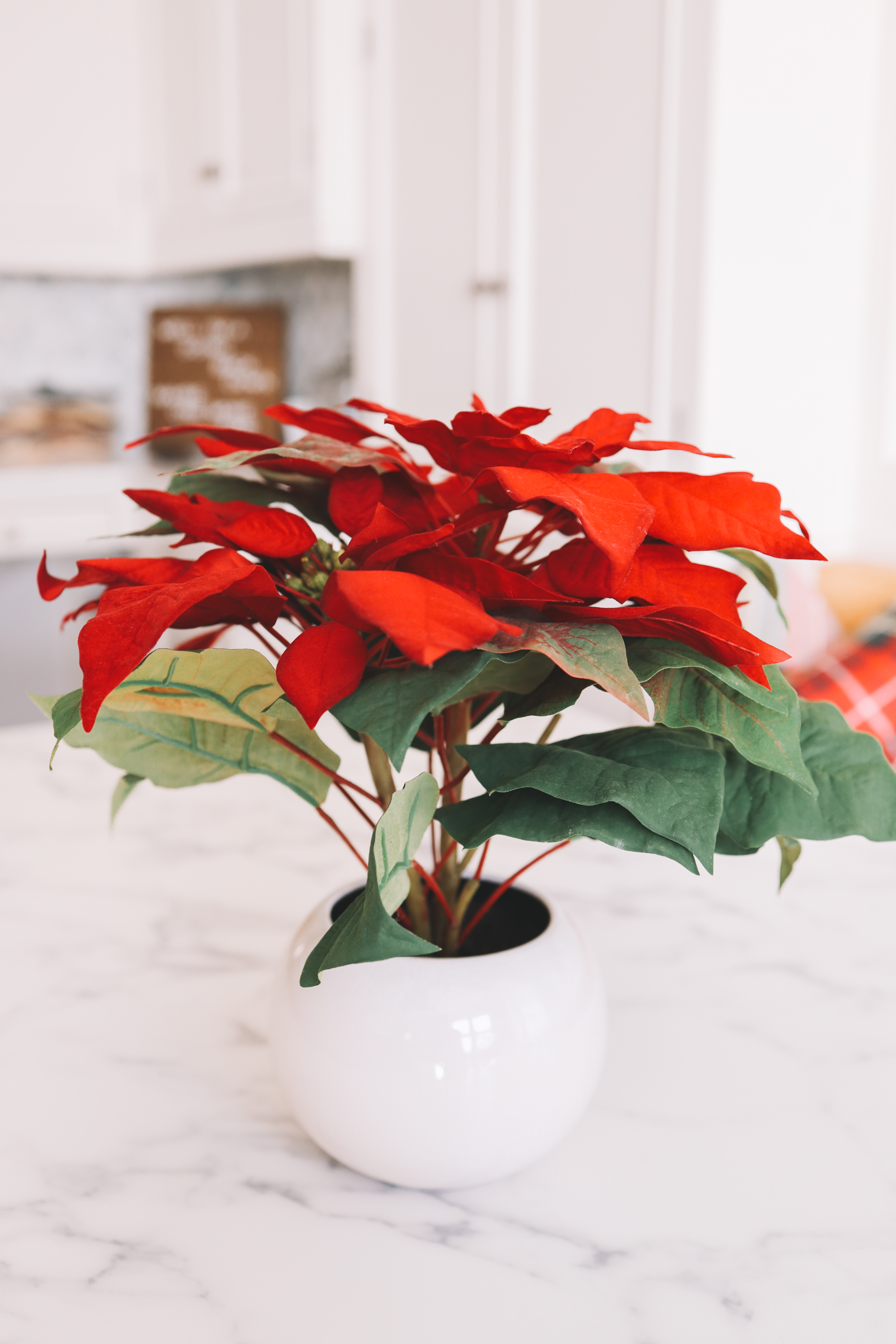 Artificial Poinsettia (Even better here!)
Oh, hey! Queen of faux here. ;)
As you probably know, the Larkin Family is pro faux for the foreseeable future—until both girls are in school, at least. Life is just easier with lovely looking plants that require absolutely zero water!
Here were favorite picks (mostly now on sale) for the holidays:
Crate & Barrel Faux Cypress Collection: THE BEST. Without a doubt, the best you can buy. Of course, it sells out quickly because it's that good. But if the product you're looking for comes in stock, pounce! This line is our favorite, and I swear that everyone is shocked when we divulge that the stuff is artificial.
Pottery Barn Faux Poinsettia: This was such a good find this year! First, I should note that apparently poinsettia are not quite as dangerous as most of us thought for our entire lives. Still, I'm not taking any chances over here with two young children and a lunatic dog. This arrangement is gorgeous and I love that pot! The two available sizes makes the product extremely versatile, too.
Faux Sympathy Outdoor Poinsettia: We use these to line the steps leading to our home! They're made to weather the elements, and they're perfect. Don't let the branding dissuade you; so many people use these faux plants for home decor because they last forever!
Hearth & Hand with Magnolia via Target Faux Mistletoe Garland: This quickly sells out for good reason. But love that little splash of color, and I'm a huge Hearth & Hand with Magnolia fan, so…
Ballard Preserved Boxwood Garland: This is the garland we have for our staircase! It's not technically artificial, but it's preserved and therefore will last you years and years as long as you don't store it in you garage in -20-degree weather. :) Add a little ribbon and BOOM! Stunning.
CB2 Faux Cedar Wreaths: Are these not the most lifelike?! I can't speak to them, but the photography work here gets an A+ and I would be mind-boggled to learn that they're not fabulous in real life, too.
West Elm Faux Eucalyptus Garland:  Again, can't speak to this number but I keep coming back to it as it looks so lifelike!
Frontgate Outdoor Faux Pine Tree: We have these for our garden in front of the house! Couldn't be bothered with dying greenery anymore. Chicago is harsh, but the city can't kill these guys! They're on sale right now, too, making them an extremely good deal. They look crazy real. The dogs don't stand a chance either!
Anthropologie Faux Boxwood Garland: So beautiful, no?! I'm becoming an Anthropologie fan girl over here this year. Their buyers are exceptional!