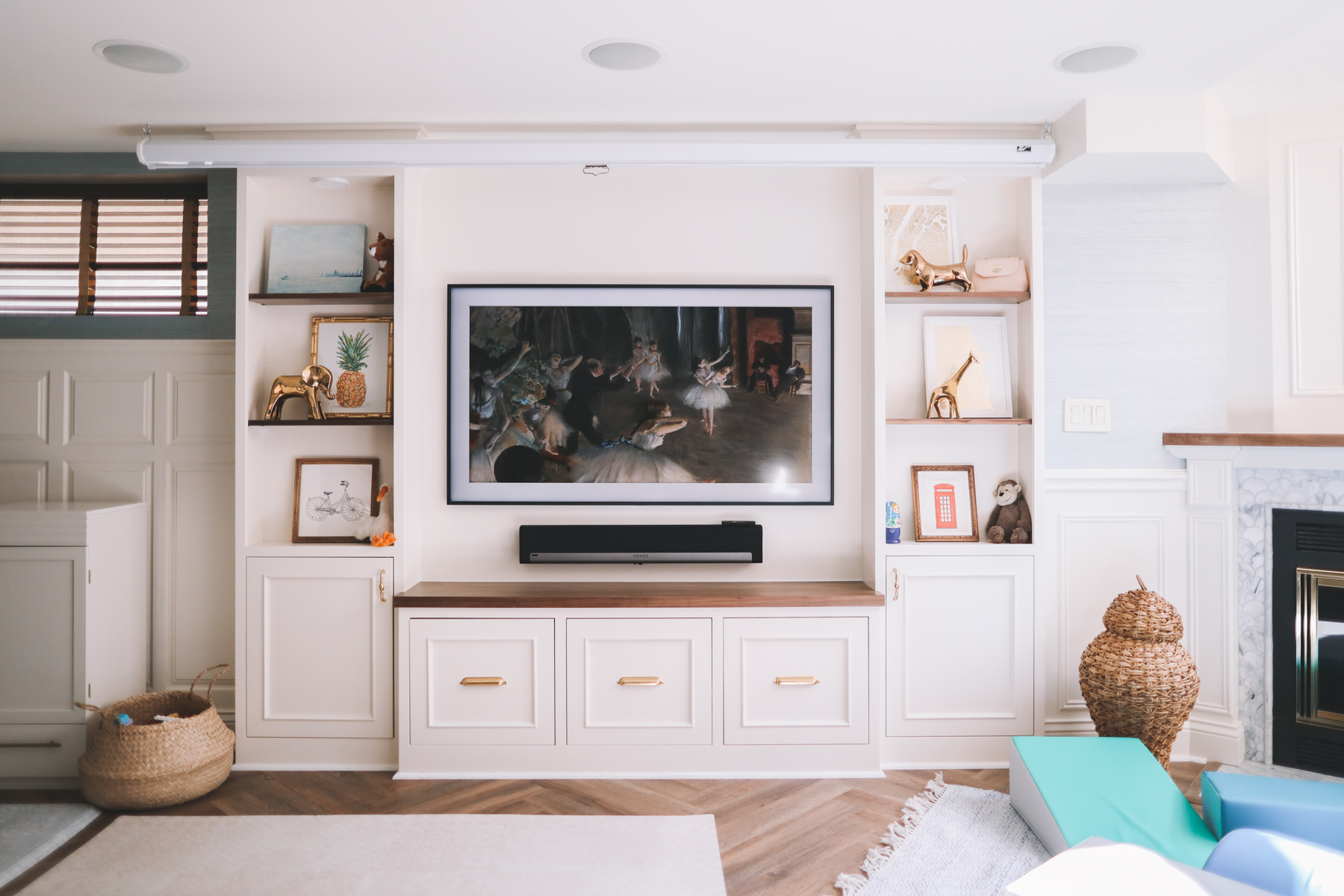 Samsung Frame TV (65″)
Mitch here!
TV, or not TV, that is the question: Whether 'tis nobler for the house to suffer a giant black rectangle on thy wall or for thine TV-watching fortunes to die—to bingewatch no more.
That is to say that the Great TV Debate continues. In our house, the traditional battle lines were drawn: I wanted a TV so large that it'd need to be airlifted into the living room with a helicopter. Kelly, of course, voted no TV at all and wanted some painting of (now dead) people from the 1800s or something. So we compromised and bought a Samsung Frame TV which claims to "TV when it's on and art when it's off." (Cute.) But does it really work like that? How good does it actually look? Will you trick people into thinking it's art? Will your wife be happy? Is it worth the price?
Answers to those questions and more below.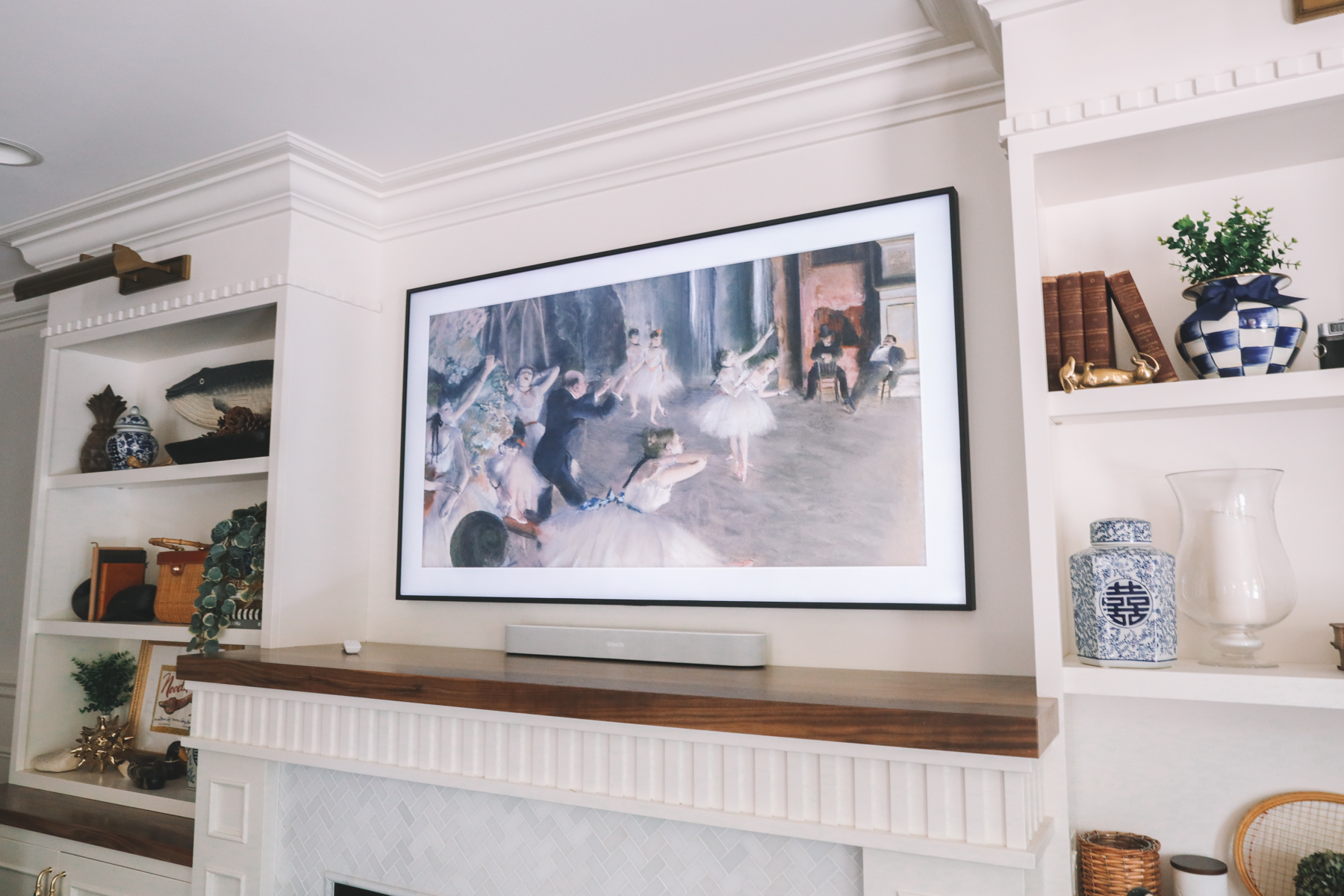 Samsung Frame TV (65″)
Frame functionality
Let's address the big question first: Does the Samsung Frame work as a frame? Well, sort of.
This is a TV and not a canvas, so artwork on The Frame definitely has an eery glow that shatters any suspension of disbelief. The Frame uses ambient light sensors to automatically dim the screen when the room darkens, and yes, you can adjust the brightness and contrast settings to make it look more realistic. But the Frame still glows, and it'll always glow. Because it is a television. Not a painting.
The Frame uses QLED technology which, though an improvement over earlier LED models, still uses LED backlights to illuminate dynamic pixels. As a result, even the black portions of the resulting picture glow, thus preventing the TV from rendering a true art-viewing experience. Samsung is improving the Frame year over year, though, and I expect them to eventually adopt OLED screens which give each pixel its own light source. When that happens, the TVs will be capable of displaying true blacks and that'll help the art look more realistic. Samsung isn't there yet, but LG just intruded the Gallery TV, an OLED Frame competitor. (Thanks Merilynn!)
But technical limitations aside, The Frame's Art Mode makes displaying art super simple and fun. And it does look better than your standard TV. (Kelly agrees! She says we're not fooling anyone, but it's nicer than the alternative and a good compromise.) Unlike a typical television, pushing the power button on The Frame's remote brings up your artwork. Samsung offers a curated selection of 1,200 paintings on its Art Store for a fee, but we've taken to uploading our own photography and the girls' drawings… or selecting free artwork via the SmartThings app. (More on that below.) The Frame has customizable matting options as well. It's easy to swap out images and it's been fun curating our little art collection.
The Frame is specially designed to sit flat against the wall and it ships with some impressive technology to accomplish that feat. Most TVs have their power and HDMI cords right on the back of the TV which results in a huge mess of wires. Instead, the Frame has only one cord that delivers power and inputs from the OneConnect hub. (Which comes with the TV so don't worry about this.) Outsourcing all those wires away from the TV makes hiding the mess so much easier. The Frame also ships with a specially designed mount that seamlessly folds into the back of the TV to hang it flush against the wall. It's great. And then Samsung offers additional customizable bezels that can frame your TV in a simple white, beige, black or brown magnetic casing. The Bezels look fine but, honestly, so does the bezel-less black Frame on its own. (No bezels in these photos.)
Overall, I'd say the current Frame TV deserves a solid B grade on its ability to "be a frame." It's not perfect, but it's easily the best-looking TV I've ever seen.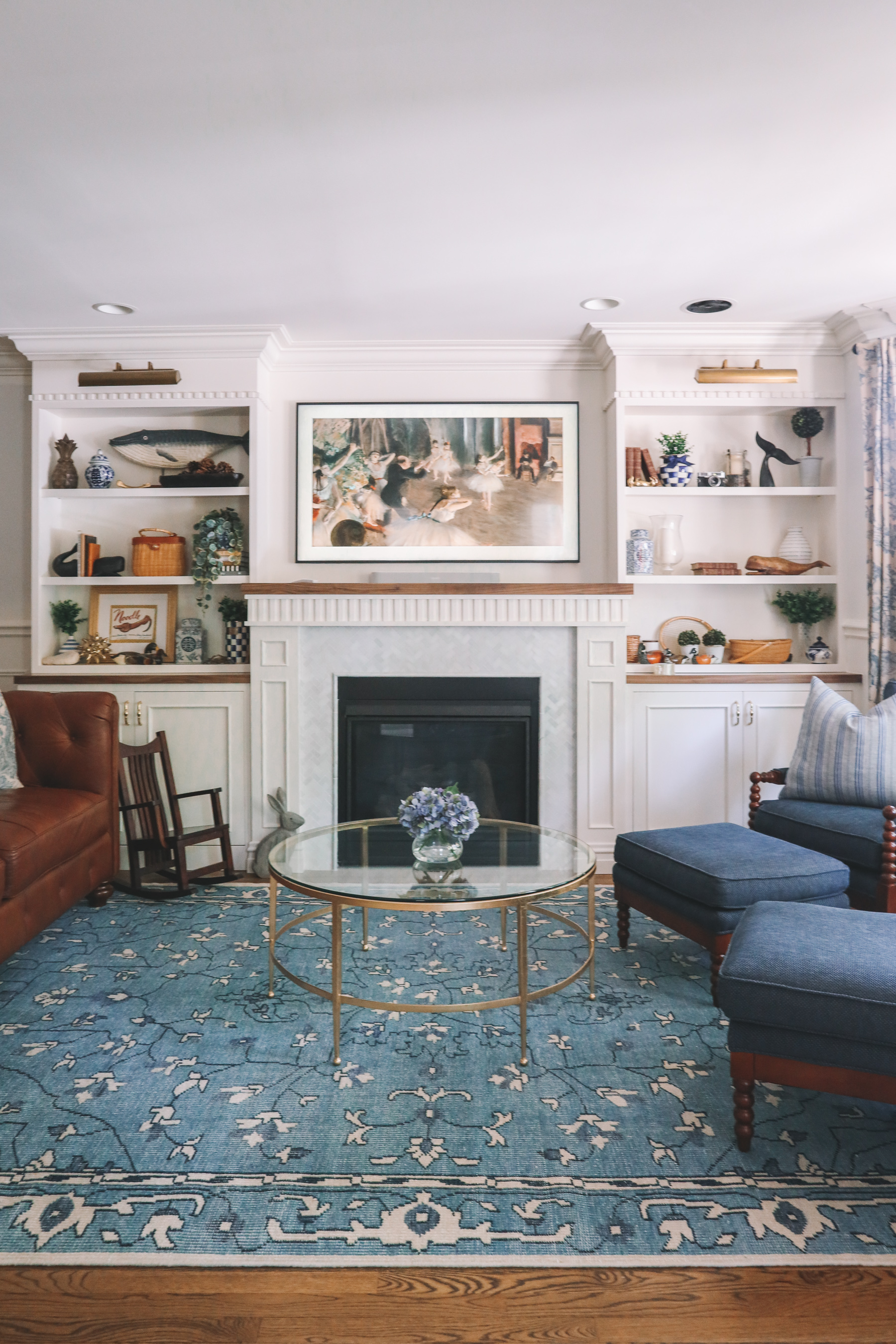 Samsung Frame TV (65″)
TV functionality
I had some pretty high expectations, but the Frame has absolutely exceeded them in terms of its TV functionality. This TV is dope.
I'm not an expert, but I can say that to my untrained eye, the Frame delivers an exceptionally high quality 4k image. Of course, most of the stuff we watch doesn't stream in 4k, but still. I like the way this TV makes stuff look.
It's almost better to think of the Frame as a newfangled computer hanging on the wall than just a TV. It uses Samsung's Tizen operating system which is easy enough for Emma to maneuver. It has Samsung's built-in App store that features all your heavy-hitting streaming services like Netflix and Disney+ as well as a few more niche apps like Tablo for streaming local stations. I love using the Spotify app on the TV for family dance parties or ambient music throughout the day, too. We are longtime cord-cutters, so I can't speak to the TV's integration with cable boxes, but I can say that the the Frame handles peripheral inputs like gaming consoles as just another app in the "app tray," which is simple, useful and awesome.
That said, I do have a few gripes with the the Frame's remote. It fails the "If I Sit on It Does It Break the TV?" test. (It absolutely does.) Also, I'm not sure how much money Netflix, Hulu and Amazon Prime paid Samsung for this, but there is absolutely no reason to have dedicated hardware buttons on the remote to launch such apps. It has no usefulness whatsoever. Samsung also forces their competitor to Alexa (Bixby) on you via a dedicated microphone button which is beyond annoying. Stop trying to make Bixby happen, Samsung. It's not happening.
It's technically possible to control the TV via the SmartThings app on your phone, but that app is a piece of garbage and it barely works. I honestly don't understand how a company the size of Samsung could produce such an incredibly crappy app like SmartThings. It is not smart. I only use it when I can't find the remote (which is regrettably quite often).
I should note here that Samsung has been caught being extremely shady with their TVs in the past. The company has been known to snoop on their customers' voice commands and it has mishandled the data through improper encryption practices. They also apparently record what you're watching and data mine your viewing habits so they can presumably sell your data to other shady companies to do shady things with. Of course, you're likely being spied on anytime you do anything online, but it's worth mentioning that TVs are no exception.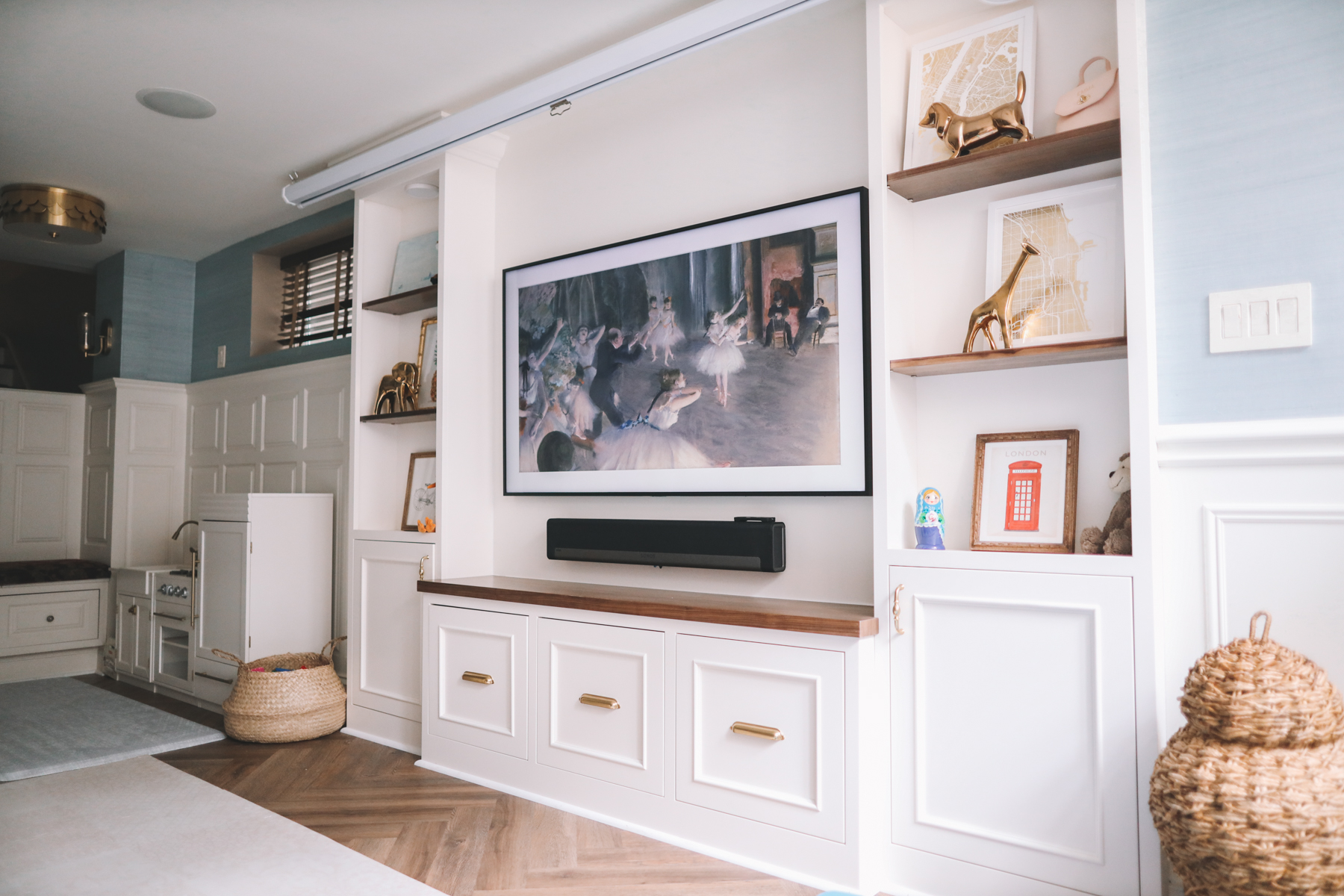 Samsung Frame TV (65″)
The price
The Frame isn't cheap. At the time of this post, you can get any number of well-reviewed 55″ 4k TVs at a fifth the cost of the same sized Frame TV. Samsung is the only TV manufacturer with a product like the Frame, and as a result, they can charge some pretty ridiculous prices. But unless you're handy or willing to pay for custom alternatives, the Frame is really the only option out there.
New Frame TVs range from $600 to $3,000 depending on size, but you can find discounts if you're willing to buy 2018 or 2019 versions instead. You can also check Best Buy's open box deals or Amazon's New & Used retailers that discount things heavily and often ship without charging sales tax. Another option is Craigslist and Facebook Marketplace, which is where I find so many of my gadgets.
The verdict
I'm into it. It's the best TV I've ever owned, and the wife is happy. Sure, it has its shortcomings, but it's the perfect mix of innovative industrial design and thoughtful software… and I'd say it accomplishes the Frame's stated purpose. The Frame is extremely over-priced, but I was able to find a $600 55″ 2018 model on Craigslist for my office and a wildly discounted open box 65″ 2019 model. And I was happy with that!
Do it!
Thanks for sticking with this absurdly long post, and as always…
Mitch. OUT!