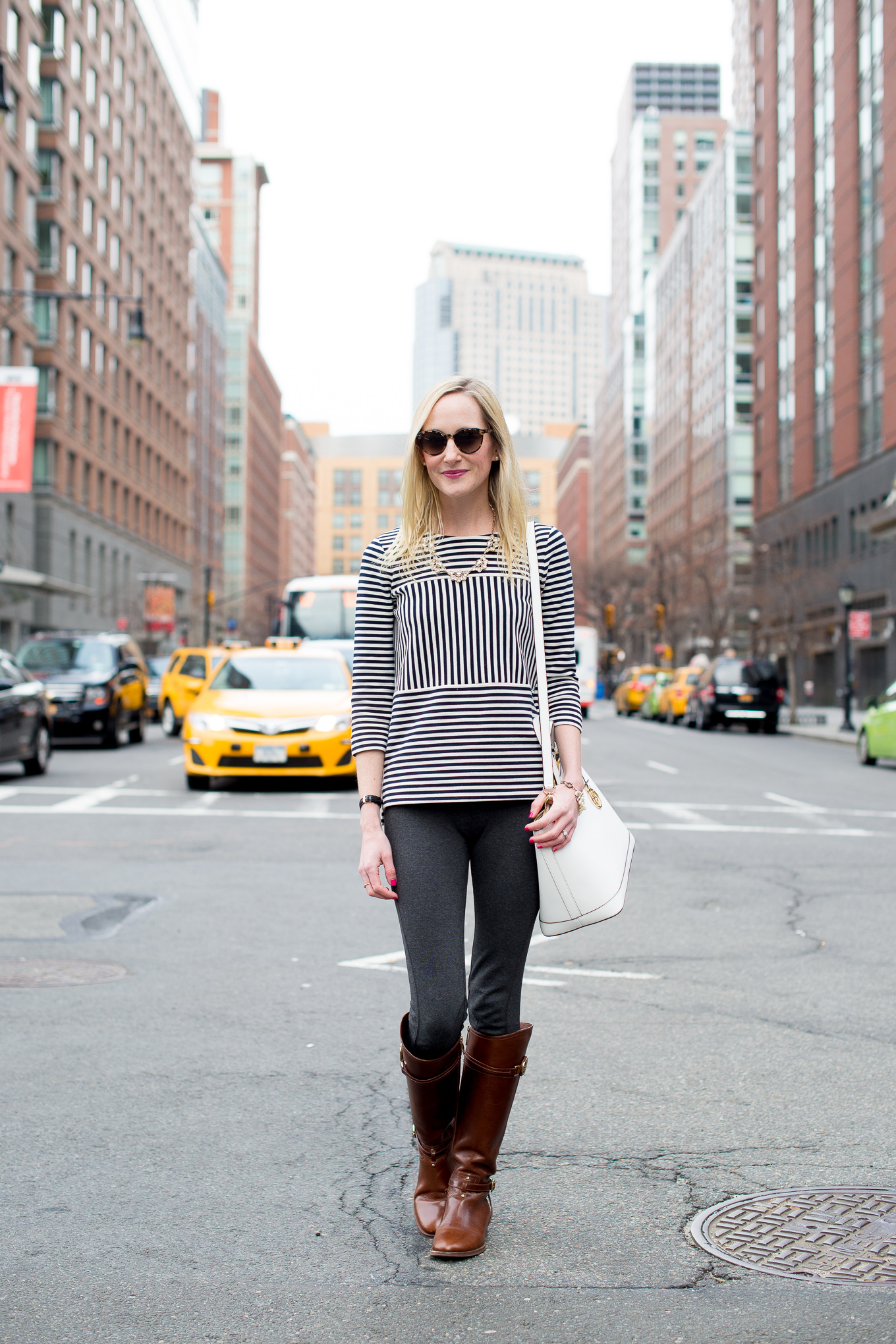 Madewell Top (Old, similar here, and loving this similar dress!) / Henri Bendel Satchel (c/o) / Anthropologie Leggings (Old, similar here, but please get these, too! Just don't sleep in them. #lintmonster) / Tory Burch Boots (Sold out, but try these!) / Daniel Wellington Watch (c/o) / J.Crew Bracelet (Old, similar here), Necklace (Old, but here's my current J.Crew necklace obsession) and Earrings / Kate Spade Sunnies (Old, newer styles here)
These photos were taken on Tuesday–our last day in New York–and I was exhausted. "Good exhausted," of course, but comfy leggings (pants for girls who prefer to spend their days in pajamas!) were beyond necessary. Even though we were visiting my dad at his office in the Financial District: the land of pencil skirts and pumps.
And no, I didn't risk my life while taking these photos. ;) I know it looks like I'm about to get his by several taxis (and a city bus), but I promise that Mitch and I are always super safe while shooting.
In these particular pics, for example, I'm simply standing in front of a street that's blocked off by barricades and NYPD. So the traffic (which looks much closer than it actually is) has no way of hitting me, as it has to turn. So no worries!
But yes. I do love a good middle-of-the-street photo, haha.
Tips: When you can, shoot in the middle of a side street, in a quieter neighborhood. (In New York, downtown neighborhoods on the weekends used to be great for us, as were areas closer to the rivers.) Oh! You also can't make a turn on red there. So shooting during red lights (on some streets, when the traffic was many, many streets away), was safe. But know your streets. Some red lights are longer than others! And make sure that whoever doesn't have her back to the traffic is on lookout duty! And whatever you do, keep it short. You should be able to get a shot or two within a few seconds. :) Detail shots should always be taken off the street.
Anyway, I'm off to GET NOODLE. So excited. I'll check back in later!
It's almost Friday!
Tory Burch Almond Riding Boots