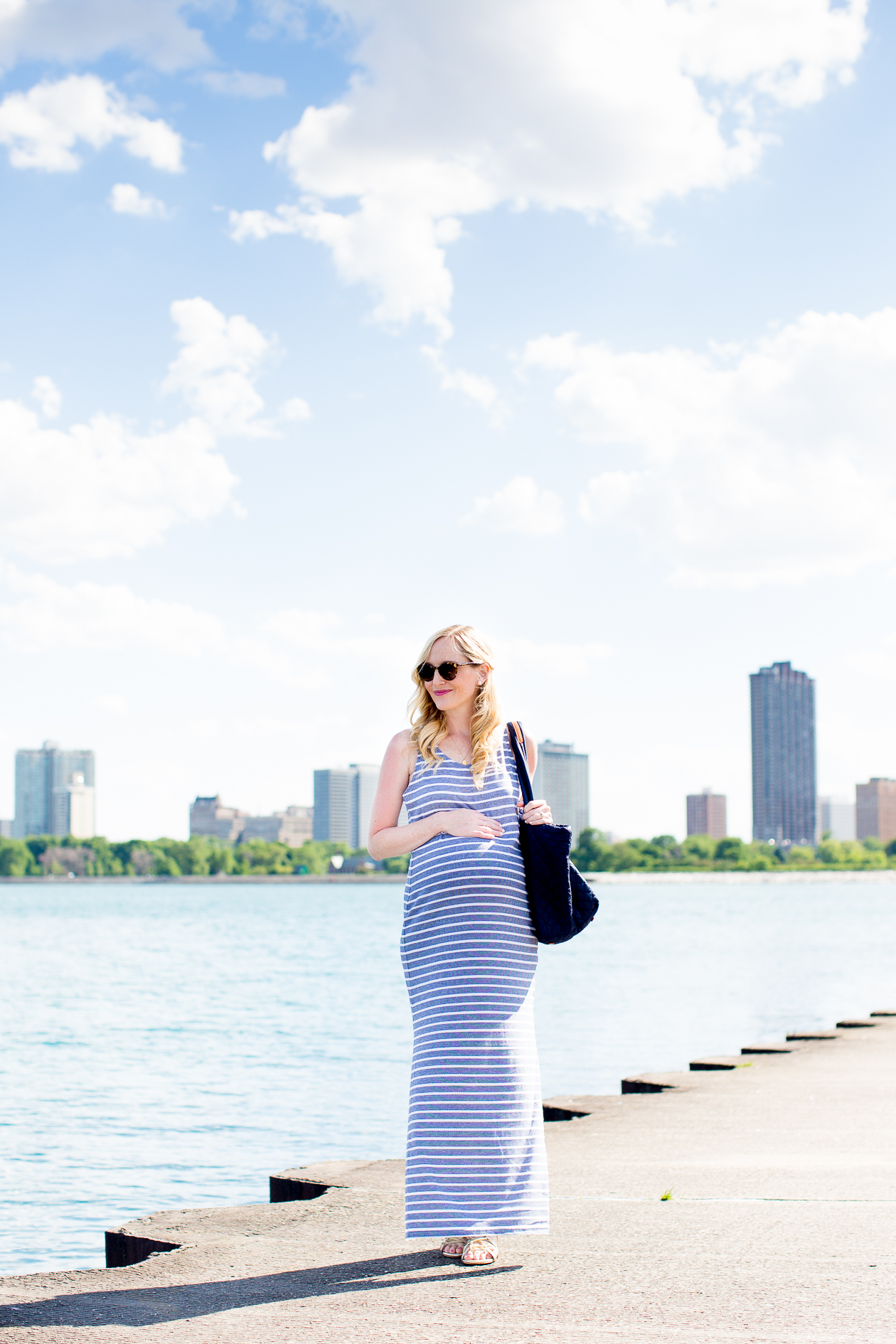 Sail to Sable Maxi Dress c/o / MZ Wallace Tote (Also available at Nordstrom) / Helen Ficalora Necklace c/o (Similar here, and how cute is this?!) / Moon and Lola Bangle c/o (Also available at Tuckernuck) / Similar Sunglasses / Similar Pearl Earrings / Clinique Chubby Stick ("Pudgy Peony") / Cecelia New York Sandals c/o

Woo! My whirlwind month of traveling is over. It was an absolute blast, but I'm so happy to be back in Chicago with Mitch and Noodle… and to have some stability and time to get things in order for Baby Larkin. :)
Some big news: the fireplace renovation was finished yesterday! It hasn't been painted yet, but you can see a photo of it here. We're thrilled with how it turned out, and we can't wait to share the "final reveal" of the space. Cross your fingers for next week! We're going to try to work as speedily as possible. It's about time we had a functioning living room!
Next up is the nursery. We're meeting with our contractor at 6:30 a.m. today (only time Mitch can do, as school starts early) to go over the plan… and with any luck, construction will start late this week or early next week. I can't believe that the house is actually coming together. It's been nearly a year!
Sail to Sable Faves:

Anyway, Mitch and I took some time yesterday to decompress, and walked along the water for a long time. (I wore the comfiest maxi dress from Sail to Sable, one of my favorite clothing companies of all time!) The topic of conversation? How it's hard to believe that come July, there will be three of us.
While it's easy to get caught up in how much there is to do in order to get ready, I love that we're trying our best to appreciate our last weeks as "just us." Tonight, for example, we're going out to dinner and seeing a concert… and we have a bunch of other plans with friends lined up for the rest of the week.
Stay tuned for a "Life, Lately" post tomorrow. I have so much to share! :)
Off to that 6:30 a.m. contractor meeting…
Shop the post:
Sail to Sable Maxi Dress c/o / MZ Wallace Tote (Also available at Nordstrom) / Helen Ficalora Necklace c/o (Similar here, and how cute is this?!) / Moon and Lola Bangle c/o (Also available at Tuckernuck) / Similar Sunglasses / Similar Pearl Earrings / Clinique Chubby Stick ("Pudgy Peony") / Cecelia New York Sandals c/o

Sail to Sable Faves: