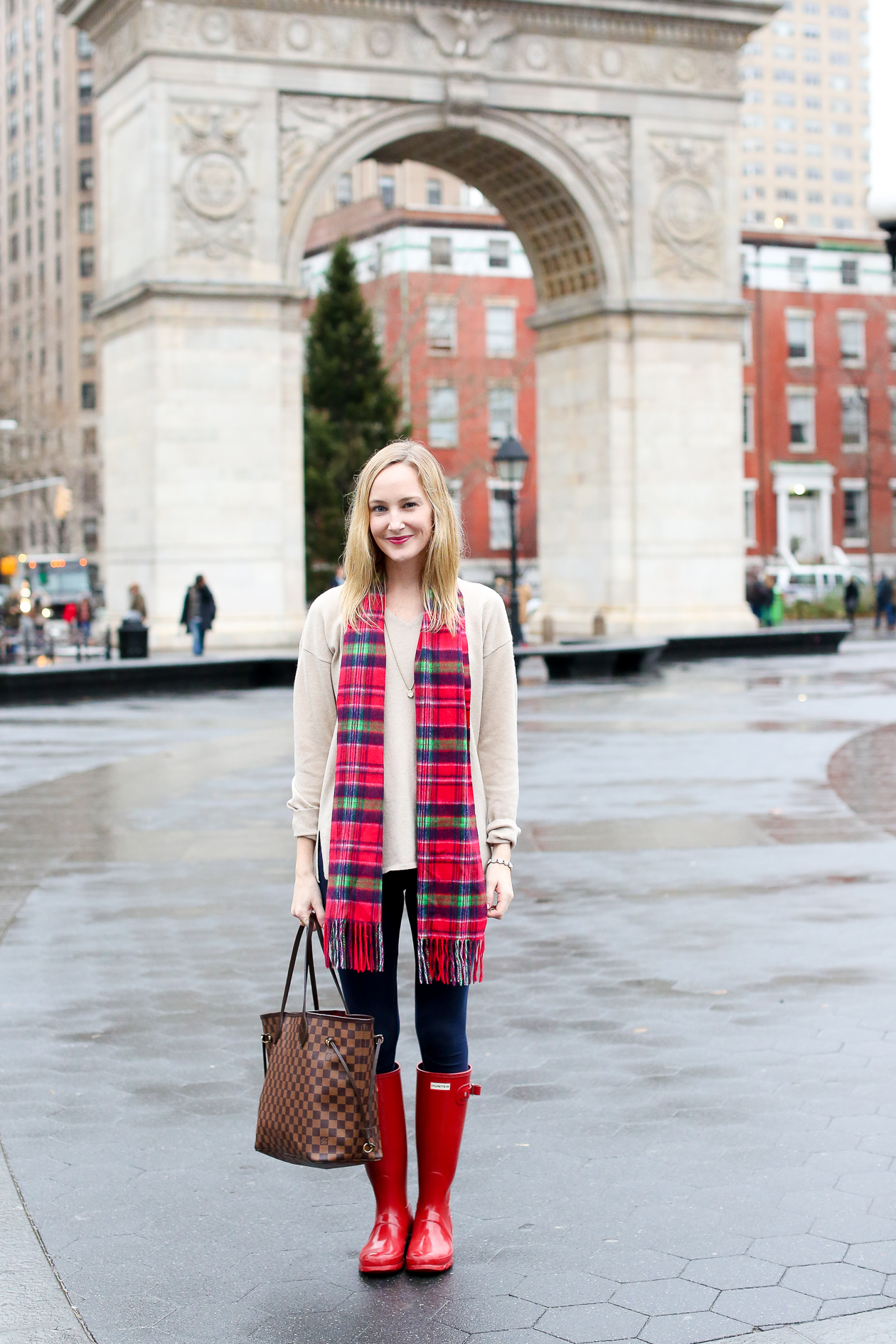 Hunter Boots (And how cute are these?! Guide to Buying Hunter Boots here!) / Vineyard Vines Leggings, Sweater and Scarf c/o (VV is now carried at Nordstrom, too!) / Louis Vuitton Tote (Buy it here or here) / Kendra Scott Necklace c/o / Moon and Lola Earrings c/o / Frizzy Hair c/o Nature
Hello from NYC! It's been a crazy whirlwind of a week with the drive to my parents' (which took SO long, since a huge portion of I-76 was closed), Sheehan Christmas on Long Island, and a little trip back to New York. We're headed to Vermont shortly, but for now, we're spending some time roaming around the Village in the rain and catching up with Shawn, Mitch's best friend.
(Side note: You should SEE our car, haha. I feel like we've been living out of it for the past week. Disaster.)
I mentioned this the last time we were in Manhattan, but it's beyond nice that my heart no longer hurts when we go back. I mean, I still feel little twinges of heartache, and there's always a bit of nostalgia present. Generally, though, going back is just fun now. I do, however, still dream of one day owning a tiny studio there so I can split my time between Chicago and NYC. But we should probably focus on rebuilding the basement first, huh? ;)
Anyway, hope your work week is winding down, and that you're enjoying the warmth. (I can't believe it's December 23rd and I'm not wearing a jacket! Who cares that it doesn't feel like Christmas? JOY.) And tune back in tomorrow for a REALLY fun post!