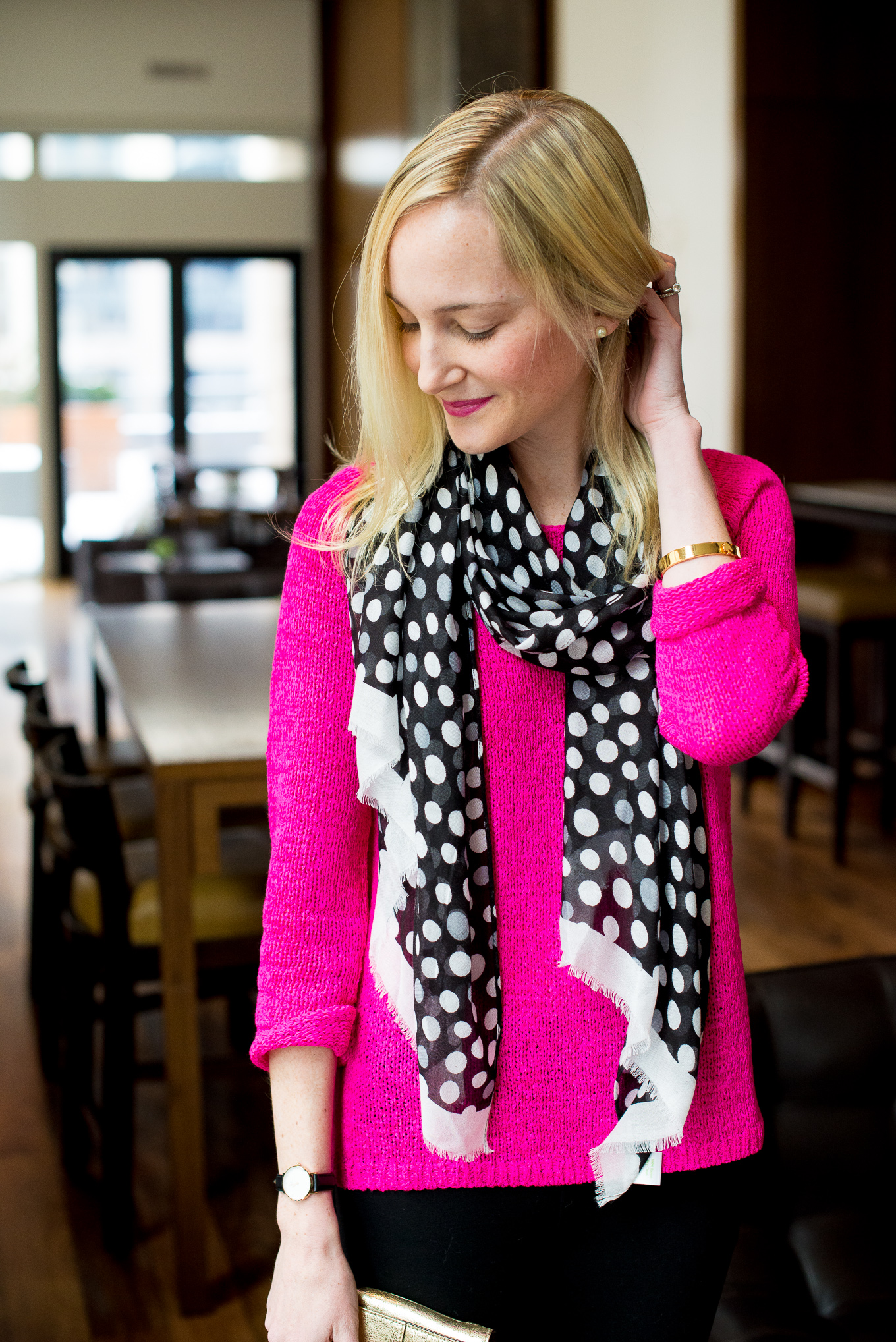 Lilly Pulitzer Sweater (A sale find!) / Vera Bradley Scarf (c/o) / Daniel Wellington Watch (c/o) / Kate Spade Clutch (Old, similar here) and Bangle / J.Crew Earrings / Zara Leggings (Similar here) / Prima Donna Pumps (c/o — Sold out, similar here)
Earlier this week, I had the pleasure of spending the day downtown at NoMI (the award-winning restaurant at the Park Hyatt Chicago) with Jess, Blair, Lauren and Erin. It was my first time there, and I was absolutely blown away by how gorgeous both the hotel and restaurant were! The next time you're in the city, you have to go. NoMi has been rated as one of the best restaurants in the world, and it has some pretty amazing views, too. Check it. ;) The food is truly outstanding!
It was also lovely to get out. Lately, because of the cold, I've been spending a lot of time in my home office. It's a great little space (especially now that I cleaned it out!), and Noodle and I take frequent walks around the neighborhood when it isn't -10 outside, but… it's always nice to have a change of scenery. And this was some really nice scenery. ;) Thank you so much for having us, NoMI!
Anyway, can we talk about how inspiring it is to be around and hang out with girls like Jess, Blair, Lauren and Erin? Actually, I feel like I "talk to you" about this a lot. Sorry! But I often can't get over that so many of my friendships have come from blogging. Blogging. This weird thing that I do online… and I've made real-life, wonderful friends from it. Some are in New York, some are in Chicago, and some are elsewhere–but I feel so blessed that I have this fun little network of ladies who continuously inspire me. They're so passionate about blogging, and have so many insanely original ideas up their sleeves. They keep me going, and remind me of just how many creative routes I can take. (Cue this song, hehe, and flashback to The Devil Wears Prada. Side note: my grandmother's neighbor is Lauren Weisberger's grandmother. How cool is that?!)
I just reread the above paragraph, and I realize now that it doesn't make much sense, haha. Whatever. You guys get what I'm saying. ;)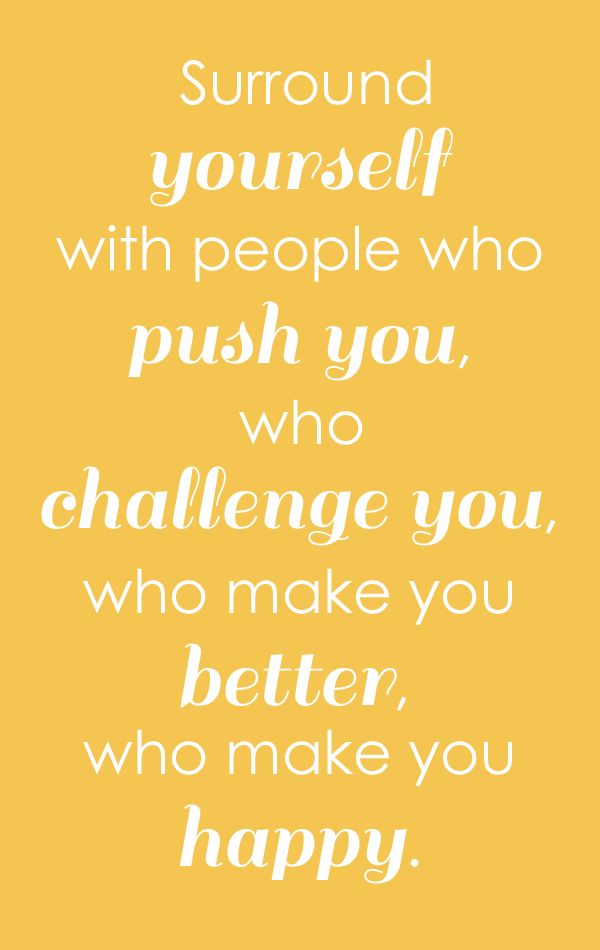 (Source)
And while we're on the subject of blogging, I should probably get to those work-related resolutions I promised, huh? Here we go:
1. Start regularly using different forms of social media; begin actually using Buffer or HootSuite. I love Instagram, but until recently, I found using Facebook, Pinterest, Twitter and Tumblr to be a pain. But I just started setting some time aside every day to manage my social media accounts… and I've been having a great time with it! Of course, I'm starting out slow and only spending a few minutes on each account, but I've been connecting with more readers than ever (something I love), and learning so much. Hopefully, I'll keep this up! I also want to start using Buffer or HootSuite, which are services that schedule some of your social media posts for when you're busy or on-the-go. (Have other recommendations? Please share!)
2. Follow other blogs again; get more involved in the online blogging community. I used to love following blogs. But ironically enough, I don't follow very many these days. (I think it's because I don't commute anymore, and that's when I did most of my reading.) I miss it like crazy! A couple of days ago, though, I loaded all my favorite blogs onto the homepage of my iPad, and I've been reading them at night. It's been so nice! BlogLovin' is also a great way to keep track of your favorite blogs, if you don't already use it.
3. Incorporate more travel and "lifestyle" posts; be more creative. Maybe I'm feeling this way because of the winter, but I'd love to become a travel blogger one day. (Probably won't happen, but DREAM BIG, haha.) I have a few trips lined up this winter–two to South Beach and one to Charleston–so I'm excited to cover those little excursions, at least! I'd also like to do some more lifestyle posts, whether it's home decor, city guides, or photography. I just want to start incorporating more of my actual life. There's more to me than my outfits!
4. Be more selective about what opportunities I take on, and so "no" more often. Sometimes I take on too much. (Don't we all?) And sometimes this prevents me from doing things I actually want to do. Or from having free time! So, yeah. I need to say "no" more often and not feel guilty about it. Having a life is important.
5. Line up posts in advance, and stop working at night. The dream is to have a week's worth of posts lined up. Sometimes I'm ahead, but way too often I'm sitting at my desk at 10 or 11 p.m., with nothing for the following morning. Come on, Kelly. Get your ducks in a row! And stop procrastinating.
6. Get control of my e-mail inbox. Good lord. For the life of me, I can't stay on top of it, and it's starting to significantly impact my life in a bad way. Sheesh. I've been thinking about sectioning off my days and tackling the inbox during set times. (A big part of my problem is that I often times put it off, as it's a bit overwhelming.) Any suggestions?
7. Set up a makeshift indoor photography "studio." #Goals. Chicago winters are the real deal! I'm totally down for quick outdoor sessions, but it sure would be nice to have the option to do it inside. I'd also like to improve my indoor photography stills in general. (This post is my first real go at it!) Wish me luck. :)
8. Use more widgets. Look, guys! I used one in this post! So fancy, hehe. (See above.)
9. Launch a big project. (So mysterious!) I have something I've been working on (on and off) for a while now, and I really want to get it off the ground this year. I want to start dedicating an hour or two to it every day, and perhaps launch in a few months!
10. VIDEO. Oh my goodness. I tried to film a tutorial about a month ago, and major fail. I'm just not great in front of the video, and need some practice. The quality of the video was pretty poor, too. I want to learn how to use my DSLR's video function… but it seems so complicated! I know, YouTube it. :) Apparently it can do some pretty amazing stuff!
Do you guys have any suggestions? Anything you'd like to see more of? I'm all ears! And thanks in advance!
Photos by Jess, Blair, Lauren and Erin. (Hehe. Funniest photo credit line ever?)