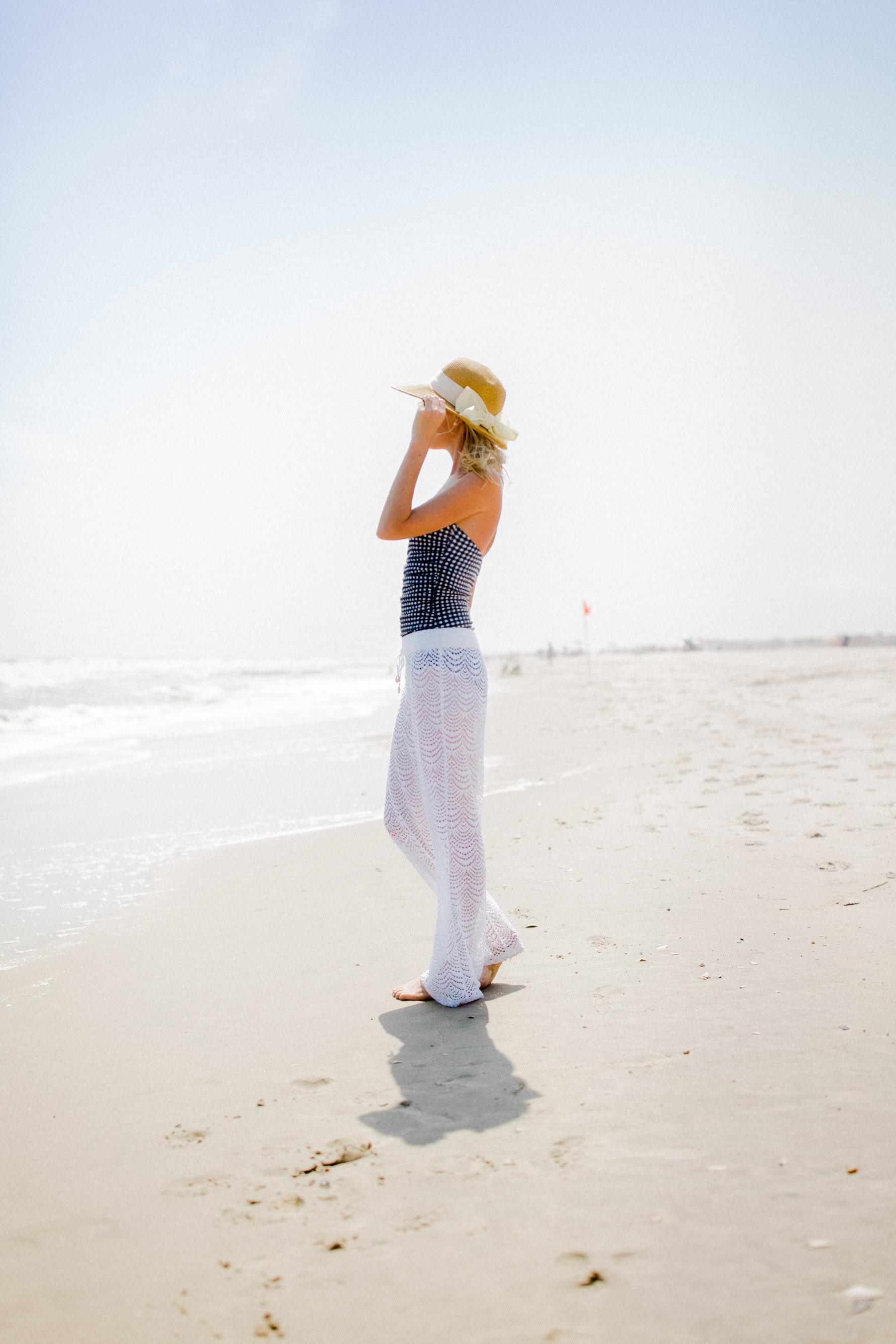 Lilly Pulitzer Brinkley Beach Pants / Gingham Bathing Suit (Factory version here and tankini version here. Also love this one, this one and this one! Great time to scoop up bathing suits on sale.) / Tuckernuck Straw Bow Hat c/o (Also comes in navy and black) / Lilly Pulitzer Beach Tote c/o (This one is adorable, too!) / Emma's Gingham Bathing Suit
We've been spending the majority of our days down by the water, and I've loved every second of it. You know how people sometimes say that the holidays become infinitely better when little kids are on the scene? I feel the same about the beach. Before Emma came along, Mitch and I would simply take long walks, sit in our chairs and read, and maybe take a dip every once in a while. Now, though, we're building sand castles, digging holes, running through the water, rolling around in the sand, and playing make believe. I'm reminded of the first time I visited Ocean City when I was eight years old, and my heart is full. :)
Needless to say, Emma LOVES the beach. But two questions for those of you with some kiddie experience: how do you prevent the baby from constantly being covered in sand… and how to you get said baby to keep her hat on? I'm thinkin' we need to use baby sunblock spray instead, since I'll be able to hit her scalp a little better, and maybe that'll help with sand sticking to her, too? Right now, we're just running into the ocean every 30 minutes for clean-off. As for the hat, I'm at a loss, haha. Rips it off her head every single time.
Anyway, I recently wrote about how much I love Lilly Pulitzer's Palazzo Pants in this blog post, but GUYS: this is the best beach cover up I've ever owned. And it's a pair of pants!
I'm a pretty modest girl, and I have to admit that I don't love bearing it all on the beach. I know, I know. I'm wearing a one-piece. But I don't usually take my pants off in the middle of the day, so I often feel like I'm standing there in my underwear when I'm in a bathing suit.
These pants, though, solve all my First World problems. They're relatively see-through but they provide a good amount of coverage, and they're insanely soft. I like that I can throw 'em on when decide to go from the beach or boat to a restaurant or store, too. And the scalloped pattern and seashell detailing on the drawstrings?! The cutest.
That's all for now, folks! More family arrives today so we're psyched. :) Have a great weekend; I'll be back tomorrow!
Favorite bathing suits

Brinkley Beach Pants

Beach accessories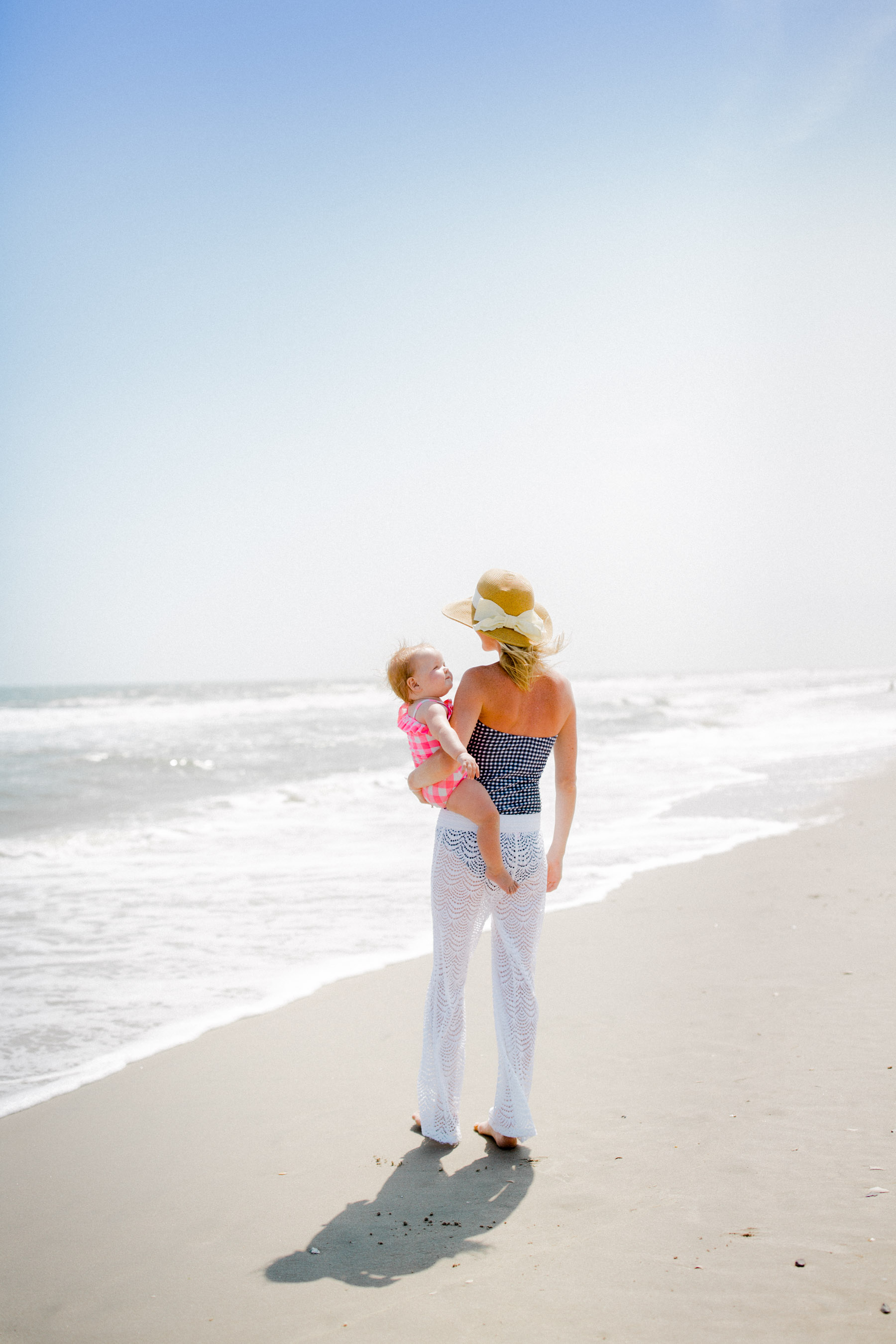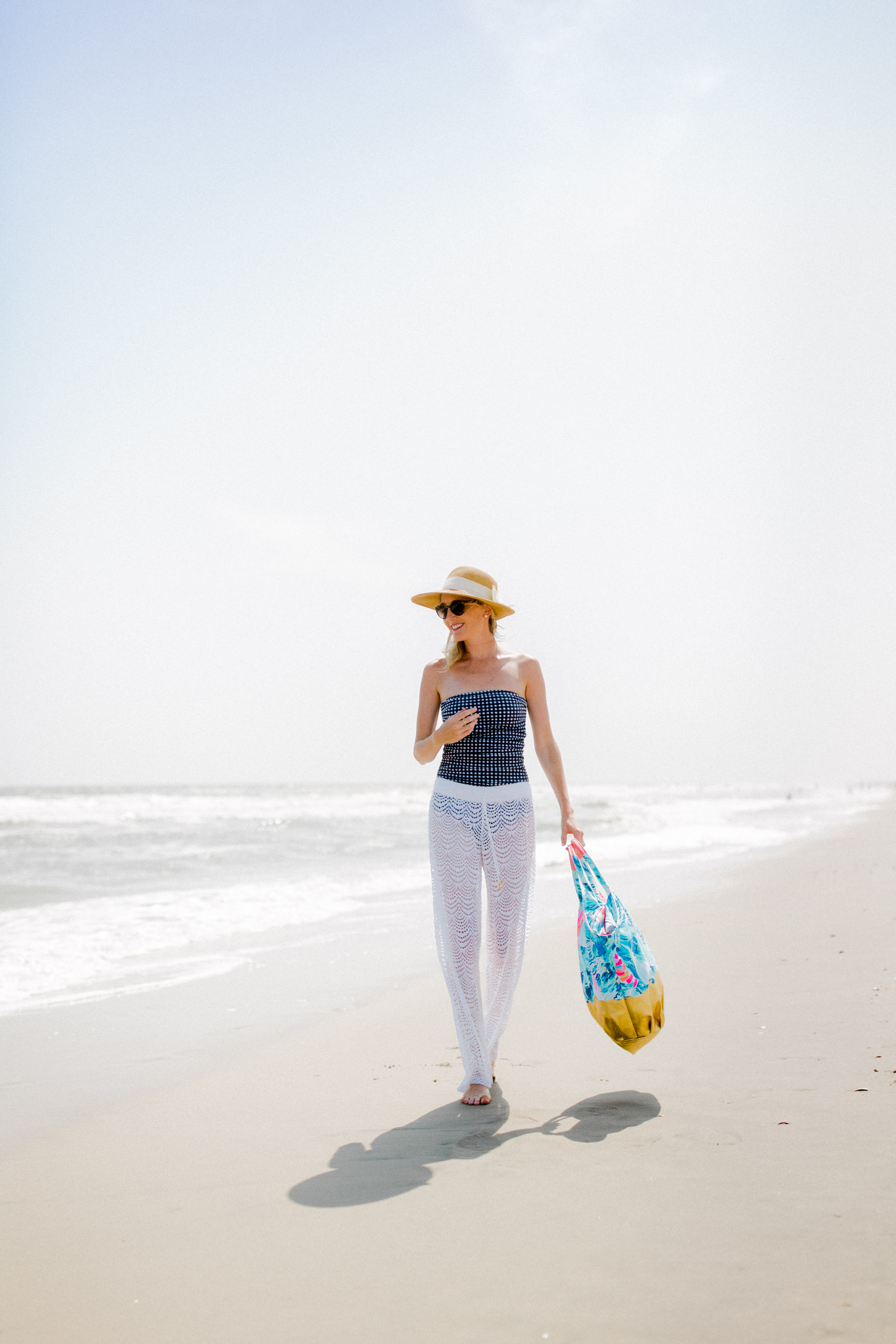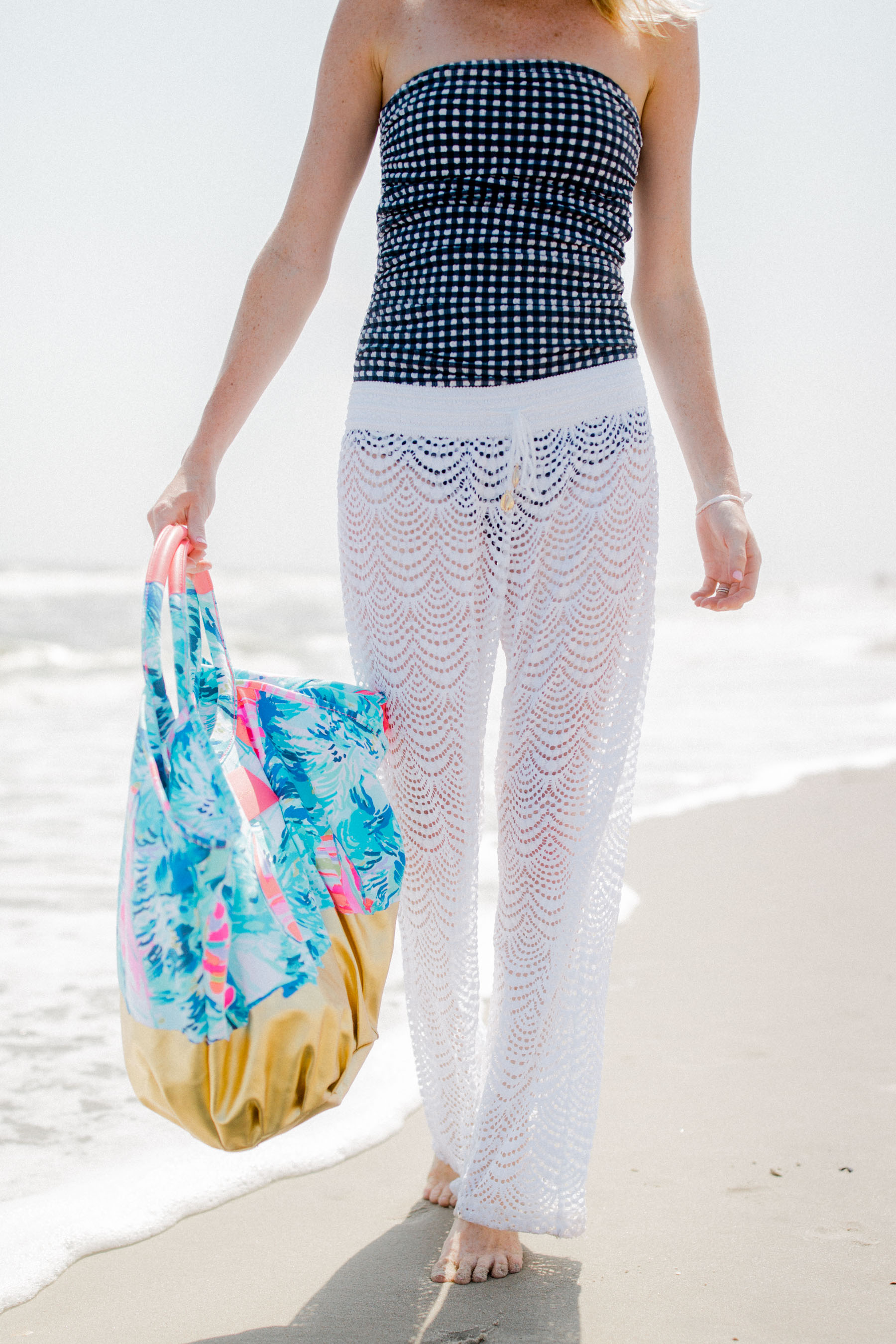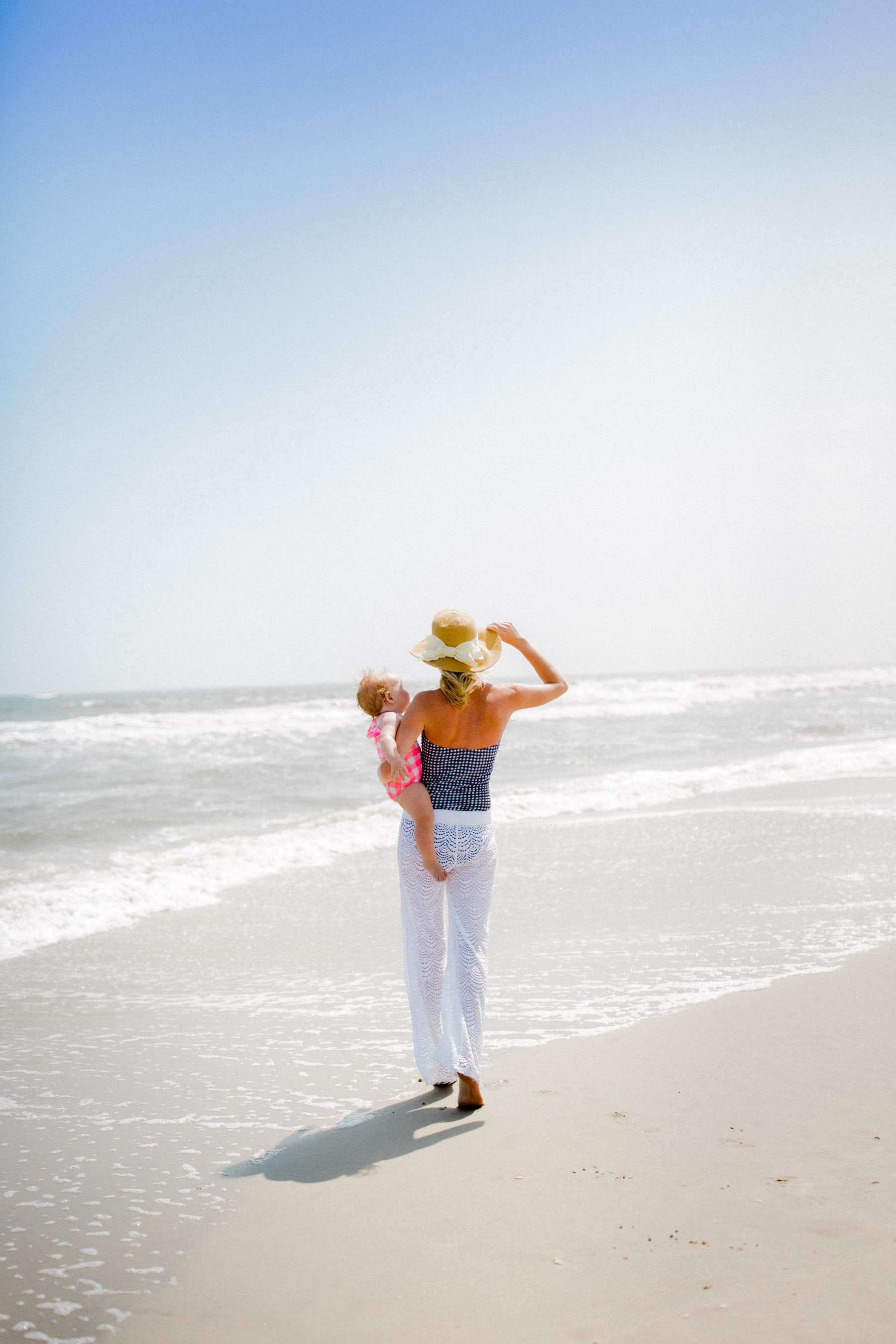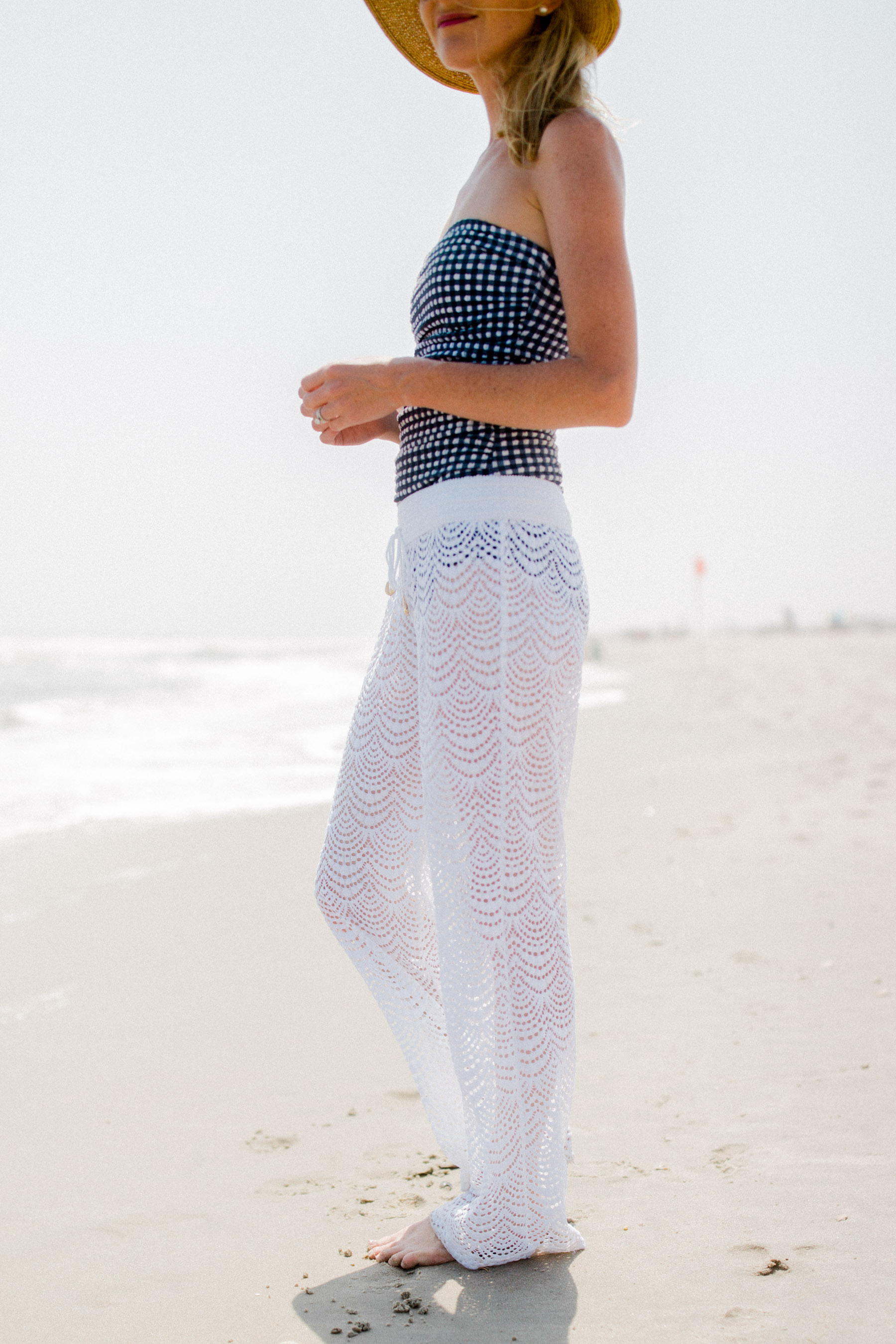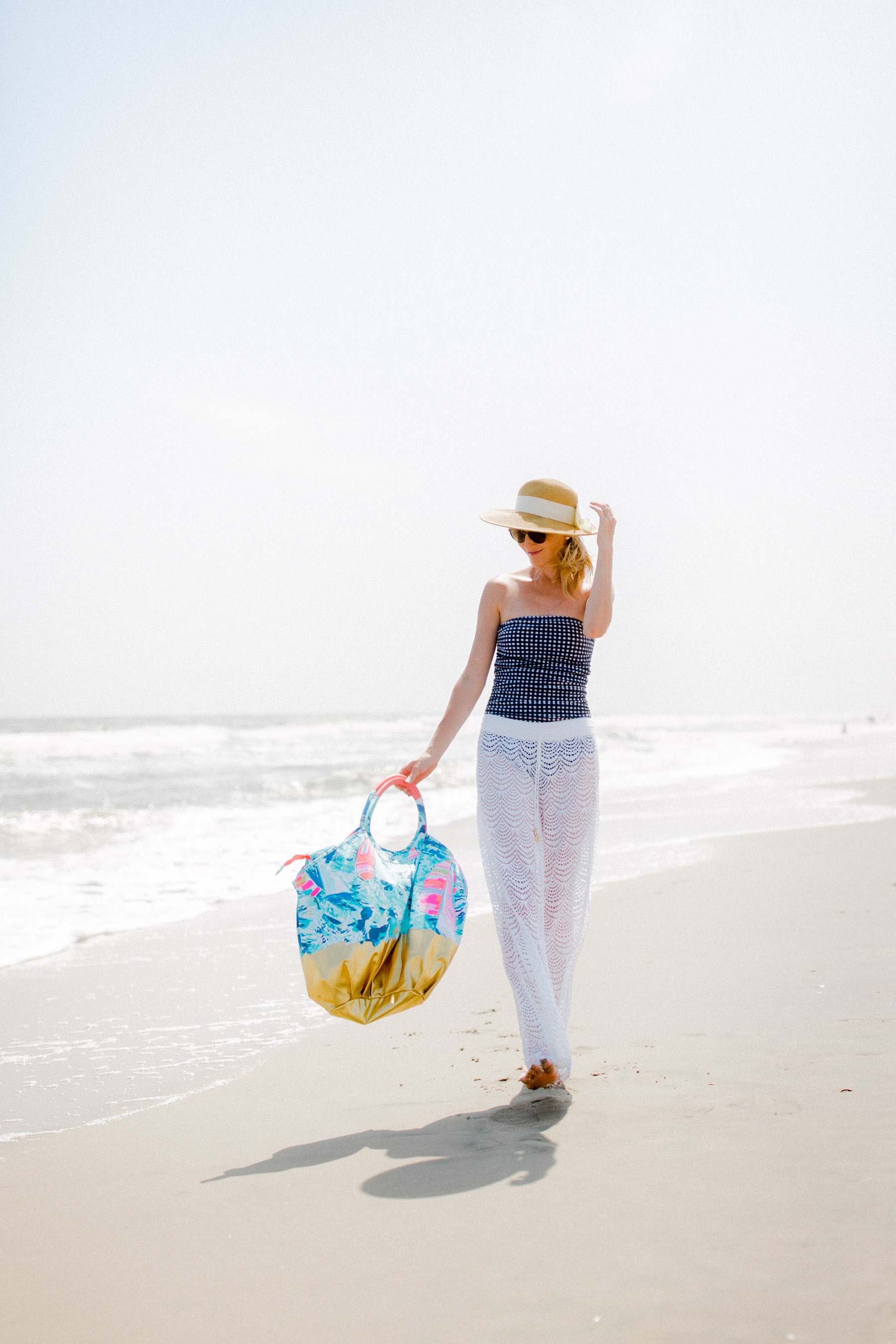 Shop the post:
Lilly Pulitzer Brinkley Beach Pants / Gingham Bathing Suit (Factory version here and tankini version here. Also love this one, this one and this one! Great time to scoop up bathing suits on sale.) / Tuckernuck Straw Bow Hat c/o (Also comes in navy and black) / Lilly Pulitzer Beach Tote c/o (This one is adorable, too!) / Emma's Gingham Bathing Suit
Favorite bathing suits

Beach pants

Beach accessories

SaveSave