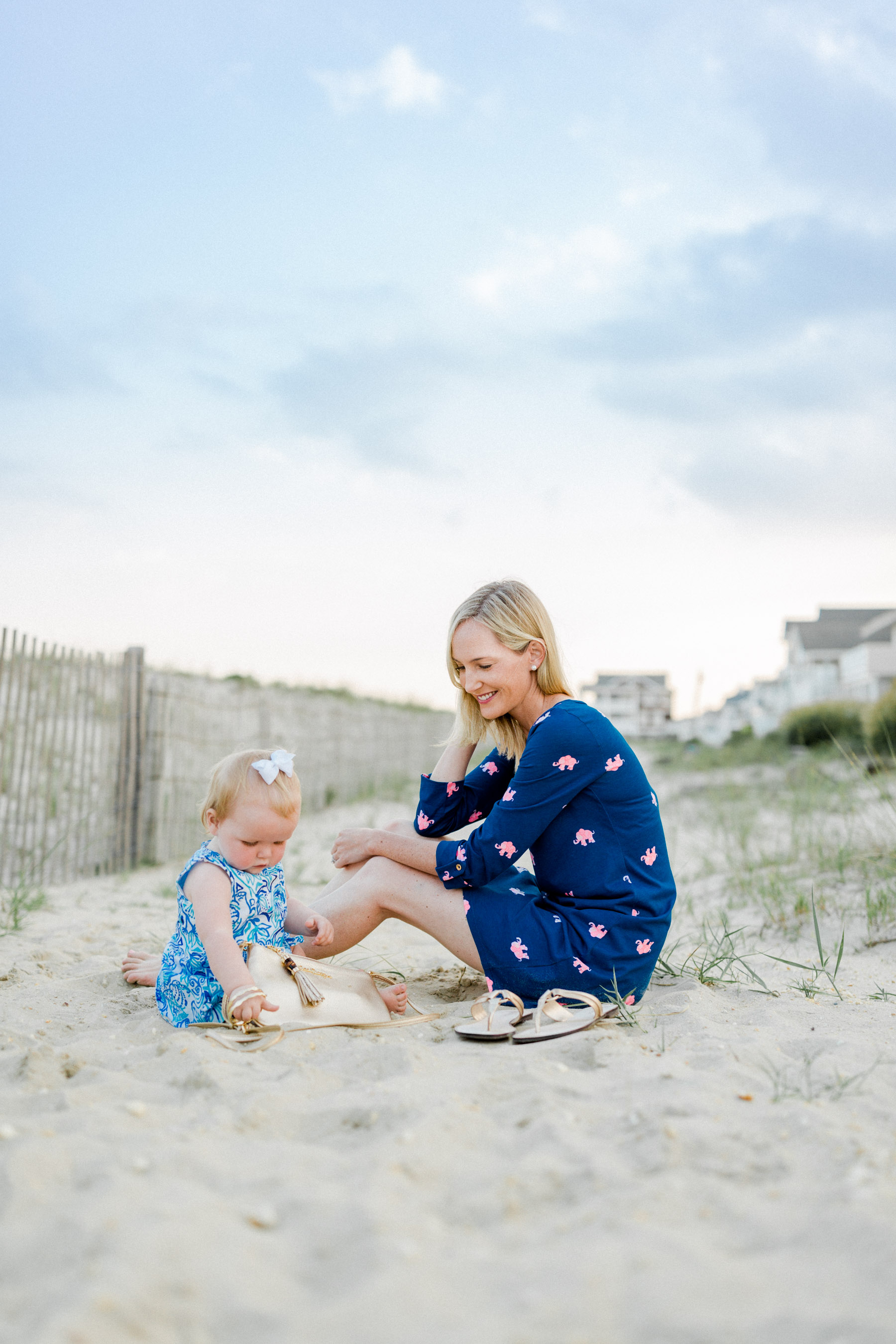 Lilly Pulitzer Ocean Ridge Elephant Dress (And there's a top in the same print! Have you seen the new elephant print collection?! Also love the alligator t-shirt dress, the sailboat t-shirt dress, and the navy swing t-shirt dress! Okay, and also the Marlowe t-shirt dress in "Multi Sea, Salt and Sun"), Sandals (Wedge version here), Bracelet (It's actually an arm cuff but I didn't realize; love this one and this one, too!), Crossbody Bag (Also love this one and this one) / Emma's Lilly Pulitzer Baby Shift
I wore this easy outfit for date night in Cape May on Wednesday. Mom and Gram put Emma to bed for us, and then we went out for cheapo lobsters–there's such a thing!–at our favorite casual restaurant.
Before we left, though, we played on the beach for a while with Emma, who's still thoroughly obsessed with eating sand. ;)
Side note: Mitch is currently writing a blog post about visiting Ocean City's boardwalk, and it's the BEST. I'm hoping he's able to push it live sometime this weekend, so tune back in soon! Ah, Mitch posts. Why can't they be a daily thing? (Hint, hint… 😂)
Back to the outfit, though:
My dress sadly JUST sold out, but the brand just came out with a top version, which is so cute–and arguably more versatile right now, as fall is just around the corner.
Lilly Pulitzer also has SO many awesome t-shirt dresses currently in stock, and I've linked to my favorites below. I love that they're comfy and can be dressed up or down depending on accessories and hair. Speaking of hair, did you see yesterday's post? That's what my locks look like when I let 'em air dry. 🙈 Any product recommendations for taming frizz? I currently use nothing and I'd love to add something (that actually works) to the routine!
Okay, back to Beach Life. ;) Happy Friday!
Favorite T-Shirt Dresses

Lilly Accessories

Lilly Baby Shifts

Shop the post:
Lilly Pulitzer Ocean Ridge Elephant Dress (And there's a top in the same print! Have you seen the new elephant print collection?! Also love the alligator t-shirt dress, the sailboat t-shirt dress, and the navy swing t-shirt dress! Okay, and also the Marlowe t-shirt dress in "Multi Sea, Salt and Sun"), Sandals (Wedge version here), Bracelet (It's actually an arm cuff but I didn't realize; love this one and this one, too!), Crossbody Bag (Also love this one and this one) / Emma's Lilly Pulitzer Baby Shift
Favorite T-Shirt Dresses

Lilly Accessories

Lilly Baby Shifts