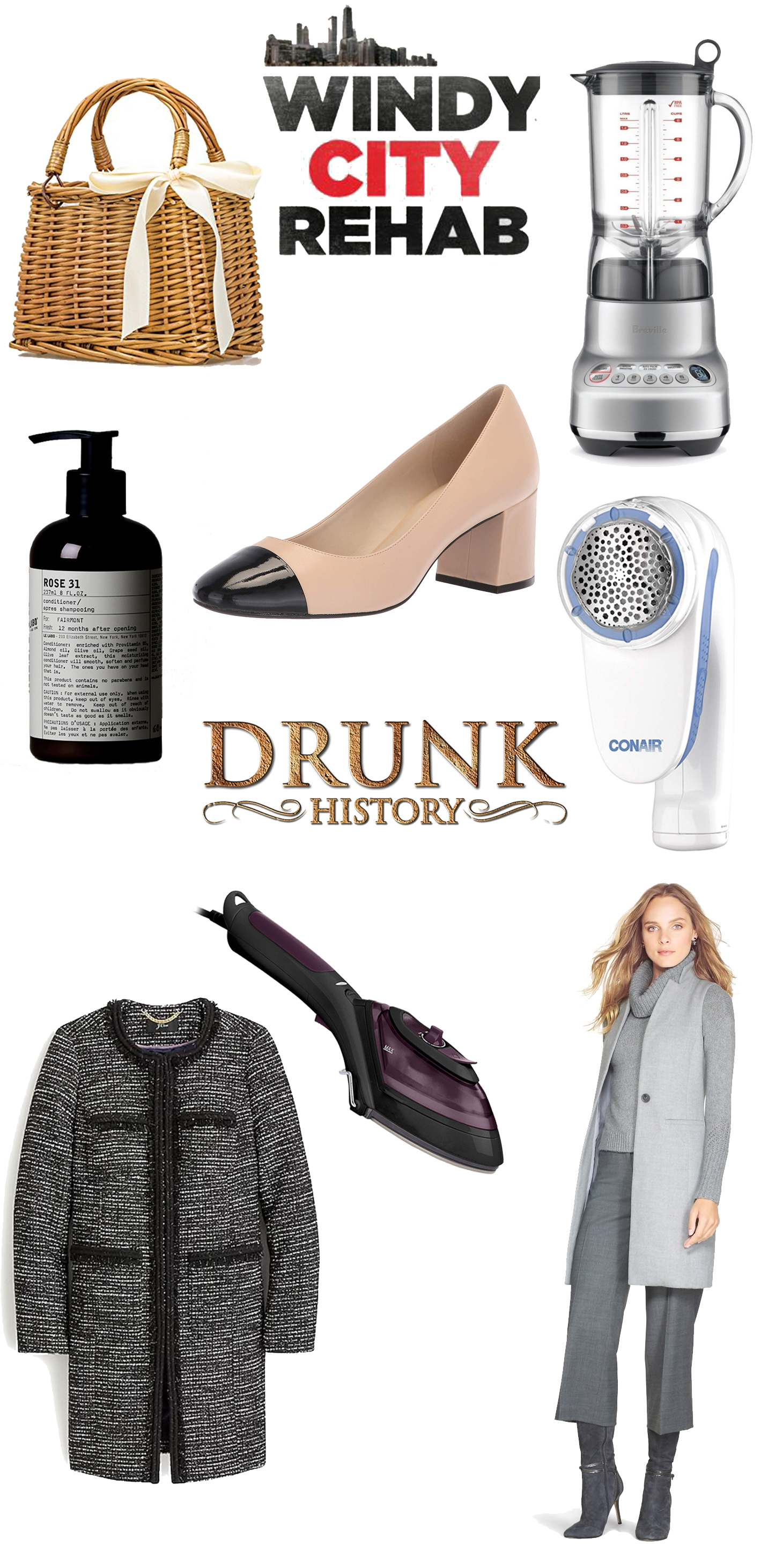 I have a fun little post for you today. Ten things I've been loving lately… and I'm giving away one of them. Interested?! Read on. ;)
I ordered this after seeing it on Meg Hall's Instagram Stories a few weeks ago. Also, I used to have a mini one that my aunt gave me, but lost it years ago… and was like, "YES. I NEED THIS." (To save what sweaters I kept during the KonMari clothing clean-out.) I'm so glad I got it. I love my little collection of cashmere sweaters; I live in those pieces during the winter since they're warm yet so soft. But cashmere pills, and after a while, even the best sweaters will start to look a little drab. This defuzzer, though, is awesome. It's quick, doesn't eat your clothing, and it's easy to empty. Two thumbs up! My sweaters look awesome now. Thanks, Meg!
This is the giveaway item! First, the name makes me crack up. Second, it's a Breville, which means it's dope. Third, it's unbelievably powerful yet quiet… and really easy to use. (Don't you feel that sometimes the nicer appliances end up being way too confusing?) Anyway, Breville sent us two recently; one for us to keep and one to give to you! So if you'd like it, simply comment in the below comment section with your email address in the following non-spammy format so the robots don't find you: kelly [at] gmail [dot] com. That's it!
Mitch and I are currently addicted to this show! As the name suggests, it's filmed right here in Chicago, and it follows a designer and contractor on their incredible house-flipping journeys. One of the episodes was actually filmed RIGHT around the corner from us, and we were able to witness the makeover in realtime. It was incredible! Anyway, the show is great, and I highly recommend. She's a riot, too!
Packed this for Florida and SO excited about it. I'm pretty much the last in my group of friends to still use an iron; everyone else is steamer-obsessed. So while I didn't buy a full-sized steamer–because I'm hoping to get some recommendations from you!–I did buy this little travel steamer for our trip. I liked it because it's a steamer and iron in one. :) Honestly, I don't know what I'm expecting… I suppose that the steam won't be powerful enough to get my wrinkles out?! 😂 But yeah. I like the iron backup part. Do you have any recommendations on full-sized steamers? Interested in making the switch if I have a good experience with my little guy.
I rediscovered this when I was cleaning out my closet, and now it's back on regular rotation. I love it. It's so flattering, especially since I'm pretty big in the middle right now, haha. It's unfortunately been sold out for a few years now, but I really like this one and this one from eBay. So amazingly affordable!
I'm embarrassed to have you discover how much my conditioner costs, but here's my justification:
It's AMAZING. If you've been reading here for a long time, you know how self conscious I am about my hair. It's thin and baby fine, and I over-processed it for years, which has left the bottom portion dry and brittle. I use Olaplex on the reg, which has made a big difference, but this conditioner leaves it soft and shiny and eliminates frizz, too. I really can't get over how gorgeous my hair looks when I use it. It's a miracle product.
I use $5 shampoo from the drug store, so that kind of evens things out. I tried the Olaplex shampoo and conditioner, which are new, but really didn't find them to be worth it. So cheapo shampoo (unless you can recommend a miracle one!) and Le Labo conditioner it is!
I don't spend much on other beauty products. I do own a fair amount of samples that have been sent to me from brands, but I buy very few products on my own outside of foundation–which doesn't need to be replaced that often!
It's boosted my confidence and improved my hair's health. My hair is so soft and tame now that I largely let it air dry, which has really helped with its healthiness. I'll blowdry it for maybe two minutes once it's mostly dry just so I don't have crazy curls or waves… and occasionally run my straightening brush through it a couple of times, but that's it. Far less heat than before!
It comes to only $56 with code "GOFORIT," which is an unheard of price. Isn't it adorable?! I think it would look great just with a simple blue-and-white-striped button down underneath. Very Jackie O.!
I'll admit it: I would love a pair of Chanel flats one day. One day. ;) For the time being, though, I love these chunky pumps that look very similar. Because they're Cole Haan, they're comfortable… and honestly, I think the block heel makes them more versatile. I typically like a little height when I'm going out in the evening or attending events, so this makes the lookalikes the perfect day-to-night shoe!
Another show we've been watching a lot. They film/record themselves drunkenly recounting historical events, and then recreate the scenes later on, often with famous actors. The professional production value makes it extra hilarious. A+ from the Larkins!
Is this not the cutest little bag to bring on a vacation?! And it's only $35, available via Prime.
Would love to make this a regular series. Any random things you're loving right now?!