I'm no stranger to cold weather. When you live in Chicago, you become used to some pretty unforgiving winter weather, that typically includes freezing cold temperatures. Believe me, I know cold!
Fortunately, I'm pretty good about dressing for the weather. My winter wardrobe includes an array of warm and cozy winter staples, and a fleece jacket is DEFINITELY one of them… or two or three.. You get the picture :) 
It's no wonder that fleece jackets are considered a cold weather staple, given how incredibly warm and comfy they are. Fleece jackets are also usually water-resistant, durable, and easy to care for. 
However, there are still certain steps you'll want to take to make sure your fleece jacket stays in good shape. Otherwise all those tiny fibers will start fuzzing and pilling. To help you keep your fleece jackets in pristine shape for a LONG time, I'm sharing some super helpful, yet practical tips.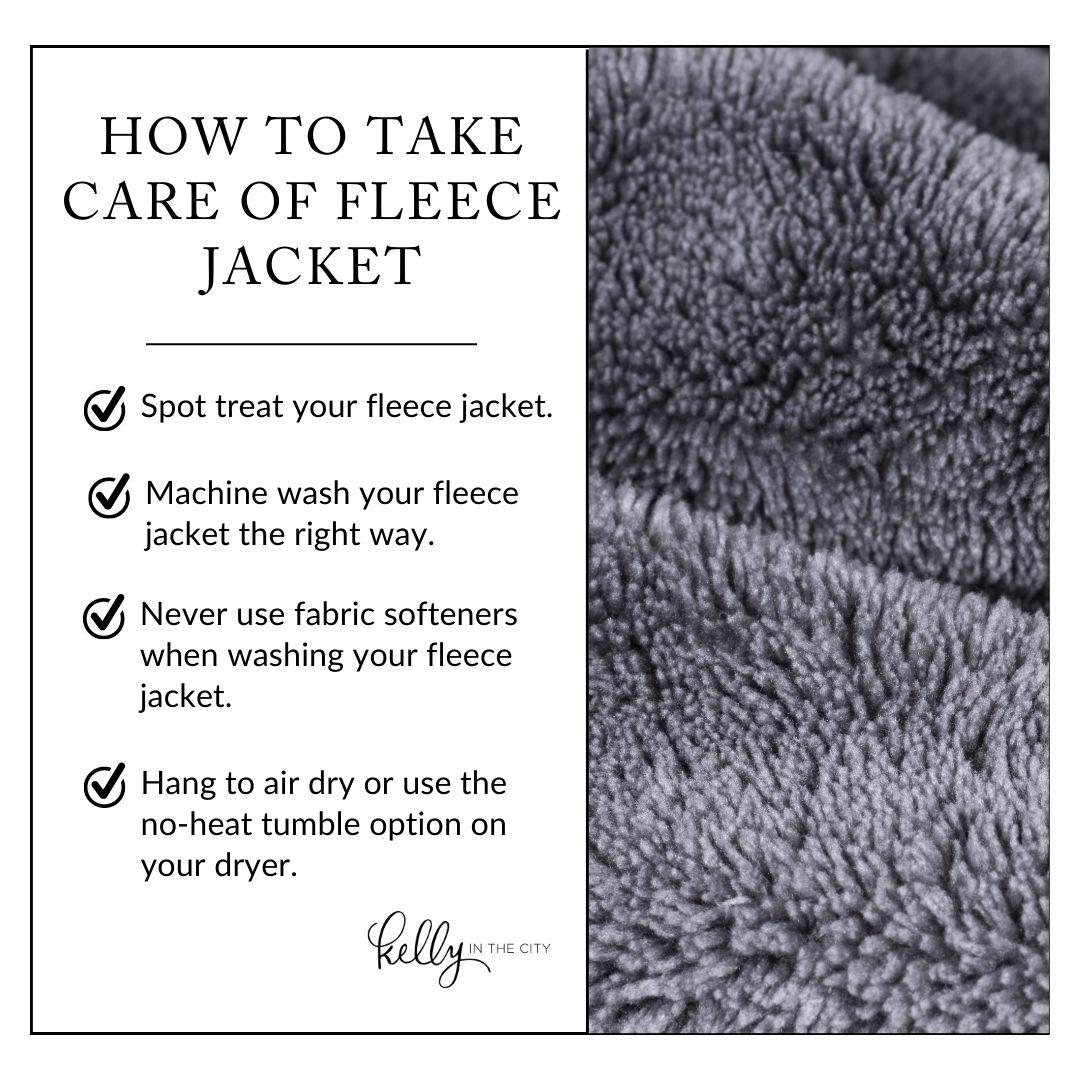 How To Take Care Of Fleece Jacket
Spot treat your fleece jacket.
Spot treat your jacket with stain remover, soap, and water. You can also use just a little bit of dish detergent. Soak it in cold water for 15-20 minutes. Then, use a lint roller to remove any bigger pieces of lint or other debris.
Machine wash your fleece jacket the right way.
After you spot treat your fleece jacket, if needed, you'll want to turn it inside out and separate it into a fleece-only load. Separating it ensures everything you're putting into your washing machine has a similar weight and texture. 
Then, wash it on the gentle cycle with cool water. Use a mild detergent. If you prefer, you can also hand wash your fleece jacket using a mild detergent and cold water. Either way, be sure to avoid using hot water.
Never use fabric softeners when washing your fleece jacket.
NEVER use fabric softener or bleach when washing your fleece jacket. I mean, it's not the end of the world if you do, but you definitely want to avoid it to keep your fleece in good shape. 
Hang to air dry or use the no-heat tumble option on your dryer.
Take your fleece jacket out of your washing machine as soon as possible once the washing cycle is complete. Then, hang it in a well-ventilated area to air dry. You can also put your jacket in the dryer, but be sure to use a no-heat tumble dry option.
If all of this seems too overwhelming for you, there's nothing wrong with dry cleaning!
How Often To Wash Fleece Jackets
Like most other outerwear, fleece jackets don't need to be washed after every wear. In general, a fleece jacket can be worn six or seven times before it needs to be washed. 
However, if you notice a stain or an odor after fewer wears, don't hesitate to give your jacket a run through the washer.
Different Types Of Fleece Jackets
Fleece fabrics are made from different materials, each of which affect the thickness and plushness of the garment. These are some of the different types of fleece you'll find.
Cotton Blend/Cotton Fleece
Cotton or cotton blended fleece is the most common type of fleece used for sweatshirts and sweatpants. This kind of fleece is smooth on the outside with a plush inner layer.
Polyester Fleece
Polyester fleece is similar to cotton fleece in that it's smooth on the outside with a plush inside layer. What makes them different is that the outer layer of polyester fleece looks shiny. Polyester fleece also repels moisture better.
Lycra Spandex Fleece
Lycra spandex fleece fabric is a blended material that is made mostly of cotton, with just a small percentage of Lycra spandex. The Lycra spandex gives this material some stretch, which is why it's commonly used for fitted clothing and performance fleece clothing. 
Microfleece
Microfleece is double-sided and super lightweight. It's thin and super soft, and effectively wicks moisture away from the body, which is why it's a popular fabric for workout and exercise clothing.
Polar Fleece
Polar fleece is a very thick fleece material that is commonly used to make blankets and jackets that are meant to be used in super cold weather.
French Terry Fleece
French terry fleece is thinner and lies flatter than most other types of fleece. This is because it's unbrushed, and therefore lacks the classic fluffiness. 
Slub Fleece
Slub fleece is actual knitted material made from two different sized yarns twisted together. The resulting fabric has a more textured look to it.
Sherpa Fleece
Sherpa fleece is made entirely of polyester. It's very fluffy in appearance, because it's supposed to look like wool fleece. Sherpa fleece is often used to line clothing for extra warmth.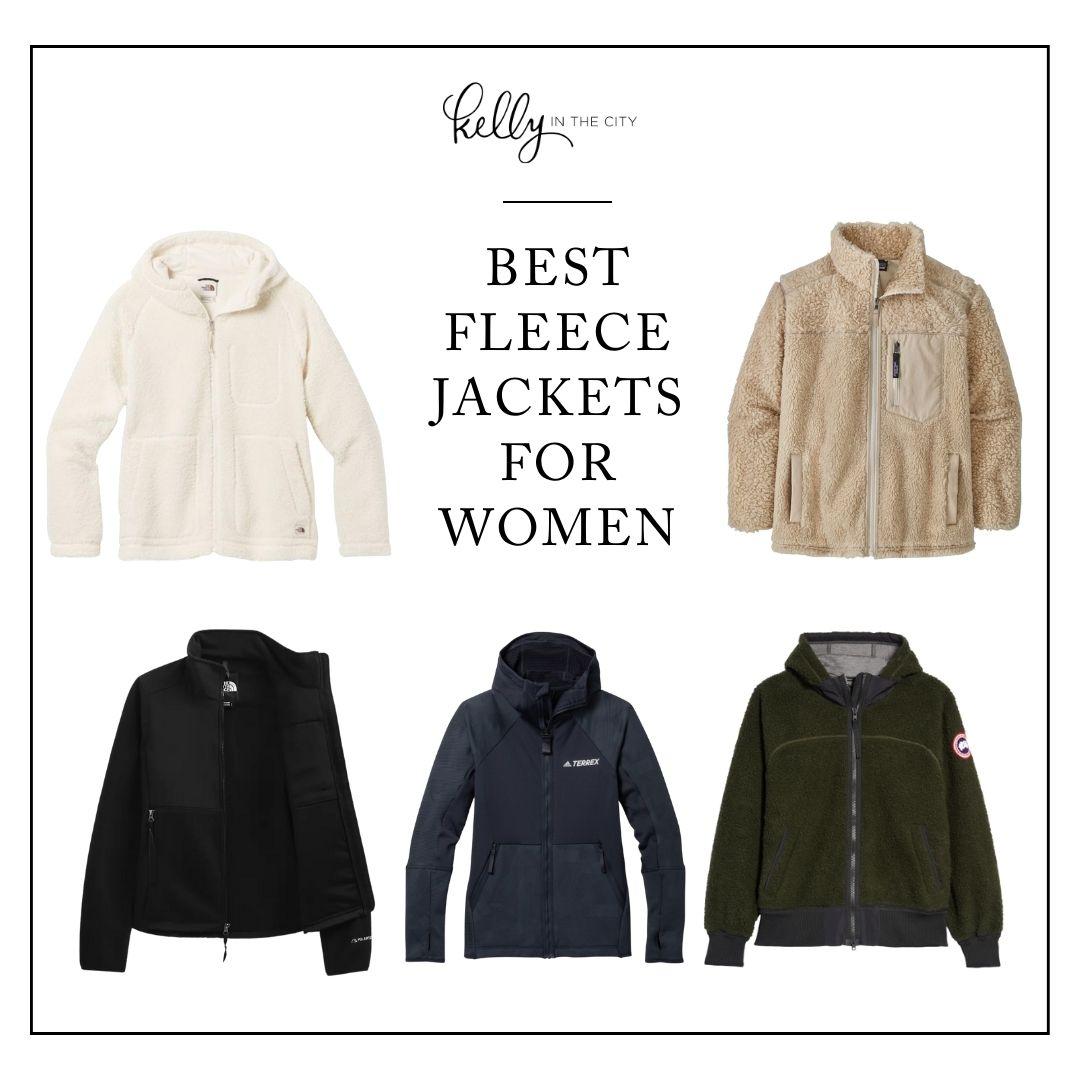 Best Fleece Jackets For Women
The Benton Springs Full Zip Fleece Jacket from Columbia is a classic 100% polyester fleece jacket. It has zippered hand pockets and a drawcord on the inside that allows you to adjust the waist. 
You can choose from a bunch of different colors, but of course, you can never go wrong with black. This fleece jacket is great for layering but definitely warm enough to wear on its own.
The Fire Side II Sherpa Full Zip Fleece is another quality fleece jacket from Columbia. It's currently on sale for as much as 50% off! 
The fabric for the Fire Side II Sherpa is described as "hourglass high pile fleece" but the important thing for you to know is that it's 100% polyester. Like the Benton Springs jacket, this style comes in a variety of colors, but this one will keep you even warmer. 
The Columbia Archer Ridge Long Fleece Jacket proves that dressier, wool overcoats don't have to be the only jackets reaching your knees. This polyester sherpa fleece jacket provides even more coverage to keep you warm and cozy on those EXTRA frigid days.
I included the Patagonia Retro-X Jacket in my Valentine's Gifts for Her post because I adore the "teddy bear" look of it. This heavier, full-zip coat was made to keep you warm on cold days. It's made from 100% recycled polyester fleece, with a 100% nylon pocket overlay. Plus, it has a special finish that will keep you dry even when it's snowing or raining.
I love Patagonia jackets and the Los Gatos Fleece Jacket is one of my favorite fleeces. It has a surprisingly flattering fit for a cozy, high-pile fleece jacket. But it does run a bit big so I recommend sizing down for a truly flattering silhouette.
The North Face is another brand you can trust for high-quality cold weather gear. The Women's Denali Jacket is made of 100% recycled polyester knit fleece. It also has a 100% recycled nylon overlay with a water-repellent finish. 
All that means for you is that this classic fleece is perfect on its own, or as another layer, when you want to feel warm but not weighed down.
Here's a medium-weight option from The North Face that I also really like. The Ridge Full-Zip Hoodie is made of sherpa fleece. It features a hood for extra warmth as well as a more relaxed fit for ultimate comfort.
The Adventure Awaits fleece jacket from Free People is everything you want a super cozy jacket to be. It's more of a sporty-style jacket with a stand collar and hood. It's made of 100% polyester fleece.
I love it because the collar/hood combo adds another element of protection from freezing Chicago temps. But you can also remove the hood on warmer days.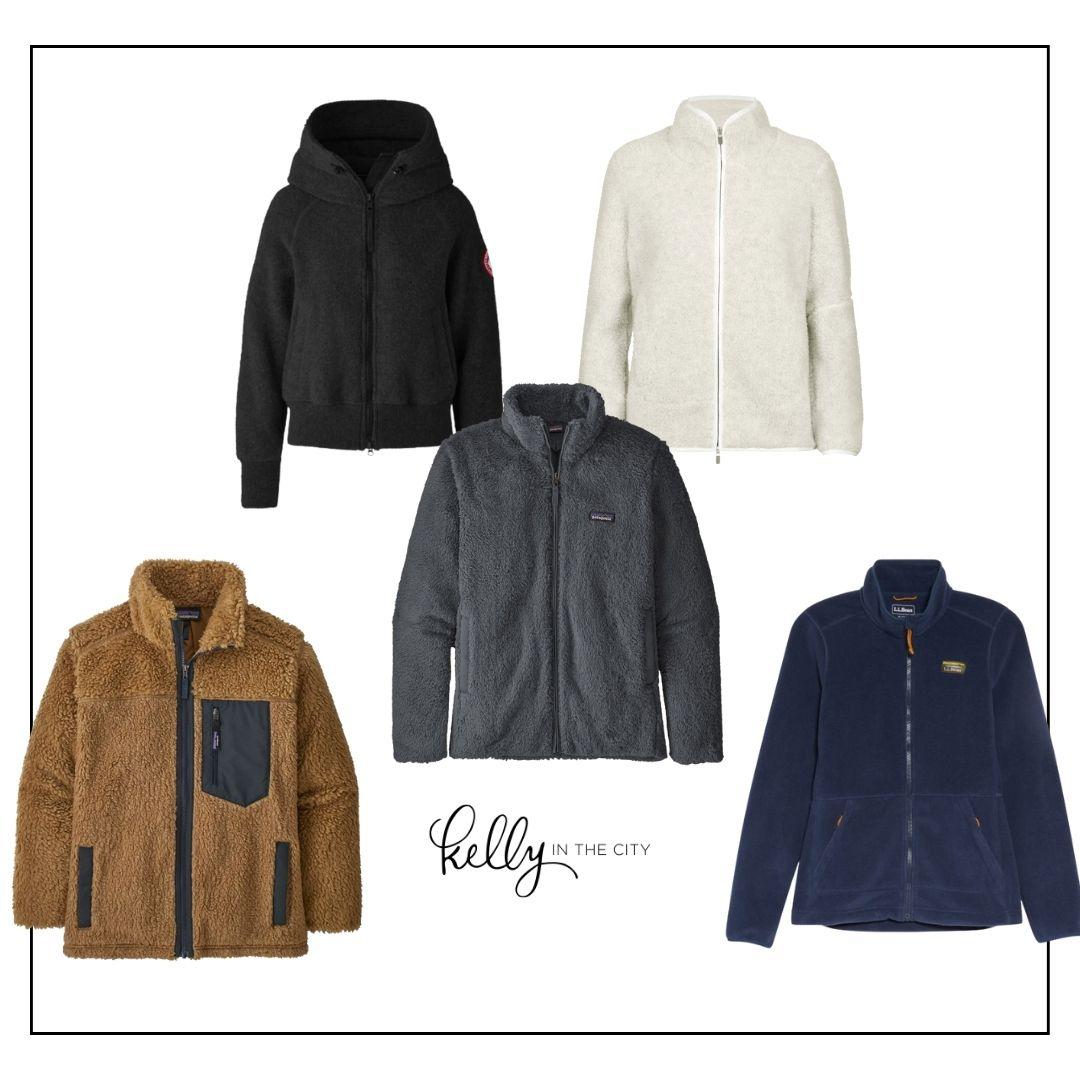 Here's a fleece jacket that was designed to be worn on cold hikes, so you just know it's going to keep you protected from the elements. It has "honeycomb-backed fleece" to protect your core, and a heavier, denser fleece at the shoulders and lower back. So even the whipping winter winds in the city can't get to you through this jacket.
Icebreaker went the extra mile with this fleece jacket. Their RealFleece material is brushed merino wool that is unbelievably soft and super warm. But to keep you from getting TOO warm, the inside of this jacket is lined with their Cool-Lite material which is breathable and moisture-wicking. You really do get the best of both worlds with this one.
The L.L.Bean Mountain Classic fleece jacket is true to its name. I feel like it doesn't get more classic than this. The Mountain Classic fleece somehow manages to be both lightweight and super cozy at the same time, likely because it's made from 100% recycled polyester.
The Cozy High Pile Fleece jacket from Vuori is a modern twist on the classic fleece. Its high-pile fleece is made of 74% recycled polyester and 26% polyester. Together with a stand collar, you can bet this fleece jacket is so comfy, you'll never want to take it off.
My Canada Goose puffer jacket is one of my absolute FAVORITE jackets ever, so it probably isn't too surprising that I'm also a fan of the brand's fleece jackets. Their fleece jacket is incredibly cozy and I love the oversized fit. It's made of 52% wool, 39% polyester, 5% polyamide, and 4% other fibers. 
I had to include another Canada Goose fleece because they're such good quality jackets. The Chilliwack Fleece Bomber is made from a fabric unique to the brand, called Kind Fleece. Kind Fleece is crazy soft yet breathable.  There's also a wind guard under the front zipper and an adjustable hood to ensure no cold air gets in! This jacket is made with 62% recycled wool, as well as Lyocell, Polymer, and Polyamide. 
I had to include the Maud High Pile Fleece Hooded Jacket from Helly Hansen because it has a longer hemline that I adore. This midweight jacket has a comfy, relaxed fit with a stand collar and hood. It's made from 100% recycled polyester.
Taking good care of your fleece jacket ensures that it'll stay just as warm and cozy as it was the day you bought it, for many years to come.
Taking the time to take proper care of your fleece jacket means that it'll not only look great, but it'll feel great, for so much longer. Then, you can feel good about investing in a good quality fleece jacket. 
You can find more practical tips and fashion advice on the blog.