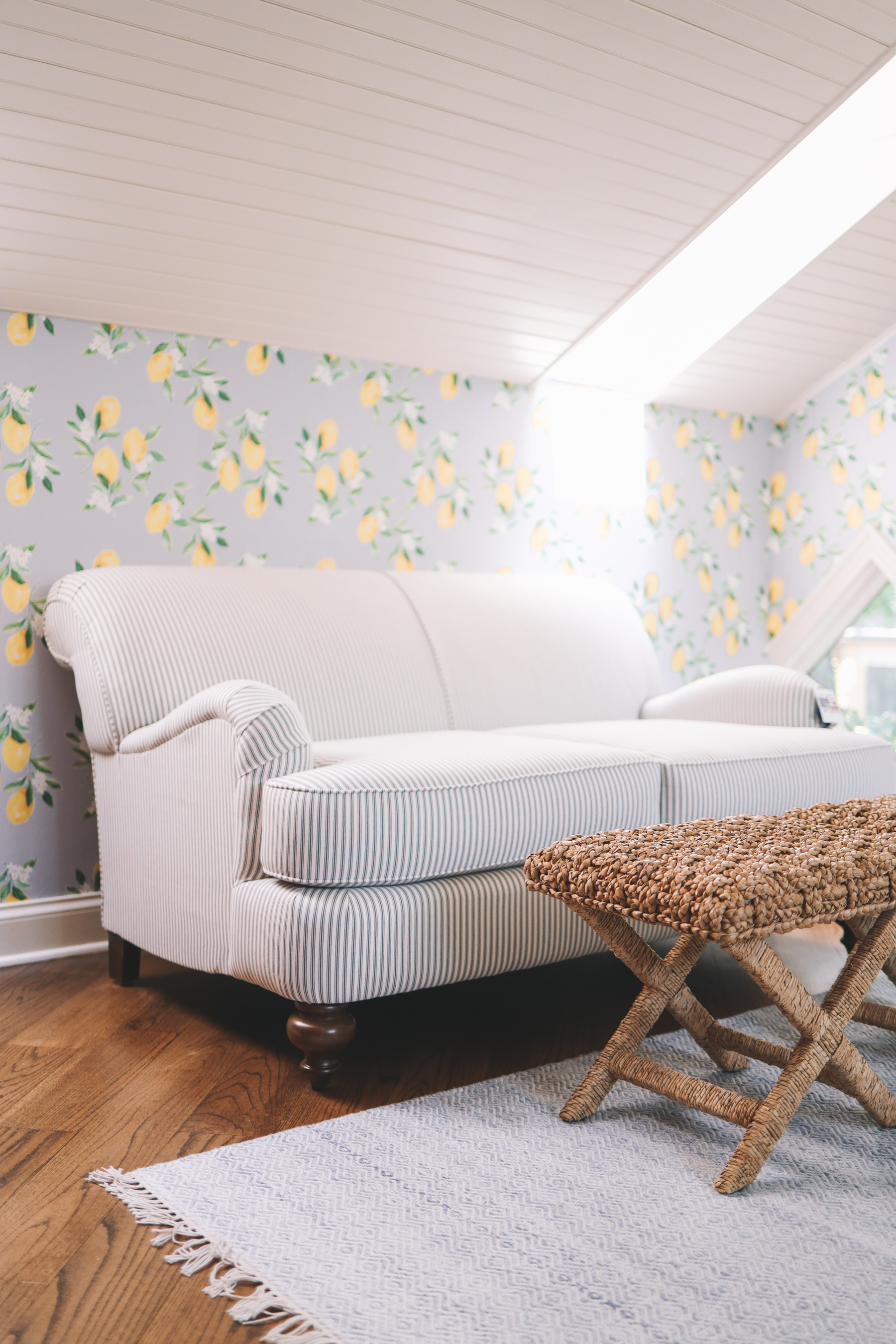 Birch Lane Durham Love Seat: AMAZING DEAL. (Another option is the Manning Loveseat, which is a bit more traditional. Love the look of the Durham line? Here's the full-sized sofa, ottoman and chair. Each piece is fully customizable!) / Brooke & Lou Lemon Wallpaper c/o / Serena & Lily Rug c/o / Serena & Lily Stools (Haven't pulled the trigger on a coffee table yet, so using these in the meantime! Love the entire Costa line.) / Pottery Barn Striped Curtains / Beaded Chandelier (Also available in flush mount.)
We ran out of our Brooke and Lou lemon wallpaper before we left for Ocean City, but the extra rolls arrived yesterday, so Kira's team installed it in my office yesterday! It looks amazing and I'm so excited to give you the full (in-progress) tour. While I'm putting the finishing touches on that, though, I wanted to take today to share a review of the custom striped loveseat I went with for the space… because it's such a deal (😮) and WONDERFUL.
Price tag
This is clearly what I should lead with because what?! I was pretty dead set on finding a blue striped couch for my office, but nearly everything I found was well over $2,000. And while I'm all for investing in furniture that I'll have forever, I'm also all about scouring the internet for similar, more affordable options. I'll be honest: it took me weeks to find this guy, mostly because the striped material was hidden under the "Body Fabric" option. But goodness. This price vs. $3,195 for the one I originally fell in love with? (Or this one, which was even more expensive!) Granted, those two are gorgeous. But I'll gladly take my $2,500+ in savings! ;) The Durham loveseat is big and beautiful.
Note: The price applies to certain fabrics. My couch is in "Cruise Adrift." Other affordable fabrics I love include "Tina Airforce," "Fandango Indigo," "Tina Indigo," "Conversation Linen," "Conversation Ivory," "Tina Oyster," "Conversation Capri," "Conversation Pearl," "Max Flax," "Max Buff," and "Max Stone."
Shipping speed + cost
Most of the other couches/loveseats I was looking at would arrive in several months, as they were likely custom and made-to-order. I was okay with that–there was no actual rush–but it was a bit of a bummer. Their shipping charges were also pretty steep! The Durham loveseat, though, arrived in less than TWO WEEKS (even though it said two to three weeks), and it shipped free. And for an extra $19.99, the delivery crew brought it all the way up to the third floor. (If you don't select this option, they'll simply bring it inside your front door, which totally works if you're furnishing your first floor!) I can't tell you how nice it was to have the couch arrive quickly. I know that setting up a house takes time, but it's so fun when furniture arrives earlier than expected!
Custom options: 127 fabrics
This is the most fabulous part. The loveseat is available in 127 different fabrics. Crazy, right?! I went with "Cruise Adrift," which is a blue and white ticking stripe, and is made from a polyester blend. (68 percent polyurethane and 32 percent polyester.) But there are so many different options; there's really something for whatever palette you're working with!
Btw: I received a good number of questions about what "Cruise Adrift" looks like in real life. I hope that these photos are helpful, but I'd say that the blue stripe is a muted navy, and the white is more of an ivory. This, I think, works way better than a pure white, as it might otherwise look a bit stark and kitschy. The muted navy/ivory combo is timeless! (And the ivory in NO way looks yellowish!)
A good number of the other fabric options are affordable, too. As noted before, my favorites include "Tina Airforce," "Fandango Indigo," "Tina Indigo," "Conversation Linen," "Conversation Ivory," "Tina Oyster," "Conversation Capri," "Conversation Pearl," "Max Flax," "Max Buff," and "Max Stone."
Quality + design
Amazing! Of course, I've only had the thing for a few weeks now, but I can't get over how well-made and beautiful the couch is. It fits three people comfortably, and its classic look draws inspiration from "Charles of London" pieces. (Don't worry. I had to Google that, too. 😜 But it's those gorgeous English rolled arms–reminiscent of British country estates at the turn of the century–that really set it apart from other styles.)
Size + Frame
Its frame is solid wood and it's topped with foam for comfort. The one thing I'll say is that it's VERY deep. I personally love that and find it so be ideal–so cozy!–but thought I should mention it. :)
Dimensions
Overall, it's 36" H x 66" W x 46" D. (The seat itself is 22" H x 51" W x 29" D.) If you're interested, Birch Lane says that the minimum door width you'll need in order to get it in a room is 35″. But our door is actually just shy of 34" (with a tight turn!) and it was fine.
The rest of the Durham line
Here's the full-sized sofa (which obviously has a larger footprint and is ideal for living and family rooms), ottoman and chair. Just like the loveseat, each piece is customizable. :)
FYI: I went with the loveseat in my office because I eventually want to have end tables, and thought it would be too tight with the full-sized sofa. Haven't found end tables that I love yet, though. Any suggestions?!
Questions about this loveseat or the Durham line?
Let me know in the comment section below!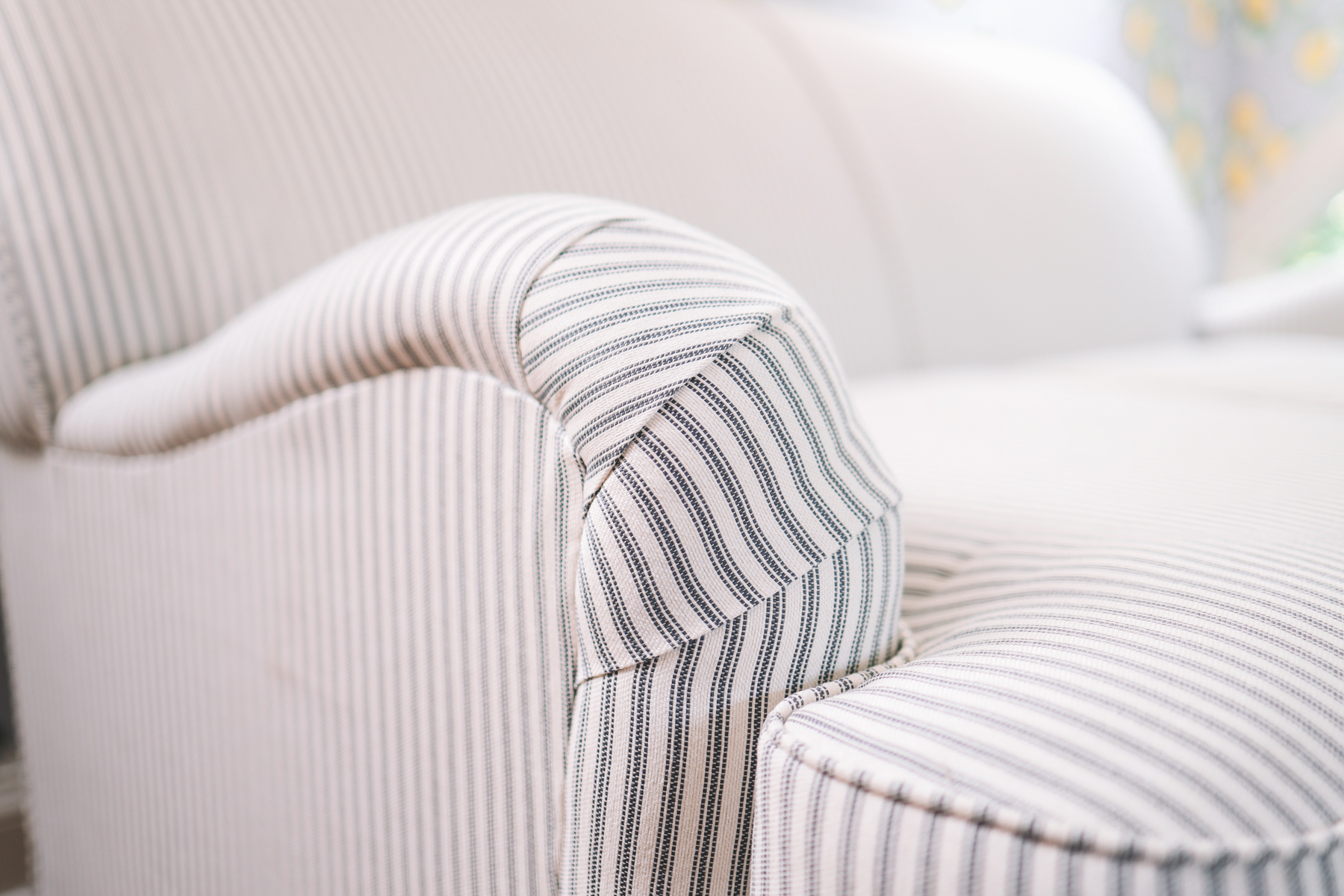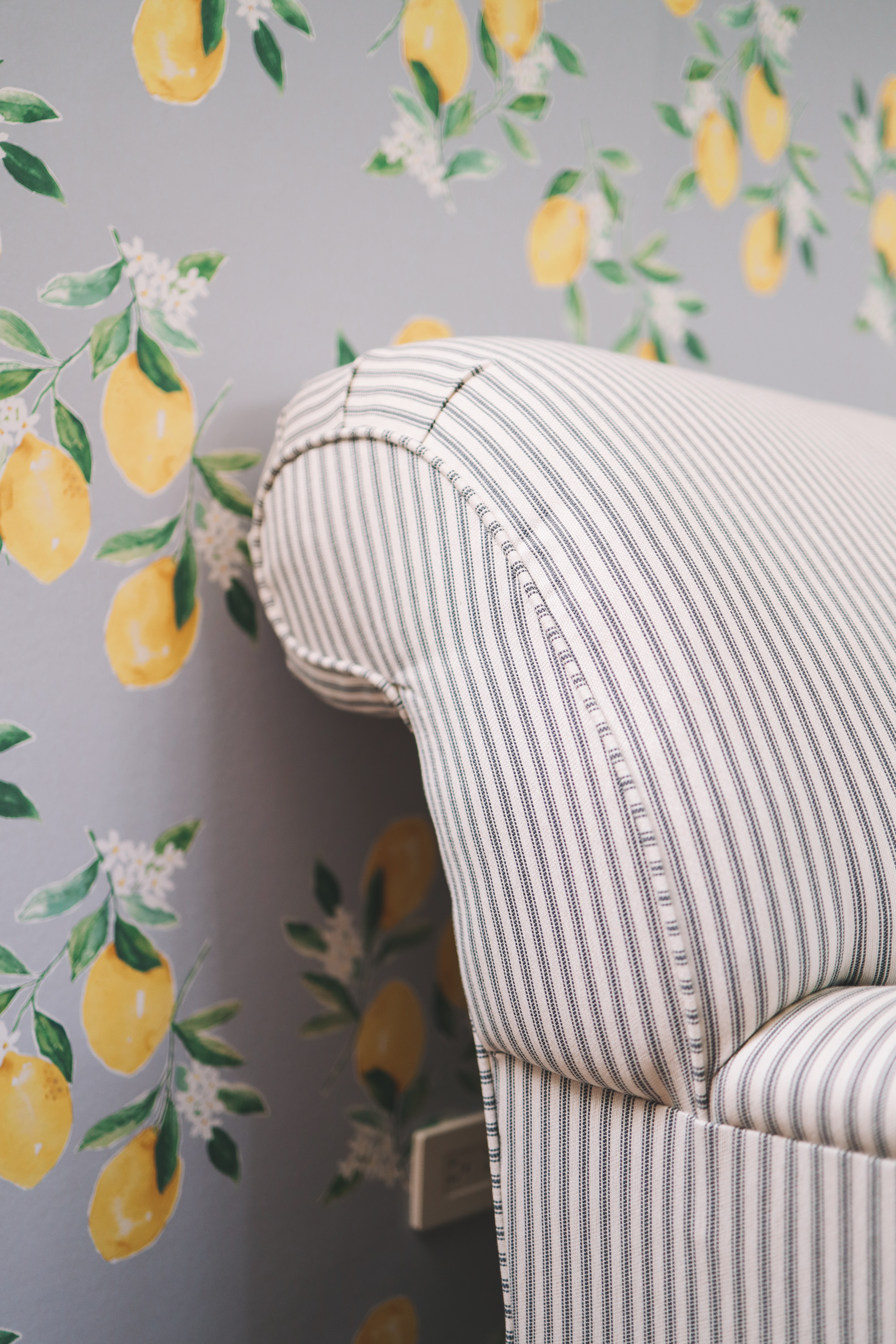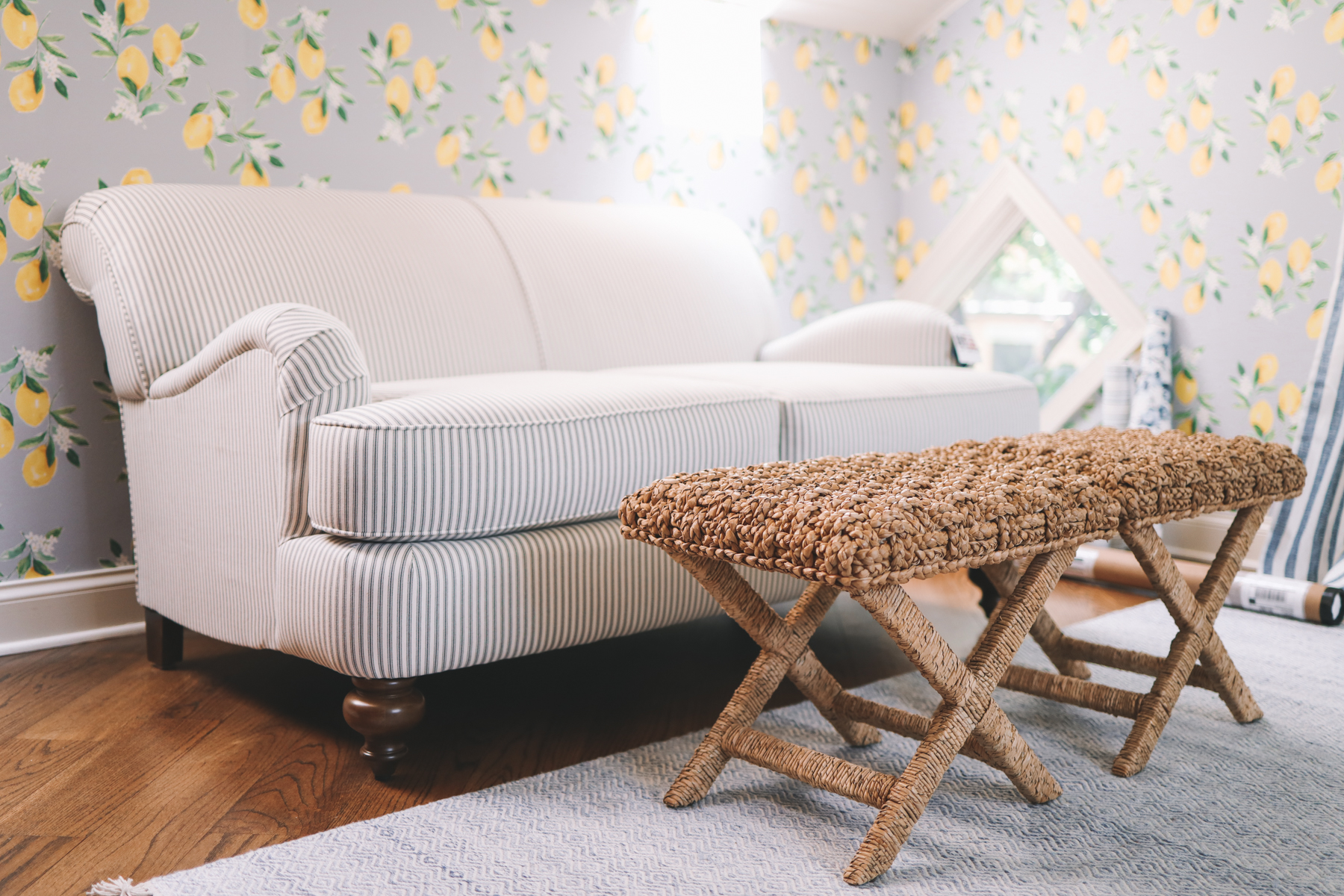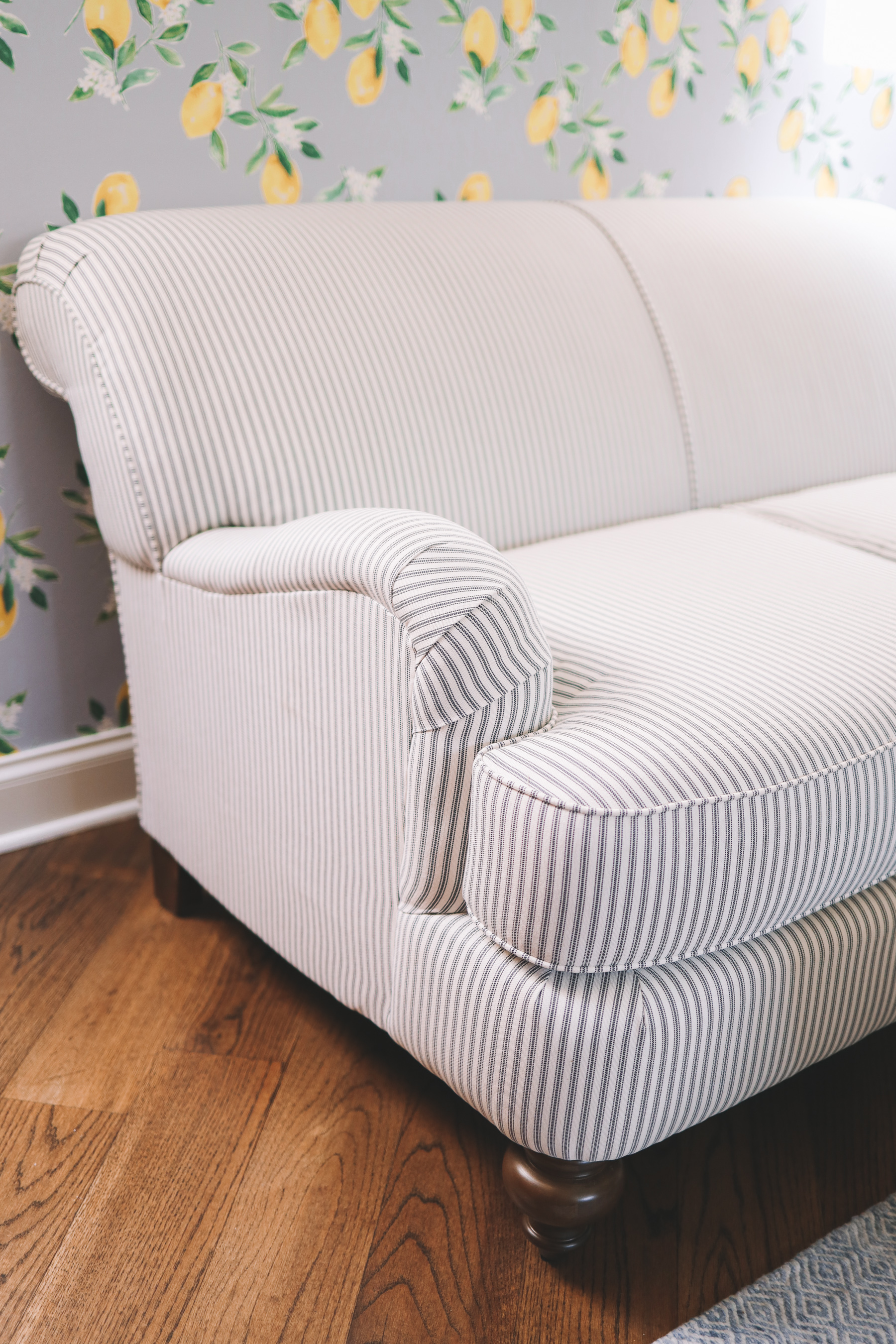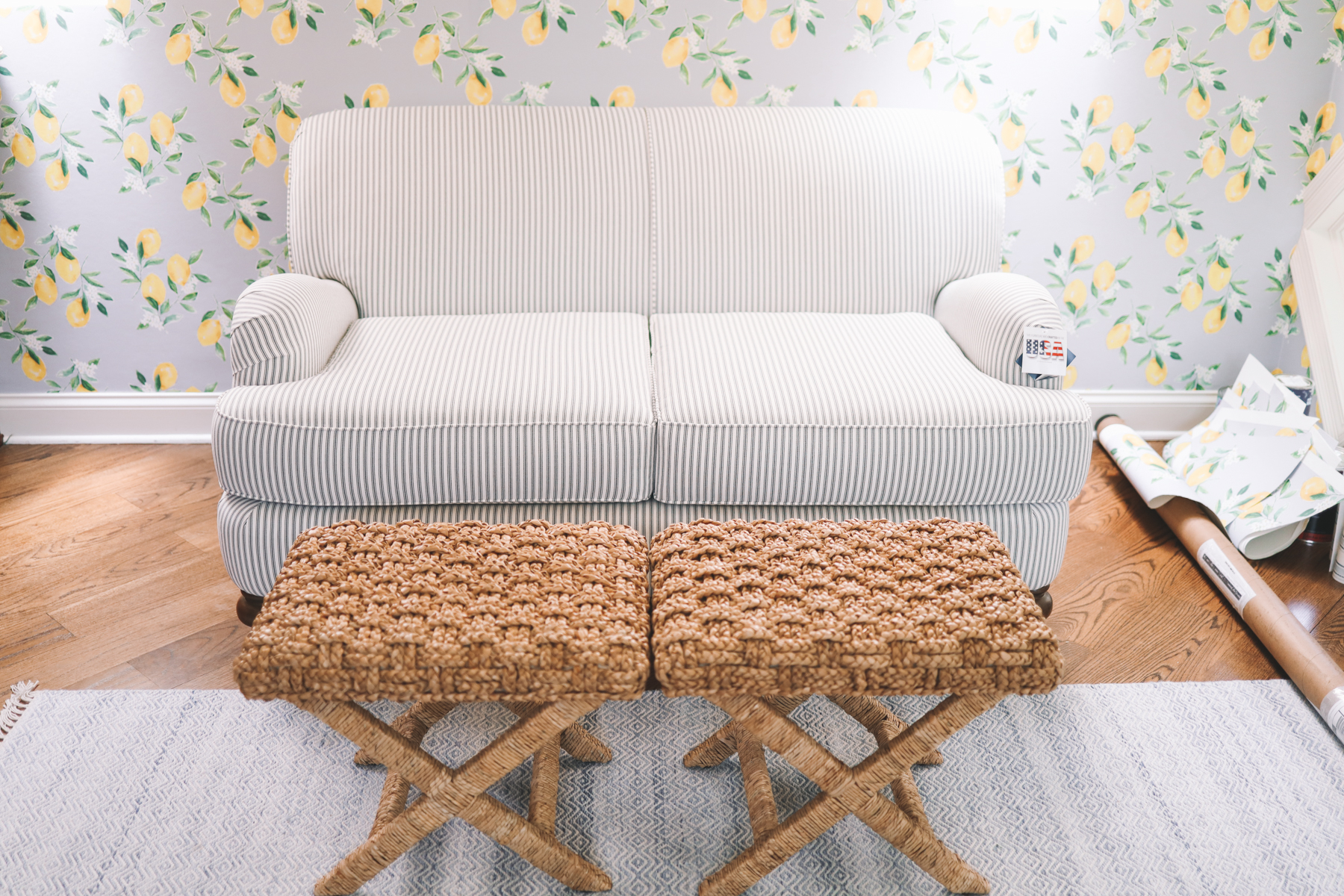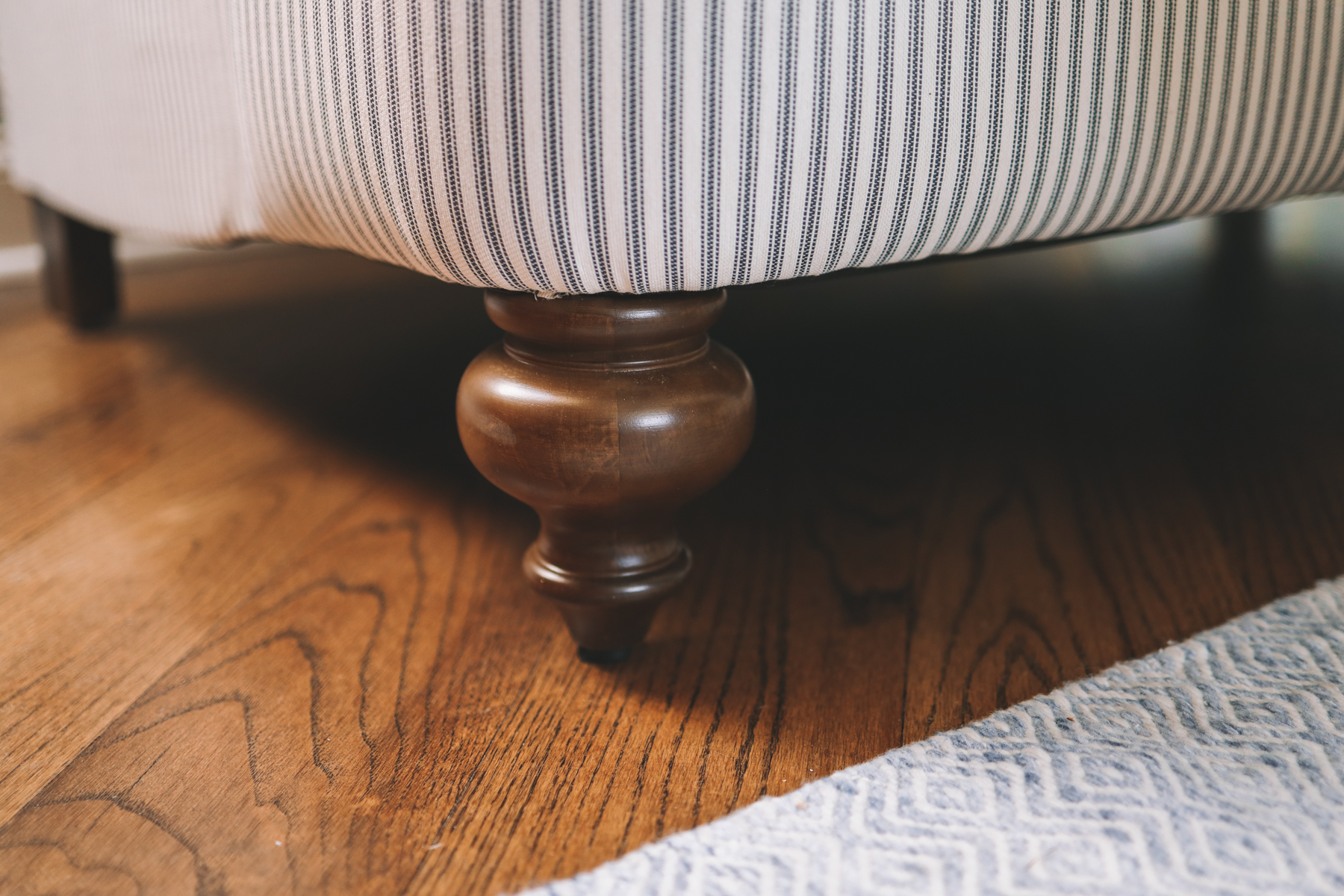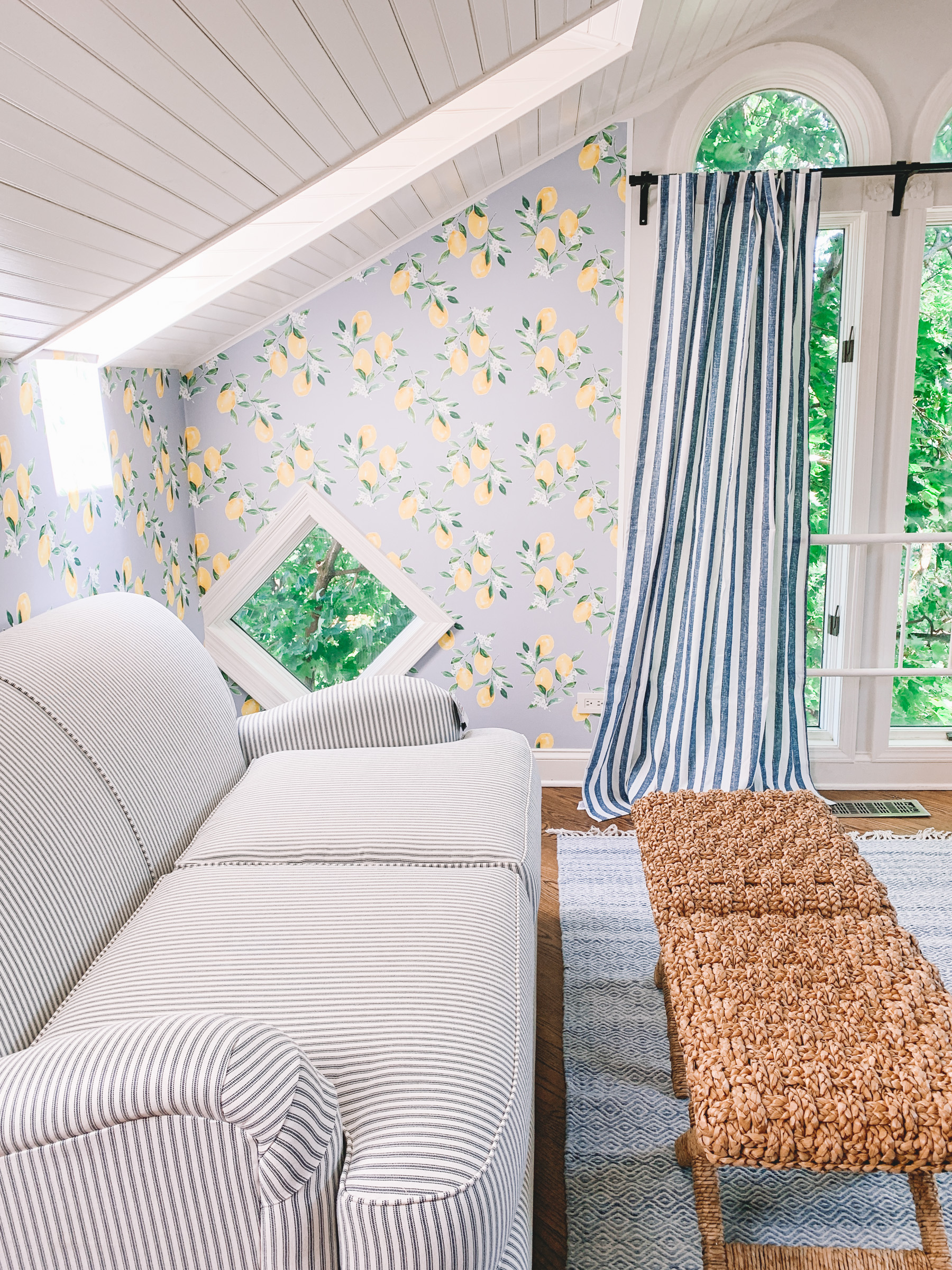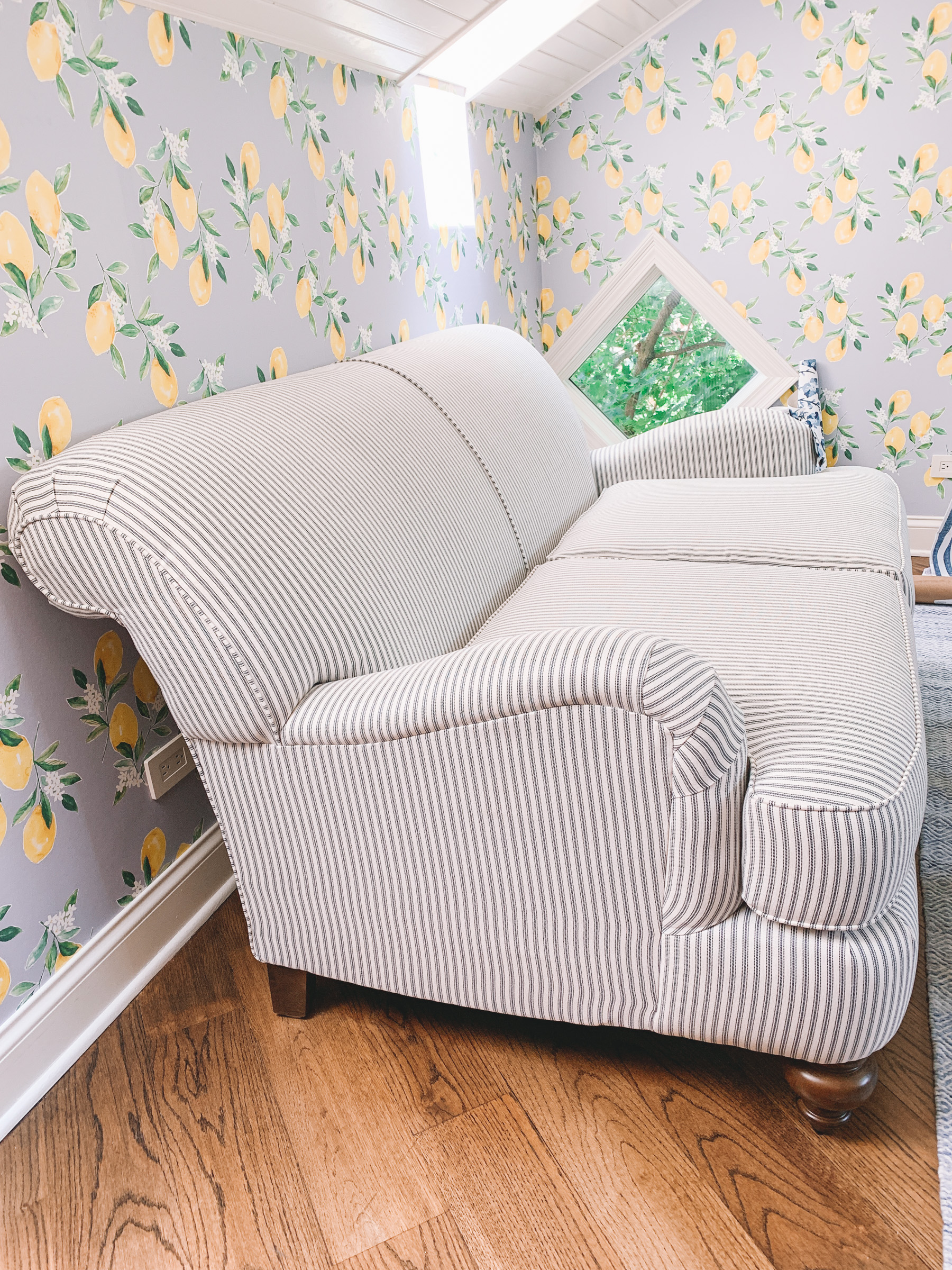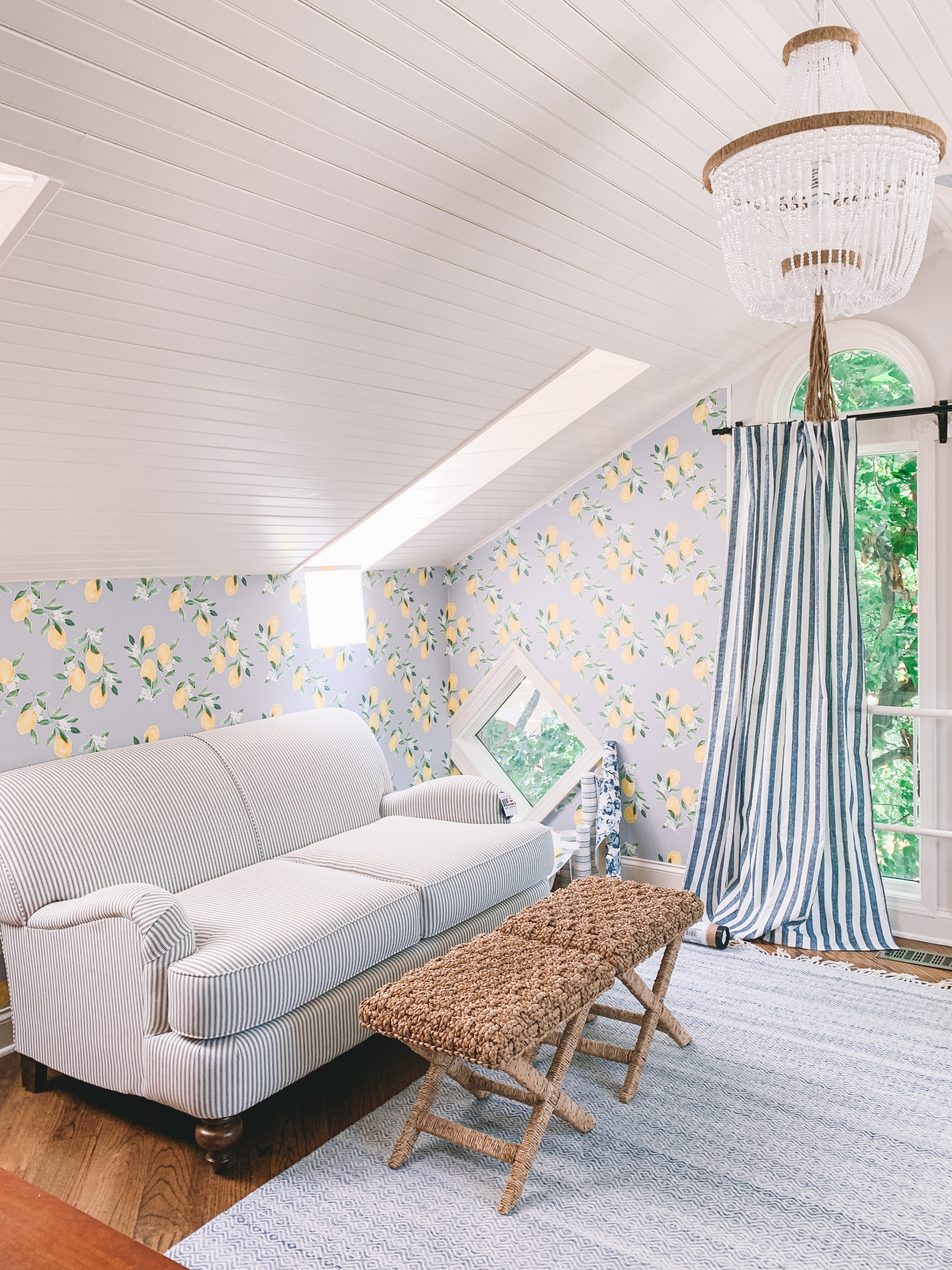 ^ In progress :)
Shop the post:
Birch Lane Durham Love Seat: AMAZING DEAL. (Another option is the Manning Loveseat, which is a bit more traditional. Love the look of the Durham line? Here's the full-sized sofa, ottoman and chair. Each piece is fully customizable!) / Brooke & Lou Lemon Wallpaper c/o / Serena & Lily Rug c/o / Serena & Lily Stools (Haven't pulled the trigger on a coffee table yet, so using these in the meantime! Love the entire Costa line.) / Pottery Barn Striped Curtains / Beaded Chandelier (Also available in flush mount.)

Other home finds I'm currently loving