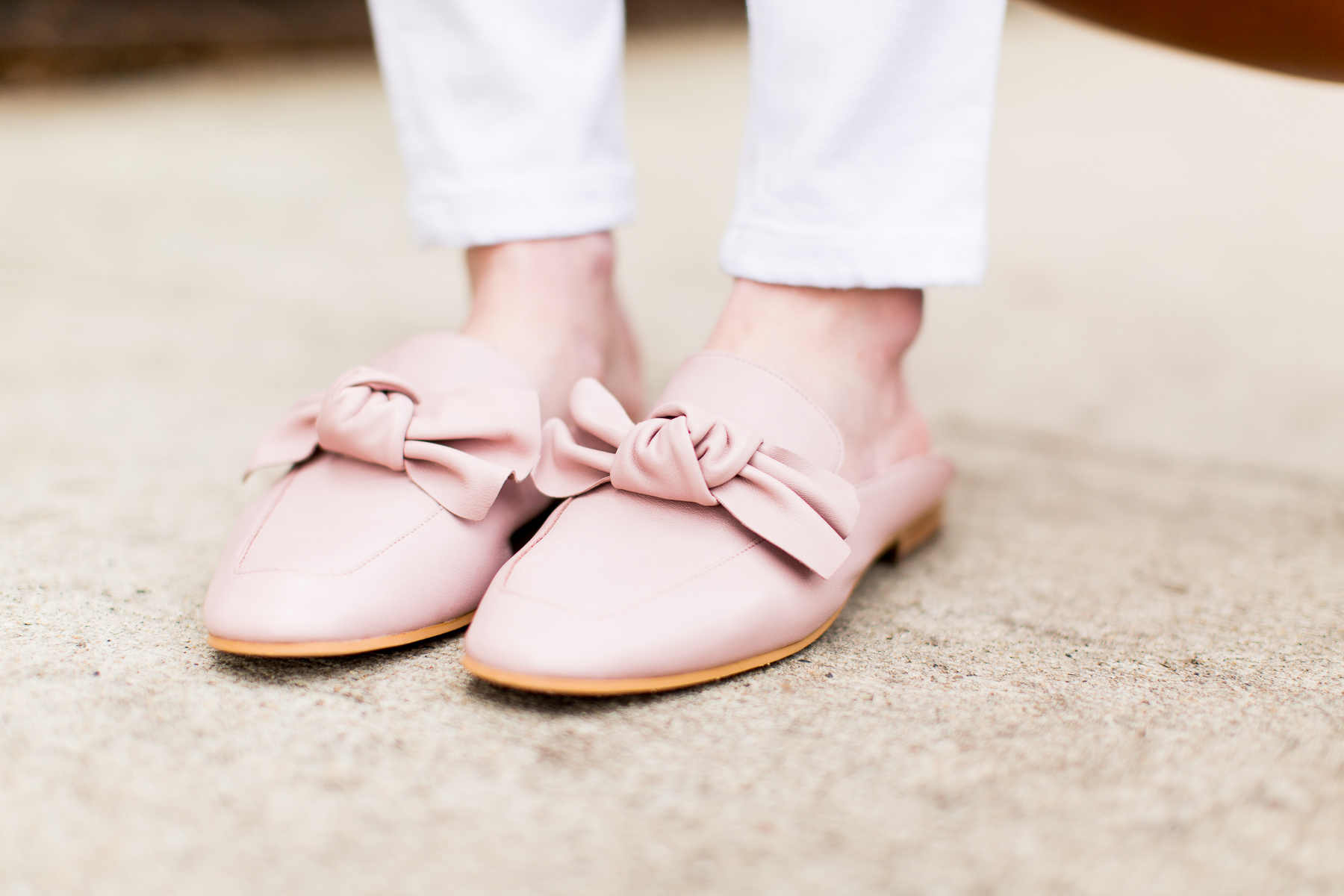 No big deal, but THE BOWS ARE BACK IN TOWN. Get it? Haha. Okay, I'm a little punchy right now. But what I mean to say here is that the infamous bow mules, which sell out crazy quickly, were restocked in light pink this morning.
Look familiar? I wore them in this recent post and this recent post.
Here's why I love them so much:
They're ridiculously soft. Like, so soft, guys. It's surprisingly to me that they aren't marketed at slippers. As you probably know if you've been reading here for a while, my feet are very sensitive and hurt all the time. These mules, though, are so easy on them.
They don't fall off. While it usually takes me a long time to get behind trends, I was quick to jump on the mule train, since (in my mind) they're just cousins of the classic loafer. ;) That said, mules are a little hard to keep on your feet. But these stay on without trouble. (Even when I'm toting around Emma!)
They go with everything. Okay, not everything, but I'm not exaggerating when I say that I wear them every day. While Chicago has been going through something super special lately (79 degrees one day and then rainy and in the 40s the next), I reach for them every time it's warm enough and wear them around the house when it's not. My absolute favorite is pairing them with white jeans and a navy striped tee, which is my daytime uniform. Comfy yet totally polished with those bows on my toes!
They run TTS. I'm a 7.5 nearly all the time, except sometimes in heels. But I ordered the bow mules in my usual 7.5 and they fit perfectly.
They're under $70. Like, what?
They also come in black. And don't think I haven't considered swooping up that second pair. ;)
They ship free and return for free, too. I don't know about you guys, but I hate paying for shipping and I really hate paying for returns. Nordstrom carries the bow mules, though, so ordering (and returning) is hassle-free!
Questions about the bow mules? E-mail me at kelly@kellyinthecity.com and I'll try my best to reply speedily today! :)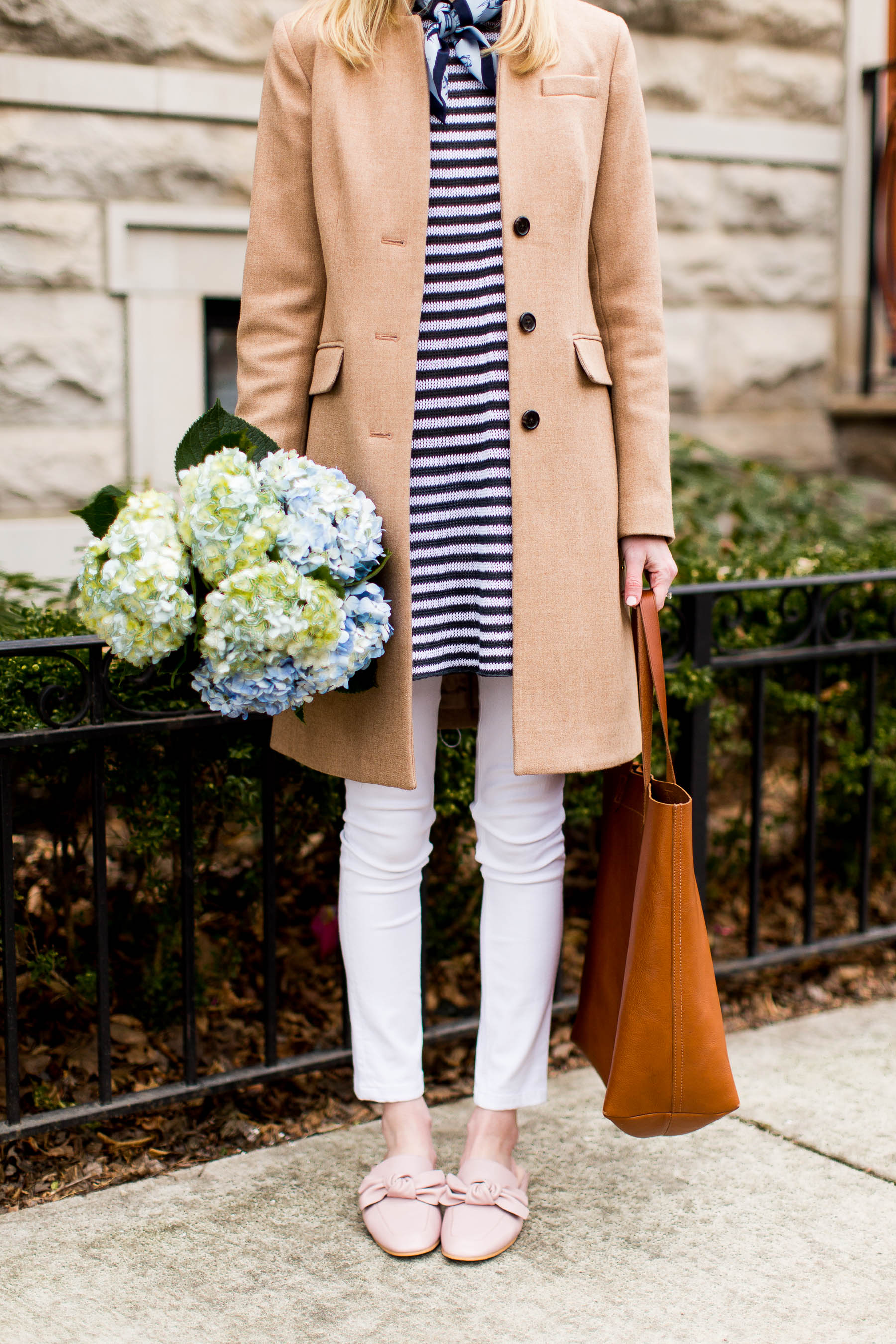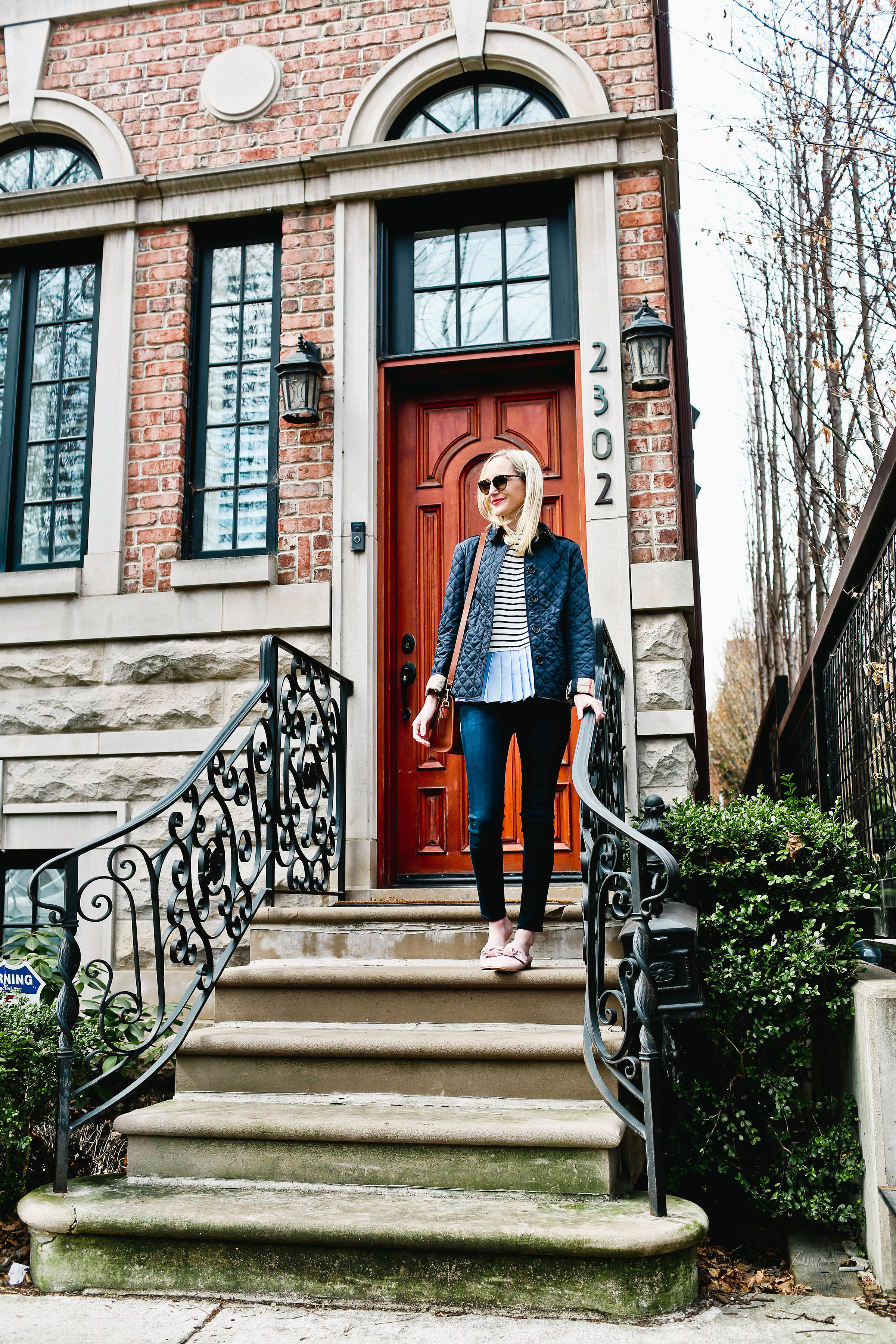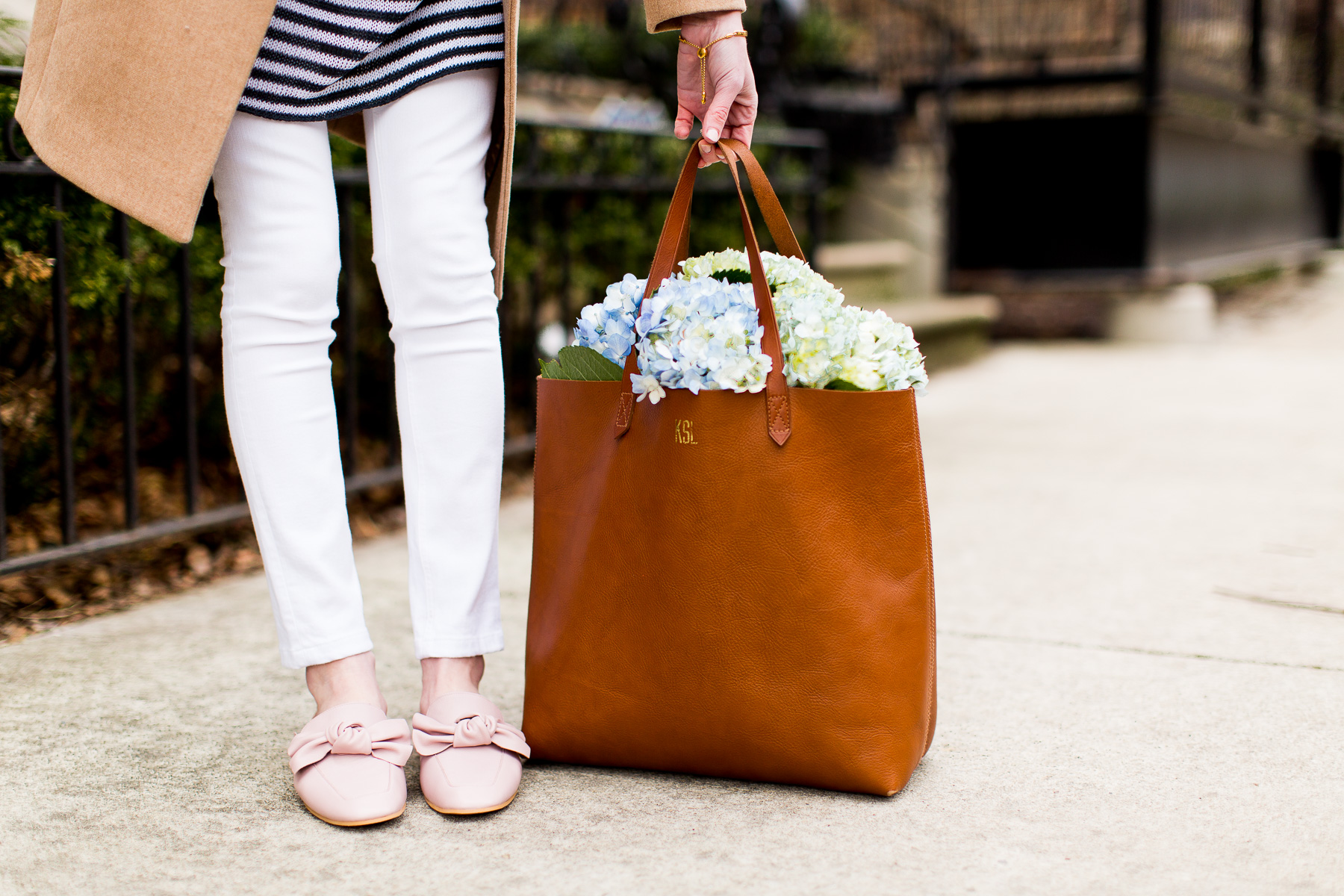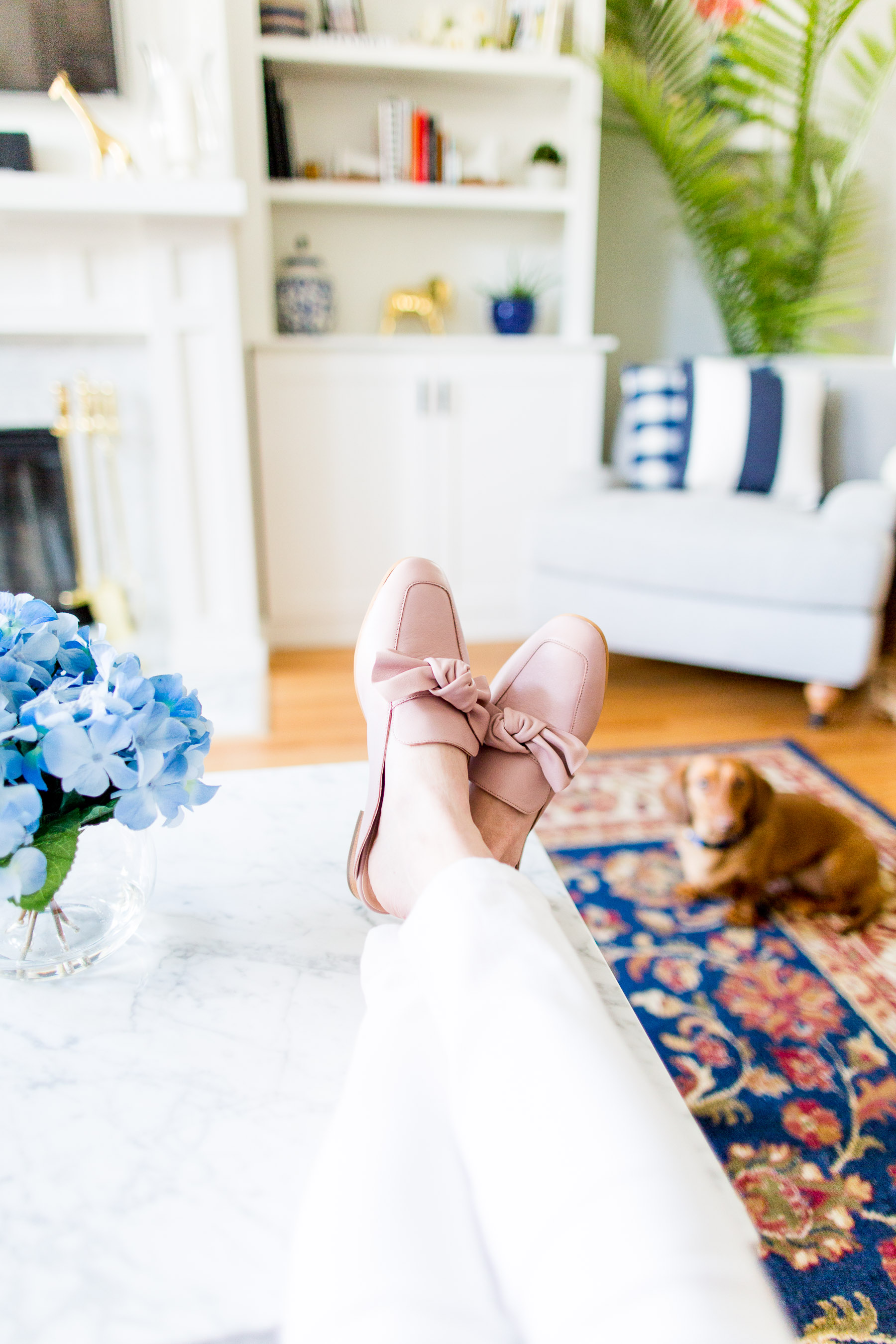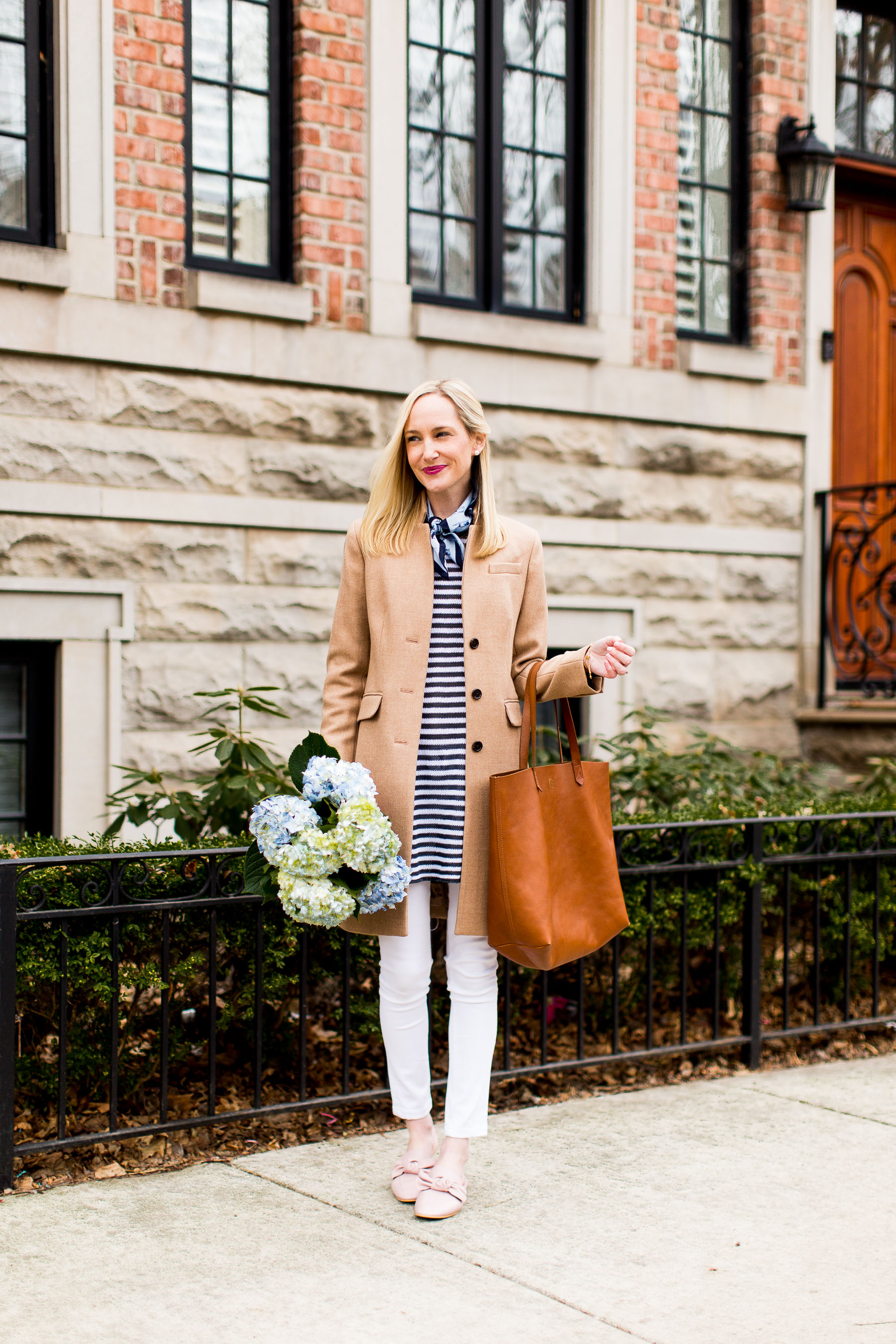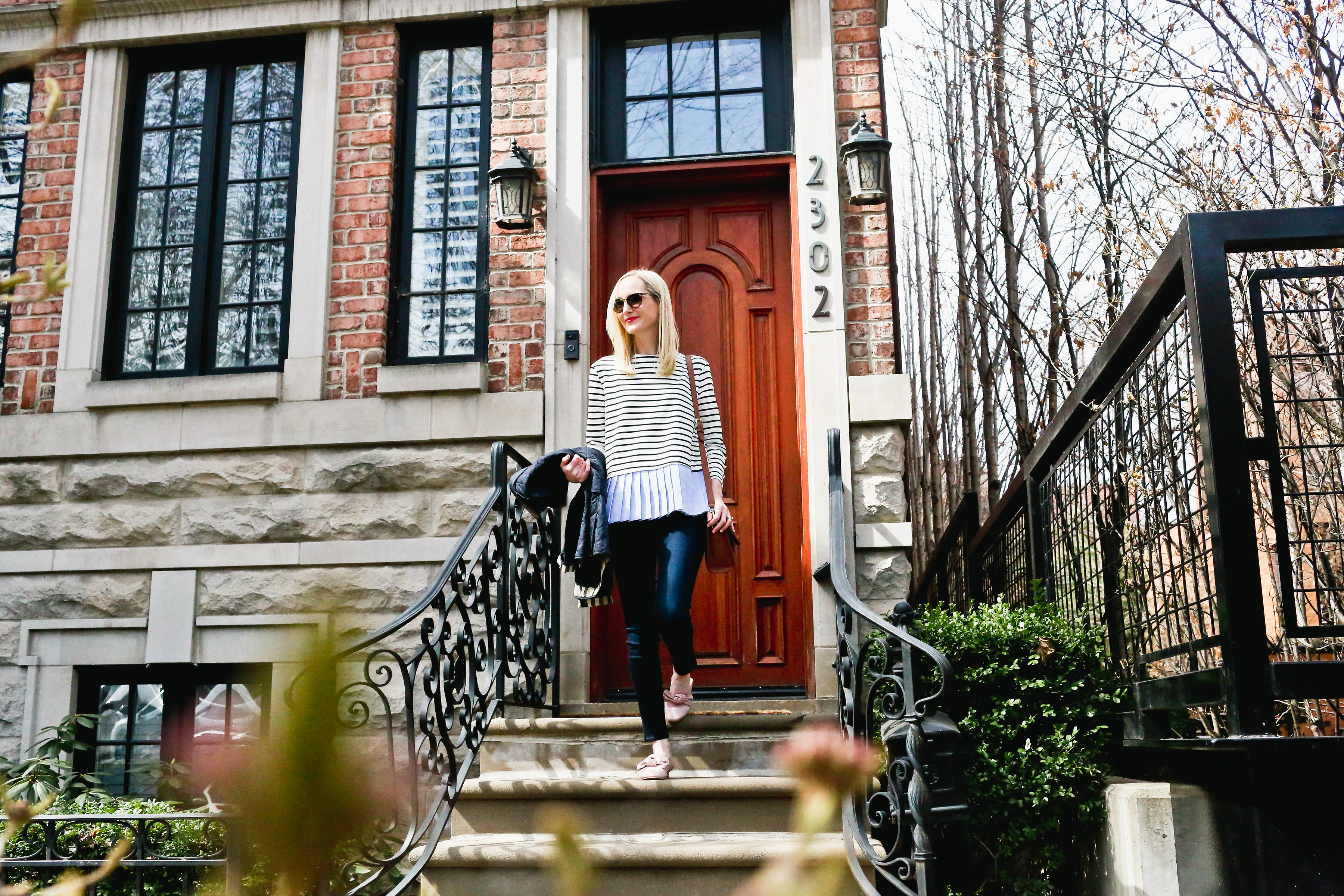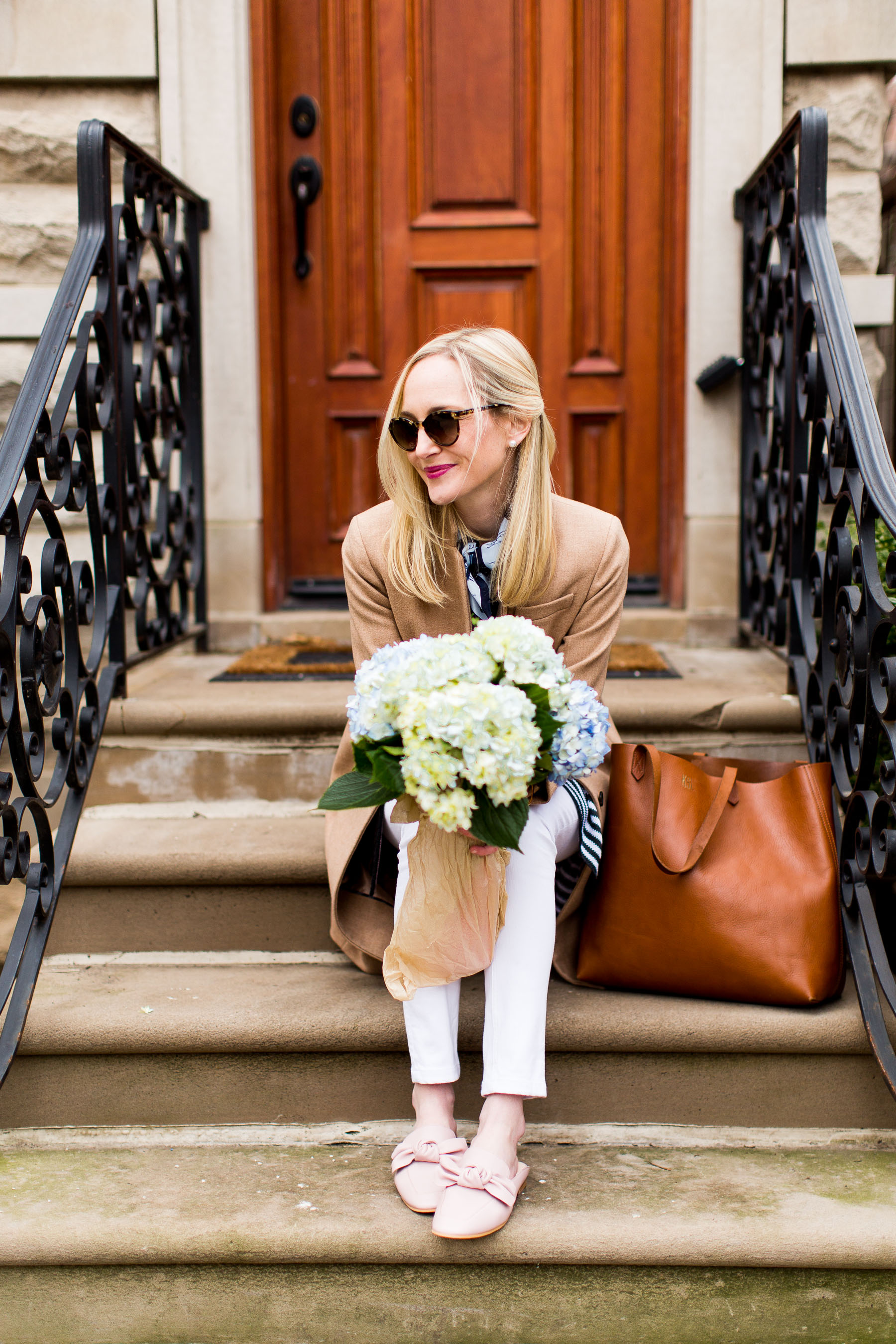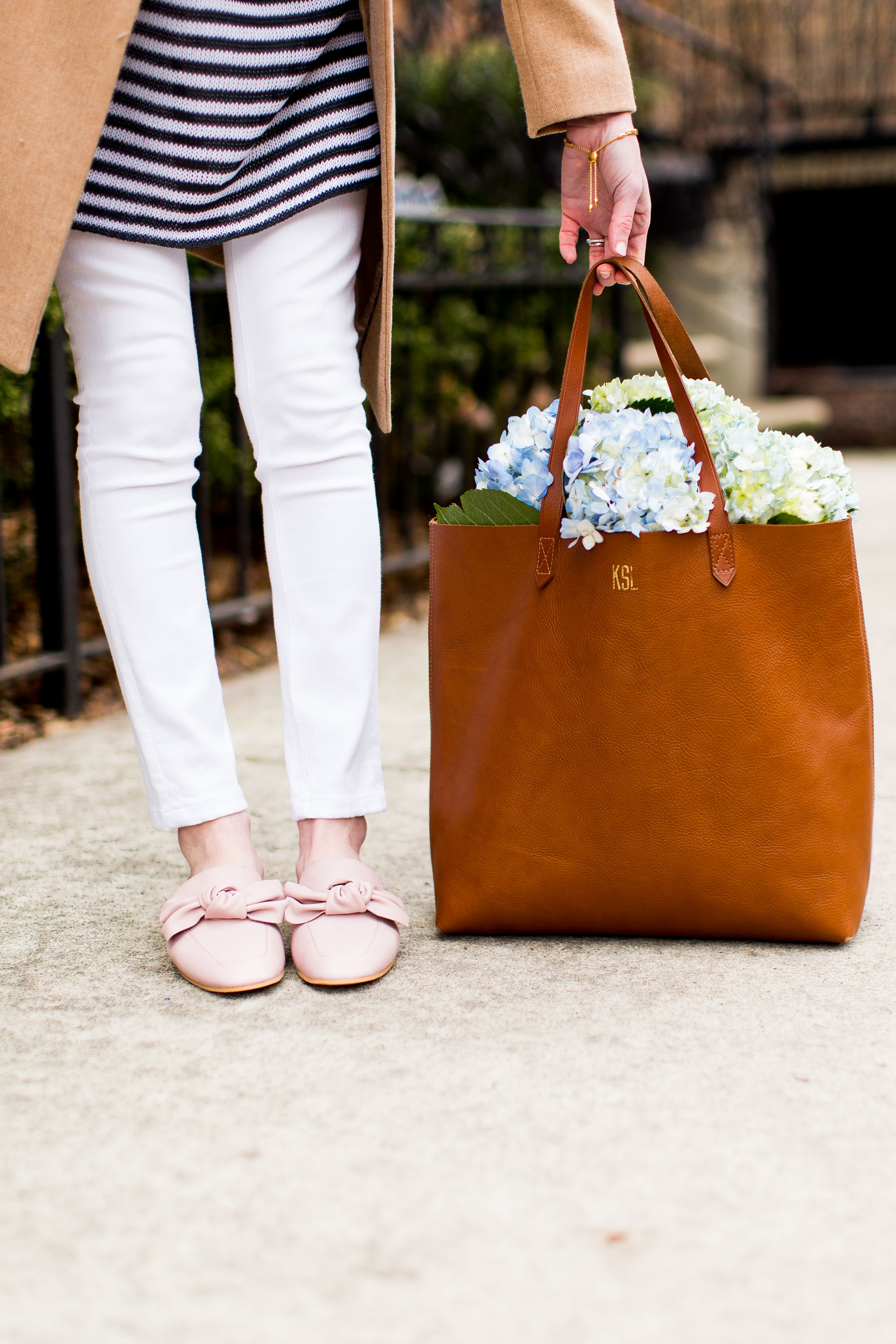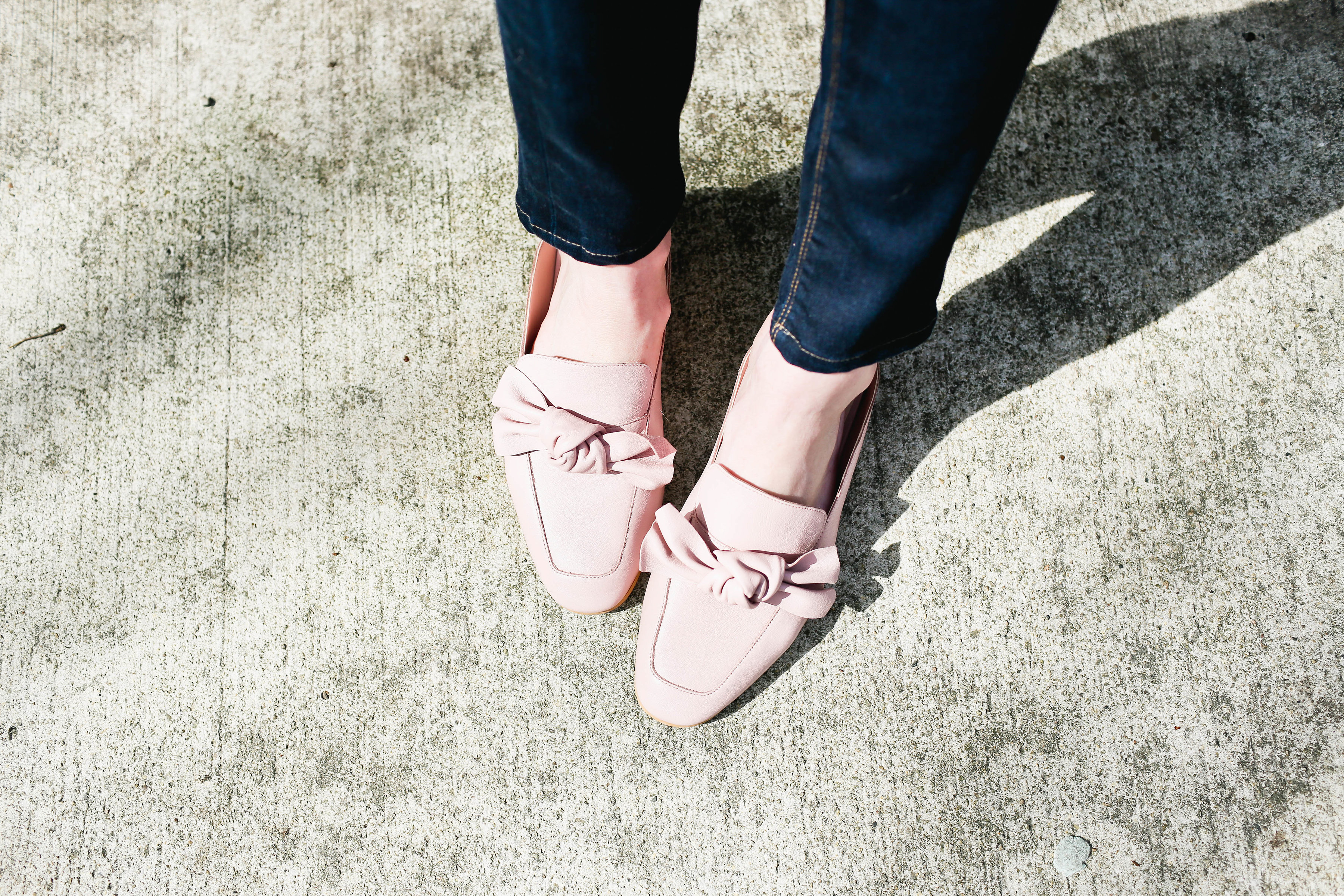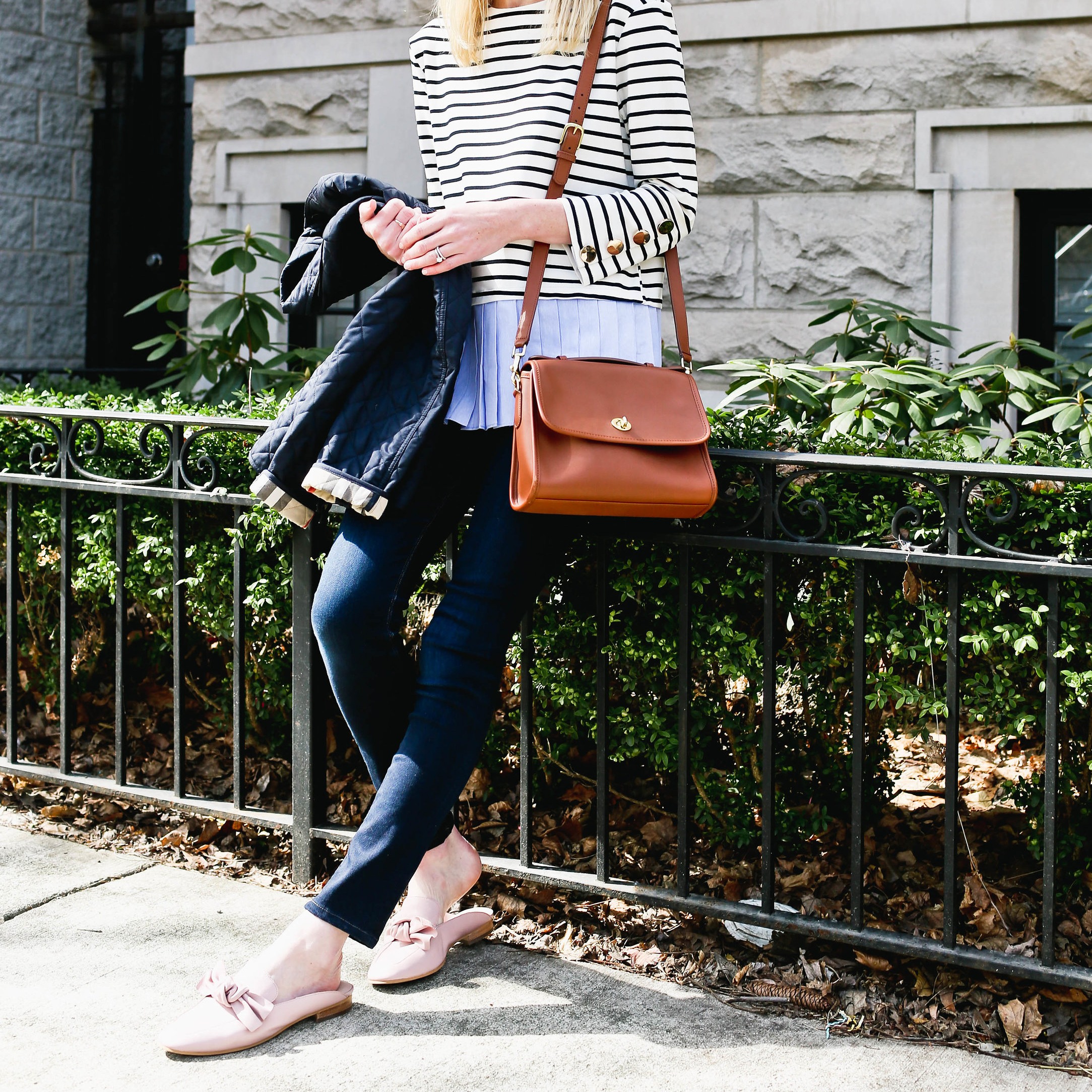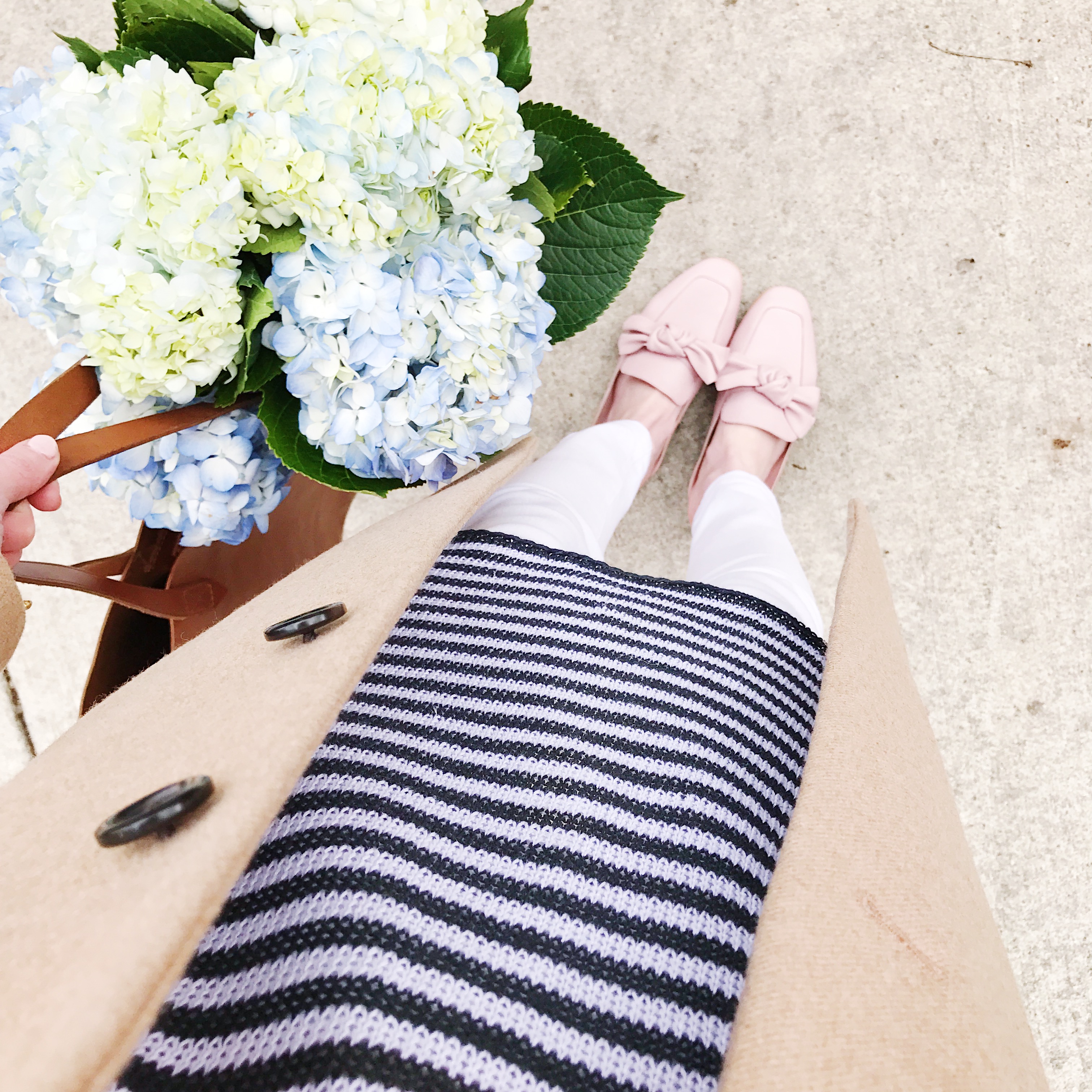 Shop the photos:
Outfit One: Bow Mules (CRAZY soft and comfy and ON SALE today! They're almost sold out in light pink, but they're just as adorable in black. Similar here, here and here. Also, this is my recent shoe obsession. Wear them nearly EVERY NIGHT.) / Pleated Top (Back in stock! Sells out so quickly, so nab now, as it ships free. I usually wear a size XS, but I'm wearing a size small here and it's just right.) / Burberry Jacket (It's on major sale here. Now comes in light pink!) / Coach Bag (No longer available, but I LOVE this one, this one, and this one. Also this one, this one and this one, haha.) / Hudson Jeans (They're my go-to dark jeans. These are my everyday jeans, which are on crazy sale; these are my go-to white jeans; and these are the cutest bow-adorned jeans. They're also on sale!)
Outfit Two: Eileen Fisher Top / Similar Rag & Bone Jeans / Bow Mules / Leather Tote / Similar Scarves here, here, here and here / Topcoat
Pleated top photos by Cassandra Eldridge! (Looking for a Chicago photographer? She's my #1 recommendation!)
SaveSave