Preppy style can be described as collegiate-inspired, classic, and all-American. The term "preppy" was first used in the early 20th century to describe affluent students who were set to receive an Ivy League education.
It was a pretty exclusive aesthetic until 1980 when The Official Preppy Handbook was released. The handbook was intentionally ironic and humorous, but it still set off a craze that has inspired the preppy style for decades.
Specific brands, like Ralph Lauren, have helped to define this signature style. But in recent years more brands have hopped on board to offer their own take on preppy fashion. 
Here are some of my best tips on how to dress preppy on a budget, and the best brands to shop for quality pieces.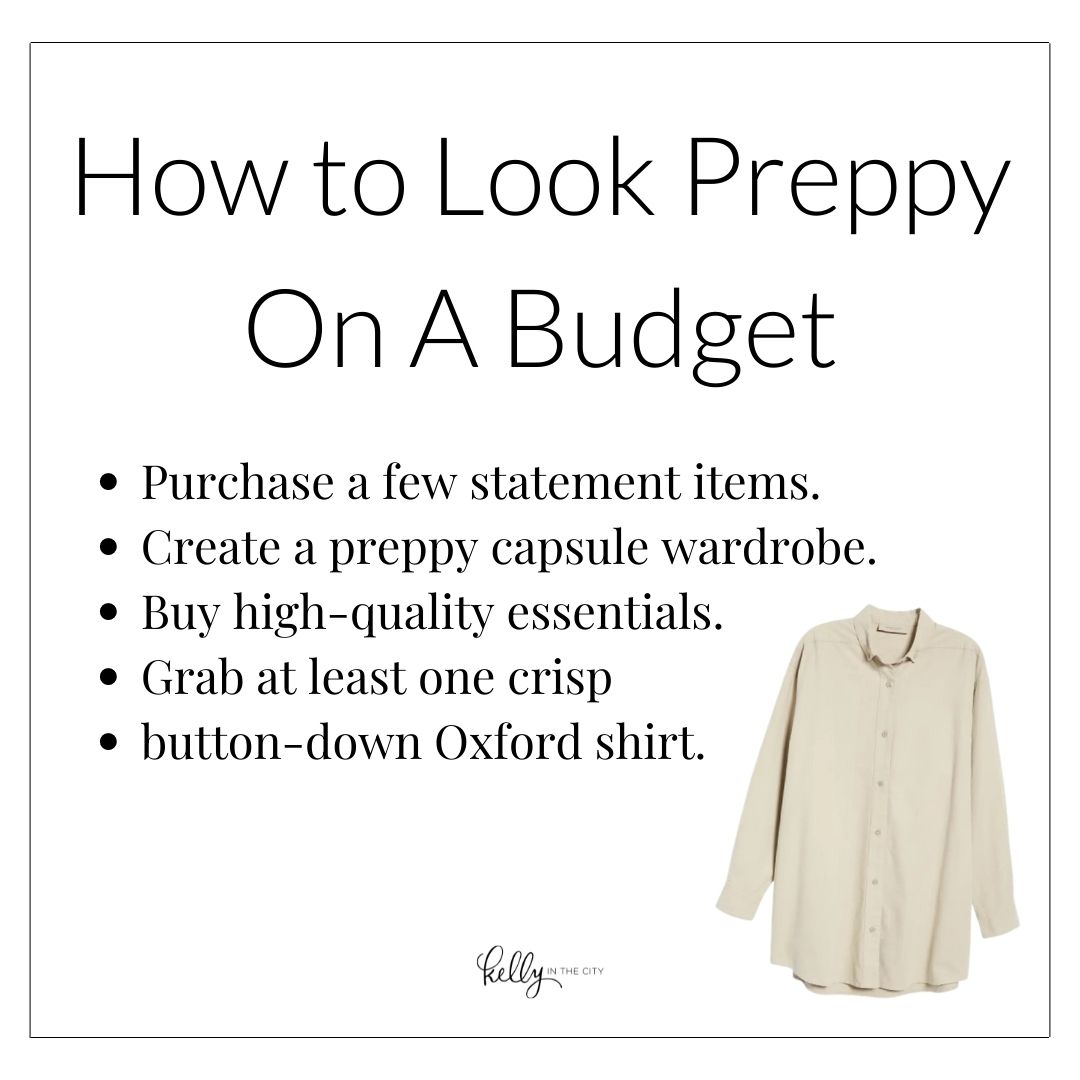 How To Look Preppy On A Budget
You don't have to spend a fortune on clothing and accessories to look preppy. Consider these tips and tricks for dressing in the preppy style, and get ready to rock this look without going broke:
Purchase a few statement items. 
A statement item is typically a particularly eye-catching piece of your outfit. Statement items tend to be unique and attract the most attention. Because these pieces tend to stand out from the rest of the clothes in your wardrobe, you only really need one or two (maybe three) statement items to make a difference. You can then incorporate them into your capsule wardrobe for a more affordable yet fashionable preppy style.
Create a preppy capsule wardrobe. 
A capsule wardrobe is a collection of clothing made up of items that can be worn interchangeably. The purpose of a capsule wardrobe is to create as many different outfits as possible with less clothing. It keeps you from buying more clothes than you can manage, all the while saving you money.
The key to creating a capsule wardrobe is buying versatile clothes. You can incorporate a statement piece or two, but you will want to consider how each item you're buying will go with the rest of the clothes in your closet. Opt for neutrals like black, white, camel, and beige for max mixing and matching. Then, add in your favorite colors with accessories. 
Buy high-quality essentials. 
Quality over quantity, right? Buying higher-quality essentials like coats, jeans, and sneakers ensures that they can hold up to regular wear. Not having to buy the same items over and over can save you a good chunk of change. If you're going for the preppy look, purchase some prep inspired essentials so they're always a part of your look. 
Grab at least one crisp button-down Oxford shirt. 
A crisp button-down Oxford shirt is an essential component of classic preppy style. Oxfords are long sleeve shirts that effortlessly work as both a casual top or a dress shirt – whatever you need it to be. Just having one of these in your wardrobe will amp up your preppy style, no matter how you rock it. 
The same can be said for picking up at least one polo, or other type of collared shirt. Stripes also scream preppy style, depending on the style and colors.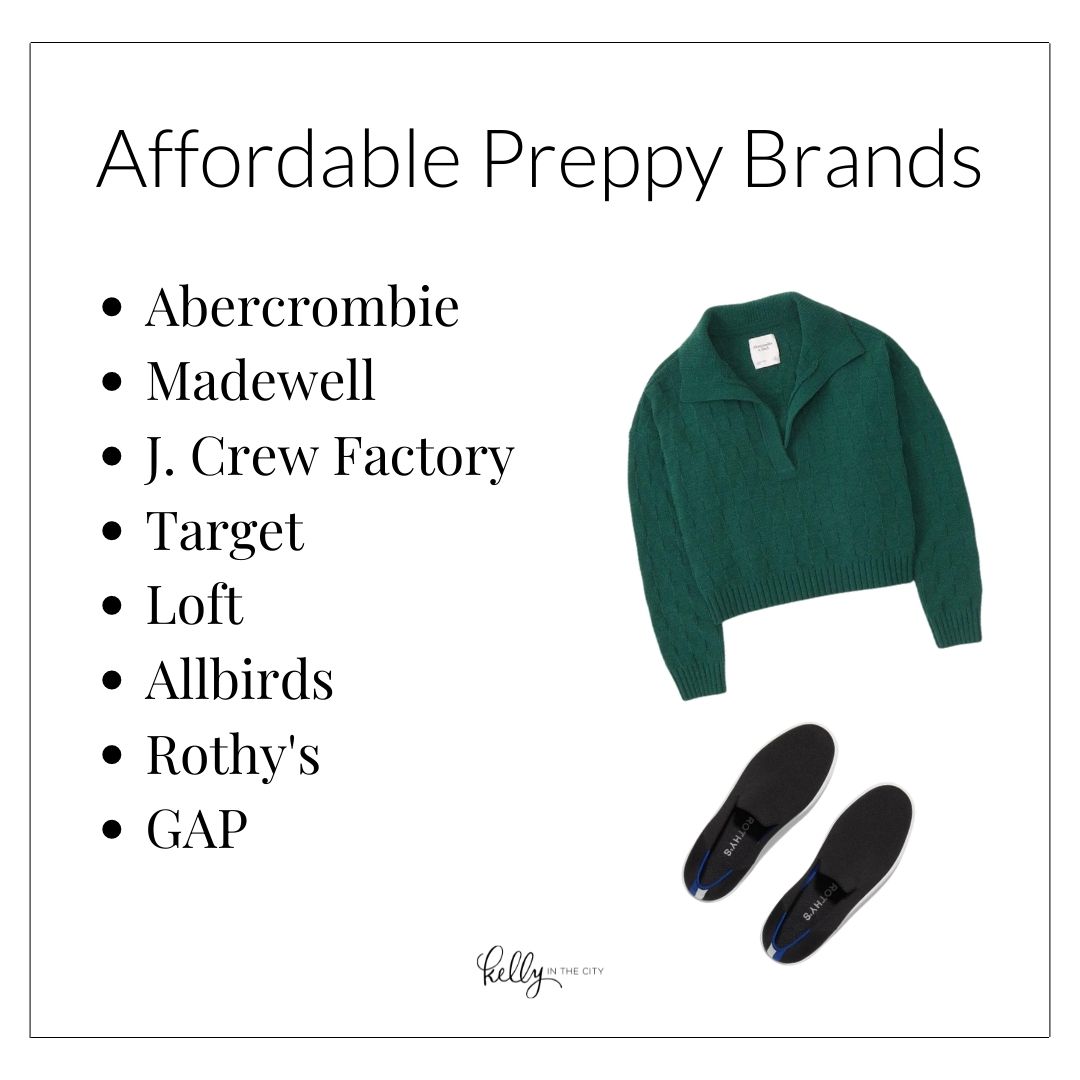 Affordable Preppy Brands
Abercrombie
Abercrombie is one of my favorite preppy fashion brands. The brand has come a long way in recent years, so it's not the same Abercrombie you shopped at in high school. These days, the brand is much more inclusive and offers a variety of preppy outfit must-haves. 
Madewell
Madewell is another one of my favorite brands. Some of my favorite pieces from Madewell include high waist jeans, trench coatx, and preppy shoes. They offer higher-end, classic clothing at a more affordable price. Plus, with a few sales each year, you can shop for even more affordable pieces that will inspire dozens of preppy outfit ideas.
J.Crew Factory
J.Crew Factory is a more affordable version of the standard J.Crew store. When you shop for preppy clothes at the J.Crew Factory Store, you can purchase many of your brand favorites at a more accessible price point. Plus they're constantly having sales which can save you even more money throughout the year. 
Target
You might be a little surprised to see Target on this list, but it really is a great place to look for preppy clothes when you're on a budget. You can find inexpensive staples like cardigans and ballet flats that go great with other preppy items in your closet. 
Loft
What I love about Loft is that it makes it easy to find staples and statement pieces in the same place. Their pants are super comfortable, their flowy dresses are stunning, and their sweaters are trendy and coze; all are ideal for the ultimate preppy wardrobe. 
Allbirds
Allbirds is a great place to shop for affordable footwear. Their slip-on sneakers are among my most beloved shoes. They also have collections designed specifically for running and for wearing on rainy days.
Allbirds manages to keep their shoes affordable while running a more sustainable, eco-friendly business. What's not to love?
Rothy's
Oh how I adore my Rothy's slip on sneakers. Rothy's has a wide selection of shoes for women, men, and children at great prices. Their shoes are made from high quality materials to ensure they hold up to regular wear. That's important considering their shoes are so comfortable, you'll want to wear them every chance you get. 
GAP
GAP has a wide selection of affordable items that are great for layering. You can stock your wardrobe with button down shirts, sweaters, and cardigans without breaking the bank.  
Everlane
Everlane is one of my favorite brands for modern clothing and fashion essentials. Adorable sweaters and super comfortable boyfriend jeans are among my favorite Everlane finds.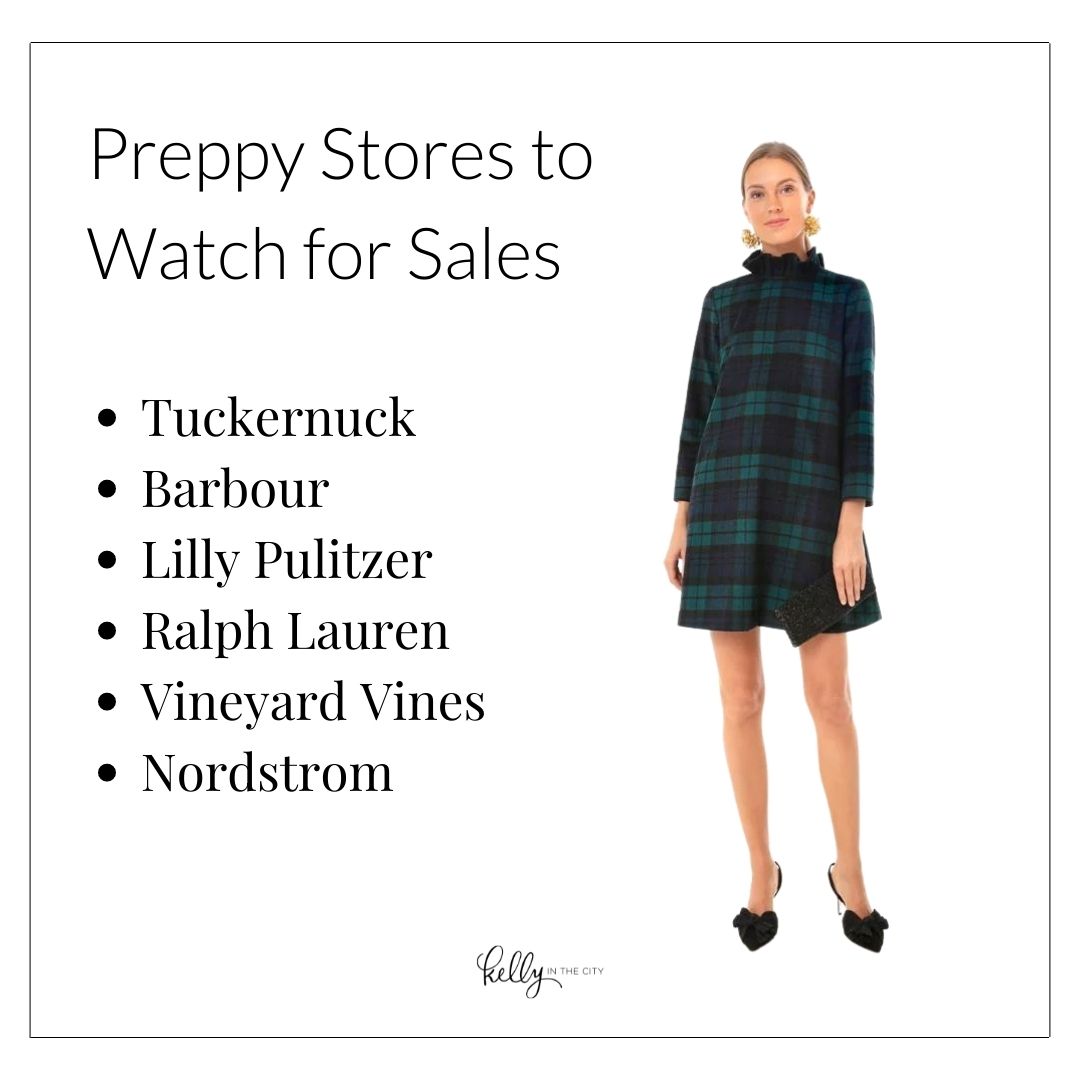 Preppy Brands Stores To Watch For Sales
Tuckernuck
I couldn't write about preppy fashion and not include Tuckernuck. Tuckernuck is a retail brand that embodies classic style. You'll find a variety of luxurious clothes, from gorgeous dresses to cozy sweaters. 
Tuckernuck is usually on the pricier side, but you can browse the sale section of their website and take advantage of the occasional sale to get some stunning pieces at reduced prices. 
Barbour
If you've read any of my style posts, there's a good chance you came across one of my absolute favorite jackets. My green Barbour jacket is super warm and cozy. It's the perfect example of the quality and style you can expect from Barbour.
Barbour is a British clothing brand that offers some of the chicest preppy clothing for men, women, and children. Look for sales to get your hands on some quality pieces from Barbour at a lower price. You may also get lucky and find some more affordable Barbour favorites at stores like Nordstorm. 
Lilly Pulitzer
If you like to incorporate a lot of bright colors into your wardrobe, Lilly Pulitzer is the brand for you. The brand is known for their bright floral prints but they also have gorgeous preppy staples like classic white dresses. You can usually find some more affordable Lilly Pulitzer items at department stores. You can also shop the sale section of their website and keep an eye out for sales that pop up on occasion. 
Ralph Lauren
You can't talk about preppy fashion without mentioning Ralph Lauren. This brand practically invented the quintessential preppy outfit. 
Ralph Lauren is known for their high quality products, including their iconic polos. Unfortunately, some of their most stylish pieces can be more on the expensive side. To save money on clothes  by Ralph Lauren, shop their sale section and keep an eye out for the occasional sale popping up throughout the year. 
Vineyard Vines 
At full price, Vineyard Vines can be pretty pricey. But if you shop the Sale section on their website and shop during their major sales you can save a ton of money on items for your preppy wardrobe. 
Vineyard Vines usually has three sales events throughout the year, including one around the fourth of July. 
Nordstrom
Every summer Nordstrom has their Anniversary Sale. You can save hundreds of dollars on preppy essentials every year during their biggest sale of the year. There are literally thousands of reduced items to choose from, so it's no wonder that I get so excited about the annual Anniversary Sale. 
Let me know your favorite preppy brands below!
I'm always on the lookout for new brands, so drop your faves! And if you recently scored a killer deal from one of your favorite preppy brands, drop that below too. For more all things fashion and lifestyle, head on over to the blog.