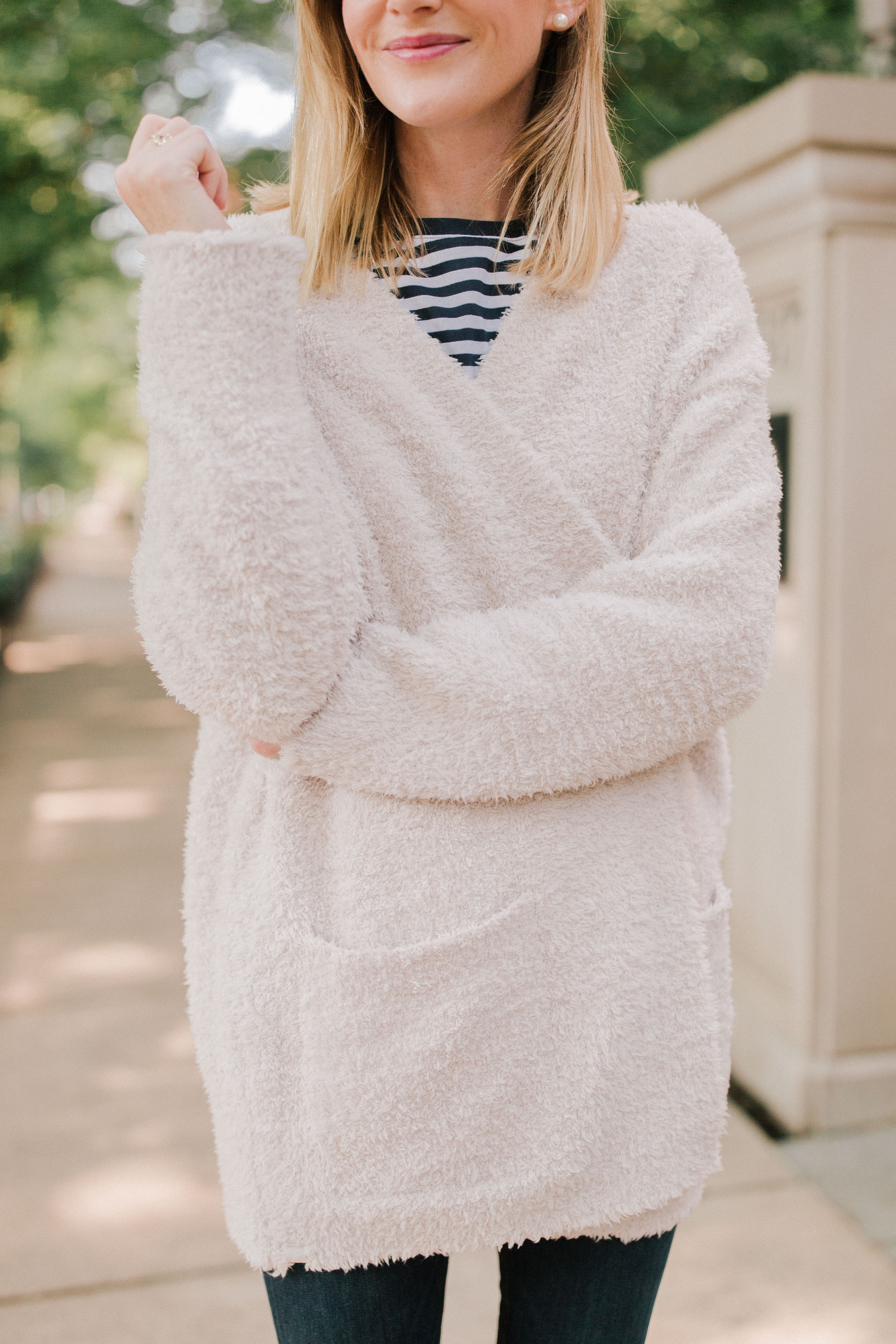 Barefoot Dreams Cardigan (This one and this one are also part of the Nordstrom Anniversary Sale.) / Rag & Bone Skinny Jeans / 1901 Striped Tee / Navy Bow Slides (They also come in leopard!) / Tory Burch Tote (Here's the mini!) / Monica Vinader Bracelet / Similar Sunglasses
*Scroll down to enter today's giveaway. Directions are in red.*

UGH. The first day of three back-to-back trips did not go well. Once again, our flight was cancelled.
This time, it was apparently due to storms in Arkansas, where we were headed for freelance work. We're cursed. Right?
The worst part is that it was our five year wedding anniversary. 😂 Mitch and I have a running joke that we'll never have a good anniversary celebration. The first year, I got pink eye. The next, we both had a stomach bug. And then the third, I was so pregnant with Emma that I could barely make it down the street and I ended up crying. I can't remember what happened last year (which I'll admit is bad), but it didn't go well. And then yesterday! Goodness. ;)
Maybe it's a sign from the gods that "big occasions" aren't actually important. It's the little moments; the everyday stuff that truly matters. It's the sitting in a terrible Italian restaurant at O'Hare International Airport, laughing over the absurdity of things. Or maybe, as I mentioned before, we're cursed. 😉
When the flight was finally cancelled sometime around 9 p.m., I had this amazing idea. I'd book a babysitter for the following night and surprise Mitch with our first fun celebration. Wouldn't that have been cute?! Like, just have her show up and then say to Mitch, "GUESS WHAT WE'RE GOING OUT WOO!"
But we found a new flight for today, at 11 a.m., so we're back at it as you read this. That's okay, though. I'm blessed and lucky to spend the majority of my days with my husband and daughter, so I know that in the grand scheme of things, another anniversary gone wrong isn't a big deal. And we didn't want to lose our freelance gig! (I'm not technically allowed to disclose what the job is, but it's photography-related, in case you're wondering.)
Edit: I actually just found out that a storm in Missouri resulted in the deaths of 17 people in a boating accident yesterday. 😢 Certainly puts things in perspective, and my heart goes out to the families affected. I haven't yet been able to find a donation site for the tragedy, but once it's up, I'll be sure to share. ❤
Okay. So let's get to today's question of the day. If you answer it in the below comment section, you'll be entered to win $50 to spend on the Nordstrom Anniversary Sale, which just opened to the public. (Or whatever you want, since Mitch will send you your winnings via Paypal or Venmo.) Here's yesterday's guide to shopping the sale, and here's the question of the day: Tell us about a particular travel memory you have! It can be about anything: the getting there part, or the trip itself… and it can be from any time in your life. Just be sure to include your email address in there so we can get in touch with you if you're selected as the winner! (Like this: Kelly [at] kellyinthecity [dot] com.)
Congrats to the following girls who've won so far:
Lauren V.
Maggie P.
Kaitlin M.
Grace M.
And on to product reviews!
All I can say is that the Barefoot Dreams collection lives up to the hype. They are BY FAR the coziest, softest sweaters I've ever owned (literally zero itch), and I can't recommend swooping one or two up right now, since they're marked down.
This particular one is a bit more substantial than the others, and it currently functions as my cozy, hang-on-the-back-of-the-office-door sweater when Mitch pumps the air conditioning a little too aggressively… but I also think it'll be a fall staple. It has pockets, which I love, and this color is my favorite. In addition, it only comes in two sizes, so I realize that figuring out which would work best for you might be difficult. It runs large, but it's also meant to have that oversized look. I'm wearing the S/M here, and it's great!
Note: this one and this one are also part of the Nordstrom Anniversary Sale. I'll be wearing them on the blog soon!
LOVE. For the purposes of reviewing it and featuring it over these next couple of weeks, I bought it in both the light pink and the brown colors. (Mom is keeping the brown.) I can't decide which I like better!
I'm a huge fan of how many pockets it has. There's a large zippered pocket that runs across the middle dividing it into two parts, and then there's a zippered pocket on one side and a couple of open pockets on the other. I also love the length of the straps. As you can see, I can get it over my shoulder–even when I'm wearing a jacket–without an issue. And when I pick Emma up, it doesn't slide around and hit her in the face. (Added bonus. 😉) If you need a bag that'll bring you from day to night (especially during the work week), this is a GREAT option. Here's the mini version.
My favorite jeans from the sale. I don't love high-rise jeans, but low-rise jeans give me trouble at the playground. ;) These are the perfect compromise! They are incredibly soft, they fit like a glove, and I didn't have to get them hemmed. As you can see, they are just right for my height. (I'm between 5'4 and 5'5.) Another bonus is that they don't bother me at the waist, as most jeans do.
Btw: this is my other favorite pair of jeans right now. They're not included in the sale, but they're worth every penny.
Go up a half size. Other than that, these are perfect and are, without a doubt, my favorite shoe purchase from the sale. Don't they look just like the Prada version?! I actually don't know what I'm talking about, haha… but I think there's a classic Prada shoe that resembles this. Super comfy and easy to keep on my feet, and you can't beat the price. They come in leopard and pink, too.
Not much to say here other than the fact that it goes with everything yet runs small! I'm wearing the size S here, and as you can see, it doesn't look big. I'd recommend going up one size.
It's a great gift. The best part about this bracelet is that if you bring it into Nordstrom, they'll engrave it for you for free. My brothers and I gave a similar version to my cousin this past year when she was fighting cancer (SHE WON!), and I hope it brought some comfort. My parents also gave it to my sister-in-law when she graduated from medical school. You can engrave anything on it, and I love the sentimental possibilities. My girlfriends in Chicago all have one, and I kind of think of mine as a Chicago Friendship Bracelet. :)
Shop the post:
Barefoot Dreams Cardigan (This one and this one are also part of the Nordstrom Anniversary Sale.) / Rag & Bone Skinny Jeans / 1901 Striped Tee / Navy Bow Slides (They also come in leopard!) / Tory Burch Tote (Here's the mini!) / Monica Vinader Bracelet / Similar Sunglasses