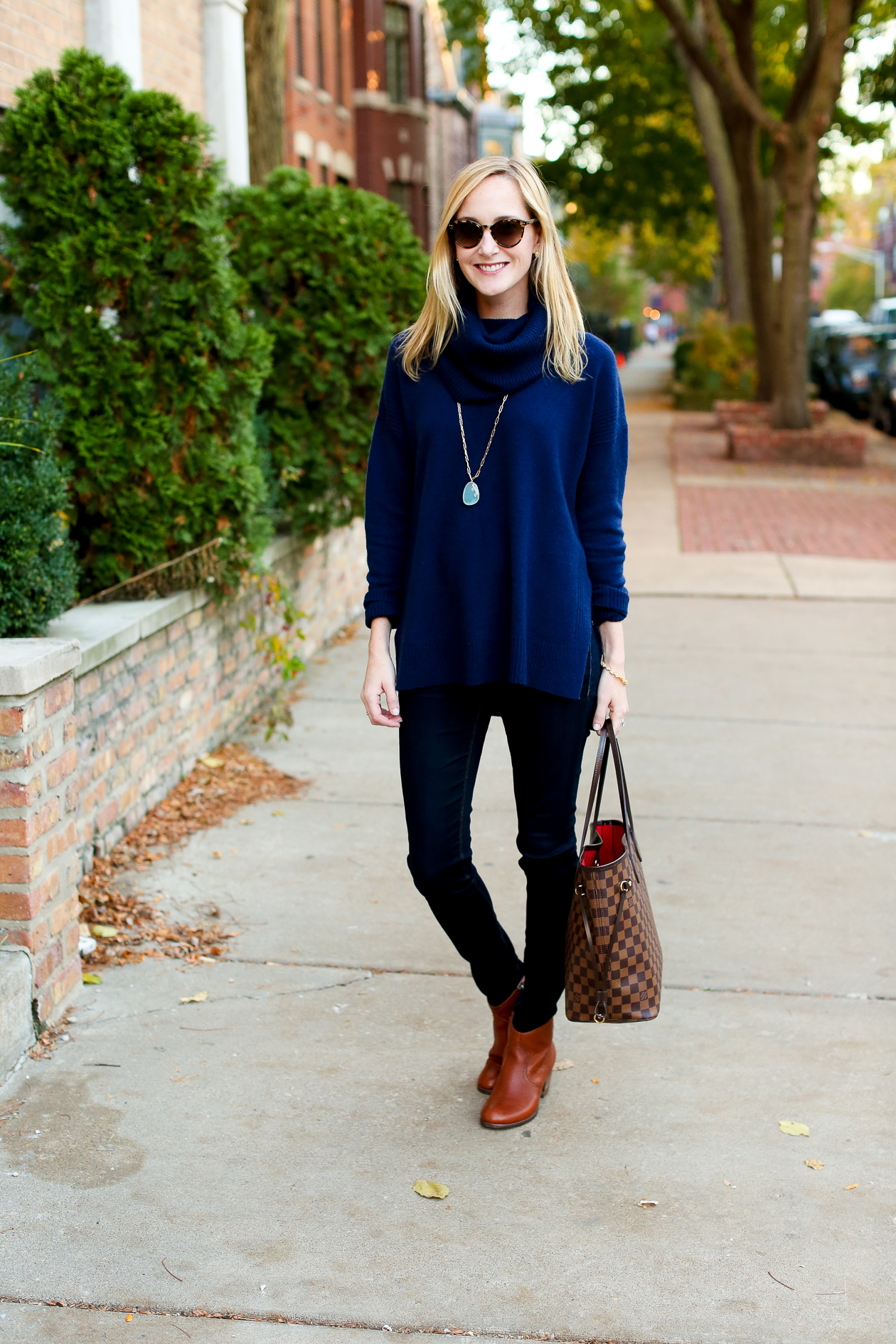 Diane von Furstenberg Cashmere Turtleneck c/o Revolve Clothing / Margaret Elizabeth Necklace c/o / Lands' End Booties c/o / Vixity Bracelet c/o / Hudson Jeans c/o / Louis Vuitton Tote (Buy here, here and here) / See Blair Earrings c/o / Kate Spade Sunglasses (Old, similar here and here)
These photos were snapped last week, when my amazing friend Mandi flew in from NYC to spend a few days with me. (Aren't best friends wonderful?!) We spent a whole lot of time wandering around Lincoln Park together, taking photos of our dogs (#truth), and chatting over wine, so stylish-yet-comfy outfits were 100-percent necessary. ;) My favorite out of all of 'em? Clearly this one!
This is my first, but I have to tell you that all the magic you hear about Diane von Furstenberg cashmere sweaters is real. I'd always thought that cashmere was cashmere, but this sweater takes the cake when it comes to softness. I love that it's drapey without being boxy, that it features an insanely rich navy color, and that the turtleneck part is HUGE, haha. I wish I'd remembered to take a photo of it pulled over my head, but alas. Just trust me when I say that it's 18 inches long. (Yes. I just measured.) A built-in infinity scarf!
I can't get enough. It's okay if I wear it again this weekend and then again next week, right? Oh, the drawbacks of having a style blog… ;)
But YES! We're hours away from the weekend!
What are you guys up to? As if I haven't talked about it enough, I'm picking up Danny at the airport, and then Mitch and I are showing him the house and taking him out to celebrate his arrival. :)
Oh! On the giveaway front:
So many fun happenings. Yay, weekend!

Nordstrom Fall Clearance Sale ends on the 15th!