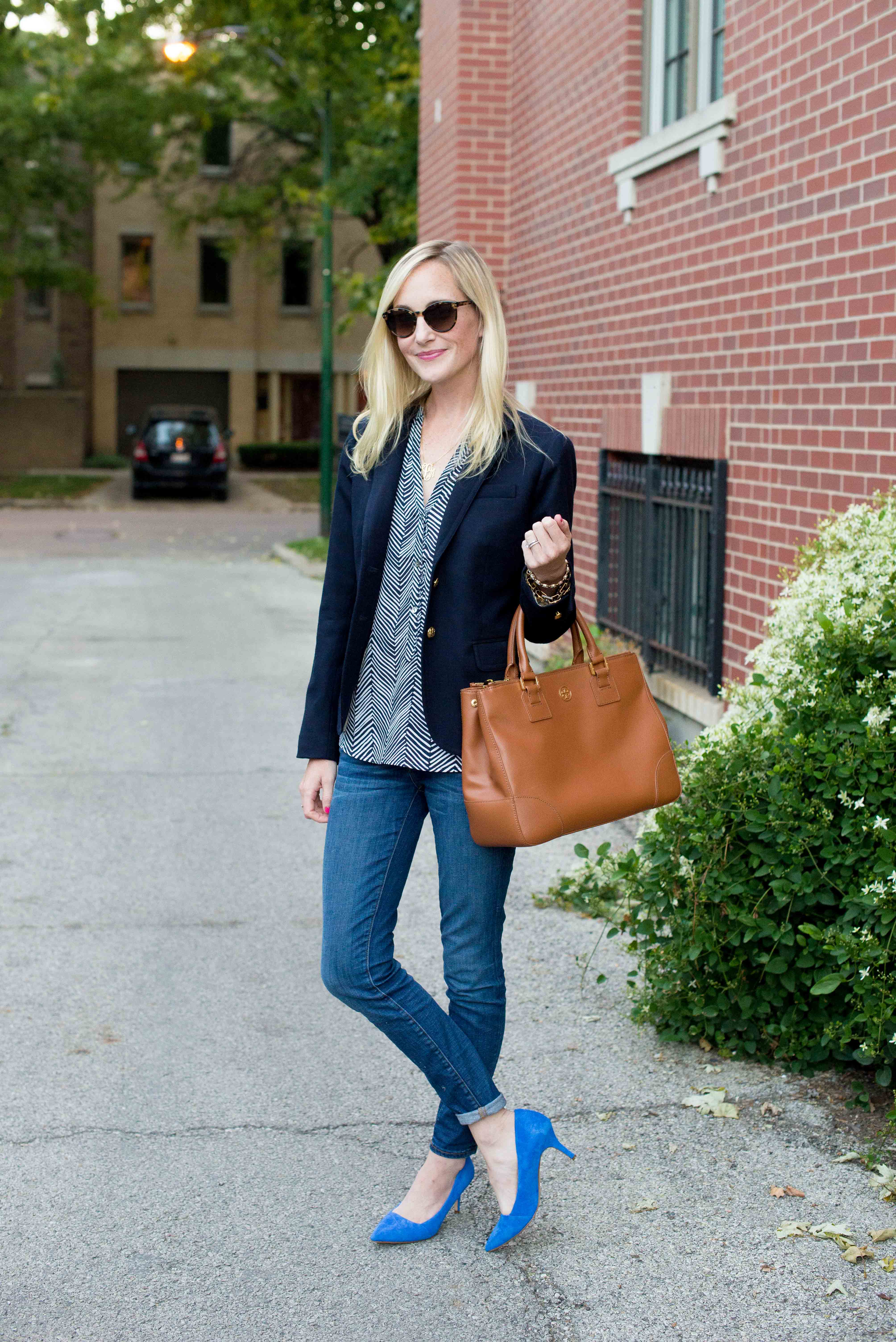 J.Crew Blazer* / ShopbellaC Top (c/o) / J.Crew Jeans* — I recommend rolling both legs. ;) Mine are in the "Miller" wash, but here are lots of other washes available. Sizing tip: I wear one size down from my normal jeans size! / Tory Burch Tote / C.Wonder Pumps (Sold out, but can we talk about how cute these navy pumps are?! And these navy bow heels?! Okay. Stopping. / J.Crew Earrings* / Michael Kors Watch / Kate Spade Sunnies (Old, newer styles here) / C.Wonder Tortoise Bracelet (Sold out), but loving this tortoise cuff! / Armed & Readi Pave Bracelet (c/o) / 9th & Elm Necklace (c/o)
*Take 25 percent off full-priced products and 30 percent off the final sale with code "SHOPFORFALL"
Several thoughts today:
1. Not only did I take outfit photos with one jean leg rolled up and the other down, I walked around Chicago–the whole day–like this. You win some and you lose some, right? ;) Oh, well. Besides, I've made bigger fashion faux pas. One time, I traveled all the way from 68th Street on the Upper East Side to 149th Street/Third Avenue in the Bronx with my skirt tucked into my tights. Like, exposing my butt. And there were hearts on my panties. And no one said a word to me until I walked into work.
2. I finally removed the shoulder pads in my navy J.Crew Schoolboy Blazer. I wanted them gone for years, but just never got around to bringing the thing to a tailor. Which is ridiculous, considering there's practically a tailor on every corner of both NYC and Hoboken. But, hey. I got it done, and oh-em-gee, I love the results. (The alterations only cost $10, too! So worth it.) Before I had the shoulder pads removed, the blazer looked off on me, as I have small shoulders. Now, though, it fits like a glove! I'm smitten with the results.
I have a few other J.Crew "Schoolboy" Blazers: this one (in gray, which I scored on eBay) and this one (in orange, "heather mineral" and hunter green, which I nabbed during killer end-of-season sales). I know. I have problems. But I wear them constantly. Anyway, I definitely plan on bringing them all in for alterations.
Note: Have you seen the new Houndstooth and "Tipped" blazers?! Adore.
Sizing tip: I go up one size in J.Crew blazers.
3. I'm in love with this blouse from ShopbellaC. Doesn't it look so similar to this Lilly Pulitzer Elsa?! Oh, except it's under $40 and machine-washable. :) I'll be styling this top a bit differently in early October, so be on the lookout for the post!