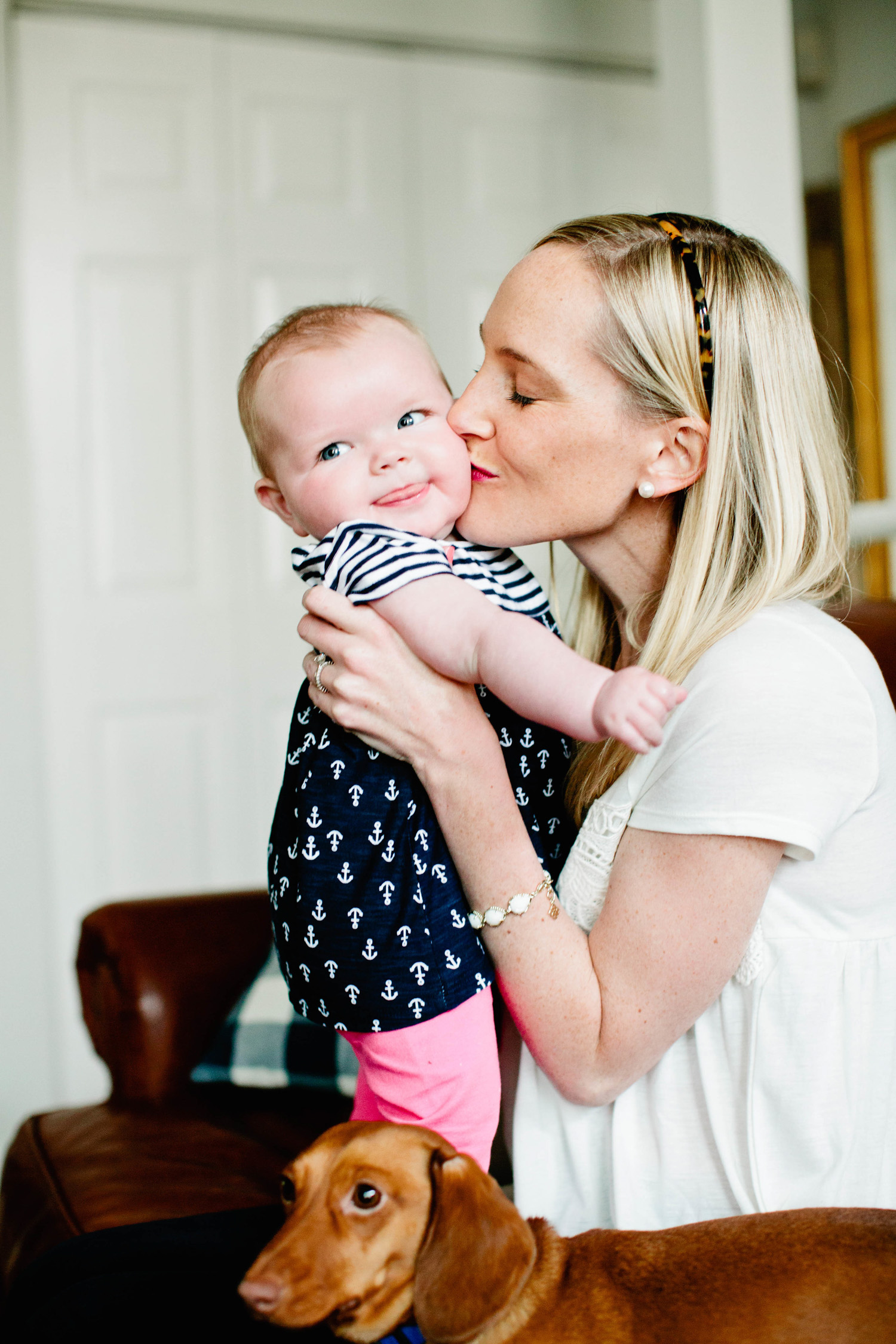 As you know, last week was a dream. Temperatures were in the 60s and 70s, and we spent the majority of our time outside. It was truly like we were vacationing in our own city, but I'll admit that Mitch and I weren't exactly prepared for it. As we weren't expecting warmer weather to grace us until April or May, we hadn't purchased any springtime clothing for Emma, and our poor little girl was a little cranky on the first day of the heat wave as a result.
Wearing:
Daisy Leggings / Anchor Tee / Pink Tee / Pink Leggings / Crochet Swing Tee / Peplum Top / Skinny Jeans
Thank goodness I knew about Jumping Beans, an adorable new kids line at Kohl's, which is right down the street from us. Emma and I were planning on partnering with the brand on another post, but we decided that we needed some cute spring clothing sooner rather than later. ;) So we ran over and made some emergency purchases, and Boo Bear was so much happier. What baby wants to wear a thick cable-knit sweater when it's 70 degrees outside, right?!
If you haven't heard of it yet, Jumping Beans is a newly redesigned line of kids' clothing that just recently hits stores this month. Everything is comfy, soft, practical, reasonably priced, and the absolute cutest. I mean, can we just talk about Emma's t-shirt for a second? It has anchors and stripes on it. And how about those floral navy capris? Be still, my heart.
You can see a bunch of my favorite Jumping Beans products above, but I'm particularly a big fan of this pink pom tee, this tunic, this pom bodysuit, this navy dot dress, and these ruffled tights. And my question remains: why doesn't this stuff come in women's sizes, too?! ;)
I also need to mention how much I adore these photos. My incredibly talented friend Cassandra just moved back to Chicago, and she came over and graciously snapped some pics of Emma and me in our warm weather outfits in the living room and nursery. While I'm grateful that Mitch and I are pretty good about taking pictures at events or during family outings, we aren't the best at capturing everyday life. I love that these photos capture just that. Cassandra, thank you!
Anyway, now's a great time to stock up on Jumping Beans if you're a mom or have a cute little kiddo to buy for. ;) Now until February 29th, you can use code "YES2YOU" to take 20 percent off your purchase. (It'll also get you 3x the points!) Clearly I need to use that for Emma's Los Angeles wardrobe.
Eeee! So excited!
Shop the post:
Daisy Leggings / Anchor Tee / Pink Tee / Pink Leggings / Crochet Swing Tee / Peplum Top / Skinny Jeans
This post was sponsored by Kohl's and ShopStyle, but all opinions are my own. As always, thank you so much for supporting the partnerships that keep Kelly in the City up and running!
Photos by Cassandra Eldridge