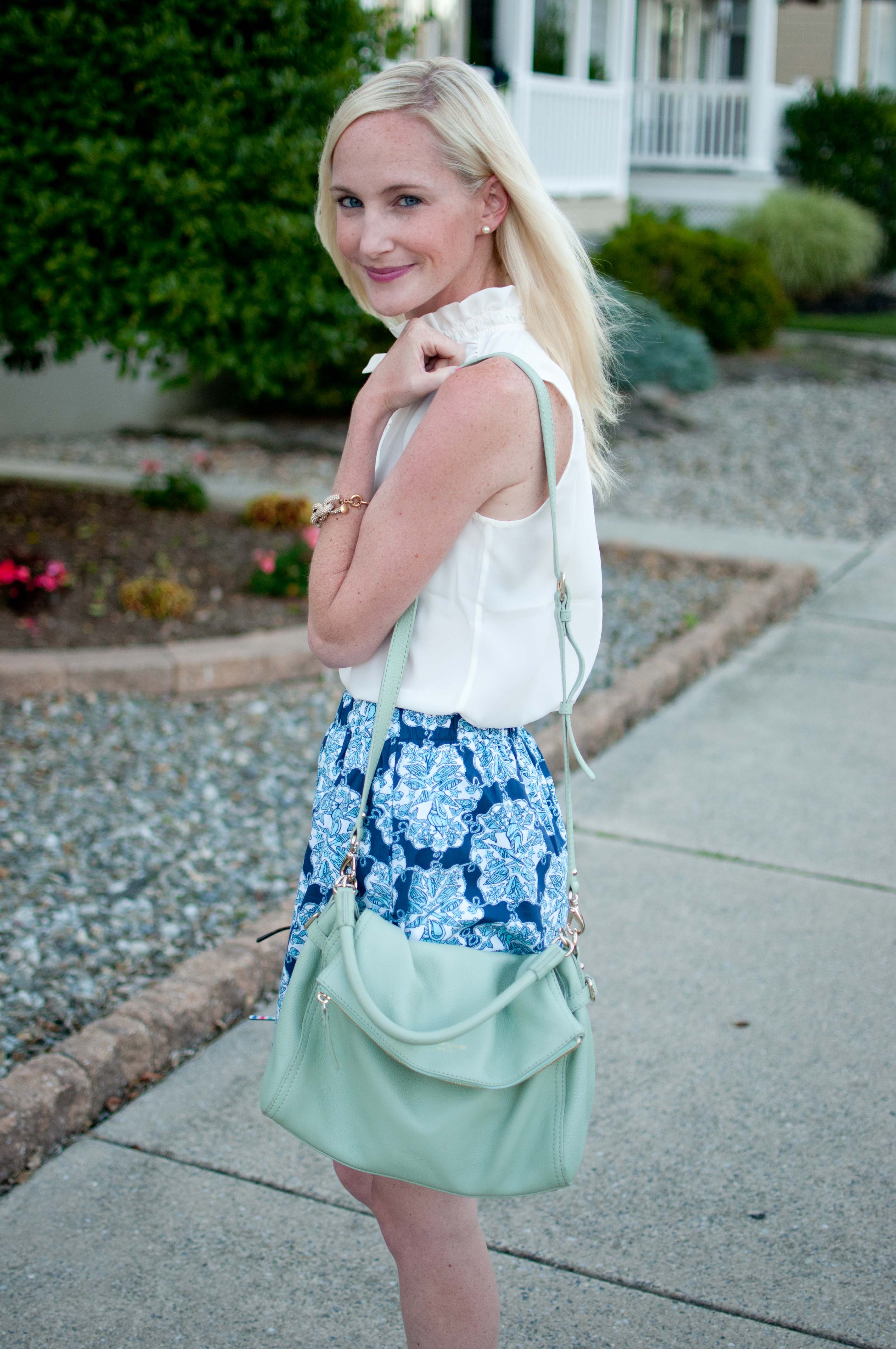 Confession: I wear these shirts constantly. I can't help it. They go with everything, and they're incredibly comfy and breathable. (That's huge, considering this heat wave we have going on!) Sorry for having them on repeat, but I really can't recommend them enough!
Top: J.Crew Factory, also available in pink, navy, polka dot, herringbone and floral / Skirt: Lilly Pulitzer (Old), similar cut here and here, similar skirt with seaside print here / Sandals: Jack Rogers, same in white here, also loving the cork version (which I feel like I talk about ALL the time… sorry!), and the navy/white version (Swoon, swoon, swoon!) New obsession: Nantucket gold version. / Bag: Kate Spade (On sale!), same bag in black, tan, bright blue, bright green, straw, and black and white stripe / Necklace: Kate Spade (Also loving Kate's pearl bracelet and pearl earrings!) / Earrings: J.Crew, similar here (More affordable!) / Sunnies: Kate Spade / Bracelets: J.Crew, also available in the colored version, and check out the pave link sandals! (Swoon!); and C.Wonder (Sold out), similar here / Watch: Kate Spade, also available in black and white, and gold and silver metal / Lipstick: Clinique
Things are fabulous down on the Shore. Busy, but fabulous! On this particular night, my high school friends–who are staying down here for the week, too–dropped by before heading out to the bars in Sea Isle. What a fun night. It was such a fun night that they never ended up leaving for the bar. So glad they stuck around! ;) (I love my high school friends. Like, love love.)
On the agenda today? Final meeting at the reception venue, and dropping off all the decorations! (Woo! So proud that they're all done.) And then maybe some boating out on the bay. Have a wonderful Wednesday, fashionistas!
Top: J.Crew Factory, also available in pink, navy, polka dot, herringbone and floral / Skirt: Lilly Pulitzer (Old), similar cut here and here, similar skirt with seaside print here / Sandals: Jack Rogers, same in white here, also loving the cork version (which I feel like I talk about ALL the time… sorry!), and the navy/white version (Swoon, swoon, swoon!) New obsession: Nantucket gold version. / Bag: Kate Spade (On sale!), same bag in black, tan, bright blue, bright green, straw, and black and white stripe / Necklace: Kate Spade (Also loving Kate's pearl bracelet and pearl earrings!) / Earrings: J.Crew, similar here (More affordable!) / Sunnies: Kate Spade / Bracelets: J.Crew, also available in the colored version, and check out the pave link sandals! (Swoon!); and C.Wonder (Sold out), similar here / Watch: Kate Spade, also available in black and white, and gold and silver metal / Lipstick: Clinique