Wearing makeup can make you look good and feel more confident. I love wearing makeup, but I often struggle to find the time to actually do my makeup. I spend most of my time with my family, including my two young girls, and I wouldn't change it for the world. 
But I also know that being a mom often takes time away from practicing self-care and doing some of the things you enjoy. Mom life is crazy busy and tiresome most days. So it's natural to feel like you don't have time to put on makeup. 
Fortunately, with just a few simple makeup tips and tricks, you can look and feel your best. Here are some fabulous, quick makeup tips for moms. 
10 Easy Makeup Tips For Busy Moms
Apply moisturizer regularly.
OK so, even though moisturizer isn't exactly what you think of when you think of makeup, it's crucial to a good beauty routine. And yes, you do need moisturizer, even if you have an oily skin type (just use water-based moisturizer). 
You need to keep your skin hydrated if you want it to look as youthful and healthy as possible. Invest in a good quality moisturizer or hydrating serum and apply it regularly, especially before you apply makeup. 
I love this moisturizer from Kate Somerville.
Keep your essentials in a travel makeup bag. 
For easy access and quick touch-ups, no matter where you are, keep your essential makeup items in a travel bag. That way you can apply mascara while you're sitting in the carpool line or touch up your lips before you pick up the groceries. 
I adore this makeup pouch from Madewell.
Opt for a multi-use palette.
Fumbling several palettes while trying to do your makeup costs valuable time and effort. Make things easier by using a single palette of several shades that you can use as eyeshadow, blush, highlighter, bronzer and more. 
Here's a great multi-use palette from Physicians Formula. 
And other multi-use products. 
There are a surprising number of multi-use makeup products out there. You can dramatically cut down on the number of items in your makeup kit by using multi-use products. 
This Multi-Stick for lips and cheeks is one of my absolute favorite makeup products.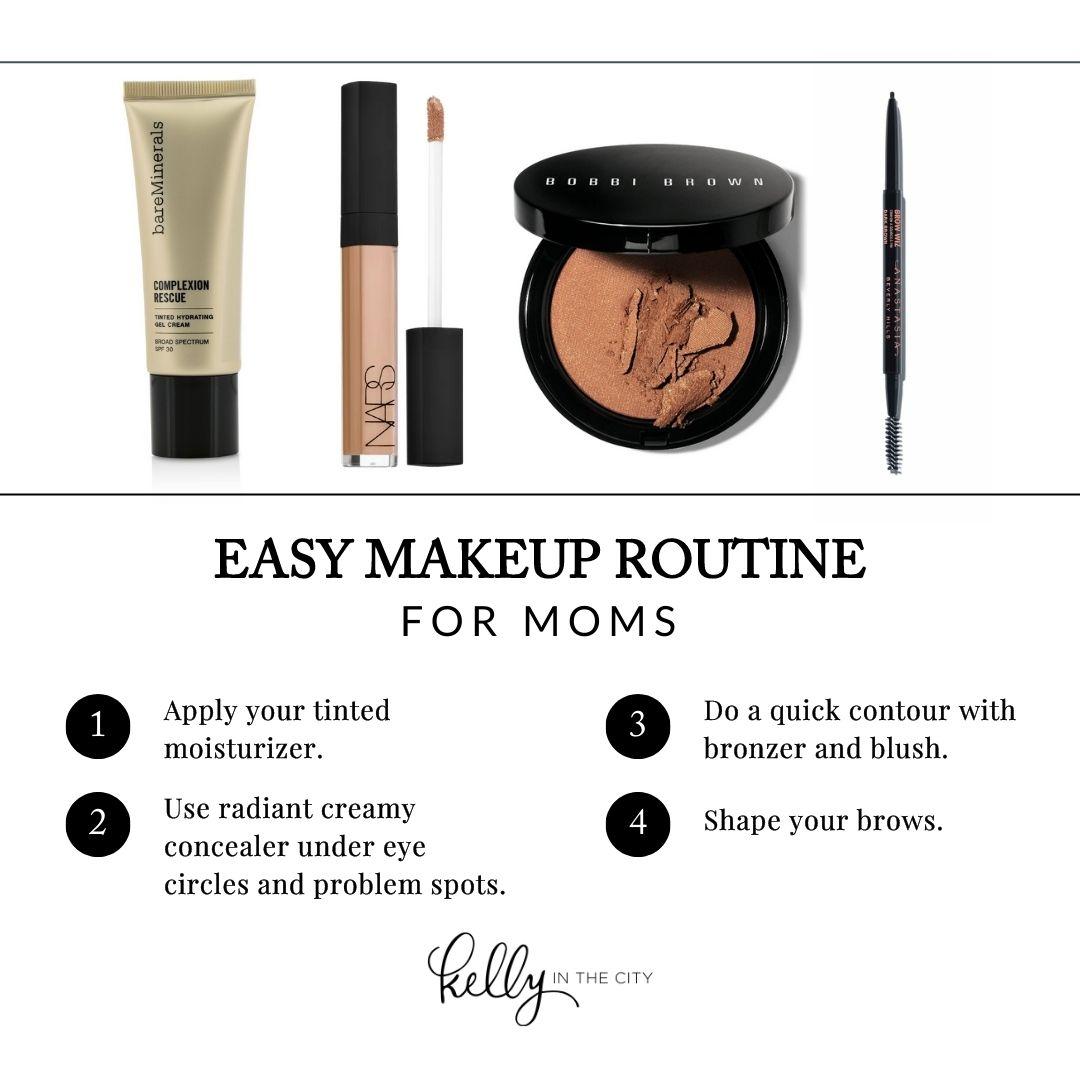 Choose long-wear products that last all day.
A good setting powder is the key to making sure your makeup lasts all day long. But for the guarantee that it'll stay put through every errand and activity, choose long-wear products. Seriously, you'll notice the difference right away. 
This setting powder is my go-to product for making sure my makeup lasts all day. 
Use tinted moisturizer.
You don't need a full face of makeup to look great. Rather than applying a thick layer of foundation, consider using tinted moisturizer.
Tinted moisturizer is quick and easy to apply. You don't need a brush like you would with foundation and you get just enough coverage for the perfect "no makeup" look. The right tinted moisturizer, one that matches your skin tone, gives your skin a perfect, healthy glow. It's the perfect base for your daily look and takes less than a minute to apply.
I adore this tinted moisturizer from Bare Minerals.
Tightline your eyes.
One thing I've learned through watching makeup tutorials from professional makeup artists is the power of tightlining. Tightlining your eyes is different from applying eyeliner the more "traditional" way. 
Rather than applying it above your eyelashes, on your lid, you want to apply your eyeliner to your waterline. Think of it as applying your eyeliner to the area your eyelashes grow out of. When you tightline your eyes, you achieve a more natural, yet still noticeable, look. 
This eyeliner from Bare Minerals is legitimately STILL the best eyeliner I've ever used.
Shape your brows.
Spending just 30 seconds on your eyebrows is enough to transform your entire look. As you get older, your eyebrows tend to get thinner. Fill them in with a pencil or mascara wand and be amazed by how youthful and radiant you suddenly look.
I love this brow gel pencil from Anastasia Beverly Hills.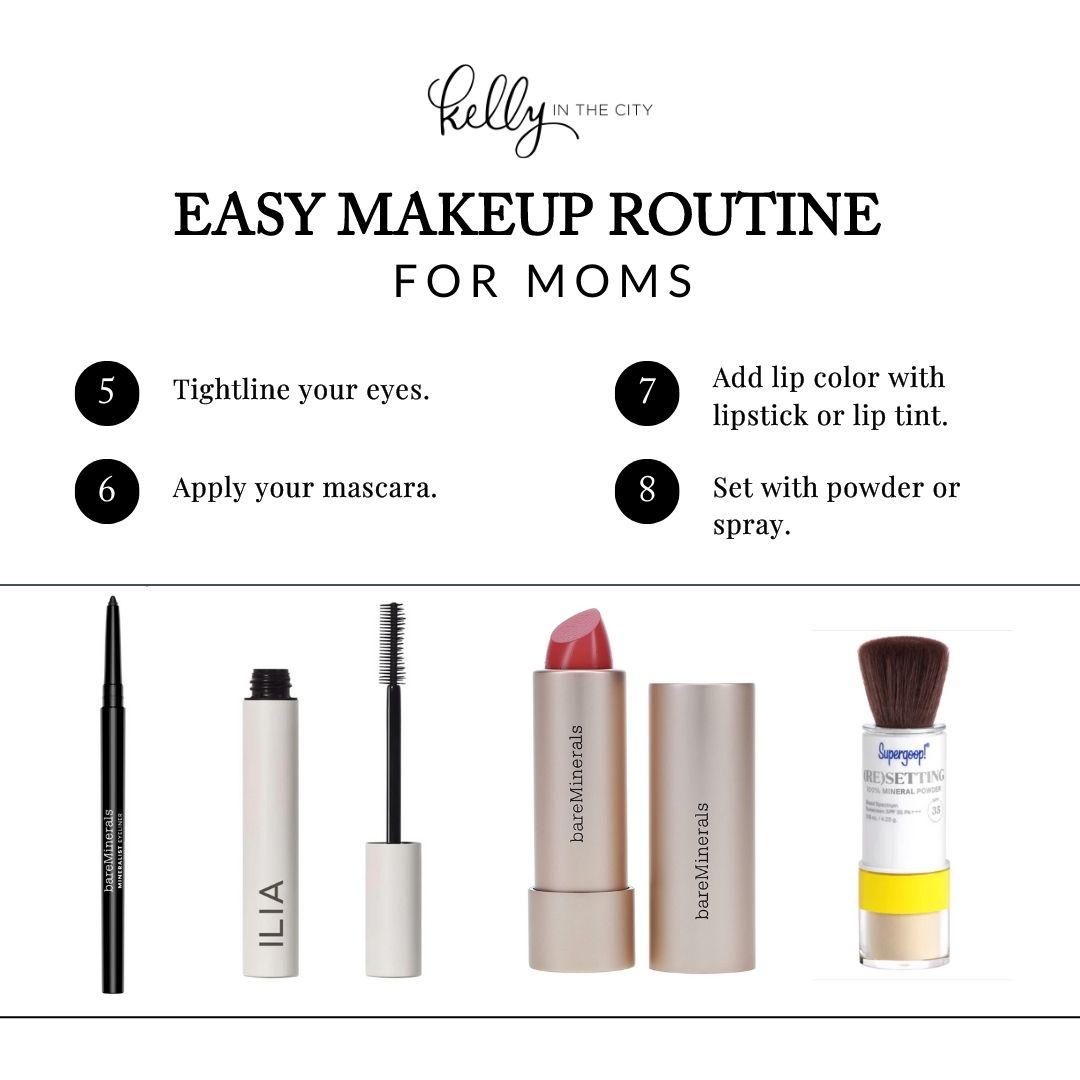 Use a quality cleanser every night. 
Seriously, don't skip this step. Cleaning your face regularly is important, regardless of whether you wear makeup or not. But it's especially important for maintaining healthy skin if you wear makeup every day. Choose a quality cleanser and use it to clean off your makeup and refresh your skin.
I love this hydrating cleanser with hyaluronic acid from CeraVe. 
Create a simple makeup routine.
If there's one thing a busy mom wishes she had more of, it's time. And a simple makeup routine will definitely give you more time. The more simple you can make it, the more time you have to spend on other things. 
Easy Makeup Routine For Moms
Here is one of my favorite quick and easy mom makeup routines:
Apply your tinted moisturizer.
Use radiant creamy concealer under eye circles and problem spots.
Shape your brows.
Tightline your eyes.
Apply your mascara.
Add lip color with lipstick or lip tint.
Set with powder or spray.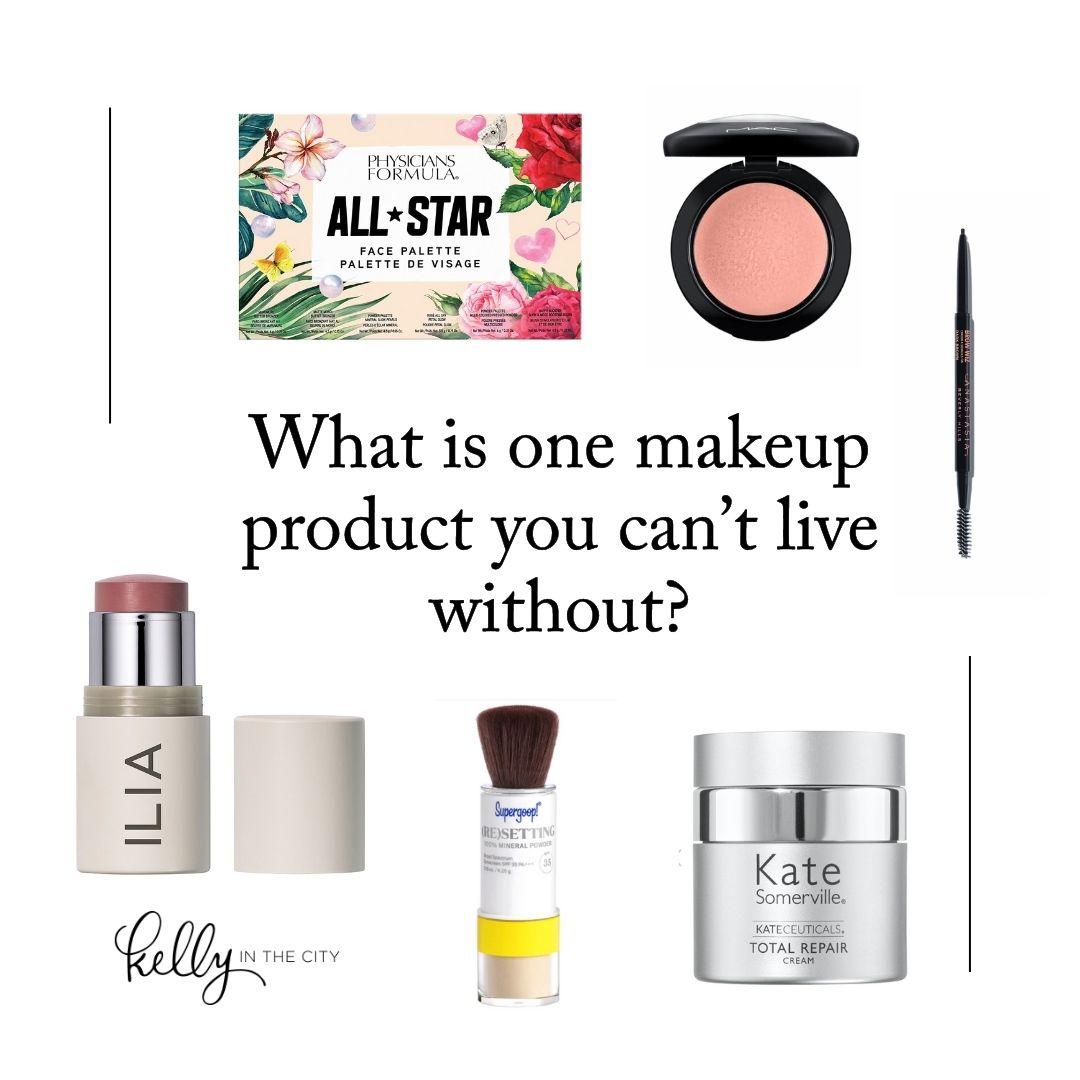 What is one makeup product you can't live without?
Are you emotionally attached to your mascara? Do you never leave home without your concealer? I'm curious what makeup product you consider a must-have. 
Share your thoughts and ideas with me! Then, head over to the blog to read more about my crazy but wonderful mom life. Or, shop my Amazon page for more beauty & self-care items!