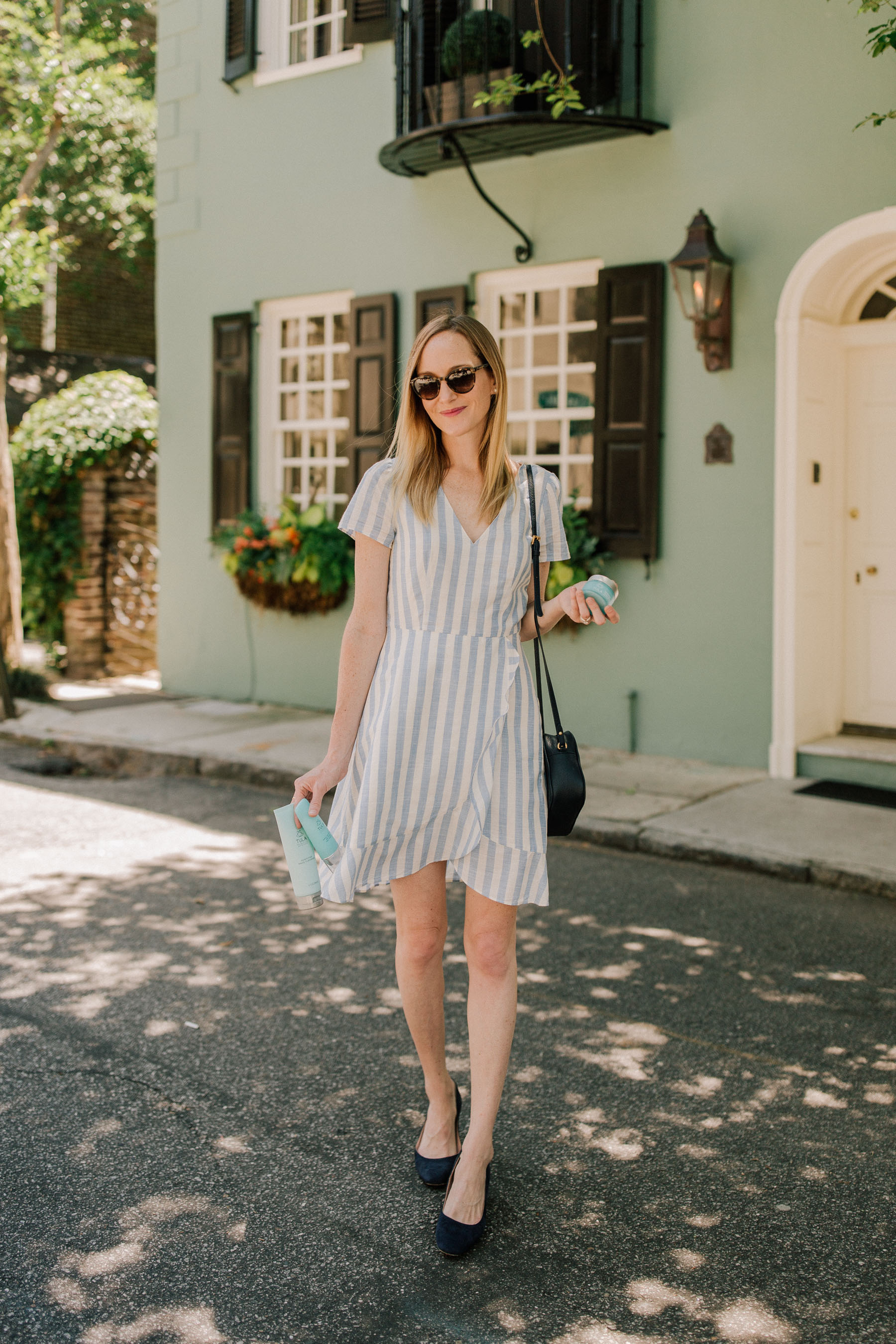 Striped Dress (I'm wearing my usual size here, but I wish I'd gone up a size for a little extra room in the shoulders! Here's the chambray version.) / Navy Crossbody c/o / Navy Pumps
Over the last few years–especially after having Emma–I've noticed quite a few signs of aging. Yes, there are the grays, which are weirdly only on the right side of my head. 🤔 My eyesight keeps getting worse. (-6.75 in contacts at this point.) And then there's my thin hair. (Sorry about all the freakout posts over that. 😂)
But there's also my skin!
Okay. I don't mean to be dramatic. It's totally fine; I'm just getting older. And I love this stage of my life, despite the fact that I don't look as fresh-faced as I did 10 years ago. Because truthfully, every decade has been better than the last.
But I will say that for a while, I kind of shuddered when I looked at my makeup-less face in the morning. I mean… there wasn't anything glaringly wrong, but my skin just looked… meh. Descriptors that come to mind:
Dull
Blotchy
Meh
Wrinkly (😧)
Lifeless
And then along came Tula.
Btw: at the end of this post, I'm offering a special discount code! Be sure to scroll down. :)
You've probably seen the aquamarine containers around; I'd seen 'em everywhere in the months before I was introduced to the company. And I think that's because Tula–the skincare brand behind them–seems to have taken the beauty industry by storm.
To give you a little background, probiotics (natural, good-for-you bacteria that work to improve your health) are the foundation of all Tula products. Similar to probiotic supplements that are ingested, Tula specializes in topical probiotic products (and "clean skin superfoods") that lock in moisture, reduce inflammation, and promote the look of the skin's natural balance. They soothe distressed skin, lessen the appearance of fine lines and wrinkles, and help protect the skin against environmental stressors.
Tula products are perfect for those with acne-prone and/or sensitive skin. (Like me!) And all products are free from phthalates, parabens, toxins, carcinogens, mineral oil, sodium laurel sulfate, and preservatives. The company is also certified cruelty-free.
A while back, Tula sent me products to try out, so today I'm teaming up with the brand to review a few of my faves!
LOVE. I don't know why I didn't jump on the face mask bandwagon before this year, but they're truly magical. The Exfoliating Treatment Mask from Tula is no exception, and this is the mask that's left my skin looking its brightest and feeling its softest. There are so many ingredients in the mask that fight dullness: Bentonite clay and lactic acid, which help exfoliate; blueberry extract, which hydrates and promotes even skin tone; turmeric root, which reduces signs of inflammation; and probiotics, which lock in moisture.
As dullness is my #1 skin issue right now, this is my favorite out of the three products. Yes, it's one more thing to add to the routine. But I apply it super quickly, right after I was my face every morning and night… and it locks in moisture for 72 hours. (It's said to be like drinking eight glasses of water in just two pumps.) After only a few days of use, my complexion was getting a "dewey" look to it, which had to be the organic prickly pear extract working its magic. Definitely a fan.
This facial cleansers smells AMAZING. (It honestly makes me feel like I'm at the spa!) There's nothing more refreshing at the end of the day than using face wash that's soothing and calming, and I adore this one. It goes deep into pores without stripping or drying skin… and I found that my skin feels considerably softer, looks far less blotchy, and appears much brighter when I use it. The cleanser is extremely gentle, but it's designed for all skin types. (Including both dry and oily skin!)
These are perfect for when I don't have a lot of time. They're essentially instant facials; they provide natural exfoliation and brightness to rough, dull-looking skin and take only two minutes. As I've mentioned, my skin lacks a natural glow on its own, but these little pads make my skin look healthier. They bring color to my face in a good way, and they make my skin feel a zillion times softer!
If you'd like to try Tula, use code "KELLYCITY" to take 20 percent off your order! Discount is not valid on sale or auto-delivery items, and is "one use" per customer.
Shop the post:
Striped Dress (I'm wearing my usual size here, but I wish I'd gone up a size for a little extra room in the shoulders! Here's the chambray version.) / Navy Crossbody c/o / Navy Pumps
In collaboration with Tula; all opinions are my own. As always, thank you so much for supporting the brands and partnerships that keep Kelly in the City up and running!