Let's give a warm welcome to my friend Jordan who is guest-posting for me today! Hi, Jordan! 👋
Who doesn't love Fall? Autumn comes with stunning colors and cooler weather—just what we need after a scorching summer. If you're a parent, there are tons of learning activities and autumn crafts for toddlers that you can schedule before the holiday activities come swooping in around October. You can make this autumn season their most memorable yet!
Today's post is here to help you plan all kinds of autumn activities for toddlers. From autumn sensory play and art activities to endless leaf crafts and fine motor activities, there's a lot to choose from. So let's get right into my 20 favorite autumn activities for kids!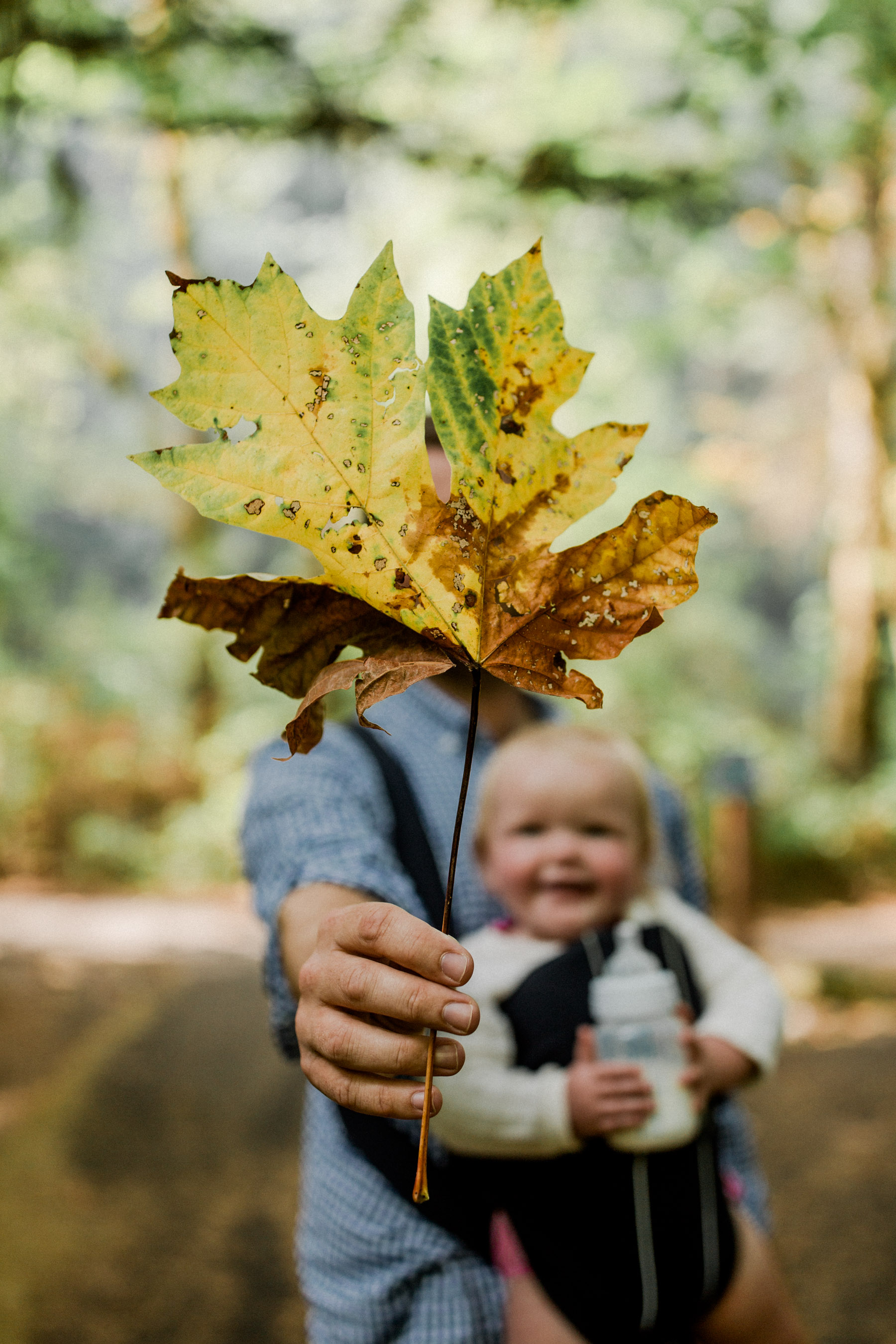 Original photo diary post: Explore Mount Hood in Oregon with us!
20 Autumn Activities for Toddlers
1. Go on a nature scavenger hunt.
Nature scavenger hunts are just the best for curious little minds and parent/kiddo bonding time! This activity is best reserved for the days where the sun is out and the temperature moderate. A nature walk doesn't have to be off the beaten path; anywhere outside in some fresh air with trees and leaves is just fine. One of my favorite spots for a nature walk in Chicago is (actual) Lincoln Park, so I definitely recommend visiting if you're in the area. (The Nature Conservatory is great for rainy days, too!) A few ideas for what to look for in the scavenger hunt (with an autumn theme, of course) include autumn leaves, spider webs, pinecones, mushrooms, acorns, apples, pumpkins, twigs, sunflowers, scarecrows, autumn patterns, early halloween decorations, wreaths, and different birds. But feel free to add any other items you like to the list!
2. Finger paint an autumn landscape.
Finger painting is one of my favorite art activities for toddlers. The results are always adorable and they have such a blast coloring an empty canvas with their little hands! To make it fall-themed, encourage them to finger paint an autumn landscape. This can feature pumpkins, apple trees, sunflowers, turkeys, and scarecrows. For the really little ones, just let them go wild. Anything your kid wants to include, really! You'll need watercolor paints, blank sheets of coloring paper, and some aprons or already stained clothes for the little ones. ;)
3. Make autumn-inspired playdough figures.
Playdough is great for both practicing fine motor skills and for sensory playtime. It's pretty much one of those year-round toddler activities! Still, you can make it autumn-themed with just two simple steps. First, scent the playdough with autumn smells. I'm talking about cinnamon, pumpkin spice, and nutmeg. Then create autumn-inspired shapes with your toddler!
4. Host an autumn-inspired outdoor movie night.
Luckily, autumn is still warm enough that you can totally throw an outdoor movie night. Throw on some sweaters, grab a few pillows and blankets, set up the outdoor movie theater projector, and put one a great fall movie. We personally love Harry Potter, Hocus Pocus, Melinda, and Casper the Friendly Ghost. Then all you need are some autumn-inspired movie treats!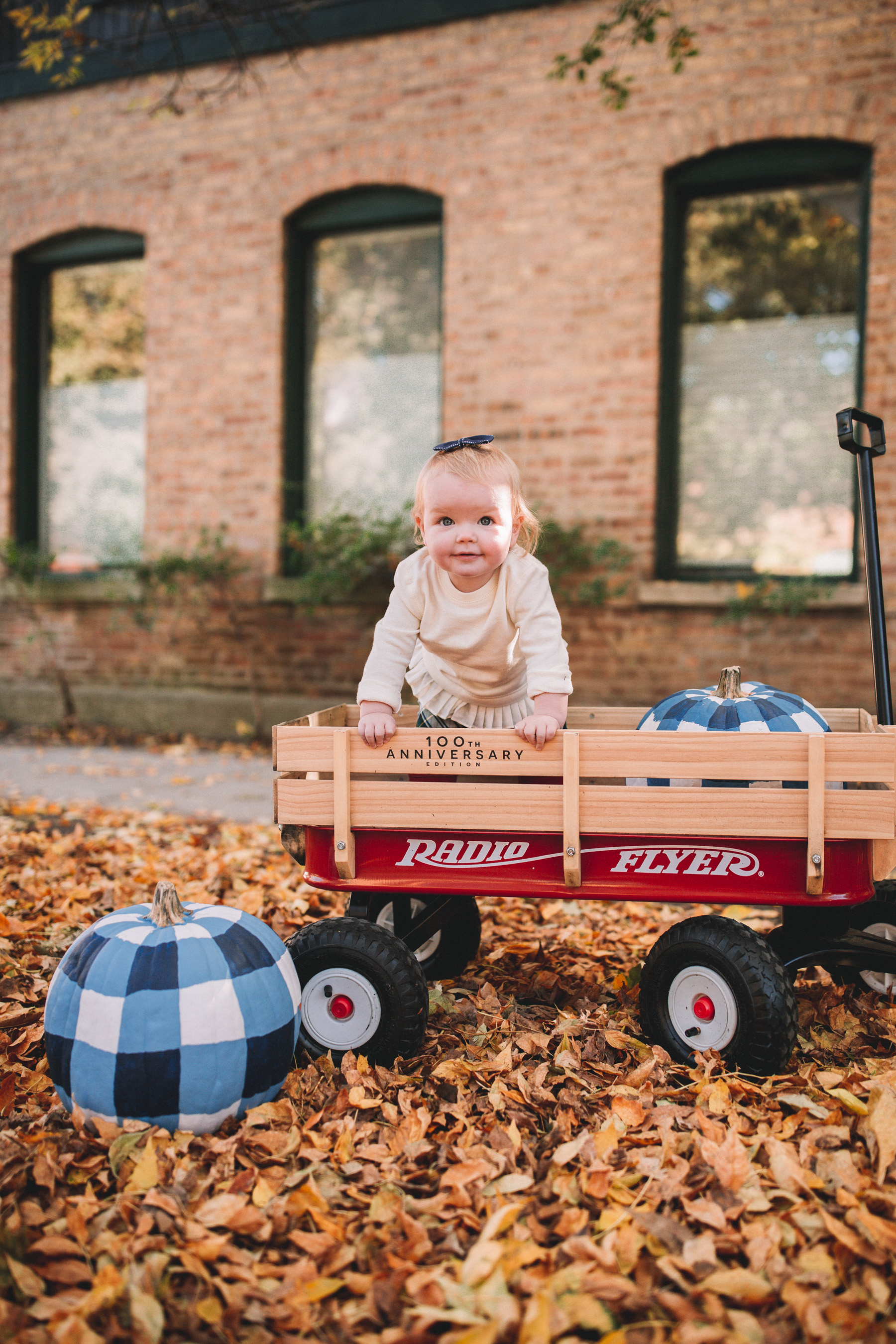 Original post: Make gingham pumpkins with us!
Gingham is a classic Autumn and Fall pattern. Kids obviously love painting, so why not recruit their help for some fun and decorative DIY gingham pumpkins? This one is super easy and fun for the whole family. If you want to try this craft, check out this DIY gingham pumpkin tutorial.
6. Have a plastic pumpkin-filling challenge.
This is a great way to improve your kids's fine motor skills! The pumpkins can be either plastic or real, but it's just easier to use the little plastic ones. And then it's all about grabbing a pair of tweezers and different items! You can challenge your toddler to fill the pumpkins with as many autumn-themed items as they can in a minute or two. It's up to you to decide the prize. But I love to offer them some healthy treats as a reward!
7. Corn painting and decorating.
This is another of my favorite autumn art activities! It's an entertaining and easy process for the kids, and it creates some cute fall decorations that you can place around the house for the season. You just need raw corn, acrylic paint, glue, and your favorite decor items to place on top. If your kids are rolling the corn on a sheet of paper to create a nice painted canvas as well, you'll want to get a couple of corn cob holders. Try to get paint in autumnal colors for the kids so their crafts fit the whole autumn aesthetic.
8. Create macaroni autumn-themed necklaces.
Macaroni necklaces are a classic! I love them, and so do my kids. They're perfect for fall, too—especially if you paint the pasta with the same colors as the autumn leaves. You can make this autumn craft with items that should be in the house already. Yarn, a little orange or red paint, and your favorite shape of pasta all work great! It's a wonderful way to teach toddlers to count and thread, as well as identifying colors. Plus, they'll love it when you sport the necklace they made you!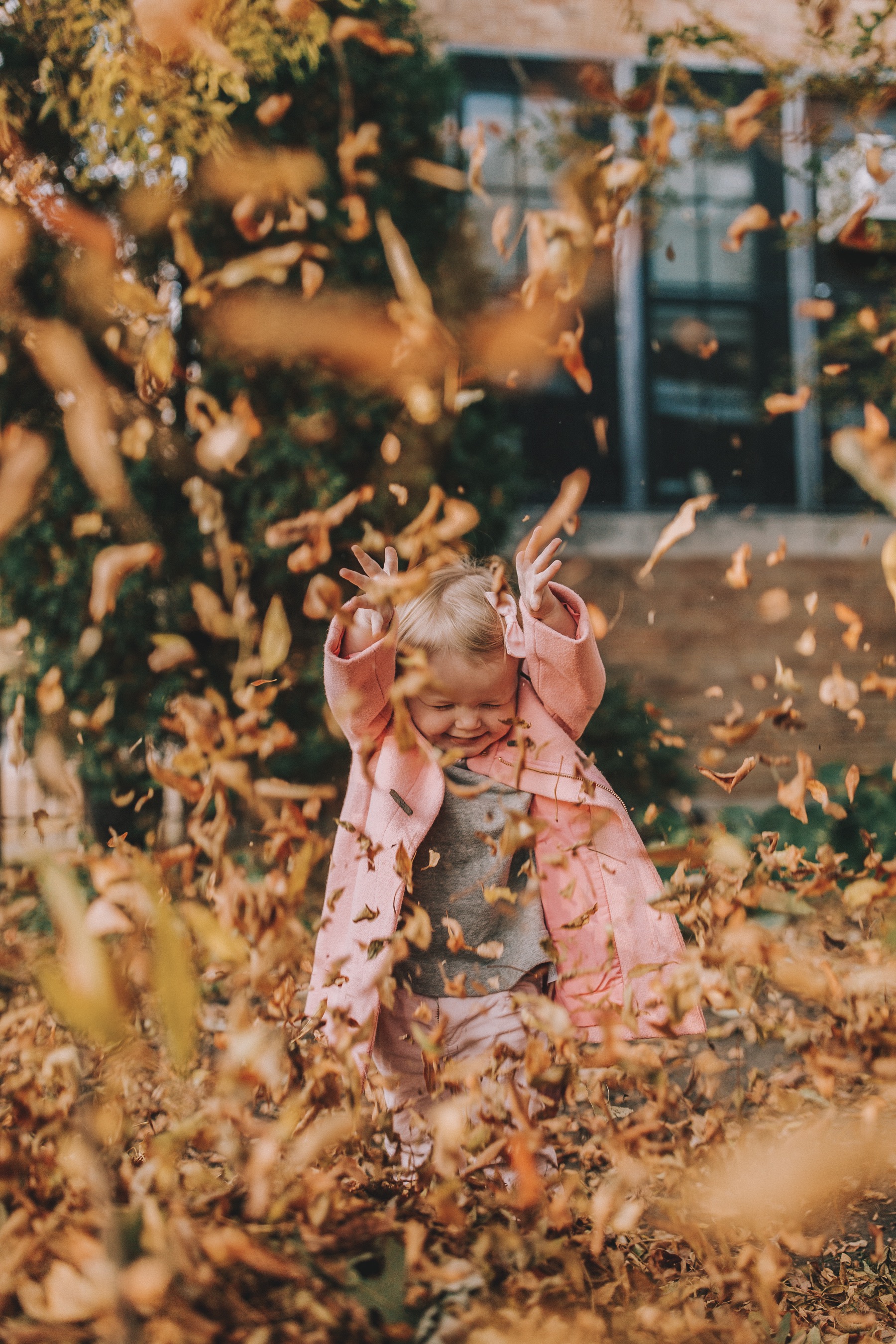 Original post: Toddler in a J.Crew Cocoon Coat
9. Rake leaves.
While this one might seem more like a chore vs. a fun activity, my motto is always two birds, one stone. The kids can help rake leaves while having a blast playing with them. Make leave angels! All the things. Plus, who says that chores have to be all play and no work?!
10. Make an autumn leaf collage.
Again, this one results in art that you can hang around the house, which they'll love. For this craft, you'll need a large piece of cardboard, lots of autumn leaves, acrylic paint, corn pikes, scissors, acorns, sharpies and glue. Encourage your toddler to create their ideal autumn landscape!
11. Create a miniature autumn forest for sensory play.
This is such a fun project for your toddler to tackle on an autumn afternoon! It's similar to a sensory bin, but a little bit more complex to create. A miniature autumn forest can be an excellent follow-up activity to the nature scavenger hunt, too. You can use the leaves, acorns, and other nature items you collected to create the forest inside the bin. Rolled oats are my favorite to use as a base since because a little bit of paint, they look just like autumn leaves. Then use cardboard and plastic bottles to create the trees. The apples can be made with playdough or paint, whatever you like best. It doesn't matter which materials you decide to go for as long as the bin is versatile enough for sensory play!
12. Play "apple dot to dot."
"Apple dot to dot" is a fabulous learning activities to do with the kids in autumn! It's a math activity disguised as a fun autumn-themed game. You'll need cardboard, some paint or colored paper, and a black sharpie. Draw little colorful circles with numbers in them and let your little one connect the dots. This is a great way to teach them how to count and build actual math skills instead of encouraging memorization!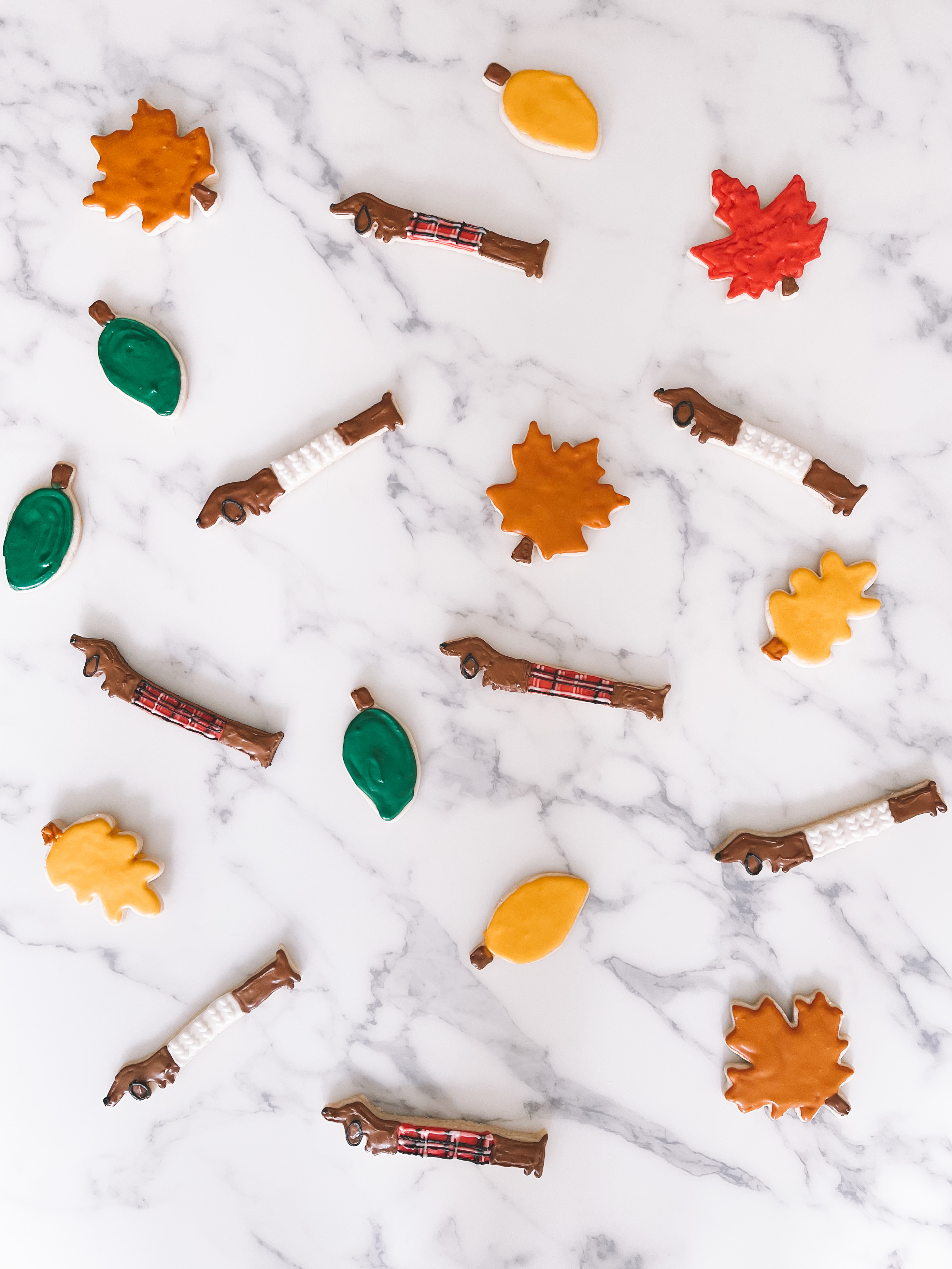 Original post: How To Make Leaf and Dachshund Cookies
13. Bake leaf cookies.
Baking is so much fun for kids. It's an activity the entire family can do together. Simply grab a stool so your kids can play at the counter. Then bake autumn and leaf inspired cookies. For a great recipe for leaf cookies, see this post. If you have a pet, add in some cookies shaped like him/her for some personalized fun!
14. Put together an autumn crown.
If you want your little one to feel like the queen or king of autumn, an autumn crown is a must! It's also one of the easiest autumn crafts I can think of, and encourages both sensory play as well as fine motor improvement. You'll only need cardstock paper strips, glue and autumn leaves. (Glitter and pain can be fun, too.) Once you've picked the cutest leaves together, just go inside and make your crowns!
15. Build structures with candy corn pikes and pumpkins.
This is such a fun activity for those candy-loving toddlers! Building autumn-themed structures will make them get into the fall spirit and practice their fine motor skills. The materials for this autumn craft are minimal: Just sturdy candy and toothpicks! It's also minimal clean-up, so you don't have to worry about stained clothes or furniture. Encourage your kid to make towers, houses, and 3D shapes! And then, of course, let them have a bite. ;)
16. Make pumpkin seed name boards.
If you plan to carve a pumpkin, save the seeds for this autumn learning activity! (Dry and dye the seeds, that way your kid can play with colors as well.) You'll need cardboard, glue, and the dyed pumpkin seeds for this activity. Then instruct your child to spell their name with the glue and put the seeds on top of the glue later. This will create a cute name board! Feel free to encourage them to spell other words as well.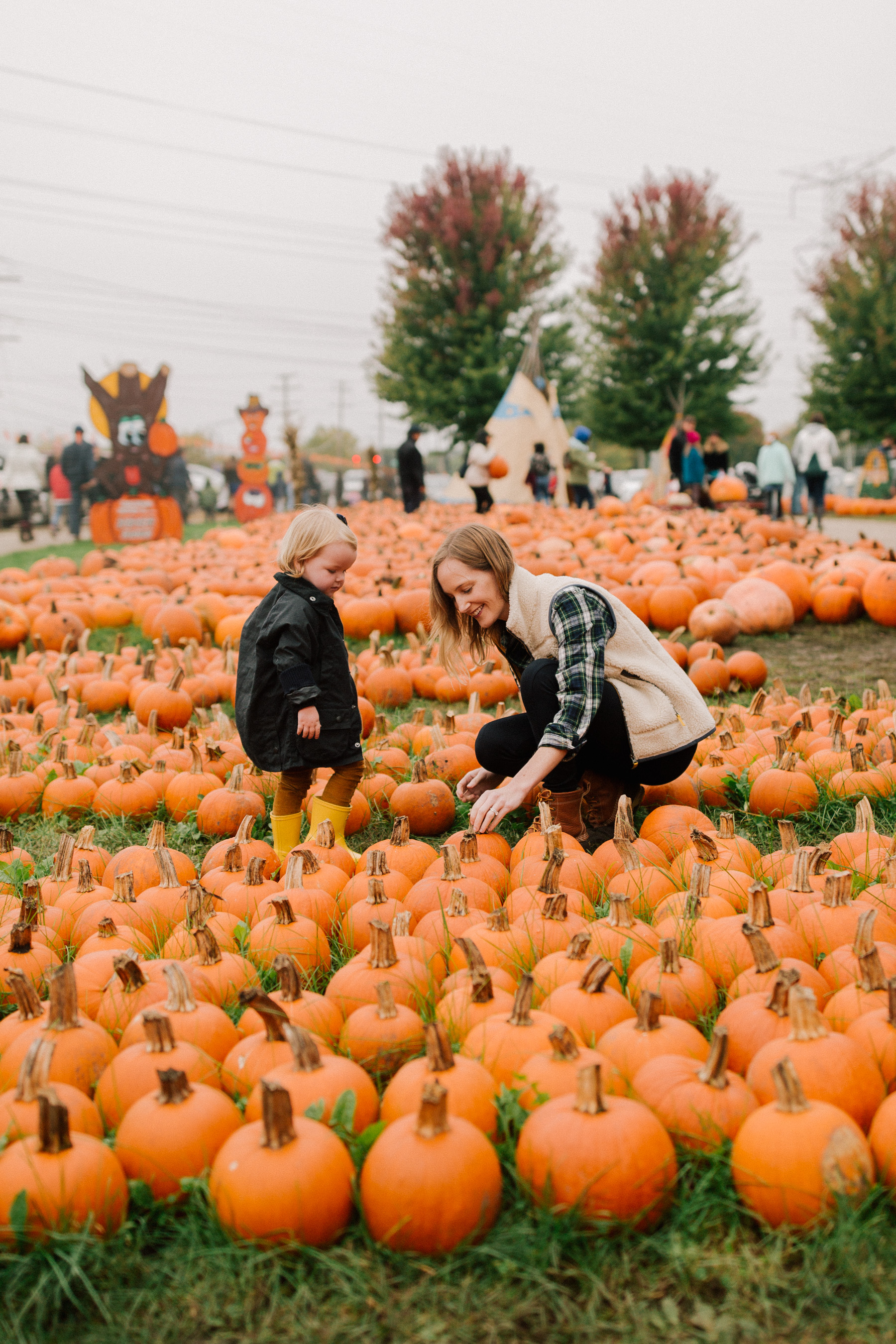 Original post: Where to Go Pumpkin Picking Outside of Chicago
17. Visit a pumpkin patch, farm or vineyard.
Visiting a pumpkin patch, farm or even a vineyard during the fall can be so much fun for the little ones. Depending on where you live, they typically offer different autumn-inspired activities for the whole family. Think outdoor games, delicious food, music, and so much more! Head out with the whole family and enjoy a day or afternoon together.
18. Practice lacing with paper plate apple decorations.
Lacing is a great way to improve your child's fine motor abilities while teaching them a new skill. You'll need paper plates, sharpies, yarn, glue, scissors and and sticky tape. (And maybe some paint.) The rest is up to your toddler's imagination!
19. Craft an autumn leaves dreamcatcher.
I personally love this autumn craft because it's something you can keep in the house as a decoration for years. (They look great in playrooms, too!) It's all about picking the most gorgeous fall inspired items for your dreamcatcher. It's probably easiest to buy a simple dreamcatcher beforehand, but the kids have to do is lace in their favorite autumn items in!
20. Put together an autumn sensory bin.
What better way to make the kids enthusiastic about the fall than making themed sensory bins? A few things you can include are oats, pumpkin seeds, dried corn, lentils, sunflower seeds, and dried pasta. Heck, you can even throw in some autumn leaves or tiny pumpkins. Try to look for items with autumn colors so everything fits within the theme of the season. Let your kid explore the different textures and just have fun with it!
Which autumn activities for kids are on your autumn bucket list?
So there you have it! Twenty fall-themed activities for toddlers you can do before the beginning of the holiday season! I hope many of them make it into your autumn-themed bucket list. Anything I missed? Be sure to let us know what your favorite autumn-themed activities for toddler are in the comments below. :)