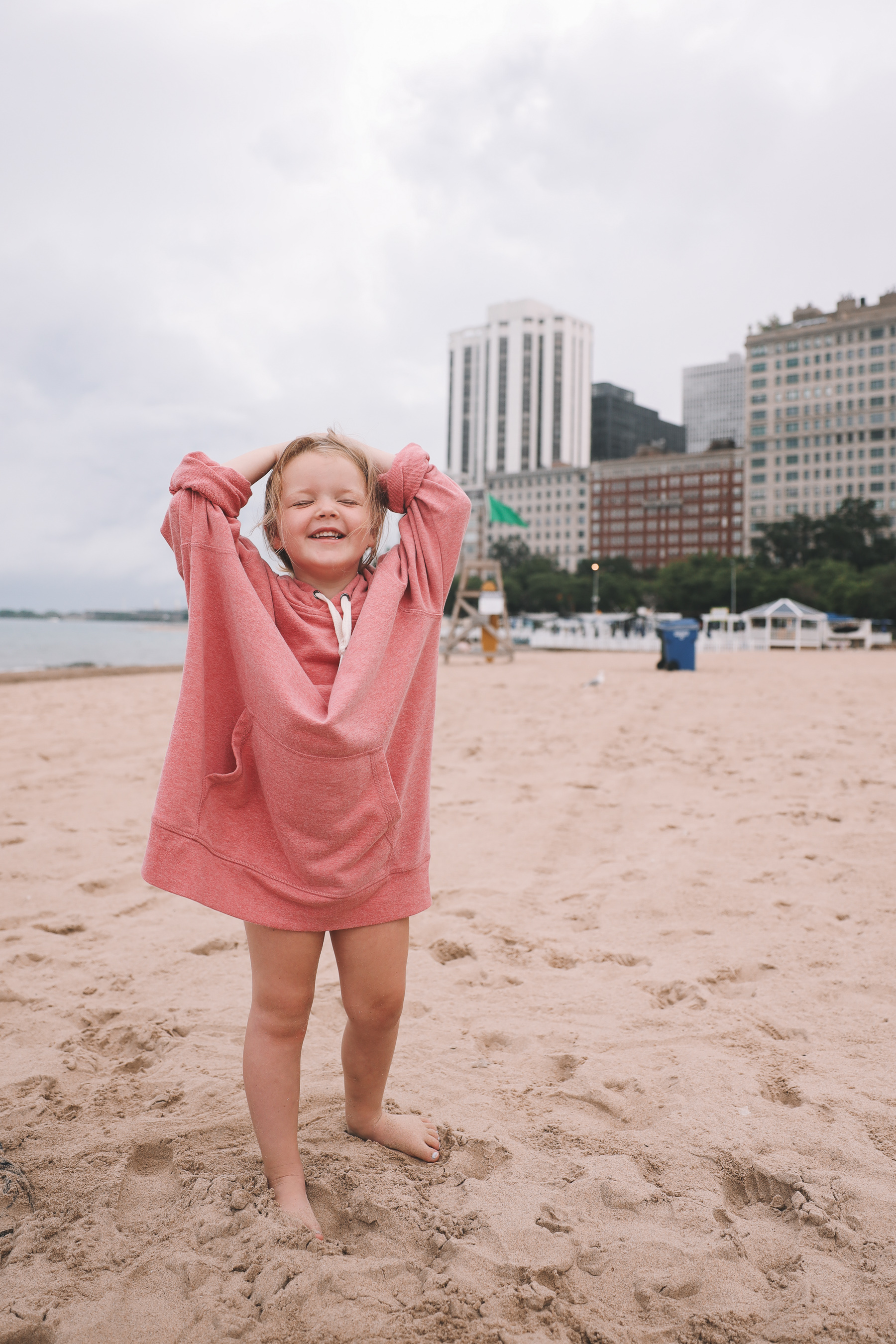 Wearing Daddy's favorite Amazon sweatshirt
Aaaand I'm back! I dropped the ball on last week's "10 Things," so I'm catching up today and publishing a couple of them. ;)
The Nordstrom Anniversary Sale Dyson cordless vacuum cleaner is back in stock! This is the best vacuum to have ever existed, and worth every penny—especially if you have kids and/or dogs. (Though if you're in the market for the second-best vacuum, get this Hoover one, also currently on sale! You can get extra batteries so when it runs out, you just pop a new one in and can finish the job.)
We upped our bike game last week, and have been zipping all over Chicago with the girls. A school mom friend has this simple bike seat for her five-year-old and raves about it, so we got one for Emma. She loves it. (She sits between Mitch and the handlebars! It's for an older child, as younger ones obviously need to be strapped in. But after a lot of research, we invested in this top-rated Thule seat for Lucy. Took me about 15 minutes to get used to the added weight on the back of my bike, but now I barely feel it! And I really can't believe how much freedom it's provided us. We did so much this past weekend—in different neighborhoods around the city—that we otherwise wouldn't have done. From street fairs and playgrounds to restaurants and waterparks, it was a blast. And so much less of a hassle than the car. (These are our affordable helmets from Amazon!)
We spent a lot of time watching old movies in Ocean City, and I must say that "The Wedding Singer" still warms the heart. The whole family watched it over drinks one night, and we were doubled over. It was really fun. A good one to re-watch if you're in need of a good laugh.
Shaheen & co. are coming this weekend! I'm so, so excited. The whole family will be staying with us, and we're planning some fun stuff with Jess & Neal. (AND JUNE!) Only wish Blair could be with us, too. <3 Miss our Chicago crew!
Lucy is talking up a STORM. I went from being very worried to not even thinking about it in one week. Sure, some of it is indecipherable, but our little two-year-old is one Chatty Cathy. Praise be!
I'm determined to fill our empty photo frames this summer! I was inspired after hearing really great things about this Canon photo printer… until I realized that just printing everything at Walgreens would be a whole lot easier. (And require less clutter on my desk. 😉) Just need to get into the habit of doing it! I made a file on my computer's desktop called "PRINT," and I'm going to throw images I like in there. The plan is to print once per month. We'll see. ;)
I'm never traveling with kids again. Ocean City was amazing, and totally worth it. (I can't wait to finish editing the photos so I can share some of the magic here on the blog.) But the flying was tough. Maybe it was because we got stuck on the tarmac for 1.5 hours with a two- and four-year-old. Or maybe… No, yeah, that's definitely it. UGH. I used up all my activities before we even had a chance to take off! 😆 Next flight will definitely be sans kids.
My Air Force friend AnneMarie got a Southwest companion pass through her husband's work, and I think they're going to fly out to Chicago soon! I'm thrilled. AnneMarie (and her sister Betsy) and I were best friends when our dads were co-pilots in the Air Force, and we've remained in touch over the years—visiting each other and going to all the weddings! They live out in Nevada/California, so we only get to see them every few years… and it's been a long time. There will be many happy tears when they get here!
My Aunt Michelle and Uncle Chris drove from Long Island to the Shore to see us during our OC trip. AUNT MICHELLE IS THE BEST! I'm just so grateful for our incredible family. She made Emma feel like a princess, and even Lucy—who, as you may know, can be temperamental, haha—was cheering "Aunt Miiiichelle!" The sweetest. Love you, Aunt Michelle!
Speaking of bikes, Gamma and Pa got Emma this gorgeous (and affordable!) Amazon bike for her birthday. I know she's going to LOVE it.
Girls' swimsuits are on crazy sale at J.Crew right now, and I stocked up for camp/next summer. We got this ruffled one, this side-tie one, this one-shoulder one, and this rash guard one. And we maaaaay have paid full price for the SZ Blockprints one because it's just so beautiful, haha.
I'll be back later this afternoon with another "10 Things." 😜