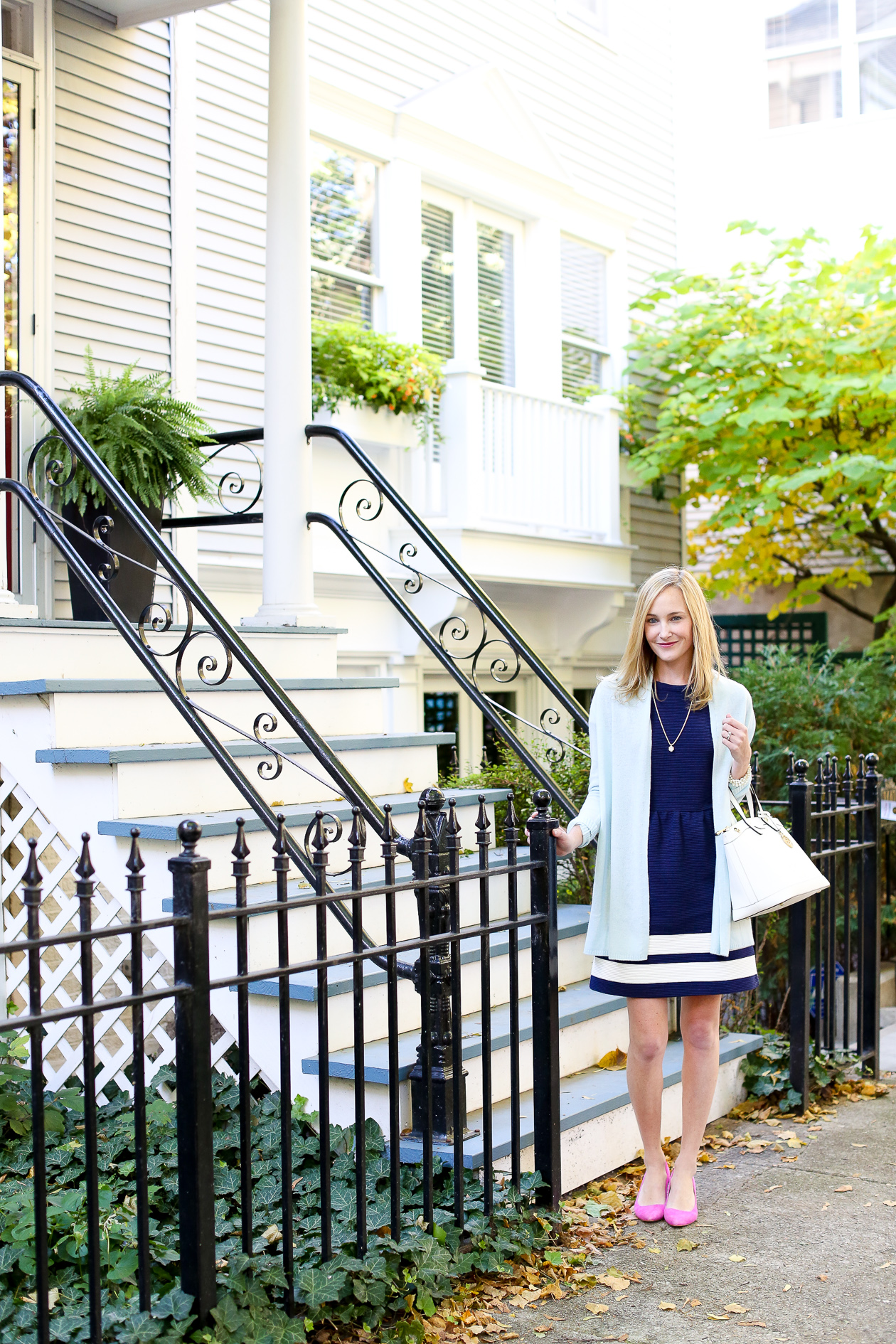 Vineyard Vines Dress and Sweater c/o (Also love this cable-knit cardigan!) / Kendra Scott Earrings and Necklace — Coming soon! c/o / J.Crew Bracelet (Old, similar here) / C.Wonder Pumps (Old, nearly identical here! I think it might be time to replace mine, hehe.) / Henri Bendel Tote c/o
Shopbop's Friends & Family Sale is on! Shop my faves:

GUYS. Apparently there's this sweet spot between seasons in Chicago, and we're IN it. Typically, I'm the girl shivering in 70-degree weather, but I've been pairing cozy fall sweaters with summery dresses for the past few days. And Mitch has been wearing shorts, haha.
I love, love, love dressing like this… but I know it's short-lived. So don't mind me as I feature dress after dress on this little blog for the next week. Because it's only a matter of time before I have no other choice than to look like this.
(#chiberia)
But seriously–how cute is this navy number from Vineyard Vines?! While it's short-sleeved, it's super cozy and perfect for layering. I recently paired it with my new favorite (and first-ever) cashmere cardigan, which I want to sleep in. I also shot Jess in the same sweater (in gray) a few days ago, and I LOVED how she styled it. Totally had me wondering where my polka-dot top went… But we both agree that it's by far the coziest sweater we've ever owned!
In other news, we think Mitch has the flu. (Do we assume it was the shorts?!) The poor guy gets it every fall, and for some reason, we never identify it until it's in full swing. He started feeling crummy over the weekend, and came home from school today with a fever, nausea, and the chills. We're off to a walk-in clinic tomorrow (because we somehow still don't have general practitioners), so fingers crossed that it's something else! Teaching and the flu sure don't mix.
Have I ever told you about the time I came down with the flu during a state exam, and ended up getting cursed out for calling out? Oh, the memories… ;)
On a more positive note, we've made some HUGE progress on the gallery wall that we've been creating with the help of Minted. I'm waiting on one last piece–we're having a painting by Mitch's uncle framed–but it's due in tomorrow or the following day. It's been a while since our last "little home" post, and I can't wait to share!
FINALLY, have I mentioned that I'm hosting an event at Kendra Scott's new Chicago store, located at 900 North Michigan Avenue? ;) Details here. It's from 5 to 7, and there will be sips and sweets — and 20 percent of your purchase will go to the National Multiple Sclerosis Society. I'd love to meet you. Hope to see you there!