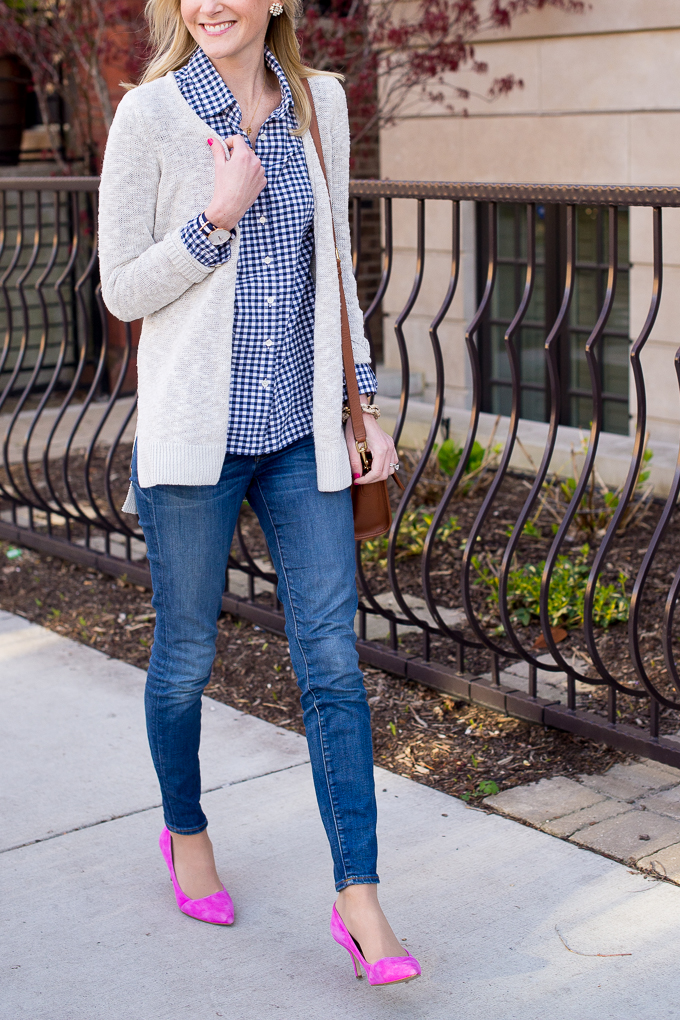 LOFT Cardigan (c/o) / J.Crew Shirt, Bracelet, Jeans (but I have my eye on this pair and this pair) and Earrings / Coach Bag / Daniel Wellington Watch (c/o) / C.Wonder Pink Suede Pumps (Old, similar here, here, here and here) / Emma McKinstry Necklace (Mine has our wedding date!) / Kate Spade Sunglasses (Old, but love this similar pair by Tory Burch and this pair from Ray-Ban!) / Moon and Lola Earrings (c/o)
One thing I learned very early on this year is that getting dressed in the morning is really important when you work from home. Or it is for me, at least. In the beginning, I spent most of my day in pajamas, reveling in the fact that I could shower whenever I wanted instead of at the crack of dawn. But I soon realized that getting ready–and looking semi-presentable–helps my productivity immensely, even if face-to-face interactions aren't on the sched.
(It also prevents the "OH MY GOD" reaction I had every time I caught a glimpse of myself in the bathroom mirror, haha.)
Of course, I don't get dressed to the nines. I'm typically in a button-down, sweater, jeans and a pair of loafers (G.H. Bass are my fave!), and slip on a pair of pumps when I work from coffee shops.
Why? Makes me feel more put-together, and sometimes I miss wearing heels during the day! I also love that a good pair of statement pumps can easily transition a daytime look to night. For example, I spent the majority of yesterday wearing this super casual outfit + my favorite slippers, but changed my shoes for a double date night with Mitch and our friends Emily and Doug at Frasca. (What a great time.) So easy!
Btw: Please read Emily's newest blog post. It completely explains why I start nearly every post with a weather update. (Sorry. Trying to kick that.) Needless to say, I'm having a difficult time transitioning to a climate in which snow in April is a thing!
Anyway, if you work from home–or have a casual work environment–what are some of your favorite comfy-yet-presentable articles of clothing? I'd love to hear! :)