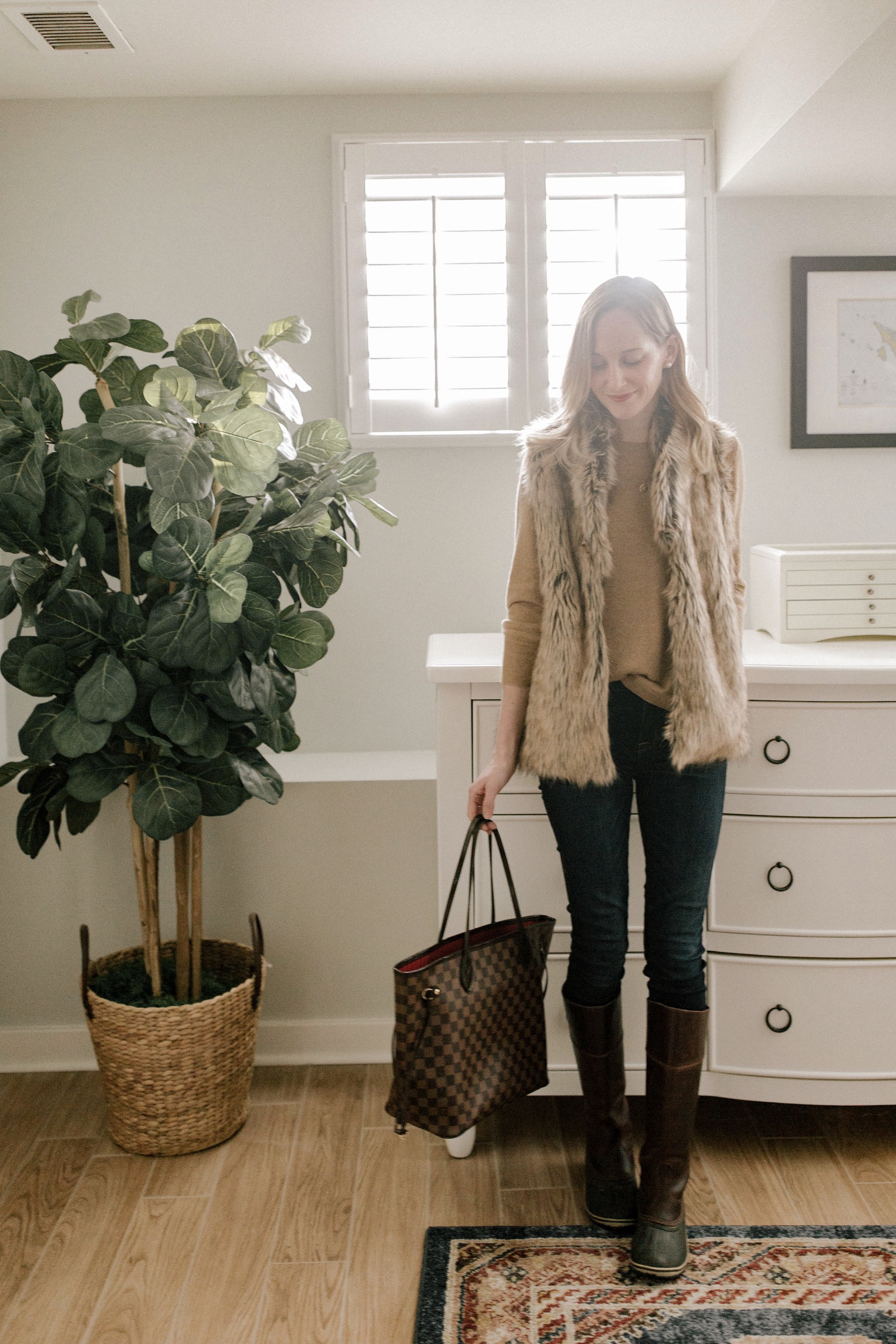 Tuckernuck Biltmore Faux Fur Vest (It's shipping! Grab it before it sells out.) / Cashmere Sweater (On sale today! And it never goes on sale. Such a great deal.) / Old Sorel Boots (But this pair and this pair are also faves.) / Rag & Bone Jeans / Kate Spade Initial Necklace / LV MM Tote / Dresser / Jewelry Box
A few things:

I met up with Tuckernuck last night over at Summer House, one of my absolute favorite restaurants here in Lincoln Park, Chicago. (Did you catch my guide to LP?! I worked SO hard on it, haha, and I'm so proud! Currently working on complete guides to Chicago and NYC.) Anyway, I'm absolutely obsessed with their new holiday lifestyle guide, as well as their gift guides for her and him. And if you live in the Chicago area, be sure to stop by the Tuckernuck Trunk Show in Lake Forest today or tomorrow. They'll be at the Lake Forest Recreation Center at 400 Hastings Road! I unfortunately won't be able to make it–headed down to the lake house and so excited–but please tell them I say hi! ;)
Which brings me to the famous faux fur vest. Up until now, it was available for pre-order. But it's currently shipping! Take it from the girl who looked for the perfect faux fur vest for years: this is it, and there isn't another that competes with it. The one thing I'll say is that it runs a little large, so consider sizing down. I normally like my tops and sweaters in a size small, but I'm wearing an XS in the vest here and it's still roomy. (Though not too big!)
I'm doing gift guides this year! They've never really been my thing, but I've been getting a lot of requests for them so I'm buckling down and trying so, so hard to come up with awesome ideas that'll make your holiday shopping easier. The first one goes live tomorrow, so be sure to check back then!
I have discovered the magic of frozen whipped cream. Mitch's family apparently always keeps their whipped cream in the freezer, and I'm not sure how I'm only learning about this now. (We've been together for just under 10 years, haha. Also, side note: I just said to Mitch, "Do you know that this spring, we will have been together for a decade?!" His response: "I thought that already happened? No? Awww. It's been really great." 😂) Anywho, IT'S SO GOOD. It obviously has to be the kind in the tub–please don't put the cans in your freezer–but it's totally replaced my previous #1: the Kit Kat. Throw in some strawberries and a good episode of "This is Us," and you've got Kelly Larkin's dream night.
It's snowing! This is actually Chicago's third snow–ugh–but I was pretty excited for my friends and family back in NYC yesterday. Dad, did you wear your heavier jacket? Stop wearing your Barbour when it's freezing outside. I worry about you. ;) Anyway, I got to break out my new puffer coat yesterday. YES, it's houndstooth. FINALLY. Ralph Lauren realized that Kelly Larkin was in Chicago and needed help.
Mitch and I stayed up until 3 a.m. painting buffalo plaid pumpkins. Don't ask. But you'll likely see soon.
I stumbled across this post the other day. Remember when we had a bright green guest room/office space?!
I need these velvet leggings in my life. I mean, they come in navy. And navy velvet leggings are hard to find.
The world lost a great dog this past week, and #60daysofplaid was dedicated to him yesterday.
We're headed to the lake this weekend. If you read this recent post, you may remember that we're scaling things back this holiday season so we don't wear ourselves out. We're spending three days with each family for Christmas, but we're doing Thanksgiving on our own here in Chicago–though Kira and Tom are coming over. ;) Because of that, though, we're headed down to the lake house this weekend for the Annual Larkin Family Fall Fest. (Here are past Fall Fests from: 2017, 2016 and 2015!) I'm so excited about leaving my laptop behind and cozying up by the fireplace with hot cocoa and board games.