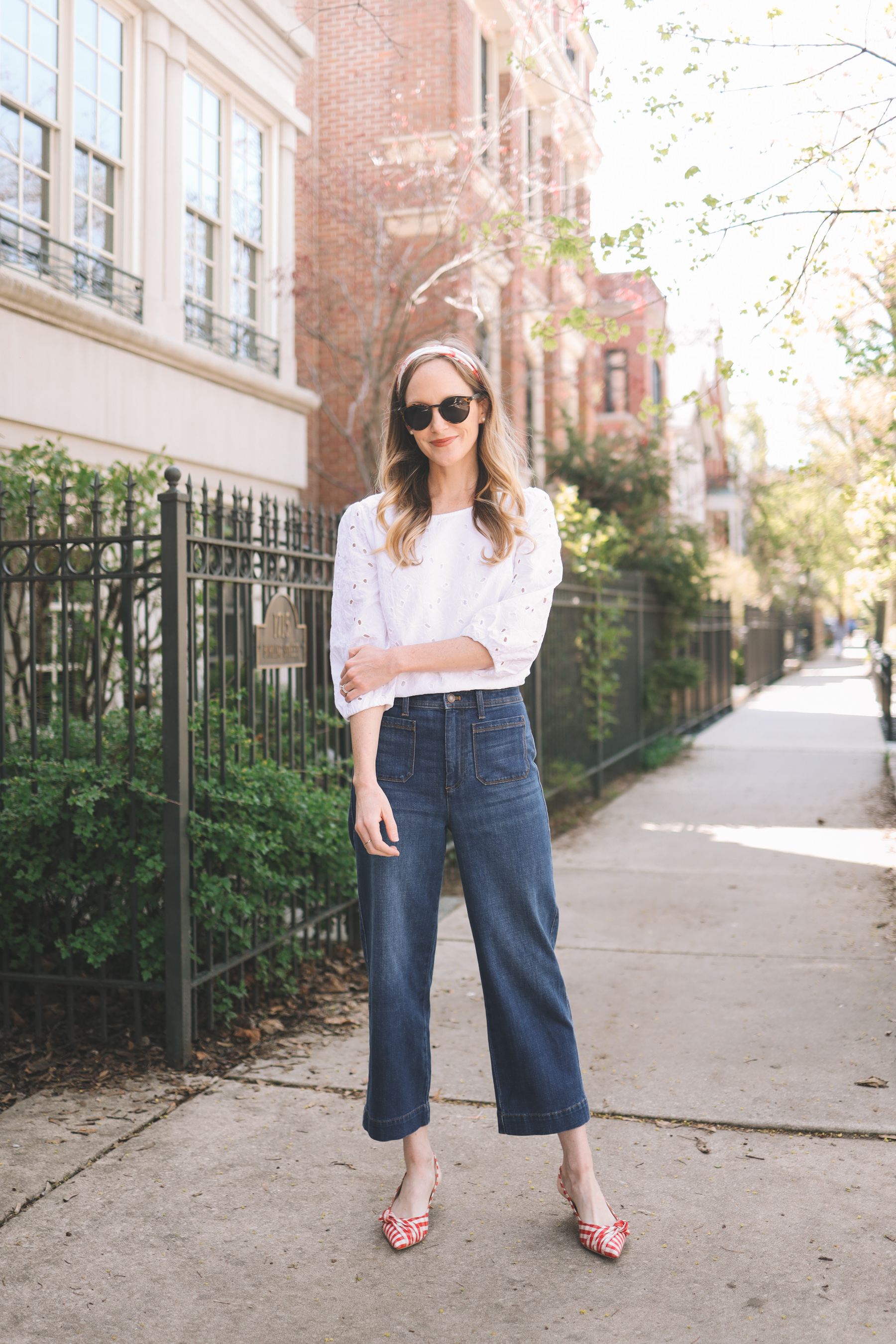 Wide-Leg Jeans / Gingham Slingbacks (Also love this pair!) / Eyelet Top / Scarf / Favorite Sunglasses (They're 20 percent off!)
Hey guys, hey!
I need to be honest and say that I'm back to living in my favorite leggings. I'm in survival mode over here. Oy. But I wore this look two times (!) over the last week when the sun was shining and I was inspired. And it made me feel great!
Note: These photos were snapped right outside of our house. We're taking our safety and the safety of other Chicagoans very seriously at this time, and we made sure that our block was free and clear before taking photos. Stay strong, Chicago. We love you!
Anyway, Talbots graciously sent me this outfit to feature on Instagram, but I loved it so much that I wanted to share on the blog, too! A few notes:
Wide-Leg Jeans: These are GREAT. I've tried a lot of wide-leg jeans this season, and I can confidently say that this are the softest and most versatile. I used to assume that wide-leg jeans would make me feel sloppy, but it's been the exact opposite! I feel dressed up… even when I wear them with my favorite sneakers. They're also very forgiving in case you've been hitting the Girl Scout cookie stash hard like I have.
Gingham Slingbacks: STOP, right? I love them. Granted, I'm not really wearing heels around very often these days. But the kitten heel/slingback design is functional and really cute… and when I wore them, Mitch was like, "Date night?!" And so we had a date night. And any pair of shoes that makes a husband plan a date night that quickly is a winner by me! (Also love this pair, btw.)
Eyelet Top: Eyelet, eyelet, eyelet. I'm obsessed. It's just so feminine and easy… and it makes you look a little fan-cy. I particularly love this top because of the airy long sleeves. (Feels like you're wearing short sleeves, but gives you a more polished vibe.) Fantastic for the upcoming warmer weather! (Though this Polar Vortex, WOOF.)
Scarf: I wore it two different ways this past week: first as a headband and then around my neck. Really cute and makes the outfit stand out! (Simple, too.) Adding a pop of red to looks (year-round, really) is one of the best style secrets!
Favorite Sunglasses: They're 20 percent off! Can't. Live. Without.
Over and out!
Shop the post:
Wide-Leg Jeans / Gingham Slingbacks (Also love this pair!) / Eyelet Top / Scarf / Favorite Sunglasses (They're 20 percent off!)