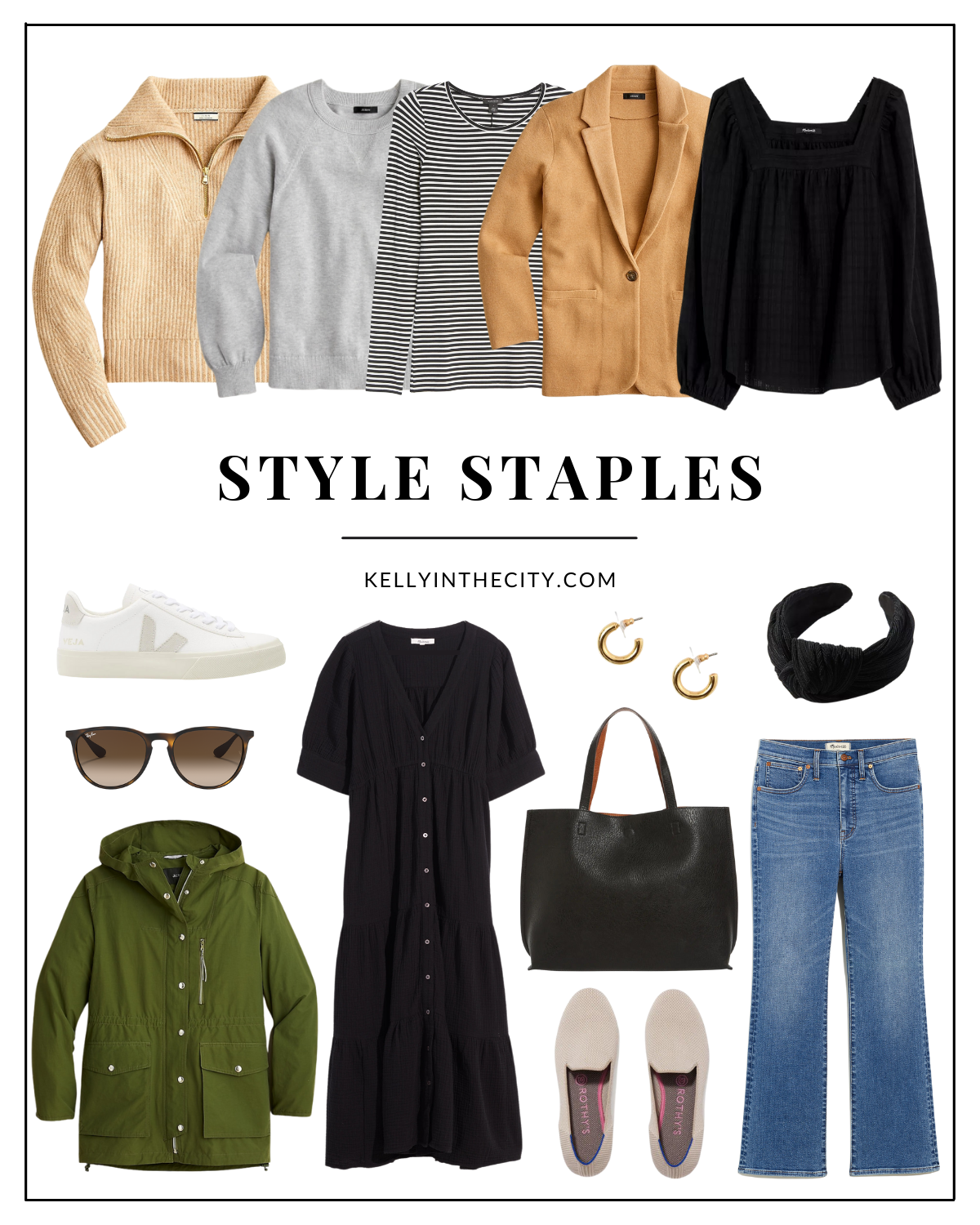 Half-Zip Sweater / Grey Pullover / Striped Long Sleeve Tee / Sweater Blazer / Square Neck Black Top / Veja Sneakers / Sunglasses / Green Lightweight Jacket / Button-Front Black Midi Dress / Gold Mini Hoop Earrings / Black Reversible Tote Bag / Loafers / Black Twist Headband / Demi-Boot Jeans
I'm all for simplifying things at the moment and have been on a major organizational kick. I know it's only February, but I'm starting to feel the urge to do a little bit of spring cleaning. I can't be the only one, haha. One of the things on my list to tackle is a wardrobe refresh. I already did a closet purge back in September and am pretty proud of where I am now. To keep it up every week, I try to pull a couple of things from my closet and throw 'em in a donation bag, whether it's getting rid of duplicates, letting go of uncomfortable shoes, or bags I no longer use. If you're interested in my original total KonMari closet clean-out, here's my post on it! Anyways, as I've transitioned from a large, preppy wardrobe to a much smaller wardrobe consisting of mostly basics that I actually wear on a daily basis, I've accumulated a few pieces that have become staples and make putting together outfits so much easier. My goal one day is to transition to a capsule wardrobe, so finding a few style staples feels like a step in the right direction.
Half-Zip Sweater: This knit half-zip sweater is a great transitional piece for spring. Layer a long sleeve tee underneath for extra warmth, or wear it alone. Dress it up with jeans and loafers, or dress it down with leggings and tennis shoes for more of a casual and cute weekend look. I also love the polished collar and gold zipper details. They look so elegant.
Grey Pullover: This elevated sweatshirt looks really lovely paired with nearly anything. It's by far one of the most versatile and practical pieces in my closet. The fabric is wonderful too, no itchiness at all, and it doesn't need to be steamed. The only note I have is that it's a bit oversized, so size down if you want a more fitted look.
Striped Long Sleeve Tee: I donated a bunch of my duplicate striped long sleeve T-shirts during my closet purge, but this is one of my favorites that I held on to. It's so soft and perfect for layering with half-zip sweaters, blazers, and lightweight jackets.
Sweater Blazer: This is one of my most worn blazers. It makes any casual outfit look more polished, and I love how it gives you the look of a blazer but the comfort of a cozy sweater. Here's my post on 3 of my favorite ways to style it. And it's on major sale for 40% off at the moment.
Square Neck Black Top: Love this pretty square neck black top. It's a great work to weekend top and would look gorgeous tucked into a pair of demi-boot jeans and styled with Vejas.
Veja Sneakers: These are definitely my favorite sneakers I've ever owned. I love their minimalistic design and how they elevate any outfit, giving it a chic-casual French look. They're a wonderful investment. Here's my post on 3 of my favorite ways to style them, and you can read my full review on them here.
Sunglasses: These are my favorite and most worn pair of sunglasses. They look great on everyone and have lasted me for years.
Green Lightweight Jacket: A classic utility jacket is a wardrobe staple for me in the spring, and I can't wait to break mine out!
Button-Front Black Midi Dress: This tiered black midi dress is a gorgeous piece to wear into spring. Though it's hard to imagine the day I can wear dresses without tights again, ha.
Gold Mini Hoop Earrings: A pair of tiny gold hoops are an easy way to tie together any look.
Black Reversible Tote Bag: This is such a great tote bag. It's under $50 and reversible.
Loafers: My washable Rothy's loafers are some of my most-loved shoes. They are extremely comfortable, and since they're washable, I often wear them around the house in the winter so I can feel a bit more like a human ha.
Black Twist Headband: A black headband is one of my favorite accessories. It always pulls any outfit together. This style also comes in so many colors.
Demi-Boot Jeans: My tried and true pair of denim. If you normally wear skinny jeans and are looking to branch out, give the demi-boot style a try, and you might just surprise yourself.